| | |
| --- | --- |
| Nombre: | KingRoot |
| Desarrollador: | KingRoot |
| Categoría: | Utilidad |
| Tamaño: | 12,51 MB |
| Versión: | 5.4.0 |
| Precio: | Libre |
| Liberar: | 03 - 09 - 2021 |
| Disponibilidad: | En todo el mundo |
| La seguridad: | A salvo |
| Idioma: | inglés |
| Tienda de juegos: | No disponible en Play Store |
| Requerimientos: | Conectividad a Internet. |
| Nombre del paquete: | com.kingroot.android |
| Clasificación: | 4.3 |
| Descargas: | 100000+ |
Descargar archivo APK
Haga clic a continuación para descargar la aplicación.
Detalles y guía de la aplicación
KingRoot apk, which is a one-click root app, once downloaded and installed on your Android device will help you root it within a matter of minutes, as long as you have a compatible device supported by the latest KingRoot app. You don't need to have a computer or PC to perform this task.
This is called one-click root for a reason and that is because all you need to do is simply tap a button and KingRoot will automatically connect to its servers and do its magic to install a superuser and help you gain root access. Once done, you should be able to make modifications to your system and install root-compatible apps.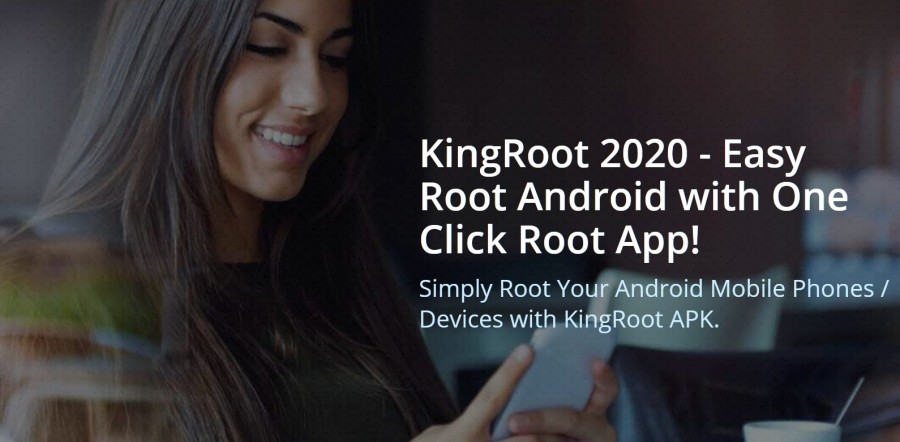 Aunque la aplicación es compatible con cientos y miles de teléfonos inteligentes y tabletas con Android, KingRoot no funciona correctamente con todos los teléfonos móviles. Debido a que algunos fabricantes tienen un cargador de arranque seguro y para poder obtener acceso a la raíz, necesitará una computadora para actualizar la recuperación de terceros y para eso, necesitará un conocimiento profundo sobre el enraizamiento, ya que es una tarea avanzada y puede tener problemas. .
Dicho esto, si estuviera buscando una manera de rootear tu Android sin una PC y no desea actualizar software de terceros, ¡KingRoot será su mejor opción! ¿Y mencioné que el enraizamiento también podría anular su garantía? Por lo tanto, es mejor consultar con el fabricante de su teléfono antes de continuar. 😉
For those of you who don't know, the app has gained a lot of popularity and has managed to achieve the title of one of the most downloaded one-click root app for Android devices, all within the timespan of around six years of its official release. So it is a well-known app in the Android rooting market.
Una vez que su dispositivo Android esté rooteado con KingRoot, podrá desbloquea el verdadero potencial de tu dispositivo y realizar ciertas modificaciones en el sistema que, en última instancia, podrían ayudarlo a descubrir el verdadero poder. Con root y acceso a las aplicaciones adecuadas, puede desinstalar las aplicaciones instaladas por su operador e incluso las aplicaciones del sistema preinstaladas, bloquear anuncios en todo el sistema, actualizar ROM personalizadas y crear una copia de seguridad completa de su teléfono. Todo lo cual ayuda a aumentar la duración de la batería de su teléfono y mejorar la velocidad de procesamiento.
How to Download and Install KingRoot APK?
En esta sección, lo guiaremos con el procedimiento sobre cómo descargar, instalar y configurar la aplicación en su teléfono inteligente o tableta Android. Una guía perfecta adecuada para todos los usuarios de Android, especialmente para los principiantes.
The downloading and installation process of KingRoot apk is easy and simple to follow. No matter how knowledgeable you are about Android and the apk installation process, the guide is designed to make things simple and easy for you to get the app.
Nota: Es posible que deba habilitar la instalación de aplicaciones de fuentes desconocidas a través del menú de seguridad de Android para poder descargar / instalar el apk en su dispositivo.
It is important to note here that this is a free version of the KingRoot so make sure you have uninstalled any existing version from your device, otherwise, the app will not be installed and might show an error.
Download the KingRoot apk file from the download section located at the beginning of this post.
El archivo está en un archivo zip comprimido, por lo que deberá usar cualquier administrador de archivos para extraer el apk del archivo zip.
Toque el apk que acaba de extraer y siga el proceso en pantalla para instalar la aplicación.
Once installed, launch the app from the app drawer. You can now allow access to the app and let it find a suitable exploit for your model and version of your Android device to see how you can gain root access.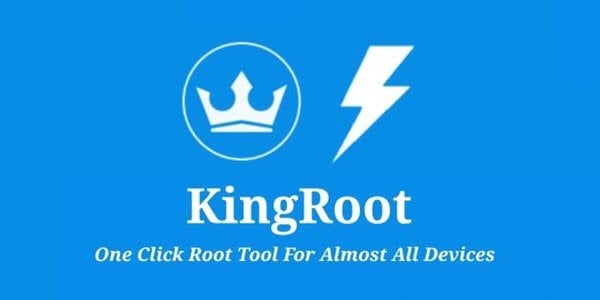 Benefits of Rooting your Android Device with KingRoot
¿Sabe que, además de la increíble capacidad de KingRoot para ayudar a rootear su dispositivo Android con un solo clic, existen numerosos beneficios de rootear su dispositivo con esta aplicación?
We have highlighted some of the most notable features and benefits below that will help you make the most out of your smartphone or tablet device while unlocking the true potential of your device.
Eliminar Bloatware
Bloatware is those apps that come preinstalled on your Android smartphone or tablet devices by the phone manufacturer or cellular company to provide additional support and services but you are not allowed to uninstall them even if you don't use them as they are installed as a system app.
However, once you have got your device rooted with KingRoot, you can easily remove them by granting root access to any advanced file manager app like FX File Explorer.
Ahorre batería
Smartphone devices are highly capable these days and have super-fast processors and GPU that can easily suck up a lot of battery juice if there is some resource-intensive app is running in the background. Although the Android OS is becoming smarter and efficient with every update but the quality of third-party apps makes a huge difference in maintaining true efficiency.
With root access, you can download and install battery-saving and optimization apps, which once granted permissions will help you in optimizing your phone's battery consumption and will make it last longer on a single charge. You can even use some advanced battery saving apps.
Bloquear anuncios
Who likes advertisements? They are annoying and affect the usability of the app because at the time they become intrusive. Especially the popup ads that appear in the middle of the screen while using the app.
But with the root access, you get administrative access that allows you to download and install some of the most advanced ad-blocking apps and used their advanced functionalities to block ads from your device. Not only the browser and websites but also ads can be blocked from the apps too, including the popup ads.
Improve Speed and Performance
The speed and performance of your Android device can be improved by installing third-party phone and memory optimizing apps that can then take care of the apps running in the background. You can even set it up to send you a notification in scenarios where it finds any resource-hungry app running in the background and consuming extra resources. Even if that is a system app.
There are optimization apps that once granted root access can help you not only uninstall but also even allow you to freeze the app temporarily while you are not using it so that it cannot run aimlessly in the background. This helps you recover valuable system resources like RAM.
Mejorar el rendimiento
Just like any other smart device where user interaction is possible, Android device to tends to become sluggish after a certain time as we continue to install and remove apps on a regular basis, and non-optimized and poorly designed apps leaves some of their traces behind on your device, even after uninstalling.
These footprints need to be cleaned periodically along with the occasional maintenance where you are supposed to clean up the internal storage and keep enough free space so that cached data can be stored by the operating system, which is the number one reason why most people experience sluggishness.
Rooting and then using a properly designed maintenance app on your Android can help you regain the performance of your device by helping you find the apps and files that you have never used but it stays on your device as well as regain the wasted storage space.
Mejor personalización
Customizability and the freedom to personalize the internals of your device, software-wise, are some of the benefits of having a phone running the Android operating system. On a regular, non-rooted Android device, you can easily customize the theme, icons, wallpaper, lock screen wallpaper, and even put up a screensaver (only if your device supports that).
However, there are some limitations and aspects that you can't modify as they are locked and requires administrative access to unlock and modify them. And the best way to get administrative access is to root your Android device with KingRoot and then use the third-party apps to modify the user interface including the animations, which was not possible originally. This can help you get a completely new look.
Flash ROM personalizados
Do you know just like your PC where you can install a different version of Windows as well as Linux operating systems, Android also allows you to install the modded and upgraded version of the operating system, which is known as ROM. The ability is on every Android device but to be able to access it, you are required to have the bootloader unlocked along with root access to install the app as a system app.
Once you have the bootloader unlocked, you can then flash custom ROM as well as custom recovery images. These two can help you unlock the true potential of your device including the ability to overclock it and add new features, apart from the upgraded Android OS. This will completely revive your phone and give you a completely new experience.
Kernel personalizado de Flash
The custom kernel is a powerful aspect of any Android device as it helps you gain root access to the hardware where you can tinker with the features like speaker volume, the intensity of microphone, CPU frequency, battery charging voltage, changing the clock speed. That's how powerful it is.
To install and flash custom kernel one needs to have root access, an unlocked bootloader, and custom recovery. Only then you are allowed to unlock the ability to flash a custom kernel on your Android device. Also, it is important to find a compatible kernel for your Android device, as most of these are not universal.
Fácil de quitar la raíz
The root is said to void the device's warranty in some cases, however, if you have followed the proper guidelines and opted for the correct root method that is designed and suitable for your specific Android model and variant only then you can figure out whether the root is completely reversible or not.
For example, Samsung devices come with a Knox, which is a security function that helps keeps the bank account, fingerprints, and other sensitive data secured from any unwanted access. If you root your device then Knox will get tripped and then these security functions that rely on it will stop working in order to secure your account as well as personal data.
So for the proper removal of the root, you need to do some research from your end for your version of Android device and see if getting your device back to the original state is possible or not, if yes then what are the steps that one needs to follow. Being aware of the removal procedure is important just in case you want to claim a warranty or plans to sell the device in the near future.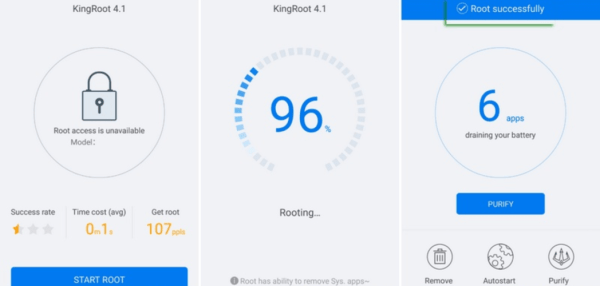 What Makes KingRoot The Best One-Click Root App?
Some advanced features and special capabilities make KingRoot one of the best one-click root apps for Android devices. And we are going to discuss those here:
Swift and Speedy – The rooting process of KingRoot is so smooth and swift that once you have installed it on your device, it hardly takes a minute to fully gain root access on your device, which includes the process of recognizing your phone and finding the correct exploit.
Great Compatibility – Hundreds and thousands of Android phone and tablet devices from various manufacturers are compatible with KingRoot so you don't need to worry about compatibility issues.
Un clic en la raíz – If your device is compatible, all it takes for KingRoot to gain root access is just a simple one-tap on the screen. And that is it. The rest of the process is fully automated and does not require any interaction from your end and in the end, you will get root access.
No PC Required – KingRoot, unlike other one-click root apps for Android, does not require you to have a PC either it asks you to connect your device to a computer. Everything is fully done by the app directly on your Android phone or tablet.
¿Cómo funciona KingRoot One-Click Root?
KingRoot utiliza la nube y la conectividad activa a Internet para encontrar el exploit de enraizamiento más apropiado para su dispositivo y software de Android. Una vez que se encuentra el exploit, la aplicación intentará rootear automáticamente su dispositivo.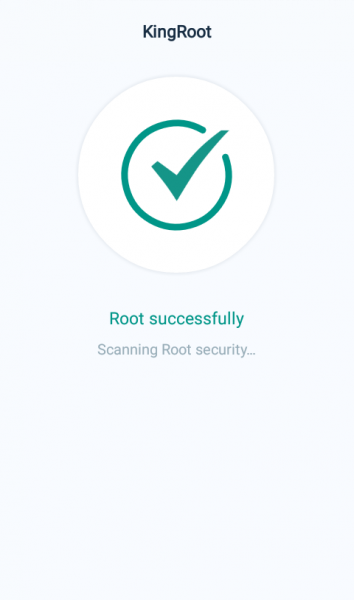 Todo lo que necesita hacer es simplemente seguir los pasos en pantalla y, en unos minutos, su dispositivo estará completamente rooteado y obtendrá acceso de root completo al sistema Android.
Esto es exactamente lo que hace que KingRoot sea la solución de enraizamiento definitiva para cualquier dispositivo Android compatible. Le ayudará a acceder cómodamente a la raíz en unos pocos pasos rápidos. La aplicación está diseñada para mantener las opciones al mínimo para que cualquiera pueda Rootear Android con un solo toque.
La aplicación raíz con un solo clic de KingRoot es absolutamente gratuita y completamente segura de usar en dispositivos Android compatibles, incluso cuando el enraizamiento falla, ya que no causará ningún daño o problema a su dispositivo.
In case you are new to Android rooting and don't know how to use the app or find it risky to use on your device then you don't have to worry as we already have an easy-to-follow tutorial paso a paso sobre cómo rootear el dispositivo Android usando KingRoot. Para ser honesto, es realmente simple y fácil de rootear Android y todo el proceso no debería tomar más de cinco minutos.
Hablando de compatibilidad, está completamente probado y es compatible con dispositivos Android fabricados por múltiples marcas, incluidas LG, Samsung, Oppo, Redmi, Motorola y Nexus que ejecutan varias versiones de Android que van desde Android 2.2 Froyo hasta el sistema operativo Android más reciente.
Por lo tanto, puede obtener acceso de root con un clic en cientos y miles de teléfonos y tabletas Android compatibles.
Lista de compatibilidad de KingRoot con Android
KingRoot es una aplicación de rooteo universal de Android que le permitirá rootear todos los teléfonos y tabletas que ejecutan cualquiera de las siguientes versiones del sistema operativo Android con un solo clic; sin embargo, tenga en cuenta que algunos fabricantes de teléfonos tienen habilitado el arranque seguro, lo que hace que sea imposible obtenga acceso de root con KingRoot.
Android 2.2 Froyo,
Android 2.3 Gingerbread,
Android 3.0 Honeycomb,
Sandwich de helado Android 4.0,
Android 4.1 Jelly Bean,
Android 4.4 KitKat,
Piruleta Android 5.0,
Android 6.0 Marshmallow y
Algunos modelos de Android 7.0 Nougat.
Casi todos los dispositivos Android que ejecutan la versión anterior del sistema operativo Android se pueden rootear con la aplicación KingRoot. Así que hay posibilidades de que incluso si otras herramientas raíz de un clic no le permite obtener acceso de root en su dispositivo Android, entonces es más probable que KingRoot pueda rootear su teléfono móvil o tableta.
However, just like before, we will highly recommend you to do your research before jumping onto hitting the gain root access button on the KingRoot app. If you are finding it confusing then feel free to leave a comment below and one of our team members will surely guide you better. 🙂