| | |
| --- | --- |
| Name: | Truecaller |
| Developer: | True Software Scandinavia AB |
| Size: | 118 MB |
| Package name: | com.truecaller |
| Version: | 12.12.6 |
| Safety: | Safe |
| Language: | English |
| Playstore: | Open Play Store Link |
| Rating: | 4.3 |
| Downloads: | 100000+ |
Download APK File
Click below to download the app.
App Details & Guide
Truecaller apk download for Android is a powerful phonebook and contacts managing app that enhance your communication by helping you identify unknown numbers, block calls from telemarketers, and stop spam messages from reaching your phone.
There are moments when you receive a phone call or SMS from an unknown number, and it could be anyone: your colleague, acquaintance, spammer, telemarketer, or maybe a scammer. You will never be able to find out who is on the other end without receiving that call or responding to the SMS.
Now, if you have had the Truecaller app installed on your phone then the app would have automatically showed you the name, location, and even their photo; helping you identify who is calling and from where so that you can quickly decide if you should take the call or not, and concentrate more on the communication.
On the other hand, in case that particular call or message was from a spammer then it would have been automatically blocked by the Truecaller.
In a nutshell, Truecaller is the best app for the Android phone that makes your communication safe and efficient while providing you with features like caller ID functionality for identifying who is calling and messaging you and even helps you in automatically blocking calls and messages from spammers.
Do you want to find out how this powerful mobile app can help you with caller identification and calls/SMS blocking? Continue reading to learn more about the Truecaller app for Android…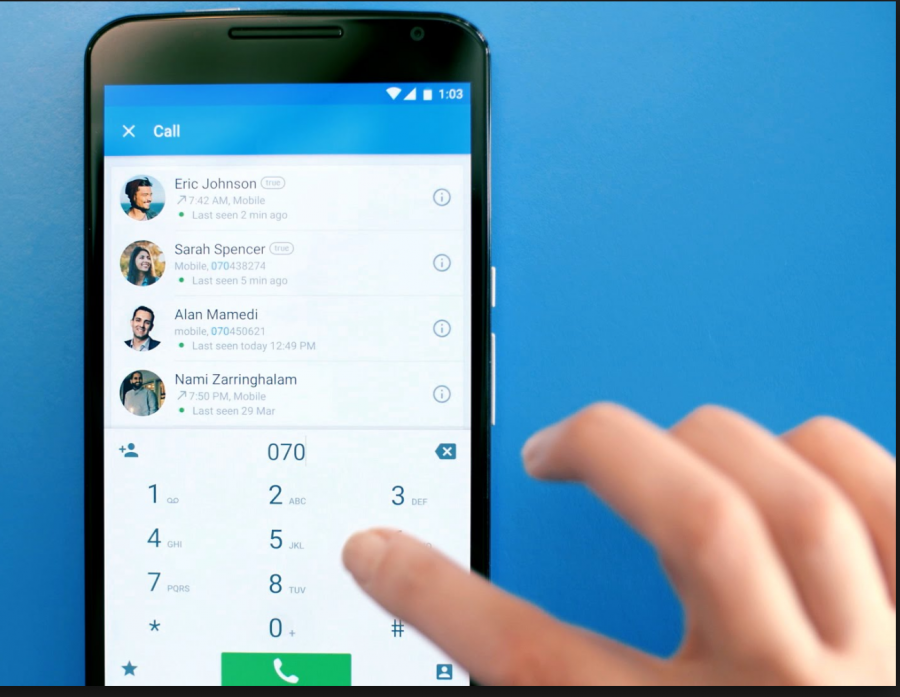 Features of Truecaller for Android
Truecaller is more than just a caller identifier and dialer app for your Android phone. Here are the other powerful features:
See Who Is Calling & Messaging – Quickly identify any unknown number from any part of the world and know who is calling and messaging you.
Block Unwanted Calls & SMS – If you are tired of manually blocking spammers and telemarketers using blocking apps then use Truecaller's built-in calls and SMS blocking feature that automatically blocks unwanted numbers from reaching you.
No More Unknown Numbers – Whether it is your recent call history or message inbox, all of us receive dozens of calls and SMS from a large number of people every day and sometimes few of them are from unknown numbers, this is where Truecaller automatically assigns them their true name without any efforts from your end.
Check Your Contact's Availability – Truecaller has a great feature that checks your contact and tells you whether they are available, busy, on a call, or away. This helps you find the most suitable time to call and get in touch with them.
Flash Messaging – There are moments when you need to send a simple reply but cannot type it out, but with Flash Messaging feature, you can reply to your friends and contacts using pre-defined messages in just a single tap.
Dark Theme – A new sleekly designed dark theme transforms the whole interface of Truecaller to a darker shade, which helps you make it less stressful for your eyes during nighttime calling and messaging.
About Truecaller: Caller ID and Dialer
Truecaller mobile app is designed and developed by a company named True Software Scandinavia AB that is located in Stockholm, Sweden. Since 2009, the developers are working on this mobile app to completely innovate the way our phonebook and contact list works with the help of intelligent services. The app is available for all the devices that have access to Internet connectivity.
Up until now, the Truecaller service has been trusted and being used by millions of users from all around the world to help with their communication needs. It helps them in identifying unknown callers, blocking spam SMS, filters out all the unwanted callers, and finds out who is actually calling you (along with their photo) before you pick up the call.
Video Demo of Truecaller
Watch a short Truecaller demo video below where you will learn about how you can use the Truecaller APK on your Android phone to make calls and identify whom you are calling, even if the number is not in your phonebook or contact list: