With the Razer Phone 2, the Xiaomi Black Shark 2, and the Nubia Red Magic 3 gaming phones already launched, all eyes are on the ASUS Republic of Gaming (ROG) Phone 2, which is slated to break cover on July 23 during an ASUS keynote event in China. The Taiwanese manufacturer has also started teasing the phone online, though sparingly for now.
So far, it was known that the ASUS ROG Phone 2 will come with 120Hz refresh rate (same as the Razer Phone 2 and against the 90Hz of its predecessor ASUS ROG Phone) as well as 30W fast charging support. That along, ASUS officially confirmed that the ROG Phone 2 will be the first smartphone to pack the freshly announced Qualcomm Snapdragon 855 Plus SoC.
To note, Qualcomm just yesterday announced the Snapdragon 855 Plus, which is a beefed-up version of the current Snapdragon 855 SoC. Qualcomm said the Plus version of the Snapdragon 855 ensures 15% improvement on GPU front while brings 4.2% enhancement in CPU performance with speed clocked up to 2.96GHz from 2.84GHz of the Snapdragon 855 SoC.
If we can recall, last year ASUS also used a specially binned version of the Snapdragon 845 which was clocked at a slightly higher speed in the ROG Phone.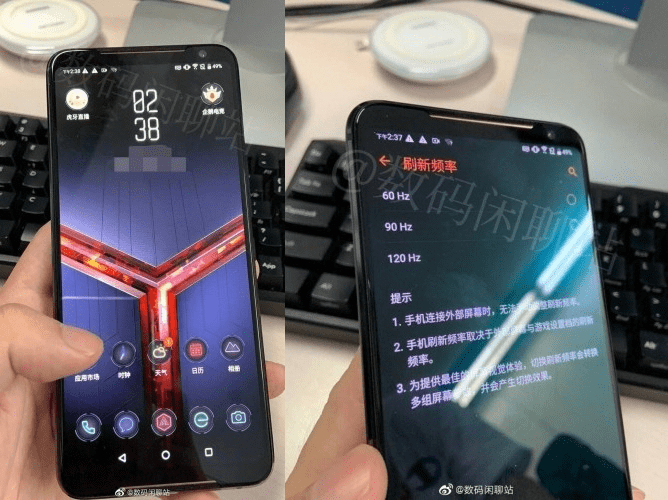 As far as other details of the ROG Phone 2 are concerned, nothing concrete is known as yet. However, internal fan cooling system like in the Nubia Red Magic 3, as well as a bigger battery probably rated at 5,000mAh as in the case of the ASUS ZenFone 6, are also doing the rounds of the rumor mill.
While knowledge about the ROG Phone 2's specs is hazy at this time, a couple of live images of the phone has found its way to the social media platform Weibo, giving us a peek at the device for the very first time, no matter only the front is visible.
It appears the bezels are thinner compared to the ROG Phone but the trend of thick top and bottom bezels continues. Dual stereo speakers are easily noticeable, flanking the screen. The display is notch-less and the front camera is spotted on the right corner of the top bezel while the antenna band lies at the left corner of the top edge of the phone.
The second image, on the other hand, reveals that the refresh rate can be adjusted between 120Hz, 90Hz, and 60Hz. However, this is not clear if the refresh rate adjustment will still be allowed when the phone remains connected to an external screen.
To reiterate the ASUS ROG Phone 2 will see  the daylight on July 23 when all the details about the phone will be uncovered. We will bring you the updates as and when this happens. Stay tuned with us.
Was this article helpful?