With smartphone technologies evolving day by day, the pace and performance of recent phones that we use have seen a drastic change. Nobody these days will want their phones to be slow and stuttering. All the smartphone manufacturers understand that, so invariably claim their phones to be the best-in-class.
However, there is an AnTuTu benchmark to keep the record straight as it releases a list of top 10 best performing Android smartphones every month testing the claims of handset manufacturers. Keeping the practice, AnTuTu has released the top 10 best performing smartphones for the month of June.
The list throws an interesting fact that most of the best performing smartphones are from Chinese manufacturers. The premium Galaxy S10+ and S10 from Samsung are way down the order, claiming the 9th and 10th spot respectively, whereas Xiaomi is sitting tight with as many as four entries.
The Xiaomi Black Shark 2 gaming smartphone with 375,592 points, the Mi 9 Transparent Edition with 371,021 points, and the Mi 9 with 370,884 points, respectively ranks second, third, and fourth in the list.
The much-vaunted OnePlus 7 Pro that boasts 90Hz refresh rate managed to secure the fifth position by notching up 368,307 points while the vanilla OnePlus 7 rests at seventh spot claiming 367,718 points. Preceding it is the Meizu 16S acclaimed for not having a notch or punch hole yet managing slim bezels grabbed the sixth spot with 367,981 points.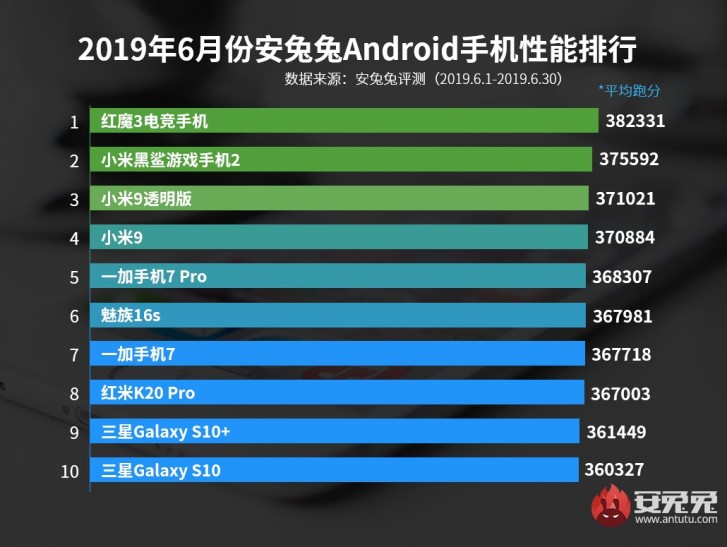 The recently launched Redmi K20 Pro that is being touted by Xiaomi as the fastest actually finds a place at the eighth position with 367,003 average points. Nevertheless, the smartphone has barged straight into the list after its launch in the last week of May. The Samsung Galaxy S10+ and S10 round out the list with 361,449 and 360,327 points.
The domination of Xiaomi and other brands is so great that the Samsung Galaxy S10e, the LG V50 ThinQ 5G, and the Huawei P30 and P30 Pro which were in the list of May are now missing in action.
While all is said and done, let's know which smartphone is actually at pole position. With a score of 382,331 points, the Nubia Red Magic 3 overshadowed all the phones to top the list once again after the month of May.
Like all the smartphones in the list, the Nubia Red Magic 3 is kitted with the latest Qualcomm Snapdragon 855 SoC and is paired with Adreno 640 GPU, up to 12GB RAM, and 256GB internal storage. It also comes with 90Hz refresh rate support and HDR display while it is backed by a whopping 5,000mAh battery.
But what gives the Nubia Red Magic 3 edge over others is its PC-style active liquid cooling system with turbofans that keeps the phone cool and thereby optimizes the performance during heavy gaming sessions.
Was this article helpful?