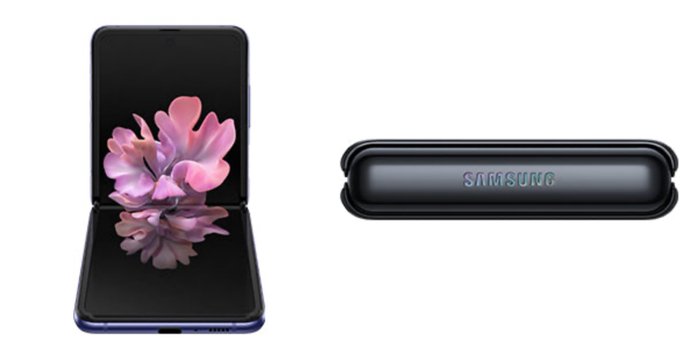 Samsung is slated to launch its flagship Galaxy S20, Galaxy S20 Plus, and Galaxy S20 Ultra on February 11 at the Galaxy Unpacked event. However, it is also expected to squeeze in the Galaxy Z Flip, its second foldable device after Galaxy Fold, at the event.
While there have been several leaks and renders giving us leads to the Galaxy S20 trio of phones, a leak has emerged, which tips us the main specs of the upcoming Galaxy Z Flip.
Before we begin, let's remind you that the Galaxy Z Flip is different from the Galaxy Fold. The former unfolds vertically against the latter unfolding horizontally. To a large extent, it is similar to the Motorola RAZR 2019 that was unveiled in November last year.
Talking about the leak, the famous leakster Ishan Agarwal has posted on Twitter as to what we might expect about the Galaxy Z Flip.
According to his tweet, the smartphone will pack a 1.05-inch small outer screen with Super AMOLED technology and a 6.7-inch FHD+ inner glass display with a tall 22:9 aspect ratio. In terms of battery, the Galaxy Z Flip will include 3,300mAh battery array, dived into 925mAh and 2,375mAh for the two leaves of the device.
Related:
The smartphone will come with wireless charging, but it is rated at 15W only. However, the device manages to provide 12W wireless charging as well. For better sound quality, the Z Flip is equipped with stereo speakers.
In a follow-up tweet, Agarwal also reveals that the Galaxy Z Flip will pack a Qualcomm Snapdragon 855+ chipset. To note, its rival Motorola RAZR 2019 only makes use of Snapdragon 710 SoC.
Amongst other things, Agarwal says Z Flip's primary rear camera will come with Dual Aperture tech, which Samsung first introduced on the Galaxy S9 series. Additionally, the smartphone will also feature the company's Wireless Powershare for reverse charging.
Are you facing any Problem or need any help?
Get Fast Help from our community experts.

🤗
The Galaxy Z Flip will be available in Mirror Black and Purple color options with a prismatic effect. Attaching renders of the device to his tweet, Agarwal emphasized that Samsung will focus on the design front.
The renders revealed by Agarwal match with the renders outed by another leakster Evan Blass. The Galaxy Z Flip looks to be using a traditional hinge mechanism while the display is protected by thin glass coating as well as protruding bezels. There is also dual camera setup at the back while the front will have a single selfie camera punched inside the centrally aligned cutout.
If other rumors are taken into consideration, then the Galaxy Z Flip could end up having 8GB RAM, 256GB inbuilt storage, One UI 2.0 atop Android 10, 12MP+12MP dual-rear camera array, and a single 10MP selfie shooter.
The Galaxy Z Flip is rumored to cost cheaper than the Motorola RAZR 2019. It will likely be priced at around EUR1,500 and go on sale starting February 14 in Europe just a few days after its supposed unveiling on February 11. Nevertheless, Samsung is yet to confirm anything that is doing the rounds of the rumor mill. Stay tuned.
Was this article helpful?