HUAWEI is in a fraught relationship with the US. Due to the ban imposed on it for doing business with the US companies, it might well end up stranded without an operating system for its devices, mainly the smartphones. This could be disastrous of a sort at a time when the Chinese manufacturer is the world's number 2 in terms of smartphone shipments.
To avoid such a despairing situation should it arises, HUAWEI is reportedly prepping its own operating system to power its devices. The company has already trademarked a few monikers such as Hongmeng, Ark, and Oak in different parts of the world. Out of which, it was the Hongmeng moniker that was being widely believed to be the final name for the upcoming OS.
But now, interestingly, HUAWEI is linked to a new moniker for its OS as well. The company has filed the moniker "Harmony" as a trademark for an operating system for mobiles and computers with the European Union Intellectual Property Office (EUIPO) dated back on July 12, 2019. The trademark application was first spotted by LetsGoDigital.
With the new name popping up, it has added to the confusion as to what exactly would be the final name of HUAWEI's proprietary OS. The people related to the matter, have revealed that the Hongmeng could just be a codename or even the real moniker for the use in the Chinese market while the Harmony may end up being the global name of the much-awaited operating system.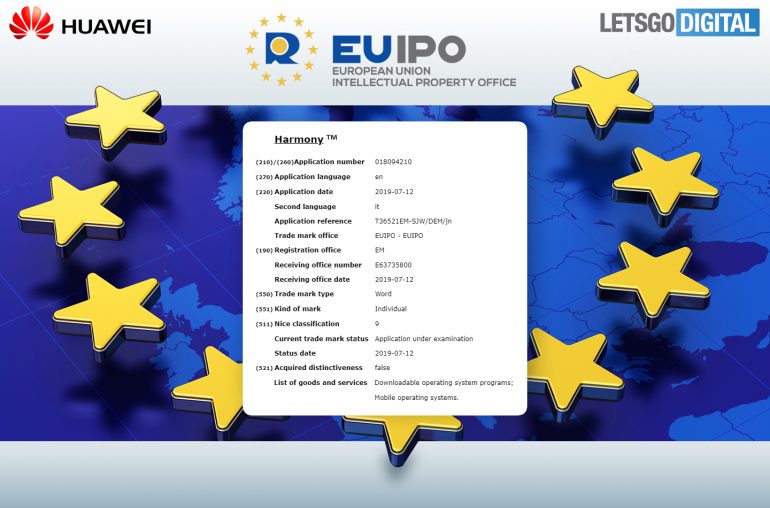 Several reports suggest that the new OS from HUAWEI might be launched towards the end of this year in the Chinese market, while in the international market it might see the light, not before early 2019.
Although the real name is still under wraps, HUAWEI's officials have been consistently bragging about the speed as well as the versatility of the purported OS. HUAWEI CEO and founder, Hen Zhengfei, recently claimed that their proprietary OS is 60% faster than Android and also meant for use in a variety of devices such as the routers, switches, cars, and IoT devices, besides smartphones.
The speculation is also rife that Hongmeng could turn out to be the OS for smart devices while the Harmony will possibly be confined to powering the smartphones. As we said it is really quite fuzzy at this moment with regards to the branding of the new OS.
In the meantime, the US has shown willingness to relax the ban against HUAWEI so the company can use Android for its mobile phones, which is also the first choice for the company at present, irrespective of the swift works going on in the development of its own OS. Should the ban is lifted, HUAWEI may fall back on Android for now at least until HUAWEI manages to develop a robust and compatible ecosystem for its OS for wider acceptability among users.
Was this article helpful?