We all are aware about the fact that the major social media and content sharing platforms like YouTube and Facebook has added a native support for 360-degree content, which means it's about time everyday consumers start their search for a smartphone camera accessory that can help capture pictures and videos of the world in a whole new way. Though, the camera needs to be affordable, lightweight, durable, easy to use, and easy to carry around with us regardless of where we go.
Most of the 360-degree cameras currently available in the market are highly capable and have the ability to directly connect to your existing smartphone for ease of capturing, quick editing of recorded footages along with the option to share them with your friends/followers on YouTube, Facebook, and other social media platforms that supports 360-degree content.
Now today, we have brought an all-new spherical 360-degree camera for Android smartphones that support each one of the features we have mentioned above and can be plugged easily into your Android device. It is the LyfieEye200 by eCapture Technologies, which is the world's smallest and lightest palm-sized 360-degree camera that even has a capability to capture VR and AR content.

This newly launched 360-degree camera allows you to stream live 360-degree videos to YouTube and Facebook, thanks to the innovative camera design and well-developed app that seamlessly stitches videos and images in real-time.
Before we jump onto the review, here is a quick overview of the 360-degree camera:
Weighs just 14.7g making it the lightest 360-degree camera on the market,
Full HD live streaming,
Seamless image and video stitching with live shot preview,
Record, playback, and live streaming of spherical 360-degree videos and photos,
Upload directly to social media channels including YouTube and Facebook,
Create hi-res videos and images with 3K resolution @ 30fps,
Use the compatible apps (LyfieView200, LyfieRoam, LyfieStroll) to control the camera, video, picture, and live stream as well as the VR/AR features,
Use cutting-edge features like LyfieRoam and LyfieStroll to create immersive VR/AR experience on the fly (will be released later).
LyfieEye200 is a perfect portable camera for capturing the world around you and quickly sharing it with your friends.
Our review unit of LyfieEye200 came with a:
Handy Lyfie storage pouch,
Quick start guide, and
USB Type-C to Micro-USB converter/adapter.
The adapter is what enables you to use the LyfieEye200 on a wide range of Android devices. However, your Android phone/tablet that you want to connect to the camera must need to be OTG-enabled.
While we are talking about compatibility, it is important to mention here that the LyfieEye200 is compatible with Android 5.0 Lollipop and above. That is not all; you can even connect it to your computer/laptop running Windows 7 or higher operating system. However, at the time of writing this review, the 360-degree camera is compatible with selected Android models only.
The camera is equipped with dual 180-degree fisheye lenses, one on the front and one on the back, which flawlessly blends with the rugged body of the camera. And with the help of innovative software, the videos and images are seamlessly stitched together to provide you with 360-degree content.
The build quality of the camera is solid and feels good in the hand. The corners are built with rugged rubber that can protect the camera from slight impacts whereas the center part is made of stylish gun metallic color. On the lower end, you will find a plastic cap. Pop opening the cap reveals a USB Type-C connector, as you can see in the picture.
If you paid close attention to the pictures then you must have noticed that the camera has no microphone. Luckily, their official app is designed to use your device's microphone to record audio. But while recording 360-degree videos, you need to make sure you don't accidentally cover the mic with your hand or alternatively, you can use an external mic for better audio quality.
Connecting the LyfieEye200 to your Android device is easy. If your phone/tablet has a USB Type-C port then you can directly connect the camera to your phone. Otherwise, you can use the provided USB-C2B converter to connect the camera to your device and start capturing 360-degree content.

Having a direct-wired connection means there are no batteries to charge and you don't even need to waste any time with Bluetooth for pairing the 360-degree camera with your Android device. It is a plug and play camera device.
The LyfieEye200 can record hi-res videos and images in 3K resolution but you must need to use the compatible apps like LyfieView200, LyfieRoam, and LyfieStroll to control the camera, capture pictures, and record videos. Moreover, live streaming of content to the social media sites is handled by the app itself. The LyfieView app is already available in the Google Play Store, while the LyfieRoam and LyfieStroll apps are still under development phase and will be available soon.
We created the LyfieEye200 so that anyone with a creative spark would be able to make awesome content easily. Whether using it to live stream a gig, or play around with AR – the LyfieEye200 has you covered. – George Wang, CEO of eCapture Technologies
The LyfieView app is what enables the camera to record, playback, and live streaming of spherical 360-degree videos and photos. The app even let you directly share the captured moments to supported social media channels, which includes YouTube and Facebook.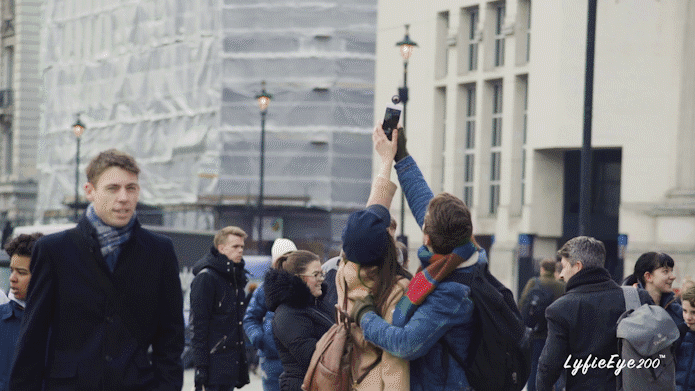 One of the most notable features of this new camera is that it will even provide you with an option to record immersive VR (Virtual Reality) and AR (Augmented Reality) experience on the fly using innovative apps like LyfieRoam and LyfieStroll.
So let's now take a quick look at LyfieView app and see how it performs in the video below:
For those of you who are wondering about the camera quality of this 360-degree camera, here are a couple of test 360° photos we took with LyfieEye200 during bright daylight:
Once the 360-degree content has been recorded, you can then quickly edit and easily share it on YouTube and Facebook using the provided LyfieView200 app. Moreover, the videos and photos captured using the LyfieEye200 can be viewed using any VR headset for an immersive experience, thanks to the intelligently developed and innovative LyfieView app.
For tech nerds, here are the technical specifications of LyfieEye200:
Image resolution: 2880×1440 (JPG) / 2160×1080 (JPG)
Video resolution: 2880×1440 (@30FPS) / 2160×1080 (@30FPS)
Live streaming: 1440p / 1080p
Single video file storage limit:7GB
Size W x H x D (mm):69 x 37.59 x 21.71
Weight:7g
Interface: USB type-C (U2 & U3). Micro-USB & Type-A compatible with adaptor.
Input voltage rating: 5V ± 0.25V
Power consumption: <1.5W

The LyfieEye200 is now available on Indiegogo as a crowdfunding campaign, where backers can reserve a basic version of this camera for themselves by pledging $89 (plus shipping). Or, you can even opt for a high-end launch special bundle that comes with Lyfie Pouch, LyfieC2U USB-C2B connector, LyfieC2A USB-C2A connector, LyfieLinkC2C Type-C extension, LyfieFoot laptop connector, and a Lyfie table stand available for $115 (plus shipping).