OnePlus is known for following a two-phones-in-a-year strategy in which the flagship model is later succeeded by a T-suffixed model like the OnePlus 5T and OnePlus 6T. But this year OnePlus launched two phones- OnePlus 7 and OnePlus 7 Pro- at a time. This gave rise to speculation that there won't be a "T" version of the latest flagship. But it seems the speculation was not right.
Max Jay, an industrial leaker who mainly tips about Samsung posted on Twitter that "The next 1+ (OnePlus) T is indeed a thing." And for the first time, the alleged OnePlus 7T Pro has sprung up in the public eyes thanks to a leak on Weibo by the reliable Slashleaks.
The leak comes in the form of prototype images of the OnePlus 7T Pro which point to the fact that the OnePlus 7T Pro exists in reality.
One image by Slashleaks shows the alleged phone running a beta version of Android Q while the other image is pixelated enough to obscure some details on the display. Plus, the phone is enclosed in a protective cover, further hiding design elements.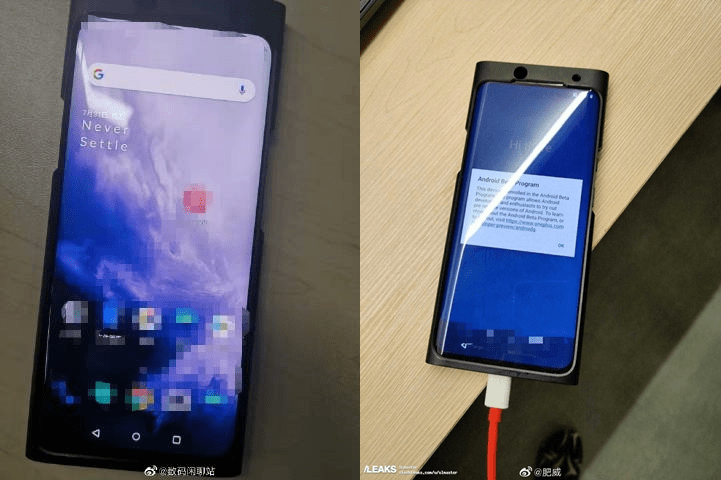 However, what we gather from the images is that the OnePlus 7T Pro will come with the same full-screen design without a notch or hole punch. The phone will have a pop-up selfie camera just like the original OnePlus 7 Pro. Though, for a change, the speaker grille will now find a place on the top.
No other details accompanied the leaked pair of images. However, it is expected that the OnePlus 7T Pro will pick the latest Qualcomm Snapdragon 855 Plus SoC , which is a beefed-up version of the Snapdragon 855 SoC with about 4% and 15% enhancement in terms of CPU and GPU performances.
Usually, the "T" version of OnePlus devices don't deviate from the original flagship design. However, the OnePlus 6T was launched with the inclusion of a water-drop notch. If changes come about, it will probably be in the camera resolution as the OnePlus 7T Pro is expected to stick to the same triple-rear-camera layout as present in the OnePlus 7 Pro. A few new color options will likely be introduced with the new smartphone as well.
OnePlus from its end has been maintaining a stony silence over the prospect of the OnePlus 7T Pro. It is not clear at present if a "T" version of the regular OnePlus 7 is also on the cards. If the OnePlus 7T Pro exists at all it may go public in October or November launch cycle when almost all the "T" upgrades of OnePlus have so far seen the sunshine.
Was this article helpful?