If you're following news about Realme, the latter goes neck and neck with its prime competitor, Xiaomi in every respect. Following the confirmation that Xiaomi's subsidiary Redmi is all set to launch the Redmi K30 in December, Realme has gone official in revealing that it is also launching a new smartphone called the Realme X50 in the coming weeks.
And just as the Redmi K30 is confirmed to come with 5G support and dual-selfie cameras, the Realme X50 is also confirmed to be armed with 5G support and two selfie cameras up front.
Realme China Chief Marketing Officer, Xu Qi Chase, in a Weibo post has confirmed that its ambitious 5G-enabled smartphone will be called the Realme X50 and the same will land in China in the next few weeks in the homeland, China.
The revelation aligns with what Realme India Chief Madhav Seth had to say back in June that the company is working on its first-ever 5G smartphone which could see the daylight by the end of this year. However, back then, he hadn't specified the moniker of the intended device.
The post by Chase also reveals that the Realme X50 will support dual-mode 5G- 5G Stand Alone (SA) and Non-Stand Alone (NSA) – which is just like what the Redmi K30 will come with.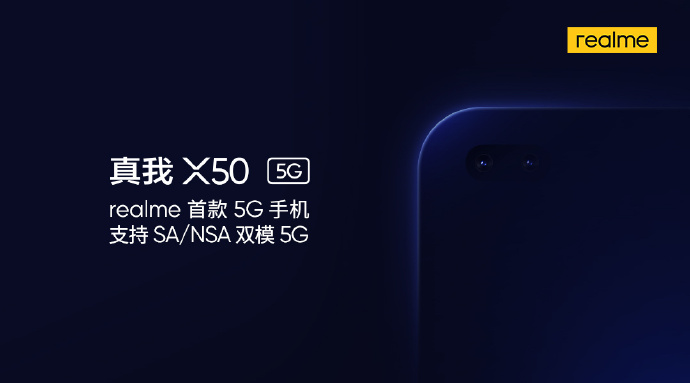 Chase has also attached an image to his post which depicts the Realme X50 in silhouette showcasing pill-shaped dual cutouts upfront meant for two selfie cameras. However, unlike the top-right placement on the Redmi K30, the cutouts on the Realme X50 are carved on the top-left corner of the front panel.
Nevertheless, a question that begs to be answered is what processor the Realme X50 will be kitted inside with for supporting the 5G networks. Realme, so far, is silent on that, but rumor is rife that it could be Snapdragon 700-series of SoC equipped with 5G.
Qualcomm is expected to unveil its flagship Snapdragon 865 SoC on Dec 3 and likely the company will also launch its mid-tier Snapdragon 700-series SoC with 5G, alongside. According to the rumor mill, it could be called the Snapdragon 735 SoC.
A whole lot of other details of the Realme X50 is shrouded in mystery now. Hopefully, the information in this regard will start trickling in soon. The price of the phone is also not known, but it could be in a pricier territory.
Currently, Realme has the Realme X2 Pro as its top-rung premium smartphone in the market selling at a starting price of EUR399 only while offering top-of-the-line Snapdragon 855 Plus SoC, 90Hz display, 64MP quad-rear camera, UFS 3.0 storage, and 50W SuperVOOC fast charging.
Was this article helpful?