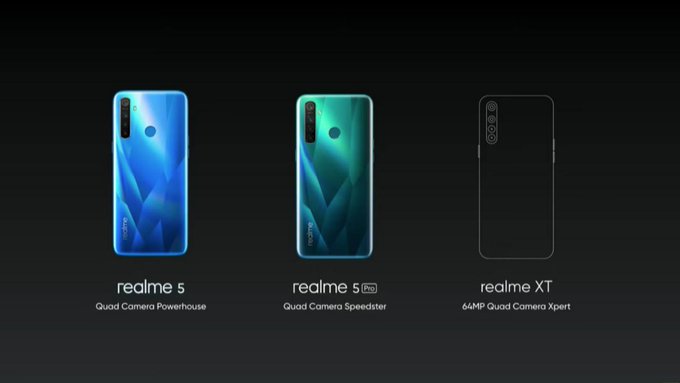 Today Realme took the wrap off the Realme 5 and Realme 5 Pro in India and also put an end to the suspense over the name of its upcoming smartphone with the much-touted 64MP camera. According to Realme India CEO, Madhav Seth, the name if its first smartphone with 64MP camera is the Realme XT.
The Realme XT will be the part of Realme's newly minted X series under which the company launched a premium mid-range smartphone, the Realme X last month with Super AMOLED display, pop-up selfie shooter, in-display fingerprint scanner, and a Snapdragon 710 SoC.
Only a zilch is known at this point of time about the specs and features of the Realme XT. Seth, however, hinted that the Realme XT will be the "complete expert" in its price segment. No revelation regarding the launch date was made but Seth hinted it might launch towards the end of September or early October coinciding with the Diwali festivities in the country.
The Realme XT will mount four cameras on the rear including a 64MP primary sensor. Realme has already made it public that its 64MP sensor is the Samsung's ISOCELL Bright GW1 sensor that was unveiled back in May this year.
The ISOCELL Bright GW1 sensor uses the company's Tetracell technology where it combines four pixels into one pixel and delivers 16MP photos in low light conditions with the ability to capture raw 64MP photos in bright conditions.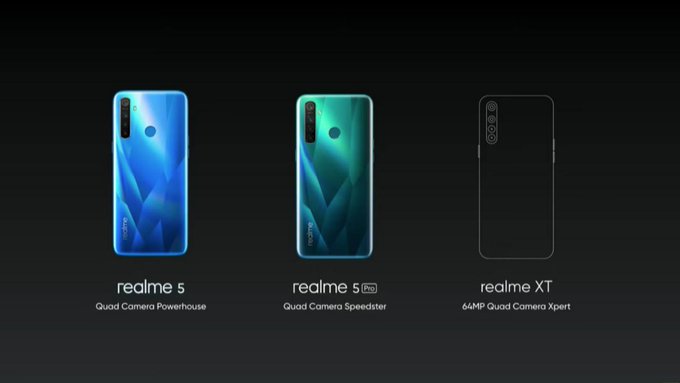 Besides the 64MP sensor, the Realme quad-camera- setup is expected to include different sensors for various shooting options. Similar to Realme 5 series it will probably comprise a wide-angle sensor, a macro sensor, and a portrait sensor.
It remains to be seen if the Realme XT will echo the same design and specs of the Realme X, However, we can predict some of the features from the Realme X such as AMOLED display, in-display fingerprint scanner, and pop-up selfie camera for the Realme XT as well.
Other than Realme, Redmi and Samsung are also readying their 64MP camera smartphones most probably the Redmi Note 8 and the Galaxy A70s for prime time. While the Redmi Note 8 is expected to see the daylight on August 29 in China the Samsung's offering will come out most likely in October this year.
Coming back to today's launched devices, the Realme 5 and Realme 5 Pro. The former is launched at INR9,999 (Approx. USD139) only, bringing Snapdragon 665 SoC, 5,000mAh battery and quad-rear cameras to the table. The latter packs a 48MP quad-camera, Snapdragon 712 SoC and VOOC 3.0 fast charging coming at a starting price of INR13,999 (Approx. USD195).
 
 
 
 
Are you facing any Problem or need any help?
Get Fast Help from our community experts.

🤗
Was this article helpful?