Sony is no longer a force to reckon with when it comes to smartphones. After recurring loss every year Sony bid adieu to India and many other markets. However, it now focuses only on a few select markets and launches phones now and then. The shrunken smartphone business notwithstanding, Sony keeps pushing the bar in innovation, especially in the matter of display resolution.
If we can recall, back in 2017 the company had launched the Sony Xperia 5Z Premium with world's first 4K resolution display and this year in February with the launch of the Sony Xperia 1 it brought 4K resolution on OLED panel with 21:9 aspect ratio.
And now it seems Sony is eyeing yet another record by launching a smartphone with whopping 5K resolution. A new device having the model number J8220 has been spotted in a User Agent (UA) profile with 5,040×2,160 pixels display resolution, which is 5K resolution.
The phone in question could be the successor to the Sony Xperia 1, which is likely to be named as the Sony Xperia 1R and not the Sony Xperia 2 which reports suggested earlier.
There is nothing extra that has been revealed about the purported Xperia 1R, but its size could be of 6.5 inches, same as the size of the Xperia 1's display with pixel density remaining oodles at 889ppi. Considering the resolution the display of the Xperia 1R will still bear the 21:9 aspect ratio.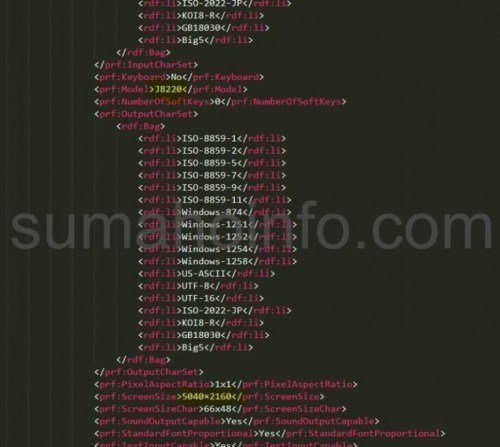 Recently the Xperia 2 leaked in renders giving away that it will mount a triple-rear-camera at the top left of the back panel compared to centrally aligned setup in the Xperia 1. The smartphone was seen with a side-mounted fingerprint scanner as well. The device is presumed to use a Snapdragon 855 SoC paired with 6GB RAM and 128GB internal storage.
If the alleged Xperia 2 is the Xperia 1R, then the above-mentioned specs of the Xperia 2 can now be attributed to the Xperia 1R. Nevertheless, there is no allusion to anything relating to the successor of the Xperia 1 from the company side as yet. So, for now, we are looking into every bit of information rather skeptically.
The Sony Xperia 1R is expected to break cover at IFA 2019, which is to be held in Berlin in the second week of September 2019.
The upcoming Sony Xperia 1R may come packed with the 5K resolution display, but is it necessary at all? The 4K-5K displays can come handy for VR purposes but in real-world use, it is just like over-egging the pudding. Even 2K display at times is considered as gimmicky for a smartphone. Anyways, it is a debate that will get underway in the coming days. Stay tuned with us for more updates.
Was this article helpful?