Samsungsafe2switch Program Discontinued
SamsungSafe2Switch was a program introduced by Samsung that offered exchange credits if you buy a new Samsung phone and give the old one to be refurbished.
What is the current status of SamsungSaf2Switch?
Currently, Samsungsafe2switch is no longer active but you can use Samsung Trade-in as a replacement. You can find more details about the program here.
More Detail About The Previous Program
Here is what Samsung advertised at that point.
Switch Now and Get Paid! – Trade-in one or more qualifying devices when you upgrade to a new Samsung SAFE smartphone or tablet and get up to $300 per device!
Upgrading is simple. You'll get a quote, purchase a new Samsung smartphone or tablet, and mail in your old device within 30 days. Then you'll get a Samsung Visa Prepaid Card mailed to you for your reward. If you've already purchased a new Samsung device, have the proof of purchase handy.
SAFE (Samsung for Enterprise) represents a growing family of Samsung enterprise solutions that include the necessary security and feature enhancements for enterprise use.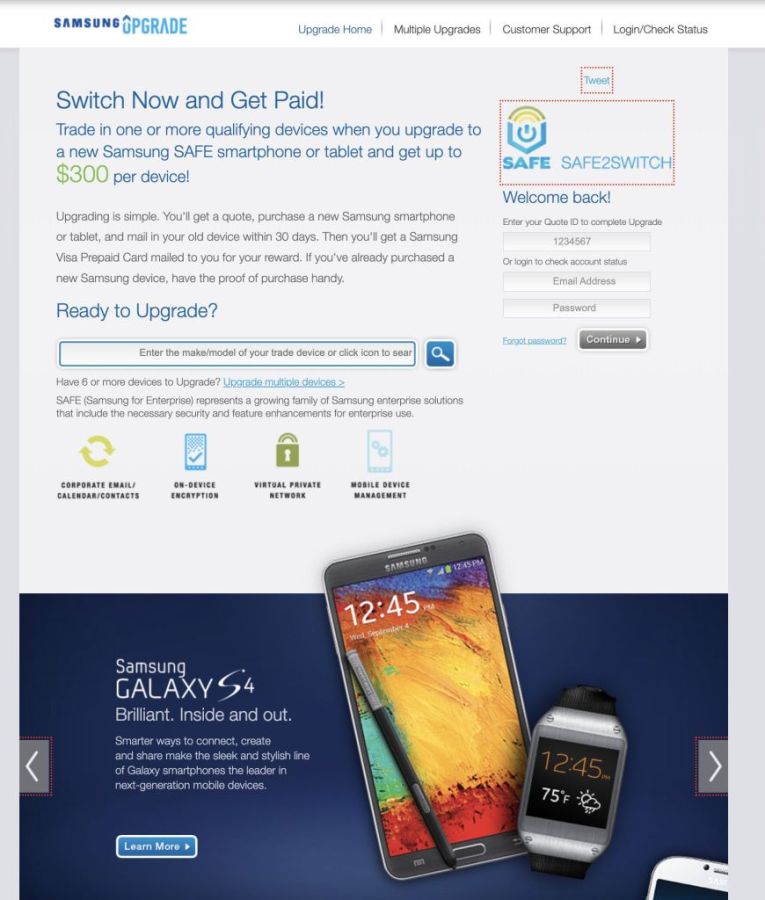 Some more Information
Although the name of the program is changed as is now directly offered on Samsung's own site, there is no difference so feel free to take advantage of the new program. When you get a new Samsung phone then don't forget to buy some good earphones as the stock ones are rarely good enough. Here are some of the best wireless earbuds under six dollars, yes you read it right.
And with new amazing earbuds, you can listen to your favorite music even offline with these apps or use this Spotify mod to get all spotify premium features for free.
Let us know if there is something more you want to know about the program. Best of luck!