In a world where everything moves fast and progress is essential, it's nice to know you have support to overcome the chaos. Since we live in a world where people are addicted to smartphones, it's logical to think that the help will come as a Play Store app. In the past couple of years, Google Store was overflown with educational apps that promises unique value and advancement.
They are indeed, but only if you know the best ones. Today, using technology you can learn online on the go, make close communities, and even your own online classroom to share knowledge.
In this post, I have compiled a list of the twelve exceptional educational apps for Android that you should use if you want to advance in your professional or personal life.
1. Peak – Brain Games and Training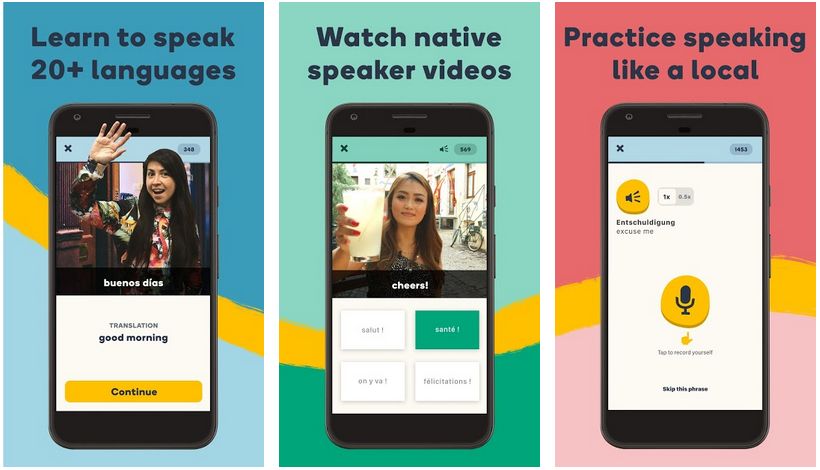 This app might look like it should be under another category, such as games, however, most people are wrong. Peak is absolutely fantastic and provides both play and work at the same time. It's a perfect mix of both worlds, created to challenge your brain, memory, and critical thinking in order to keep your mind active all the time. Peak focuses on attention and memory and it gives back feedback based on your performance.
Key Benefits
A bundle of free brain games that challenge and improve your memory, attention, math, problem-solving ability, mental agility, language, coordination, and emotional control.
The App completely adapts to your needs and capabilities and delivers feedback about your performance and improvement.
The games are developed by expert researchers at Cambridge University, NYU, and more.
You have the ability to compete with others by comparing your performance and brain map.
Peak is amazing as it has the three most important elements for learning: customizable performance reports, quality games for development, and healthy competition.
2. Mimo: Learn to Code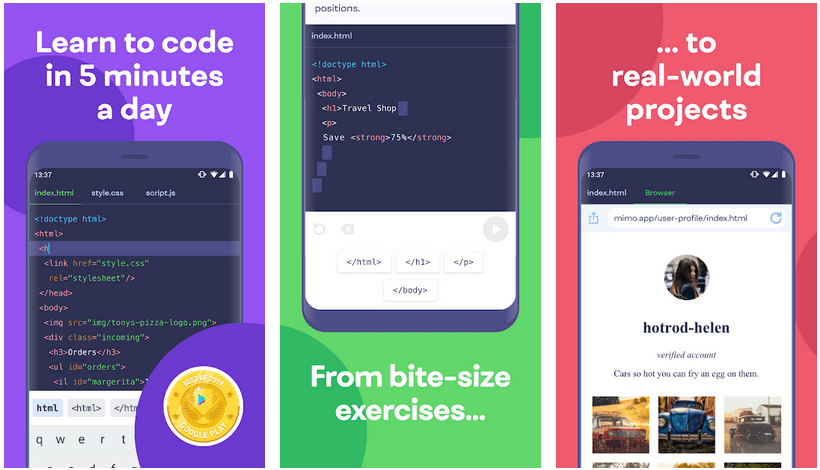 Coding will be an essential skill in the future. Everyone should learn how to code and this app provides an amazing opportunity to learn to code all by yourself. The most amazing thing about Mimo is that you can learn anything from scratch from any place in the world. It's very convenient to have this coding power in your pocket and accessible at any time of the day.
Key Benefits
Mimo has a large community of 4 million learners that you can use for support and knowledge
Learn programming languages such as Python, HTML, Kotlin, Swift, CSS, JavaScript, SQL, PHP, Java, Git, C++, command line, and more.
You can easily keep track of your progress by collecting achievements and badges
You will get a personalized curriculum with fun and effective exercises
3. Stellarium Sky Map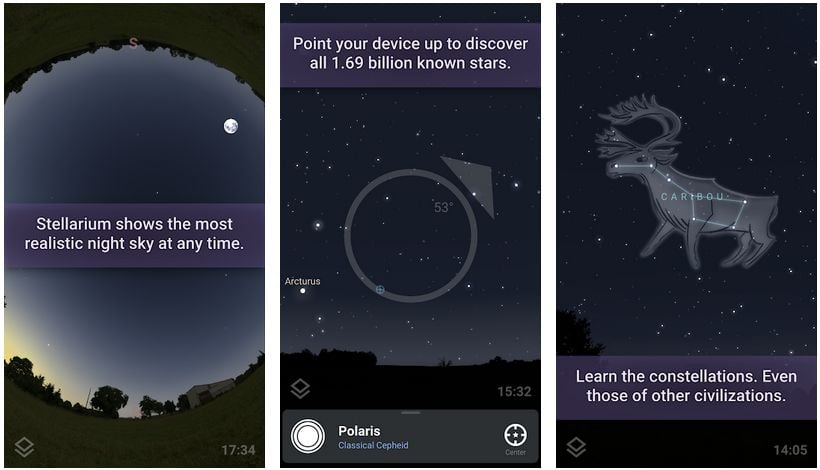 If you are an astronomy lover or you just want to learn more about the sky above us, then you will love this app.
Stellarium has the best sky map on the market, helping you to easily observe stars, planets, and constellations. The best part about this app is that it's very realistic. You will be able to see the stars and all the space objects, just like you see them through a telescope.
Key Benefits
A real-time zoomable sky map, with over 600000 stars available to analyze.
Available realistic images of the Milky Way, landscapes, and atmosphere on other planets with sunset and sunrise.
Beautiful 3D rendering of all of the solar system planets and their satellites
4. Yousician – Music Education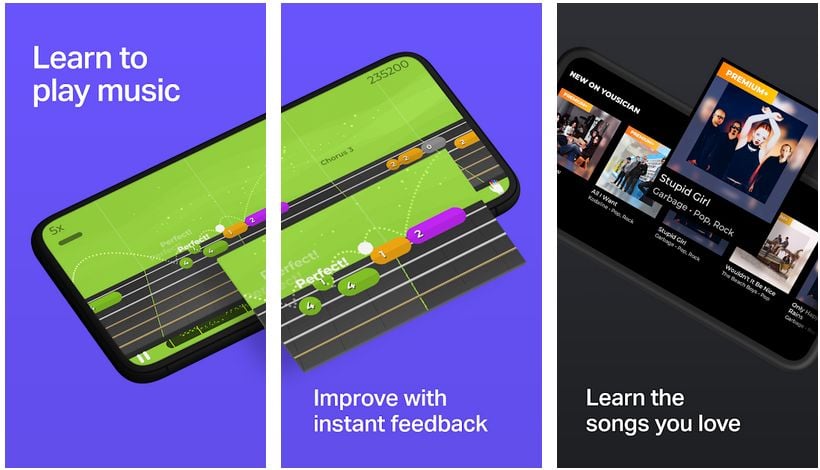 This is the ultimate tutor for guitar, piano, bass, and ukulele. If you are passionate about music and you want to learn how to play one of the mentioned instruments above, then this app is for you.
This app listens to you while you play and gives immediate feedback. The curriculum is also designed by expert music teachers and it's suitable for anyone from beginners to professionals.
Key Benefits
They have a rich library of lessons, videos, and exercises covering all the skills you need.
The app also teaches music theory and will include specific teachers for every skill and chord.
You can compete with millions of people that are part of the Yousician community.
5. Skillshare – Creative Classes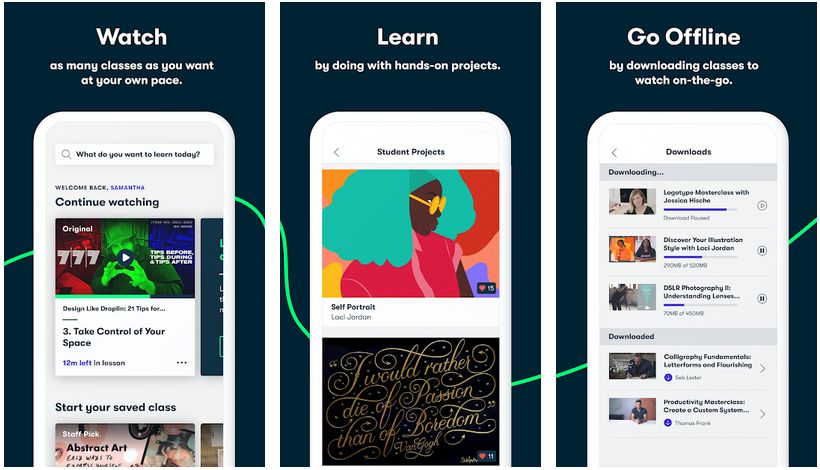 This app offers classes in photography, design, and business and it's suitable for people that are lifelong learners. On the app, you will find more than 25,000 online courses, however, folks that are into art, photography, and design will use this app the most.
Key Benefits
Everything you want to learn about design and visual art in one place. You will find courses that will help your career as an artist a lot.
Classes include projects that will help you learn by doing.
The monthly subscription cost is not high and by buying only one account, you will gain access to all courses available on the app.
Classes are rated by the community so you will know by ratings if you should invest time in following a certain course.
You can comment and communicate with the community on every course.
6. Khan Academy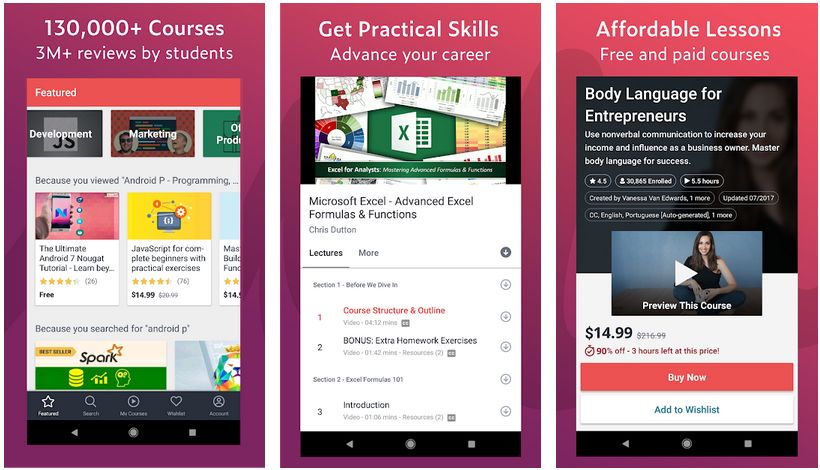 Khan Academy offers hundreds of free courses from Math to Science for school students. Khan Academy is a world-leading free educational source endorsed by top billionaires like Elon Musk and Bill Gates. It's nonprofit and freely available to everyone.
Whether you're a student, teacher, home-schooler, principal, adult returning to the classroom after 20 years, or a friendly alien trying to get a leg up in earthly biology — Khan Academy's learning library is available to you, for free.
Key Benefits
All of the lessons from the web hub are available on the app too.
You can track your progress and go through courses fast and easily, even when you are traveling on a bus.
7. Quizlet – Learn Languages with Flashcards

Many people learn easier when they have flashcards. Quizlet is a perfect app for all students as it provides you with flashcards on different subjects such as language, math, and science. You can create your own flashcards or learn from prepared cards by other students.
Key Benefits
The app is fully customizable and user-friendly, you can create your own flashcards and develop your own little flashcard world.
You can listen to your material pronounced correctly in 18 different languages.
There are tests available, where you can check your knowledge and race against the clock in a game of Match.
Quizlet is available on the web too. You can create all of the flashcards on your computer and then use them on your smartphone.
8. Learn Languages with Memrise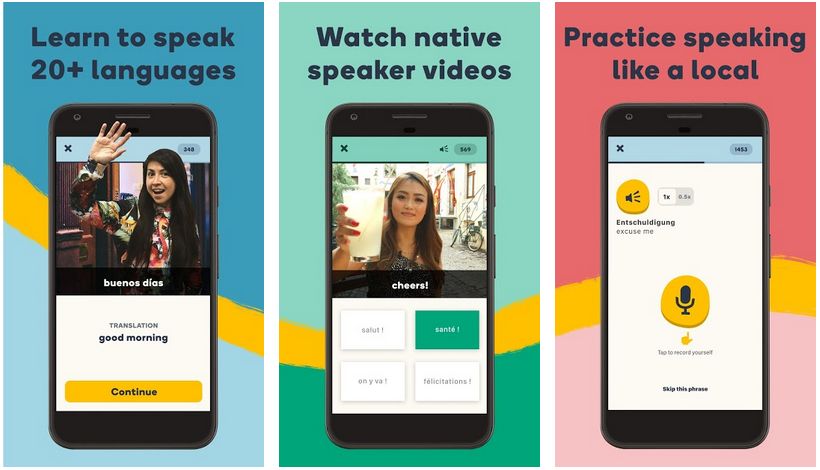 You can have fun while learning a foreign language with Memrise. The app has unique functionalities helping it to stand out from all the other language apps on the market. With Memrise, you can learn with locals and then test your knowledge with their mini and fun exams.
Key Benefits
A variety of interactive games are available, making it easier for you to learn any language you like.
There is an offline mode available or you can access the app even if you don't have an internet connection.
You can set your daily goals and learn step by step at your own pace.
9. Udemy – Online Courses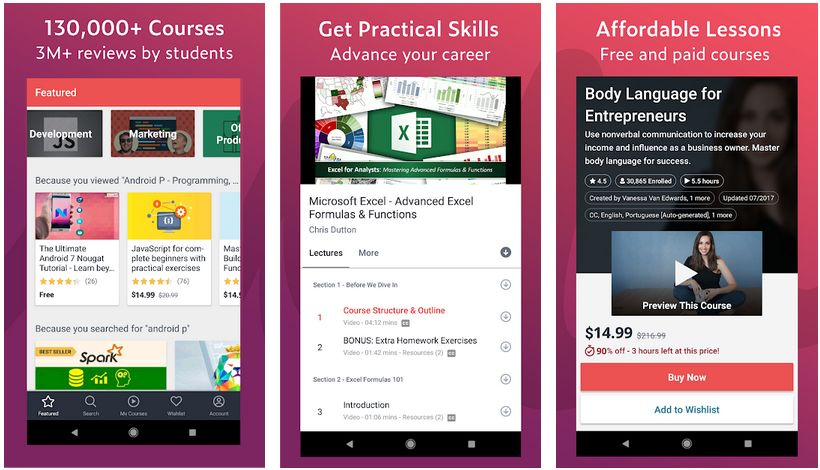 Udemy is an online learning platform that has more than 80,000 video courses available. This is a very popular platform and is used by a lot of people already. However, most do not know that there is an app available. From your smartphone or tablet, you can easily watch all your courses, track progress and explore other options. The app is great for people that travel and like to learn on a plane, train, or in bus.
Key Benefits
Free and paid courses are available in any subject.
You can chat and connect with the community and the creators of the courses.
The creators of the courses always provide exams and quizzes that you can solve and test your knowledge.
The cost of the courses is low and there is at least once per month a discount day where you can get all the things you need for a very low price.
10. LinkedIn Learning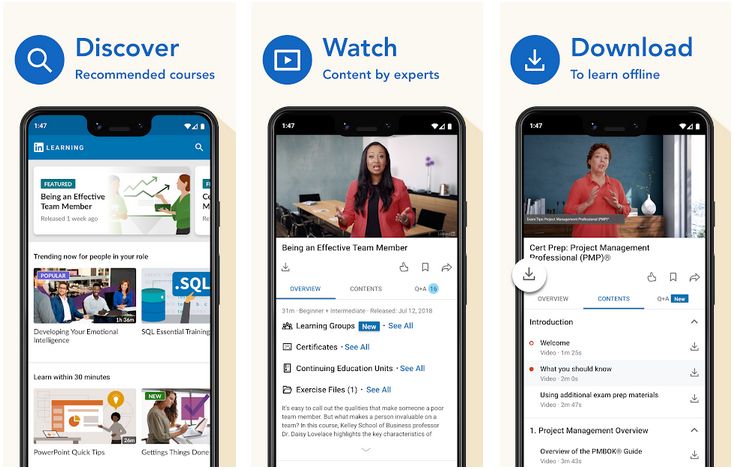 This app is adored among users because of its clean and user-friendly look. Recently LinkedIn released the hub as a way to engage professionals with the network and help them learn and improve their skills. It was the right thing to do as LinkedIn is a professional network and the hub fits the purpose and the philosophy behind the network.
Key Benefits
The app offers one of a kind experience by letting the users create playlists, interact with different functionalities, and track their progress.
You can view all of the Lynda courses here on the app.
It's great for career development as it can help you improve your job skills significantly.
LinkedIn Learning is solely for developing job-related skills, it's not recommended for people that like to learn how to cook or do crafts and arts in their free time.
11. Moon + Reader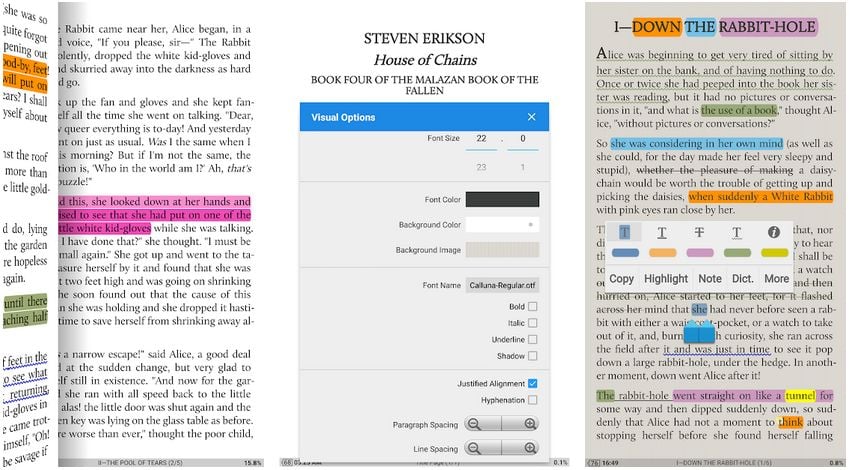 Moon+ Reader is perfect for all the bookworms out there that like to read and discover new writers. It has a really simple design and you can navigate and find things easily on your shelf.
Key Benefits
You can read thousands of eBooks for free.
The app supports online eBook libraries.
You can also read local books with smooth scroll and tons of innovation.
12. Goodreads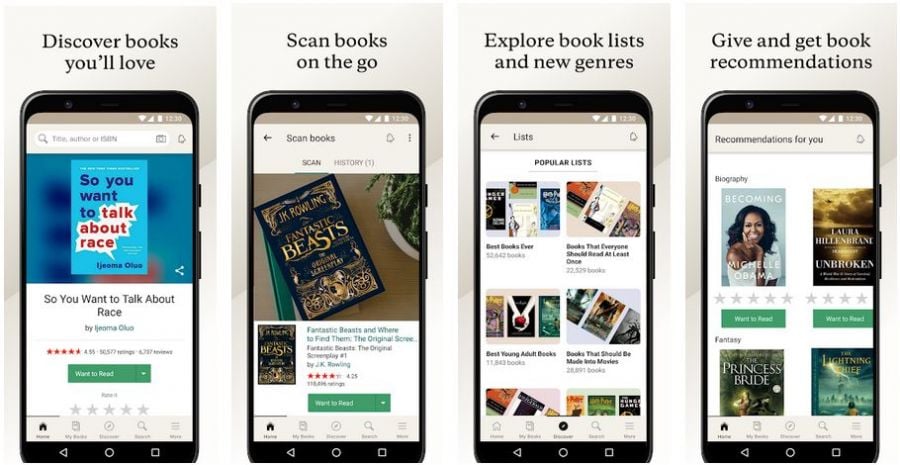 This app is perfect for all book lovers. Here you will find people that like the same stuff as you and you will be able to communicate and exchange opinions about your preferences. Goodreads is developed to connect people that enjoy reading and to examine and rate all the books by the public eye.
If you don't have an idea of what to read next or you want to discover new authors this is the place to be.
Key Benefits:
Find reviews and short summaries for every book that was ever written.
Motivate yourself by joining challenges such as 10 books per year or 20 books per year.
You can keep track of what you are currently reading and make a list of all the books you like to read in 2019.
Discover new authors on a daily basis and increase your knowledge about literature.
Scan book covers and get instant reviews and save it on your Want to Read shelf.
See what your friends are reading and get inspired.
Easily track, search, and rate any book in the catalog.
Recommend books to other members and friends.
The app has more than 75 million members, that's a huge community that added more than 2.2 billion books to its shelves.
Vote for your favorite book of the year and be part of the yearly Goodreads competition.
Conclusion
These are the top twelve educational and e-learning apps for Android that allows you to gain knowledge and polish your skills from any part of the world. For me, LinkedIn Learning is one of the best ways to remotely learn any subject or skill set.
Which educational app have you tried recently? What was your experience and what new skill did you learn? Share your opinions in the comments section below.