WhatsApp was originally designed with an aim to provide a textual-based instant messaging service to the masses, without any ads or charges, which served as an alternative to SMS. So text is the core functionality but there are text tricks that many aren't aware of.
Here in this blog post, we are going to share with you five WhatsApp text tricks that you should know to format and stylize your text, sentences, or even paragraphs.
It is important to remember here that these tricks are for messaging only and may not work on WhatsApp Status updates.
#1. Write in Italic Styling
You can write in italic or you can make any of your message or paragraph italic. Or you can apply to italicize styling on some of the words in order to emphasize something important. Similar to how we do in word processing documents.
Here's how to apply italic styling:
Write a sentence or any text.
Add underscore (_) symbol before and after the words you want to italicize.
Or, you can select a word and choose "Italic" from the menu.
#2. Write in Bold Styling
Bold styling makes the word appear darker and heavier than the normal text to help highlight something important in a sentence.
Here is how you can make any word or sentence bold:
Write a paragraph.
Add an asterisk (*) symbol before and after the words you want to make bold.
Alternatively, you can select a word or a sentence and choose "Bold" from the menu.
#3. Strikethrough Text Styling
If you want to show a correction or amendment without hiding or censoring the text then you can use a strikethrough styling to add a horizontal line through the center of the text, but the text remains readable.
Here's how you can add strikethrough styling:
Write a word or a sentence.
Add a tilde (~) symbol before and after the words or a sentence you want to apply a strikethrough styling.
Alternatively, you can select a word and choose "Strikethrough" from the menu.
#4. Change Message Font to Monospace
As compared to any other font, Monospace font has letters and characters that consume the same space horizontally. This font has a fixed width. Apart from the usual font, WhatsApp allows you to use Monospace fonts for specific sentences, words, or paragraphs. To help you make them stand out.
Here's how you change any text to Monospace:
Write a sentence or a word.
Add three backticks (`) symbols on both sides of the text you want to change the font.
Instead, you can select a sentence or a word and choose "Monospace" from the menu.
#5. Apply All the Text Styling On a Single Message
Apart from individually applying any text styling on any of your messages, you can make your own special text style by combining any two or even all four of them as per your liking.
For instance, you can change the text font to Monospace and then apply bold and italic styling to it. Here's how the hello world text will look like:
_*~Hello world!~*_
You need to make sure the sequence of the symbols is correct to make it work correctly.
#6. Use Custom Text with Third-Party App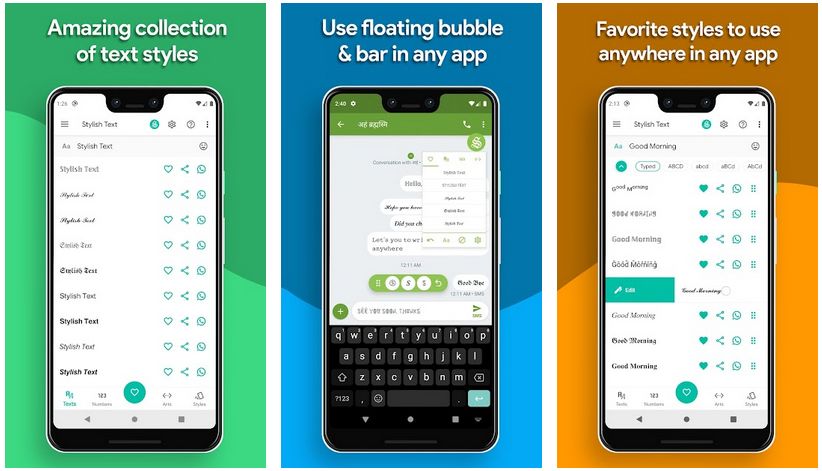 Stylish text is a wonderful app if you are looking to try custom text for WhatsApp.
There is a dedicated keyboard specially designed to let you add a custom and stylish font that can be used with WhatsApp.
The app can help you convert plain and simple text into a camel, reverse camel, capital, and random styling options with various inputs.
You can further personalize the text by using styles and customization options where you can add emojis and symbols. As well as you get the option to replace a letter with other letters.
The app gives you access to Unicode symbols that can be used for nicknames and personalized greetings.
Stylish offers you over a hundred and twenty text styling possibilities. This includes sans mono, script, fraktur, math, mirrored, upside down, slashed, and superscript.
Each one of these texts is available in normal, bold, italic, and strikethrough styling.
Which text trick did you like the most?
We hope you have found some new and unique WhatsApp text tricks. If we helped you learning anything new in any way then please share your opinions with us in the comments down below, we read and respond to each one of them! 🙂
Also, if you know about any other tricks that we haven't included in our blog post then let us know about them in the comments. We will have a look at it and might include that in our post during the next update.