Going from one mobile operating system to another should not be a daunting task. The move should be simple and easy. However, there is always a bit of a learning curve as we make a shift from one technology to another. One such problem arises when you want to transfer WhatsApp chats from Android to iPhone, and that happens due to compatibility issues between the two types of phones.
When you are changing phones i.e. moving from Android to iPhone or vice versa, WhatsApp itself doesn't allow you to transfer your chat history or any other data. The main reason behind this limitation lies within the operating system and WhatsApp chat encryption.
But here we have finally managed to get our hands on the two promising mobile software that actually allows quick backup and restore options so that you can transfer your important social media account data including WhatsApp chats from Android to iOS in a few simple steps.
Let's get started…
#1. iCareFone for WhatsApp Transfer
Developed by Tenorshare, iCareFone for WhatsApp Transfer is a go-to software for many who shift from Android to iPhone ecosphere, as this is one of the most reliable ways to transfer all of your WhatsApp conversations and chat history whether you are running a personal account or WhatsApp business account.
As compared to the previous method we have already discussed, iCareFone mainly uses a computer to help seamlessly transfer your WhatsApp chats and media files from one phone to another. And apart from transferring your data, the software allows you to create a local backup on your PC with just one click.
iCareFone is a paid service and starts at $19.95 for a month of backup service and support.
Requirements
Computer running Windows or Mac
Android Device
iPhone Device
How to use iCareFone
On your computer, download and install the iCareFone app.
Launch the software and you will see the source and destination devices. Connect both of your devices to the computer. We will highly recommend you use the original data cable to eliminate all the chances of error.
You can use the flip button given in the center to interchange source and destination devices. Once done then click on the Transfer button.

The procedure will guide you to either create a fresh backup of your WhatsApp data or use any existing ones already stored in your phone.
During the process, you may be asked to provide your phone number to be able to verify the data and to keep everything encrypted from WhatsApp's end.
Once all the verifications are done, the software will take you to the next step where it will begin restoring your WhatsApp data to your iPhone.
The restoration process could take from several minutes to a couple of hours, depending on the size of your backup data. During the process, you should not use any of your devices as that could interrupt the process, which can result in data loss.
#2. Wutsapper (from Android to iOS)
Wutsapper is a wonderful app developed by Wondershare Technology that offers cross-platform WhatsApp backup and restoring capability from Android to iPhone devices with the help of a USB OTG cable. You can transfer not only chats but also images, videos, voice notes, and GIFs can be transferred too.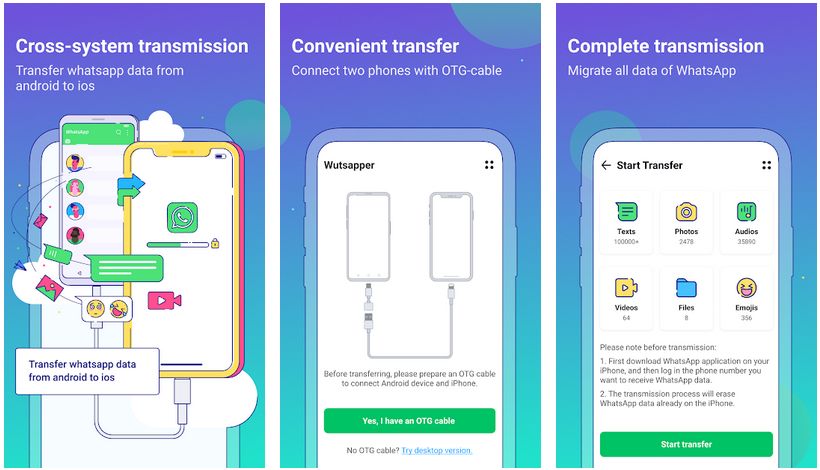 For those of you who aren't aware much about the developers, they have a desktop version too with the name MobileTrans. It is compatible with Windows and Mac-based computers, and this software actually comes in handy when you don't have an OTG connector or when you want to store a WhatsApp chats backup on your PC.
Wutsapper is a paid service and charges you around $29.95 for a year of backup service, but to let you test how well it actually works, you will get a free transfer of 50 messages.
Requirements
OTG cable/connector,
Android device running Android 7.0 Nougat or later,
iPhone running iOS 9.0 or later.
How to use Wutsapper
On your iPhone device, make sure the latest version of WhatsApp is already installed.
On your Android device, download and install Wutsapper from the link given below.
Launch the Wutsapper app on your Android phone.
The app will ask if you have an OTG cable to connect your Android phone with your iPhone. Tap Yes.
An on-screen video tutorial will be shown, which you need to watch and follow to create a complete WhatsApp chats and media backup.
Once the backup has been completed, the app should now automatically detect the backup and show you the details along with the date and time.
The app will now process and parse your backup. This will take a while, depending on the size of your chats, messages, images, and videos.
Once parsing has been completed successfully, the app will prompt you to connect your Android to your iPhone. Connect both devices via OTG cable and tap on the Start Transfer button.
Now sit back while Wutsapper takes care of everything and transfers all of your WhatsApp chats and media files from Android to iOS. Also, make sure not to use your device during the transfer process as that could interrupt the process.
Conclusion
Transferring WhatsApp chats and data from Android to iPhone is a unique task that cannot be done manually or without software and unfortunately, there is no free way to achieve this. In most cases, our conversations and data are priceless. And losing any of that just because you bought a new phone isn't worth it. Anyways you should know that on Android Phones you can use GBwhatsapp which offers tons of privacy features for free.
Let us know in the comments below which of the procedure did you try to create a backup of your WhatsApp and transfer your data from one phone to another. We would love to hear about your experiences. :)