Do you want to protect your privacy on WhatsApp by hiding your last seen from your contacts so they can't find out when you were last seen on WhatsApp? Here's how you can achieve that in just three simple steps.
We all know WhatsApp is one of the most popular and major messengers that allows messaging and calling over the internet. This free instant messaging app allows you to stay connected with your friends and family and let you share status, send photos, videos, and other multimedia items.
This is where privacy plays an important role. And now you don't need to worry because WhatsApp has a built-in privacy feature using which you can hide your last seen and that too in just few taps.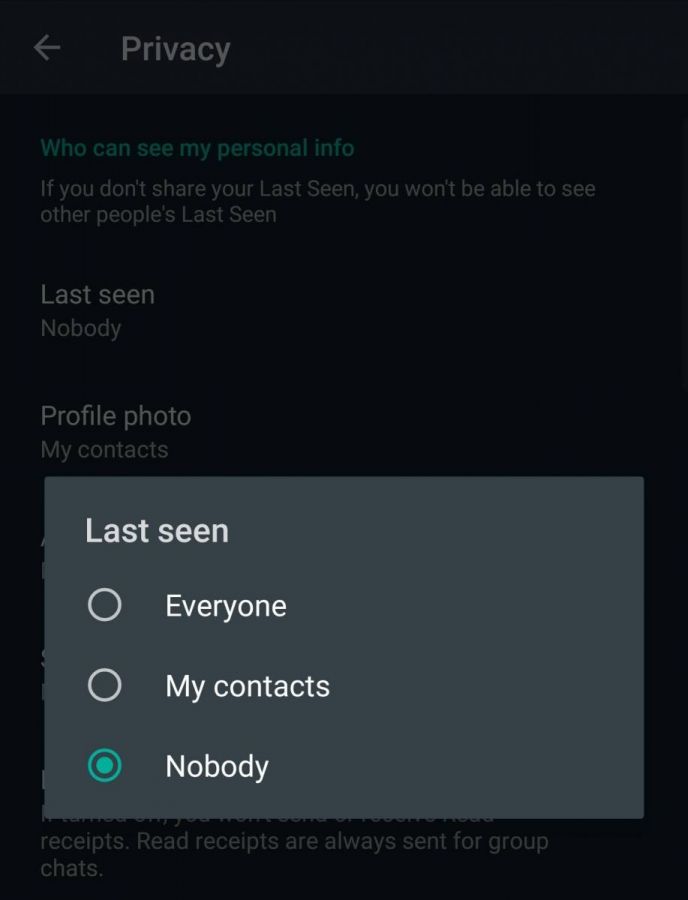 Here are the three simple steps to hide your last seen on WhatsApp:
WhatsApp Settings

Open WhatsApp on your smartphone and then go to Whatsapp settings.

Privacy Settings

Tap on the Account option, select Privacy from the list. A list of options will come up and you will see several settings.

Last Seen Menu

Simply tap on Last seen and select Nobody if you don't want anybody to see your last seen time. Or you can set it to "only your contacts", which means only your contacts will be able to see your last seen. You can also select "everybody."
Remember that if you don't share your last seen then the same will be the case with you. You will not be able to see the last seen of other people.
Well by doing these 3 simple steps you can hide your last seen time from your WhatsApp account. These steps are very easy and can be performed by anyone who has little knowledge about Android apps.
Hope you followed every step carefully and it worked for you. Please let us know in the comments if this worked for you. 🙂