In today's digital age, video content is a powerful tool for engaging audiences, and having exceptional video quality is more important than ever. Whether you're a content creator, marketer, or simply a video enthusiast, having the right tools to enhance and upscale videos can make a big difference.
These software tools offer a range of features, from AI-powered upscaling techniques to comprehensive video enhancement capabilities. They are designed to increase video quality and enhance video resolution, delivering visually stunning experiences to your audience. Join us as we explore the transformative power of video enhancers and how they are revolutionizing the way we perceive and engage with digital content.
1. 4DDiG File Repair (Best Choice)
4DDiG File Repair is an impressive tool that offers the ability to increase video quality and enhance video resolution by up to 4X. Powered by cutting-edge AI technology, it also has the remarkable capability to breathe new life into black-and-white videos by skillfully colorizing them. This feature allows you to relive and cherish old memories in a vibrant and captivating way.
4DDiG File Repair stands out as not just an exceptional video enhancer software, but also as a comprehensive video repair program. It provides you with the ability to swiftly and effectively fix any damaged video files, regardless of whether they were corrupted during shooting, recording, transferring, editing, converting, or processing.
Here are some amazing features of 4DDiG File Repair:
Support lossless enlargement of small-sized pictures/videos
Support coloring black and white pictures/videos
Support enhancing blurry pictures/videos to clearly visible
Support fixing damaged videos/photos with ease
Here are 5 simple steps to increase video quality using 4DDiG File Repair:
Step 1: Install and launch 4DDiG File Repair
To begin, open 4DDiG File Repair on your Windows PC. Next, navigate to the "Video Repair" tab and locate the "Enhance Video Quality" option. To proceed, click on the "Downloads" button, which will initiate the download of a video enhancement toolkit.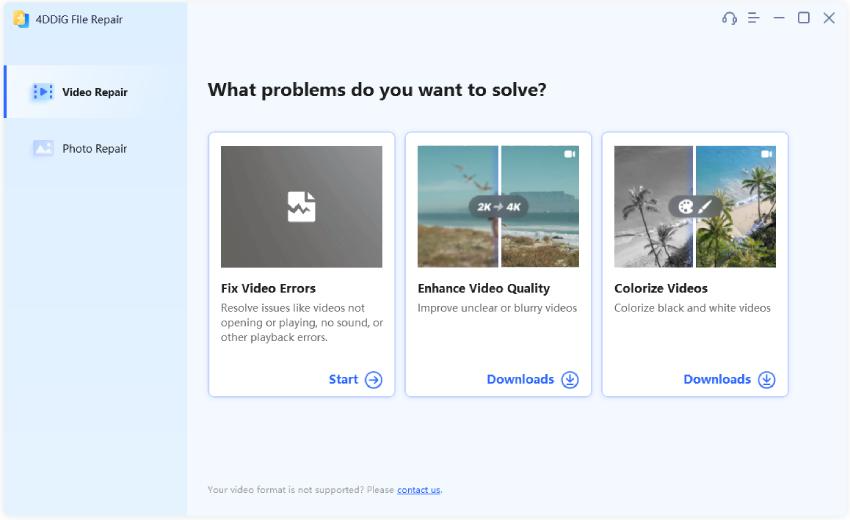 After the toolkit has finished downloading, simply click the "Start" button to proceed with the next steps.
Step 2: Add or Drag your video(s)
To add the video(s) that you wish to enhance, you have two options. You can either click the "Add/Drag Video" button or utilize the drag-and-drop function to import the desired video file(s) and improve their quality.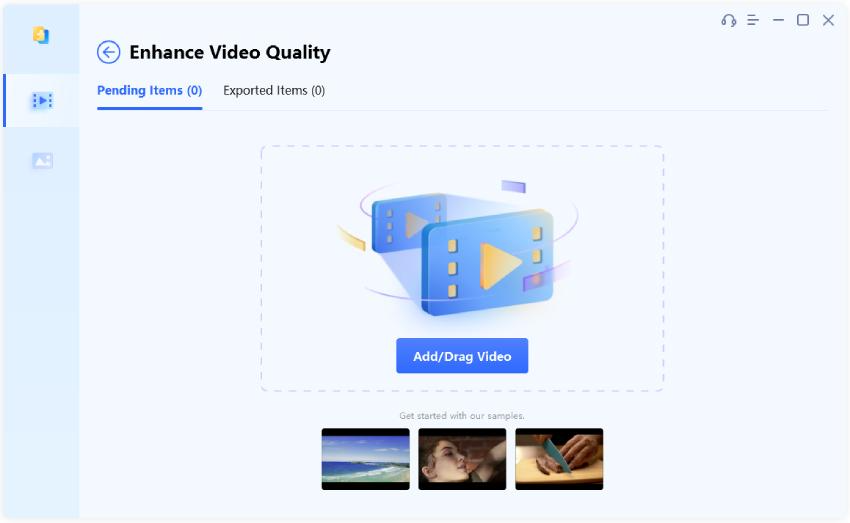 Step 3: Choose an AI model
After adding the video, you can now choose the AI model for enhancement. There are three options available: General Model, Anime Model, and Face Model. These models are designed to enhance the quality of your video in different ways. Select the model that best suits your requirements and adjust the resolution if needed. Once you've made your selections, click the "Preview" button to see a preview of the enhanced video.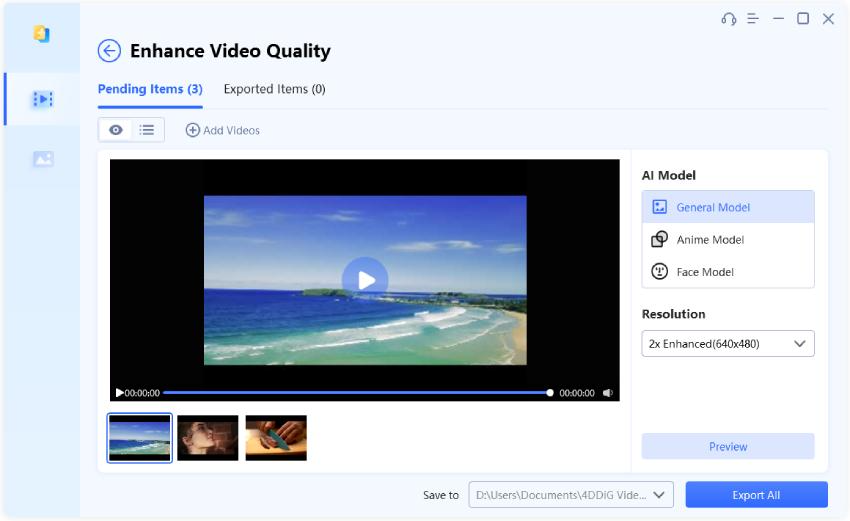 Step 4: Start Improving video quality
The enhancement process will begin as soon as you initiate it in 4DDiG File Repair. During the process, the software will display a preview of the initial frames of the improved version. Please be patient and wait for the enhancement process to complete before proceeding with any further actions.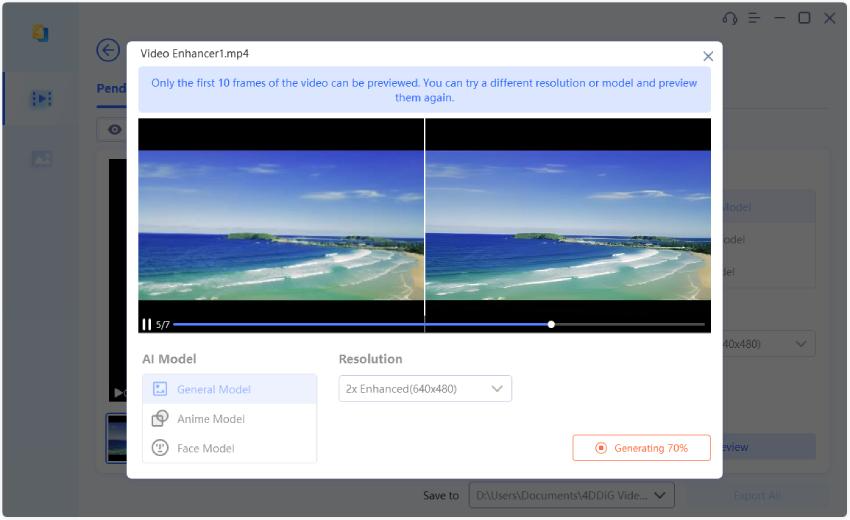 Step 5: Preview and Export your Enhanced Video(s)
Once the enhancement process is complete, you can preview the enhanced video to observe the changes that have been made. If you find the result unsatisfactory, you can experiment by applying a different AI model or adjusting the resolution to potentially achieve better results.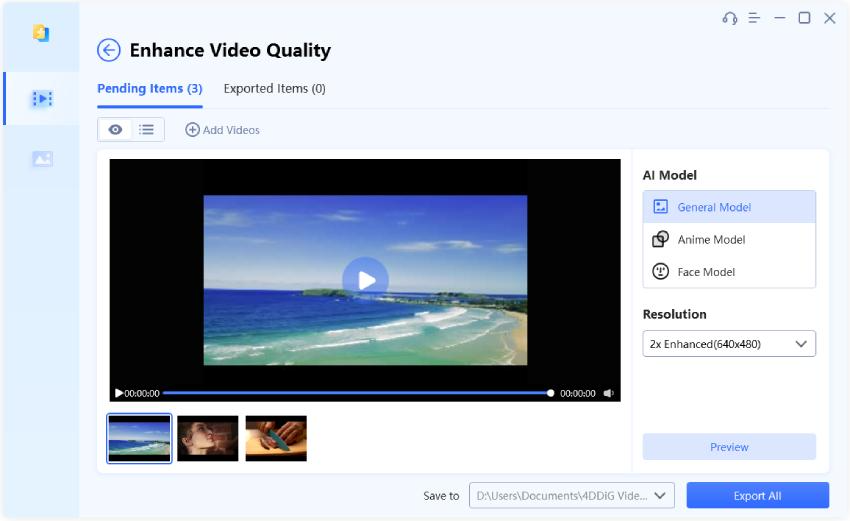 However, If you want to know how to fix corrupted video files, please read this one. 
2. HitPaw Video Enhancer (Alternative Option)
HitPaw Video Enhancer, an excellent AI upscale video software, is designed to upscale videos to 4K resolution effortlessly. With just a single click, you can enhance low-resolution videos in 480P, 720P, or 1080P to stunning 4K quality. This trained AI video enhancer simplifies the process and allows you to upscale multiple videos in batches without requiring professional skills. Enjoy the benefits of high-resolution videos without the hassle.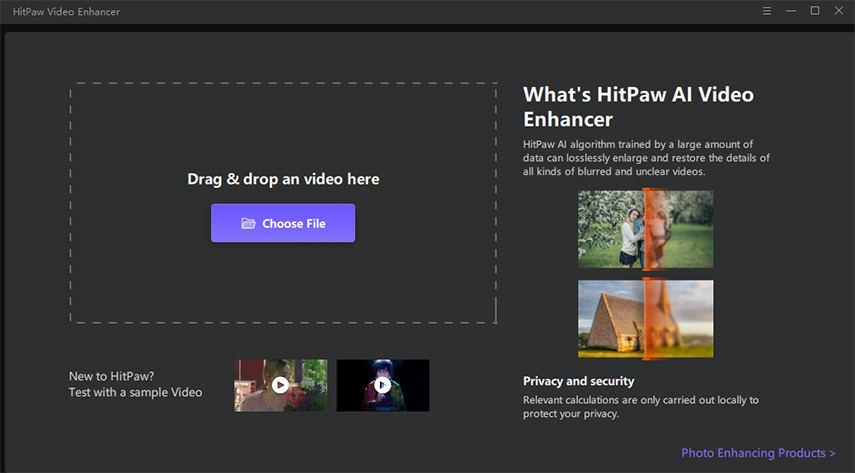 Operating System: Windows & Mac
Rating: 4.7/5
Price: $42.99-$349.99
Pros:
Simple operation process and straightforward interface
4 AI models to eliminate grain and noise from your videos
Cons:
inability to repair damaged or corrupted videos
3. Topaz Labs Video Enhance AI
Topaz Lab Video Enhance AI offers an exceptional blend of user-friendliness and high-quality results. With its intuitive interface, even beginners can use this video enhancer tool effortlessly, as it simplifies much of the enhancement process. You don't need extensive video editing expertise to achieve impressive results. Just open the software, upload your video, and select the desired enhancement criteria. The advanced AI technology takes care of the rest, delivering outstanding enhancements automatically.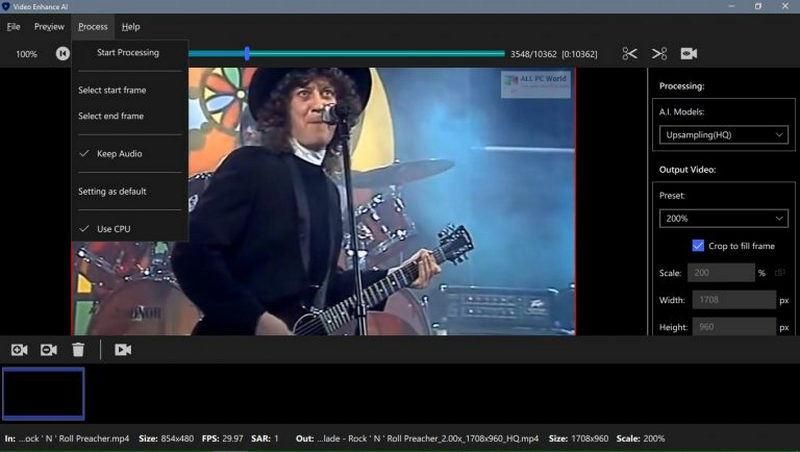 Operating System: Windows & Mac
Rating: 4.6/5
Price: $299
Pros:
Empower users to enhance video quality to an impressive 8K resolution.
Offer brief analysis of multiple videos with efficiency.
Cons:
Lack of video-editing software or repair tool
4. AVCLabs Video Enhancer
AVCLabs Video Enhancer AI is an excellent choice for individuals seeking user-friendly software that delivers remarkable video enhancements with minimal effort. Powered by a variety of AI technologies, this video quality enhancer excels in improving video quality through intelligent deblurring and resolution enhancement. It even enables upscaling of 1080p videos to 8K resolution. It is particularly well-suited for personal use, allowing users to enhance the quality of their own videos, such as those captured during holidays or events.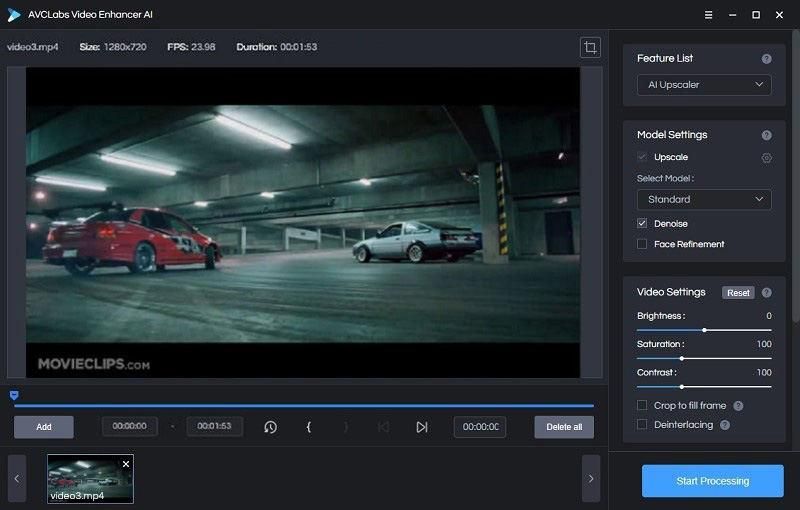 Operating System: Windows&Mac
Rating: 4.3/5
Price: $39.95-$299.9
Pros:
Support upscaling video resolution to 8K
User-friendly software interface
Cons:
Requiring the use of a high-performance computer
Can't meet the requirements of users seeking professional-grade video enhancement.
5. Adobe Premiere Pro
Adobe Premiere Pro presents a vast array of choices to increase video quality. With its Lumetri Color Tool and nonlinear editing platform, users have the freedom to make unlimited gradient and color adjustments. This tool enables modification of a clip's exposure, contrast, shadows, and white balance, with the ability to activate these changes at any point in the clip using keyframes.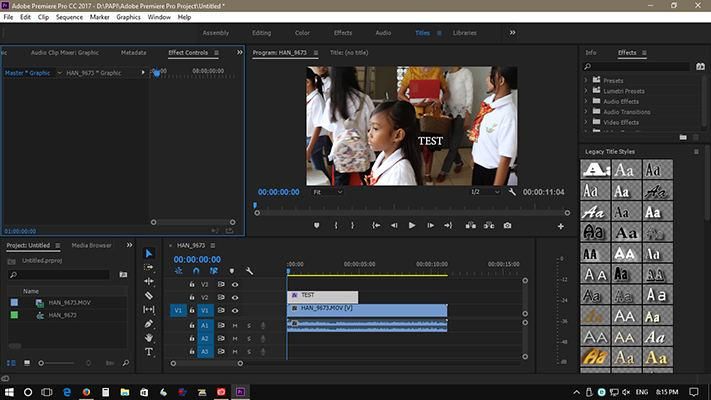 Operating System: Windows&Mac
Rating: 4.3/5
Price: $20.99
Pros:
Lower price
Contain video editing tools; that allow you to mix audio with video
Cons:
User-unfriendly software interface
Need to purchase Adobe's After Effects for a more practical function
6. DVDFab Video Enhancer
DVDFab Video Enhancer AI is a user-friendly tool that utilizes the power of artificial intelligence to increase video quality effortlessly. With just a few simple steps, import your video and choose from options like expansion, denoising, or sharpening to achieve professional-looking results without the need for extensive adjustments.
For those with technical expertise, there is the flexibility to fine-tune the optional parameters, granting you greater control over the final output.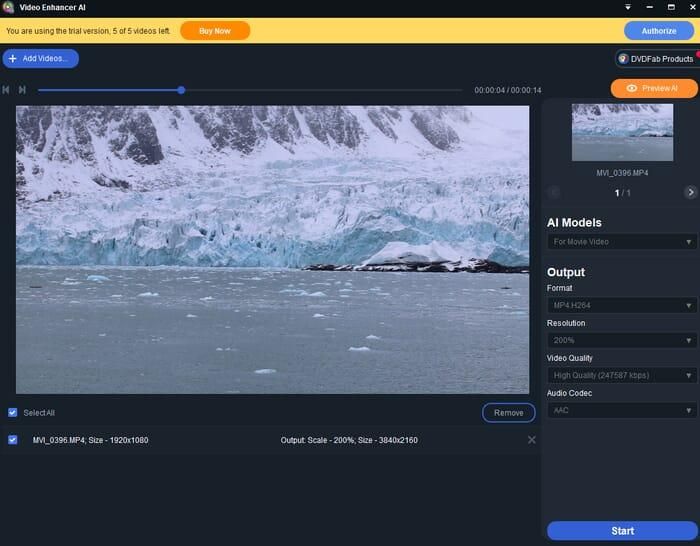 Operating System: Windows
Rating: 3.9/5
Price: $59.99-$99.99
Pros:
Simple operation process, even a computer novice can use it easily
Cons:
The software runs extremely slow
High requirements for computer configuration
Why 4DDiG File Repair is the Best AI Video Enhancer?
This is a comparison chart showcasing 6 different video quality enhancer software options. By examining it, you will be able to understand why you should choose 4DDiG File Repair to increase video quality and enhance video resolution.

What are the Important Factors for Choosing a Video Enhancer?
When choosing a video quality enhancer tool, there are several important factors to consider:
Quality of Enhancement: The most crucial factor is the quality of enhancement the software can provide. It should be capable of improving video resolution, reducing noise, enhancing colors, and increasing overall visual clarity.
Ease of Use: User-friendly software with a simple and intuitive interface is important. Look for a video enhancer that offers easy navigation, straightforward controls, and a hassle-free workflow.
Speed and Efficiency: The software should be capable of processing videos quickly and efficiently. It should offer real-time or fast rendering capabilities to save time during the enhancement process.
Compatibility: Ensure that the video enhancer is compatible with your operating system (Windows, macOS, etc.) and supports the video formats you work with.
Features and Tools: Additional features are also an important point in choosing a video enhancer.If you can increase video quality and repair video in one software, it will save you a lot of energy and time.
Cost: Consider the pricing and licensing options of the video enhancer. Compare the features and value provided by different software options to find the one that fits your budget and requirements.
By considering these factors, you can choose a video enhancer software that best suits your needs and helps you achieve high-quality video enhancements.
Bottom Line
In today's digital era, videos have become an indispensable part of our daily lives. whether you're a content creator, a filmmaker, or someone who wants to enhance video resolution, video enhancer tools offer the capability to increase video quality with robust algorithms and intelligent AI technology. Embrace the power of these tools and unlock the full potential of your videos.