Kodi has gained a lot of traction as it easily lets you have a personal setup along with a VPN. That helps you illegally watch your choice of movies and TV shows. To solve that issue, I have brought a list of Kodi addons that allows you to legally stream classic movies. And some TV series too without breaking any law.
Let's jump to our list of best Kodi addons. By the end of this post you will have a huge collection of free classic movies that you can enjoy at your will:
#1. Internet Archive
Internet Archive is a huge digital database available without any prior registration. This is where you can find tons of knowledge about almost anything. Including movies and TV shows, especially the classic ones. The best thing about The Internet Archive is that all the content is accessible through a Kodi addon.
You don't need any subscription or payment to view classic movies and other content. It's free to access.
#2. Classic Cinema

The Classic Cinema is a well-known website to watch classic movies, stream videos, and old TV shows. The add-on is available on the official Kodi addons repository. All you need to do is download and install the addon on your Kodi-compatible devices.
Their official website scrapes publicly available content from archive.org and Google Video. And then categorize them for easy access.
#3. Black and White Movies
Black and White Movies is a popular video addon for Kodi. It enables you to watch high-quality classic 30s and 50s movies. As well as TV series from almost every genre including comedy, adventure, action, and more. The best feature of this addon is that all the movies are organized into categories. It is completely free from advertisements.
You can download and install the Black and White Movies addon on your Kodi setup. It is available on the Chains and Team Crew repository. It let you freely stream classic movies.
#4. Popcornflix
Are you in search of an add-on that offers a huge collection of streamable content? This includes movies and TV series, which allow you to watch classic content. If yes then Popcornflix is what you should install on your Kodi.
Apart from their official website, they have a dedicated addon too. Available on the official Kodi video add-ons repository. From super hit latest movies to the 50s classic, you can find most of the content readily available.
You can download and install the Popcornflix add-on from the addon manager. You can use a search option too.
#5. FilmRise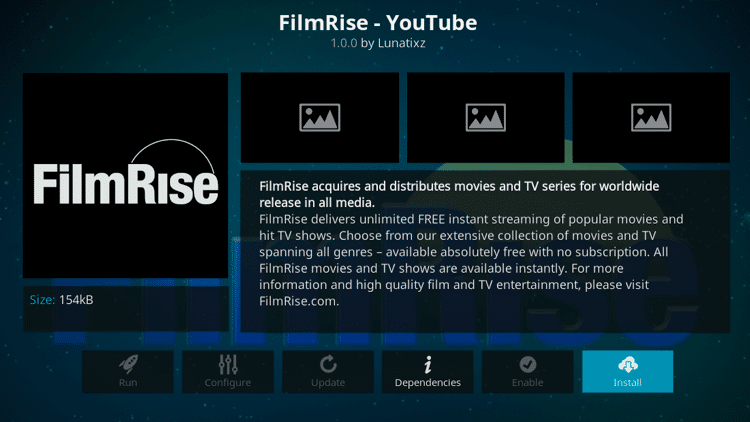 FilmRise has a huge database of dedicated classic movies. It comes with almost endless options to stream your choice of movies and TV shows.
The add-on is well known in the market for one of the best collections of classic films. That's because they have an ever-growing list of more than twenty-five thousand titles. This platform handles licensing and redistribution.
The FilmRise servers are pretty fast. But if you have a reliable internet connection then you won't have to wait for the video to complete the buffering.
To download and install the FilmRise add-on, search for it within the Kodi addon manager. Also, YouTube is one of the mandatory dependencies.
Which classic movies Kodi addon did you like the most?
Out of the five best addons I have reviewed here, which one did you like the most? Were you able to find the classic movie you wanted to watch?
Share your experience with us in the comments below. And tell us which classic movie did you manage to watch legally on your Kodi setup?