Do you want to watch movies while traveling but don't know how to watch without an Internet connection? Here we have handpicked best free movie streaming apps to watch free movies on Android even when you are offline.
Watching movies is one of the best ways of entertainment to enjoy the weekend, vacations, or to spend some free time. Recently, the trend of movie streaming apps and watch free movies on Android is on the rise, and some big brands like Hulu and Netflix have started a collaboration with the content providers to offer latest full-length movies in a streamable format on mobile devices for a fixed monthly subscription.
On the other hand, there are some third-party services like Popcorn Time and CinemaBox, who completely skips the legality and offers free movie streaming and downloading service in a wide range of film genres without any subscription, fees, or limitations for Android phones and tablet users. Moreover, you will also notice that some of the watch free movie apps in the list even offers you TV shows streaming too.
Disclaimer: All the information provided in this article is for informational and educational purposes only. You are solely responsible for all the content you watch, download, or stream using the apps and information provided in this article. We at BestForAndroid don't support piracy.
Best free Movie apps to Download, Stream, and Watch free movies on Android
Here in this section we have handpicked and shortlisted more than 20 best movie streaming apps for Android that have native support for the downloading feature too:
[mwm-aal-display]
1. Tubi TV
Tubi TV is an online full-length movie streaming service which strives to provide all the movies and entertainment content without any cost, so you can free yourself from paying any subscription fees. They have developed a mobile-friendly and optimized app for Android, making it easier for you to stream movies on your mobile device.
You may not be able to find the latest movies, but there are thousands of movie titles from various categories including Comedy, Action, Horror, Adventure, and Drama.
Perfect choice for anyone looking to stream old movies for free.
Advertisement supported because there is no subscription fee to stream movies.
Download Tubi TV for Android from here.
2. Popcorn Time – Watch free movie apps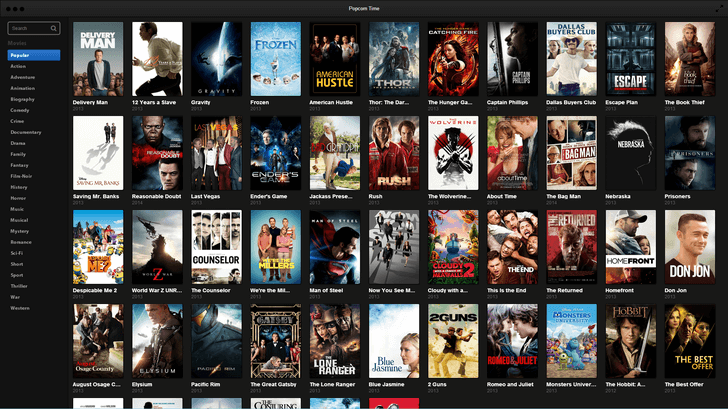 Popcorn Time is a torrent based movie streaming service provider. The app provides you with easy access to all the latest and favorite movies for real-time streaming. It has its movie database that receives update frequently by searching for the best movies torrents from all around the web.
And unlike any other streaming apps, Popcorn Time will let you watch as well as download movies without any limitation, anywhere & anytime, so you can enjoy movies for free and without any interruptions. All you need is a consistent connection to the Internet.
Instantly stream or download any movie in HD 1080p video quality.
All the latest and popular movie titles are listed on the homepage for quick streaming.
Native support for movie subtitles.
For your safety and to mask your movie downloads from the ISP (Internet Service Provider), you may need to have a decent VPN.
Download Popcorn Time for Android from here.
3. ShowBox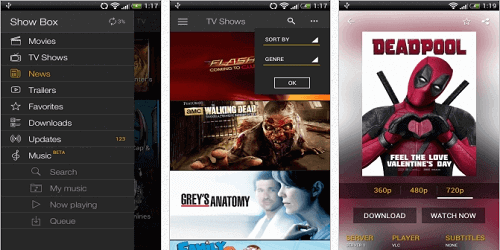 ShowBox is a free app to stream and download movies as well as TV shows on your Android device without any limitations. The interface is well-designed and easy to understand. You can create your personalized list of favorite movies and then watch them one-by-one.
If you have a high speed and stable Internet connectivity then you can freely stream movies right from the app. But in case your Internet connection is unsteady then it is better to download the movie and watch it later without any interruption.
Minimalistically designed, and the feature-rich app makes it easy to stream unlimited movies from over twenty-four different genres including sci-fi, horror, comedy.
Option to either stream or download movies on your device.
Sometimes the app unexpectedly closes while streaming movie and requires cache cleaning.
Download ShowBox for Android from here.
4. VideoMix
VideoMix is another popular movie streaming app for Android that allows you to watch your favorite movies and TV series for free on your smartphone and tablet. The app is updated on a daily basis to add all the latest films and keep the content fresh.
The user interface is clean and well-structured to help you find all the movies without many efforts. Also, the film titles are efficiently organized in different categories.
Option to download movies and TV shows for an ultimate offline viewing experience.
Ability to seamlessly cast movies to your Google Chromecast device and enjoy the film on the bigger screen with your family.
Download VideoMix for Android from here.
5. PlayBox HD & CinemaBox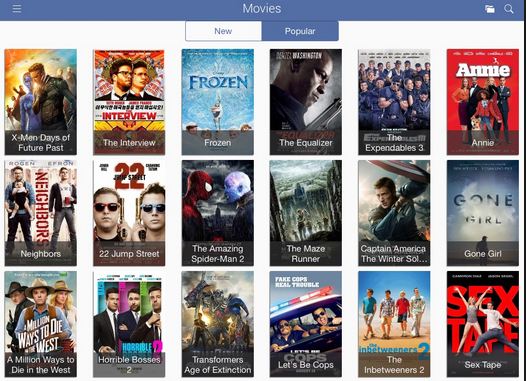 CinemaBox is designed and developed by the creators of PlayBox HD, and this is the reason why the interface and functions are the same if you compare both side-by-side. Initially, the developers introduced their free movie streaming service with the name of PlayBox HD but then later relaunched as CinemaBox, which is the latest and current app to stream movies.
The app provides you with a no-subscription and free access to tons of movies and TV shows from all the different categories and genres. The app even offers native support for Chromecast for streaming on a larger screen.
The free movies database is updated daily along with a wide variety of sources.
Supports Kids Mode to give your children access to content suitable for kids only.
Option to let you download movies and TV shows for offline playback.
Download PlayBox HD/CinemaBox for Android from here.
6. Mobdro Movie Streaming Apps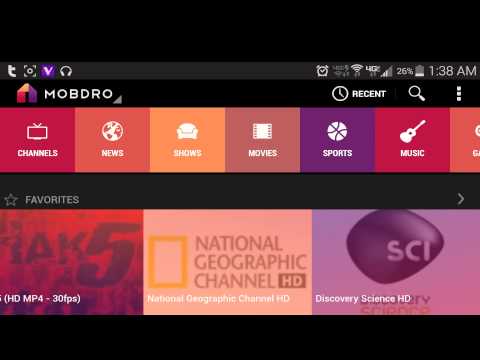 Mobdro is the most excellent open source app for video and content streaming on the Android device. The discovery feature is designed to help you find videos streaming from around the world, regardless of the topic and language. You can organize the streams by adding them to favorites and then filter those using subjects or language.
Mobdro even allows you to download movies and content so that you can enjoy them while you are traveling or offline. However, the downloading feature is available in the premium version only.
Clean user interface with an option to discover streamable content from around the world.
Downloading feature along with an ad-free experience requires a premium subscription.
Download Mobdro for Android from here.
7. Toonmania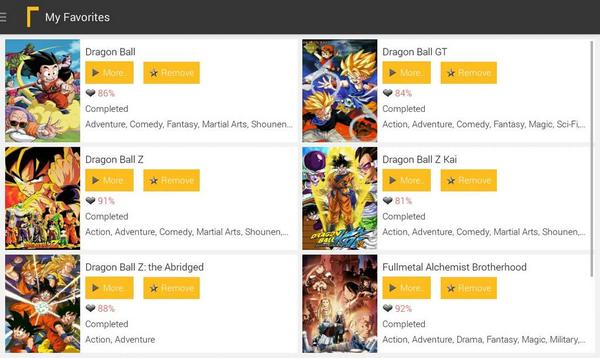 Do you want a movie streaming app specially designed for cartoon lovers, which is safe for your kids too? Look no further. Toonmania is the app you should download and install on your Android device.
The app comes jam-packed with all the famous and latest cartoons to keep your kids entertained for countless hours. You can easily search for the cartoon titles, browse through different categories, and find all the popular as well as the latest cartoons available for streaming.
The app is brilliantly designed and provides a variety of cartoons for free.
Provides in-depth search, making it easy for you to find any title.
Ability to add cartoons to your favorites list.
Download Toonmania for Android from here.
8. Hulu – Free streaming apps
Hulu is a popular streaming service provider that gives its users access to watch and stream a wide range of premium television shows, kid shows, and movies on Android smartphones and tablets. Most of the movies and TV series available are current and newly released.
However, speaking of the movies, you will find out that the varieties are quite limited and there aren't a lot of latest titles to make your selection. The Hulu's content library is amazingly huge, but most of the content is in 720p HD quality.
Pricing: Dual paid subscription plans – limited commercials @ $7.99 and no ads @ $11.99— on a monthly basis.
Immeasurable streaming of movies and TV series.
Native support for Virtual Reality headsets and inclusion of VR immersive content.
Movie titles are somewhat limited.
'Limited commercial' subscription plan contains a high amount of lengthy ads.
Download Hulu for Android from here.
9. Google Play Movies & TV
Google Play Movies and TV would be the best choice for anyone who is looking for a reliable service to purchase and rent movies or television series. Moreover, the app is completely compatible with numerous Android-enabled devices including smartphones, tablets, Chromecast, and Smart TV so that you can stream content on any device.
We all are well aware of the fact that YouTube is the most popular video hosting service and media-streaming app on the Internet by Google, and the majority of videos uploaded are free to view. However, Google has collaborated with media corporations and organizations to offer movies as well as some premium channels and TV shows for rental or purchase. The purchase/rental price varies from $1.99 to $19.99 per movie.
Ability to watch purchased/rented movies and TV series on any device including Smart TV and Chromecast.
Option to download content for offline viewing.
Content are available in various video quality including SD (480p), HD (720p & 1080p), and Ultra HD (4K).
Rented movies, once you have started watching, will be available for the next 48 hours only.
Lacks one-time subscription option for frequent movies and series consumers.
Download Google Play Movies & TV from here.
10. Crackle – Free TV & Movies
Crackle is designed and developed by Sony Pictures Entertainment and is a popular app to watch and stream movies as well as TV shows on Android. The app has a huge database of Hollywood movies, TV shows, and some of the exclusive Sony Crackle Originals.
Crackle is compatible with all Android devices and offers all the content for free, so you won't have to pay even a cent to stream premium movies and shows. To make it easy for you to find the right movie, all the films and TV shows are in their relevant categories including action, drama, comedy, and alike.
Download Crackle for Android from here.
11. CotoMovies
CotoMovies is a movie streaming app that will let you watch hundreds of shows and movies on your Android device. Actually, this is an updated and enhanced version of the popular Bobby Movie Box app. The app has an up-to-date database of movies and shows from a wide range of categories along with the support for subtitles.
With CotoMovies, you can watch free movies and TV shows in both online and offline mode on all of your devices. The watch later functionality will let you add the movies you want to watch in a separate list so that you can easily access them later. The app even has native support to stream content to TV devices like Google Chromecast, Smart TV, and Airplay.
Download CotoMovies for Android from here.
12. Vudu – Watch free movies on Android
With the official Vudu app, you can instantly begin to watch free movies on Android without downloading no matter where you are. You can get yourself registered for free without any contract or subscription charges, and you can start enjoying movie streams in 4K UHD quality along with Dolby Atmos and Dolby Vision HDR.
The app also has a Vudu Movies On Us section where you can watch hundreds and thousands of movie titles for free supported by short and limited ads. For some of the exclusive movies and new TV show releases, you can pay rent or purchase it and then download it so that you can watch those titles later whenever you want.
Download Vudu for Android from here.
13. Viewster – Anime and Fandom TV
Viewster is an entertainment app freely available for download through the official Google Play Store. The app doesn't require you to sign up, and you can almost immediately begin watching anime, sci-fi movies, shows, and documentaries of your choice.
The user interface of Viewster app is user-friendly as the homepage has a newsfeed style where you can find all the featured and recently added entertainment content. The app has channels section where you can see series, shows, and movies from all around the web. You can even follow your favorite channels to personalize your newsfeed further and get updates from the channels you like the most.
Download Viewster for Android from here.
14. UKMovNow
UKMovNow is a free movie streaming app for Android that will keep you entertained for as long as you want with its wide range of Bollywood, Lollywood, Hollywood movies and films in HD quality. The movie database is regularly updated to add new as well as old movies.
The app UKMovNow has a built-in search bar to help you find movies and save time on scrolling massive database and list. If you have a personal watch list or in case you saw any movie, but you want to watch it later then you can either bookmark them or add them to your favorites. One unique aspect of this app is the Request Movie feature, using which you can request for a movie that is not in the database.
Download UKMovNow for Android from here.
15. YouTube
Yes, you won't have expected YouTube to be in the list of ways to watch free movie apps for Android. Believe it or not, YouTube has one of the biggest databases of absolutely free movies, films, TV shows, anime, documentaries and what not. Moreover, it comes preinstalled on the majority of Android phones and tablet devices, so everything is in easy access.
On YouTube, you can find and explore countless movies, videos, and can even subscribe to your favorite channels without any charges. And the download features allows you to download and watch any content whenever you want, without any restriction regardless of Internet connectivity.
Download YouTube for Android from here.
16. Kodi
Kodi is an open source digital media player app designed and developed by XBMC Foundation for various platforms including the most popular Android OS. The interesting part about Kodi is that the app itself doesn't have any content or media but the feature to install third-party plugins is what makes it the best to stream movies and TV shows for free.
If you want to watch movies, TV shows, listen to music, or maybe want to download any of that, then you need to configure the Kodi app properly so that it can help you find and stream media content. If you are new or clueless then don't worry, we already have an in-depth guide on how to watch free movies on Android using Kodi add-ons.
Download Kodi for Android from here.
17. MegaBox HD Movie streaming apps
If you have used the other movie streaming apps like ShowBox, PlayBox, or maybe CinemaBox, then you are going to find the user interface and functionality of the MegaBox HD app identical to them. The app is free from advertisements, and the majority of movies and shows available in the database are in HD quality.
MegaBox HD comes with native support for subtitles as well as the option to download movies and TV shows so that you can enjoy them later. The UI is streamlined which makes it easy to understand and you will find it easy to navigate around and will be able to explore your favorite movies in no time.
Download MegaBox HD for Android from here.
18. BigStar Movies and TV
BigStar Movies and TV app are developed and designed by BigStar TV Incorporation. It brings you a wider range of movies including foreign films, short movies, award-winning independent movies and hundreds and thousands of popular movie titles.
The app doesn't include much of the Hollywood movies however if you are into short films and documentaries from different genre then this will be the most suitable app for you. Most of the content you are going to find in this app's database will be free from any charges.
Download Big Star Movies for Android from here.
19. Terrarium TV
Terrarium TV app is one of the best watch free movie apps for Android. It contains a large number of TV shows and movies along with the well-designed, organized, and sleek user interface. Similar to other movie streaming apps included in the list, this app has a native download feature too.
In the Terrarium TV app, you can use the search function to find and explore movies or TV shows stored within their database. Once you have found the one you are looking for, upon opening, you will see all the details of selected movie title including ratings, quality selection, and if you have chosen TV show, then you will see a list of all the seasons and episodes.
Download Terrarium for Android from here.
20. Netflix
Netflix is one of the best and popular apps that provides movie streaming and TV show streaming service on Android devices. It has the best interface and helps you enjoy a wide range of multimedia and entertainment content regardless of your location.
The Netflix database has thousands of TV episodes, movie titles, and films from a variety of genres that you can legally stream and watch on all of your connected devices. All you have to do is pay a little monthly subscription fee, and then you will get access to unlimited content without any limitation.
Download Netflix for Android from here.
21. Amazon Prime Video
With the Amazon Prime Video app for Android, you can stream, watch, and download all the popular movies, TV shows, films, and exclusive entertainment content. The downloading feature works on both, cellular as well as WiFi network so that you can download and watch no matter where you are.
Moreover, if you an Indian customer/user of Amazon Prime, you will be able to watch and stream hundreds of Bollywood movies and regional hits.
Download Amazon Prime Video for Android from here.
Conclusion
Even though a large number of movie streaming and downloading apps mentioned in the list are not available on the official Google Play Store due to the nature of service they are providing. But most of them are free, reliable, and let you watch as well as download all the latest movies without any limitation.
Which apps did you try on your Android device from the list above? Were you able to find and stream movies you were searching for on your Android phone?
Please let us know your experience and suggestions in the comments down below. If you know about any movie streaming apps that we haven't included in the list then share with us, we would love to hear about them! 🙂
Was this article helpful?