Even if you are an expert in watching K-dramas or movies, finding reliable sources is always time-consuming and becomes daunting especially when you want to watch something right away.
Discovering a reliable website to watch Korean movies and dramas in HD quality is not an easy task and that too finding an online site offering subtitles option in the English language.
We have found ten awesome sites and decided to compile a list to help you out in watching Korean dramas and movies on your phone or computer for free.
Let's jump straight into it…
| | | | | |
| --- | --- | --- | --- | --- |
| # | Name | URL | Category | Free/Premium |
| 1 | iFlix | iflix.com | Dramas & Movies | Free & Premium |
| 2 | Viki | viki.com | Dramas & Movies | Free |
| 3 | AsianCrush | asiancrush.com | Series & Movies | Free & Premium |
| 4 | DramaGo | dramago.one | Dramas & Movies | Free |
| 5 | YesMovies | yesmovies.ag | Series & Movies | Free |
| 6 | Dramacool | dramacool9.co | Dramas & Movies | Free |
| 7 | Viewasian | viewasian.co | Dramas | Free |
| 8 | Kshow 123 | kshow123.tv | Dramas | Free |
| 9 | SolarMovies | solarmovies.video | Dramas & Movies | Free |
| 10 | Kocowa | kocowa.com | Dramas & Movies | Premium |
List of all best sites.
#1. iFlix by WeTV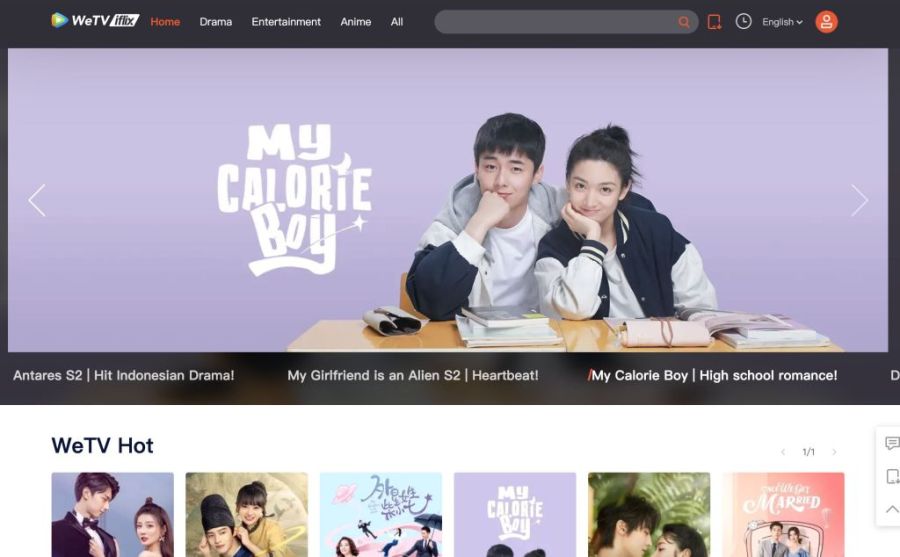 iFlix by WeTV is a dedicated website that has the capability to fulfill your movies and TV series streaming desires, so if you are looking for a way to stream movies or dramas directly on your smartphone or PC then this will be your favorite choice.
Apart from the free streaming, you can even purchase the VIP service and you will then get to enjoy watching movies and drama from multiple sources.
Another interesting aspect of opting for iFlix is that you will get to watch some of the most exclusive titles filmed and produced by the developers.
Visit Site: iflix.com
#2. Viki (Rakuten Viki)
Viki by Rakuten has gained a lot of popularity among people who love to watch every title of Korean movies and Korean drama. The home page is where you will be able to find top picks, latest releases, top ten titles, and tons of other categories.

What's interesting and unique about Viki is the Watch Party feature. So even if you and your friends are alone and hundreds and thousands of miles away from each other, both of you can still enjoy the same Korean movie or series.
Visit Site: viki.com
#3. AsianCrush
AsianCrush is a neatly designed online movie and drama streaming website that comes bundled with tons of features so you can watch your favorite content without any hindrance.

Either you can use the browse option given at the top of the website or you can manually scroll through the collection, which will take you through the spotlight, award-winning titles, trending, and new arrivals, along with a list of all the genres and a dedicated section for Korean films, animes, and series.
Visit Site: asiancrush.com
#4. DramaGo
DramaGo is a popular Asian movie and K-shows watching, streaming, and downloading website. Yes, you read that right. You can even download your favorite movies and drama. And then enjoy them offline, while you are traveling or in those areas where internet service is spotty.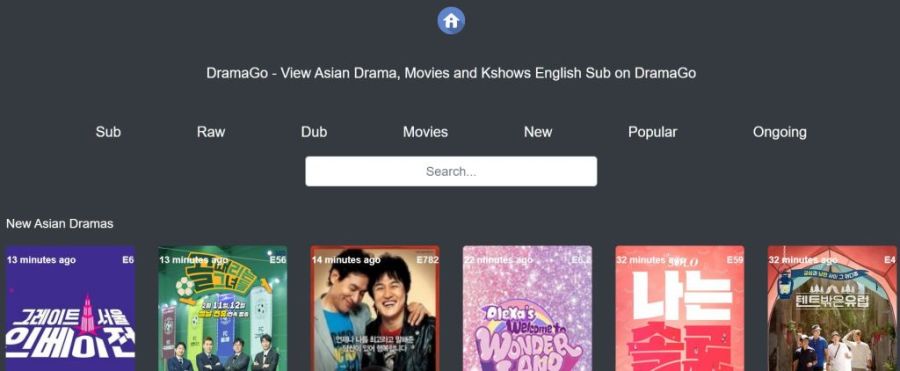 For drama, you can easily make your selection between newly released, popular series, and ongoing TV shows. And for movies, you can select between dub, sub, and raw, depending on your preference.
Moreover, if you are already knowledgeable about the title of a movie or show then you can use the search bar to directly access the content.
Visit Site: dramago.one
#5. YesMovies
YesMovies is a well known and reputable name in the world of movies and drama streaming. But considering its popularity, the developers behind this website decided to a dedicated section for Korean movies and series.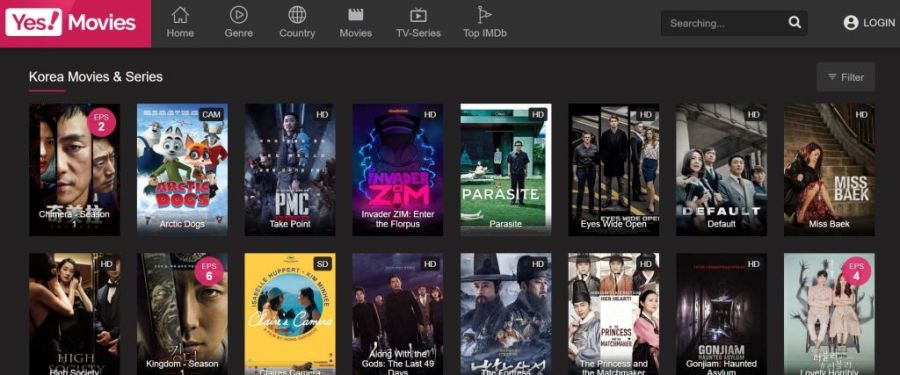 There are over eight hundred titles to choose from and the website is updated with new content almost every day. The site is very intuitive and you can use the search bar to manually find the drama or movie you want to watch.
Visit Site: yesmovies.ag/country/korea.html
#6. DramaCool
DramaCool is a dedicated streaming website where you can find all the popular and latest K-Dramas, movies, and shows with support for English subtitles. The site allows you to not only stream, but you can even download all the content to watch it offline on your phone, PC, or smart TV.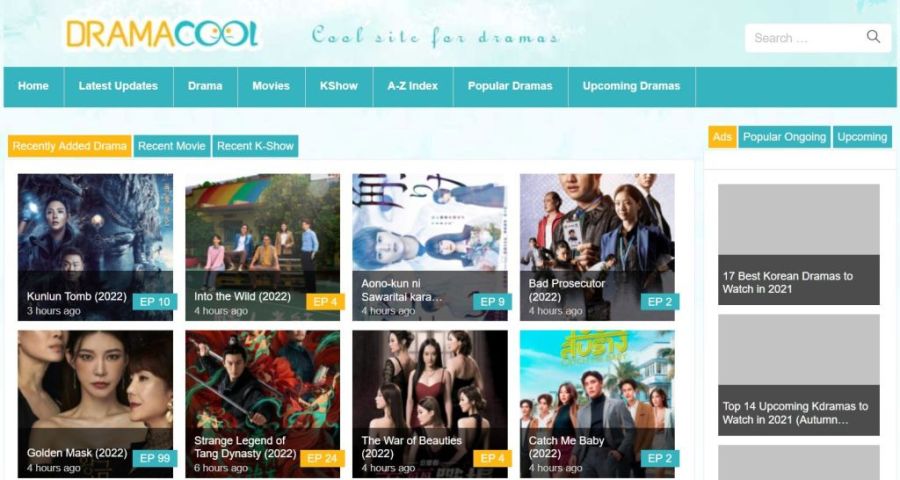 The site is neatly divided into various categories including dramas, movies, K-Shows, and a dedicated section for all the latest updates. And to ensure that you get to watch your favorite content, each episode and movie is streamable from over six different servers.
Visit Site: dramacool9.co
#7. ViewAsian
ViewAsian is another great website to watch Korean dramas online on your mobile or computer. The site has tons of genres to choose from and if you are looking for country/region-specific dramas then you can select that from the Country section to filter down your results.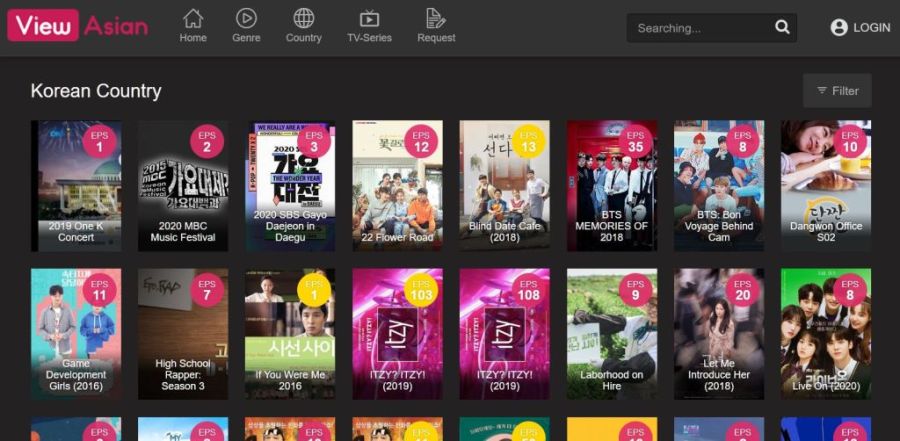 Once you select any drama or movie, ViewAsian will give you the option to select the server you want to stream from, and you can select different streaming qualities as well ranging from 1080p to all the way down to 360p, allowing you to stream based on the quality and speed of your internet connection.
Visit Site: viewasian.co
#8. Kshow123
As the name of the website suggests, Kshow123 is all about K-Dramas and Korean TV shows where you can stream, watch, and even download the whole series on your device with English subtitles. The website is neatly designed with categories on the top for the latest, popular, highly rated, and the whole directory of shows.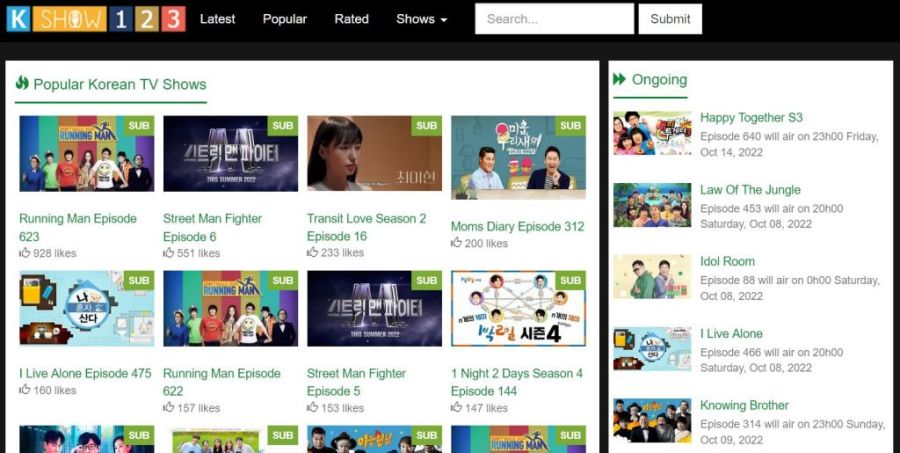 Similar to the other sites we have reviewed in this list, Kshow123 also lets you stream content from over seven servers and you can choose the one that you find the most suitable.
Visit Site: kshow123.net
#9. SolarMovies
SolarMovies is a well-known and reputable name in the world of online movie streaming as it offers you a directory to watch hundreds and thousands of movies and TV shows in HD quality. However, talking about Korean TV series and movies, you will find a dedicated section inside the country category from where you can select South Korea.
The site will then take you to the whole directory of Korean movies and shows. You can then use the filter option to further narrow down the results based on the type, genre, year of release, and quality.
Visit Site: solarmovies.video/country/south-korea-135
#10. Kocowa (Korean Content Wave)
Kocowa, which is also known as Korean Content Wave, is American-based premium Korean dramas and movies streaming website, which offers all types of Korean entertainment with support for subtitles in multiple languages. The site offers you K-pop, reality, movies, and dramas in high quality.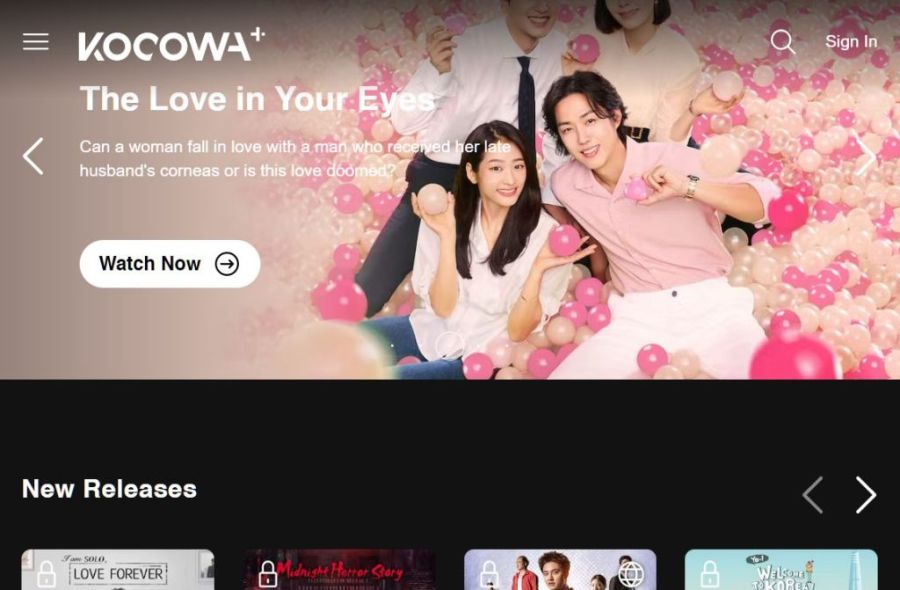 The streaming service was launched in July 2017 with an aim to cater rising demand for Korean content around the world. The service became quickly popular and it was accessible through the official website and mobile app. You can find Full HD quality content from a wide range of genres including romantic, dramas, reality, comedies, and variety.
If you are based in the US, Canada, Brazil, and Mexico then you can sign up for the premium subscription and enjoy exclusive access to one of the largest collections of K-dramas. And you will even get access to the Taste24HR program.
Visit Site: kocowa.com
These are some of the best sites to watch Korean movies and series. Do you know any other site? Share with us in the comments.