It's not easy to find the best working GPS spoofing method for iOS that safely works with Pokemon Go without risking your account. Trust me on this.
Internet and YouTube are full of websites and videos promising to let you spoof your GPS location in Pokemon Go on iPhone but none of them care about the safety of your account and protecting it from getting banned.
Why they won't work, you may ask?
Warning
Niantic is now smarter! They have implemented an anti-cheat system to instantly detect whenever your account is logged in on a modified third-party Pokémon Go app. Your account will then be suspended within hours.
Apart from that, you will notice most of those websites will ask you to install and run other unknown apps on your iPhone first before they let you install the modified Pokemon Go app. Yes, that pattern alone is a huge red flag.
Rest assured; you are at the right spot where I give you first-hand information based on my experience and in-depth research straight from the exclusive Pokemon Go spoofing community for iPhone users.
If you are in a hurry and ask me for a recommendation, the best option, as per the current ban wave situation is:
If you have iPhone running iOS 13 or above but don't want to jailbreak, then straightaway get iTools BT 2.0 bundle with an RJ-45 adapter. Continue reading if you want to learn more.
If you have a jailbroken iPhone running iOS 13 or above, then a GPS spoofing app with an overlay joystick can be used to spoof in Pokemon Go but use it with a secondary or throwaway account only.
If you want to spoof safely without any risk of an account ban, then the best suggestion is to get yourself an Android phone, root it, and install a GPS spoofing app. I have a complete guide available here.
A general rule of thumb for selecting iPhone GPS spoofing apps is:
If you come across any Pokemon Go app with a built-in joystick for spoofing on iPhone, stay away from it. You can get your account banned.
Let's quickly dive into the best GPS spoofing apps for iPhone:
1. iTools Bluetooth Joystick 2.0 with RJ-45 Adapter
iTools is designed and developed by ThinkSkySoft and they offer a bundle package that comes with a Bluetooth Joystick 2.0 and Lightning RJ-45 adapter. This hardware connects with your iPhone and lets you spoof the GPS location.
So, it is important to note here that the app alone is not going to help you with spoofing. You must need to purchase a hardware bundle to make this work.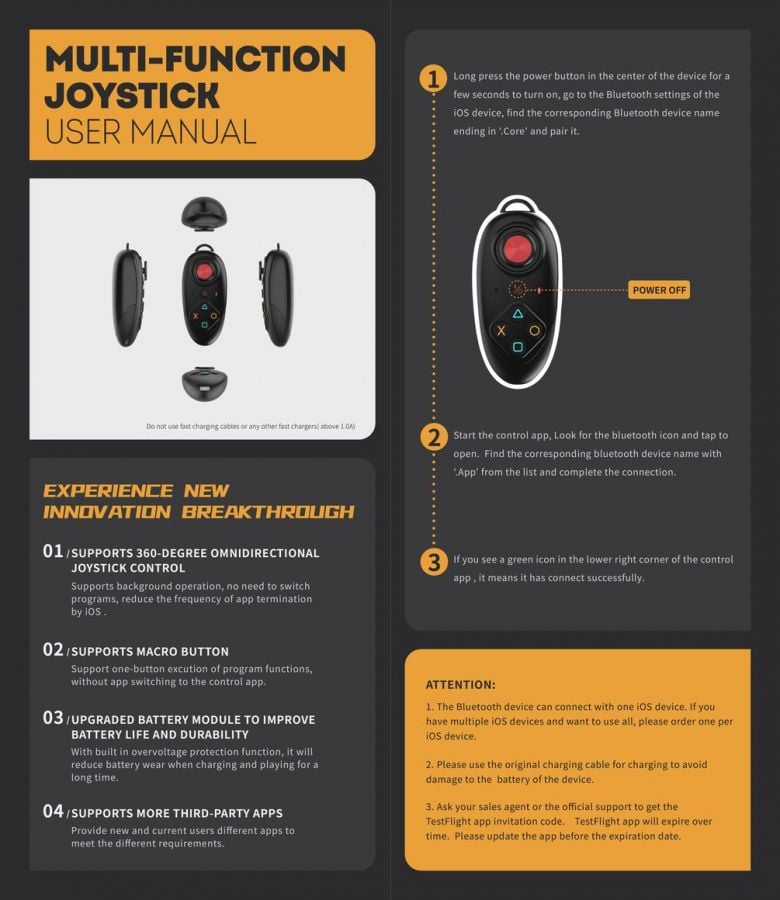 Since it is an independent app and lets you control the location with the provided bundle, all of this makes it one of the safest methods to spoof Pokemon Go on iPhone and iPad as it won't cause any ban.
The iTools Mobile app is fully compatible with almost all Apple devices whether they are running old or the latest iOS. And can easily help you with GPS spoofing on iOS devices.
The companion app provides you with 360-degree support with a joystick. The major advantage is you don't have to switch between Pokemon GO and iTools BT app, you can move your character with the provided Bluetooth joystick while playing the game.
Where to get iTools Bundle for iPhone?
You can purchase the iTools bundle for your iPhone from the official GumRoad channel for $79.99. For this price, you will get the whole package of BT Joystick 2.0 and Lightning RJ-45 adapter.
Risk of account ban: Low.
Jailbreak requirements: None.
iOS compatibility: iOS 13, iOS 14, iOS 15, iOS 16.
Drawback: Hardware dependent.
2. iPoGo for iPhone
iPoGo is a powerful all-in-one tool designed for iOS devices and fully compatible with iPhone, making it one of the most sought-after hacking apps for Pokemon Go that not only gives you a joystick but lets you fly and teleport to any part of the world.
Whether you want to spoof your location to catch the best rare and Shiny Pokemon or participate in a Raid Battle, iPoGo will be handy in all cases.
Not to forget the auto walking feature that is bundled with auto gym and PokeStop spinner, once enabled it will automatically walk your trainer on the defined path and will visit and spin PokeStop and gyms on the way. This will help you hatch eggs too.
iPoGo has an IV checker that helps you find IVs of all your Pokemon you have caught to date and holding in your Pokedex. You can then figure out which of the Pokemon are the most powerful and can be used for battles for higher chances of success, and you can even release the ones you don't need.
Another noteworthy feature is the option for notifications, once set up then whenever there is a Pokemon nearby which matches your criteria, the app will notify you so you can catch it instantly.
Above all, if you are an advanced user, iPoGo offers you a VIP option too for $4.99 per month, which unlocks added features including global feeds overlay for Pokemon, block non-Shiny Pokemon, block non-100IV Pokemon, and Pokemon spawn booster.
Risk of account ban: Medium.
Jailbreak requirements: For increased safety of your account, you need a jailbroken device.
iOS compatibility: iOS 14, iOS 15, iOS 16 (with Developer Mode enabled).
Drawback: Requires computer access to sideload the app on your iPhone.
3. Foneazy MockGo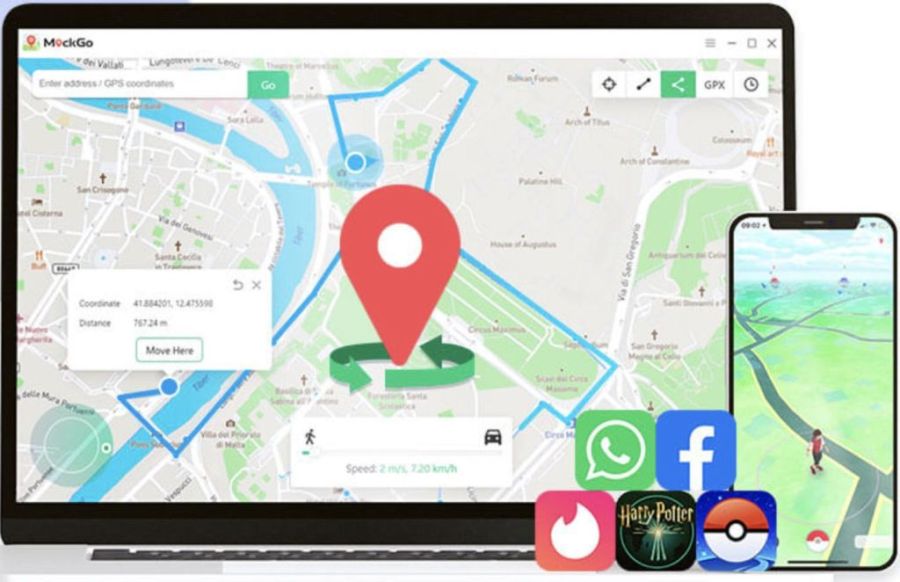 MockGo is the perfect solution for anyone who wants to enjoy location-based games and apps without actually having to move around. You can instantly teleport your iPhone's GPS location to anywhere around the world and simulate natural movement with the joystick feature.
You can even control up to 5 devices simultaneously and use the coordinates or address entry to get to your desired location. It also has a cooldown timer, favorite list, history records, and low detection rate so you can enjoy playing your favorite AR games and apps with ease.
Risk of account ban: Medium.
Jailbreak requirements: None.
iOS compatibility: iOS 13, iOS 14, iOS 15, iOS 16.
Drawbacks: Requires mac/pc access.
4. Pokemon Go++
Pokemon Go++ is an iOS variant of PGSharp for Android, which gives you a modified version of Pokemon Go along with an overlay joystick to help you spoof your GPS location in the game and to walk the trainer that imitates real-life walking style.
The joystick works really well on Pokemon Go++ and it let you teleport to any location you want with just a few taps. However, you need to make sure you keep the cool-down time in mind while spoofing to protect your account from soft bans and to avoid Pokemon from fleeing.
With the option to have a joystick right on the screen while playing Pokemon Go, you can easily navigate your way around and visit all the nearby gyms and PokeStops as well as increase your chances of finding and catching rare Pokemon too.
You will also get to participate in events that may not be available in your region and collect special items.
You can enjoy all of that without leaving your home, with Pokemon Go++ for iPhone.
Risk of account ban: High.
Jailbreak requirements: None.
iOS compatibility: iOS 13, iOS 14, iOS 15, iOS 16.
Drawbacks: Requires computer access to sideload the app on your iPhone.
5. iAnyGo
Apple has created a very strict operating system where users cannot make any changes to the system. And the usual jailbreaking options don't work anymore since it has become harder than ever to find exploits in the latest iOS software. This is where iAnyGo for iPhone comes in handy.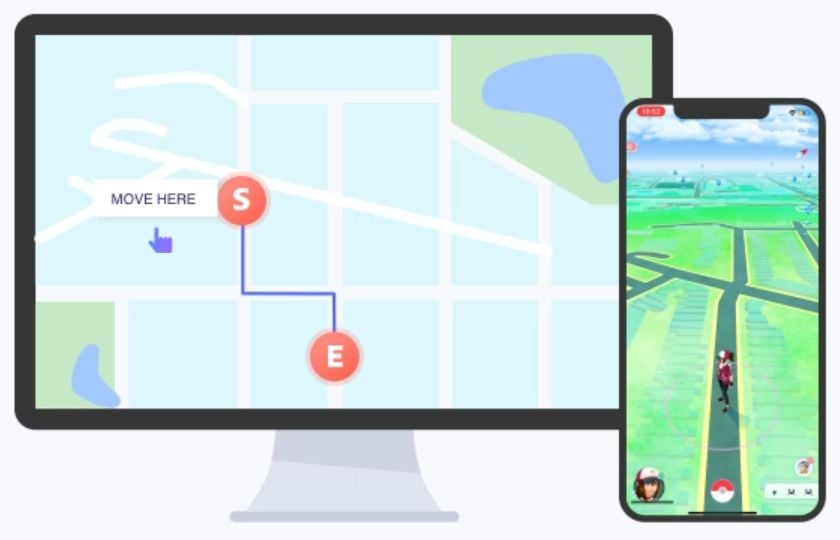 This software is designed for Windows and Mac-based computers, once you have connected your iPhone to your computer and linked it with the iAnyGo software, it will allow you to spoof your location in Pokemon GO.
All of this takes a few minutes only and you can fake your GPS location. It is fully compatible with iPhone and iPad and works seamlessly with most location-based games including Ingress and Pokemon Go.
You can even create a custom route and take your character to almost any part of the world to catch all those shiny Pokemon. The only drawback of this location hacking method is you have to keep your phone connected to the computer.
Risk of account ban: Low.
Jailbreak requirements: None.
iOS compatibility: iOS 13, iOS 14, iOS 15, iOS 16.
Drawback: Computer dependent.
Back To You
These were the five best GPS spoofing options for iOS devices compatible with Pokemon Go. My personal favorite is the iTools BT bundle as it is the safest of all and along with that, I sometimes use the iPoGo app with the secondary accounts for fun to catch and trade Pokemon.
Which Pokemon Go GPS spoofing method have you tried on your iPhone? How did it work for you? Let me know in the comments below. 🙂