It is not humanly possible for everyone to go around the town in search of rare and shiny Pokemon, especially if it is snowing or you have a disability. This is where Pokemon Go joystick and GPS hacks come in handy, it allows you to get a joystick in Pokemon Go and let you spoof your location from the comfort of your couch.
The fun does not stop there, you can use a GPS joystick to virtually take your Pokemon trainer to any part of the world and even take part in special events which increases your chances to catch rare Pokemon.
You can also visit gyms, take part in Raid Battles, and even find and catch the best Pokemon from any of your favorite spots in the world. Simply enter the location coordinates and use a joystick to find your favorite Pokemon.
Catching Pokemon has never been easier. Let's quickly jump straight into the best apps you can use right now to get a joystick in Pokemon Go to hack GPS on Android and play the game without moving…
1. PGSharp Pokemon Go Joystick Mod
PGSharp is an amazing app and is currently the best Pokemon Go spoofer for Android devices that comes with a native joystick using which you can control your character and take it anywhere around the world.
The app is so powerful that it works on any Android phone and it needs no root. It is easy to download, install and use.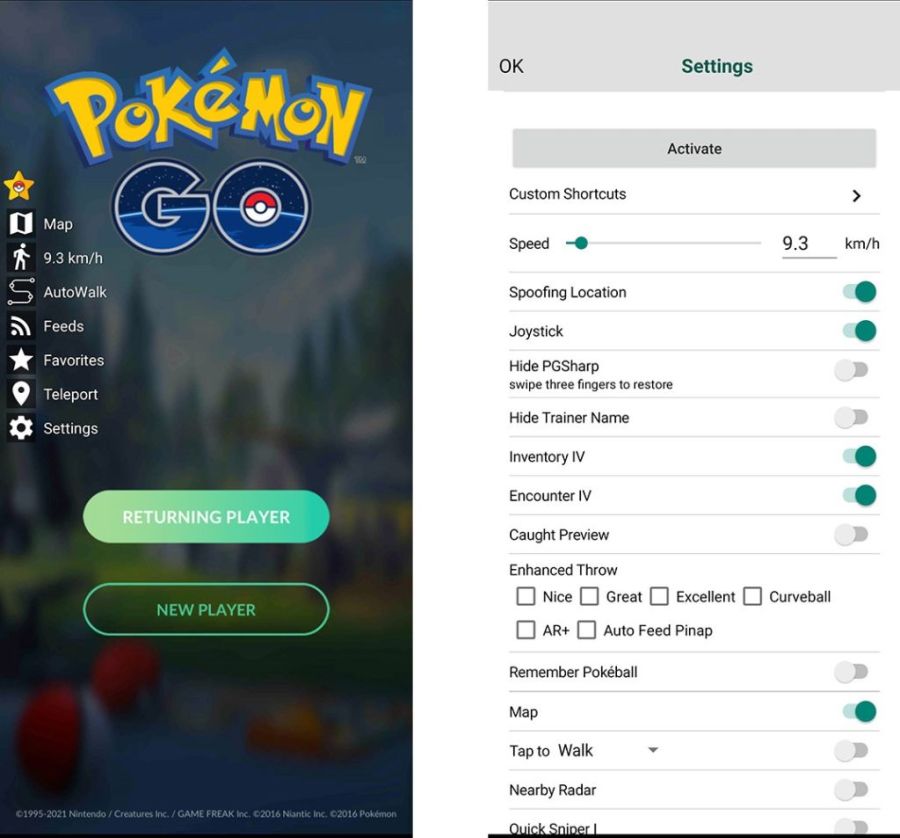 PGSharp offers you the following features:
Joystick and Teleportation: This gives you an on-screen joystick that let you control your Pokemon trainer and teleport to any part of the world.
Auto Walk: Once you have configured and enabled the auto walk feature it will walk your character to the specified path, which is an amazing hack to hatch eggs.
100 IV Feed: Gives you a live feed for all the nearby Pokemon that have 100 IV or above so you can make sure you are catching the best Pokemon.
Nearby Radar: You can setup a nearby radar feature to notify you whenever your selected type of Pokemon appears on the map.
The PGSharp free version works really well however there is a standard paid version too that comes with additional features including quick catch, live coordinate feed for all Pokemon, and find shiny Pokemon only. The standard version is available at a monthly subscription of $5.
2. Pokémon GO Spoofer
Ever imagined exploring the world of Pokémon GO without stepping outside? With the iGPSGo Pokémon GO Spoofer iOS, that dream becomes a reality. This state-of-the-art tool offers trainers unparalleled freedom and flexibility in the Pokémon realm.
Features:
Virtual Movement: Walk, run, or teleport to any location in the game without physical movement.
Routes Planning: Set customized routes for your avatar, making Pokémon hunting more systematic and efficient.
Speed Control: Adjust your avatar's speed, ensuring optimal play and reducing the risk of in-game bans.
Multi-Device Compatibility: Whether you're on a tablet or smartphone, iGPSGo has got you covered.
Intuitive Interface: A user-friendly dashboard ensures even the least tech-savvy trainers can navigate with ease.
To use the iGPSGo GPS joystick for Pokémon GO, first, install and launch the app on your computer. Then, connect your phone to your computer using a USB cable and enable the 'Joystick' mode in the iGPSGo interface for on-screen controls.
With iGPSGo's Pokémon GO GPS joystick, the world of Pokémon GO expands, offering trainers unique opportunities and experiences. Ready to embark on a new journey? Let iGPSGo guide your path.
3. iPogo for Android
With iPogo Android you can become the best Pokemon trainer as it enables you to catch rare and legendary Pokemon. The app is still in the beta phase and may have some bugs too. However, it is available for every Android user with devices running Android 8 or above.
iPogo for Android comes bundled with lots of features, some of the noteworthy ones are:
Auto Spin: An amazing automation feature that automatically walks your character. It can open the gym on the way and spin them to collect free items.
Block Non-Shiny Pokemon: If you aim to collect Shiny Pokemon only then enabling this option will block all the non-shiny Pokemon so you can focus on what you want.
Spawn Booster: This gives you the ability to find Pokemon that are farther away from you, without you actually moving to that spot. Saving your time and effort to walk there.
Battle and Raids: Yes, you can join Raid Battles anywhere you want by spoofing to that location and using a joystick to take part in the battle.
4. Fake GPS Location – GPS JoyStick
GPS JoyStick Fake GPS location app is specially designed for those Pokémon Go users who are looking for a method to mock their location using an overlay joystick controller.
What's unique about the GPS JoyStick app is that it provides you with ultimate location option flexibility, which means you can use three different location hack options. Each one of them can be configured according to your requirements.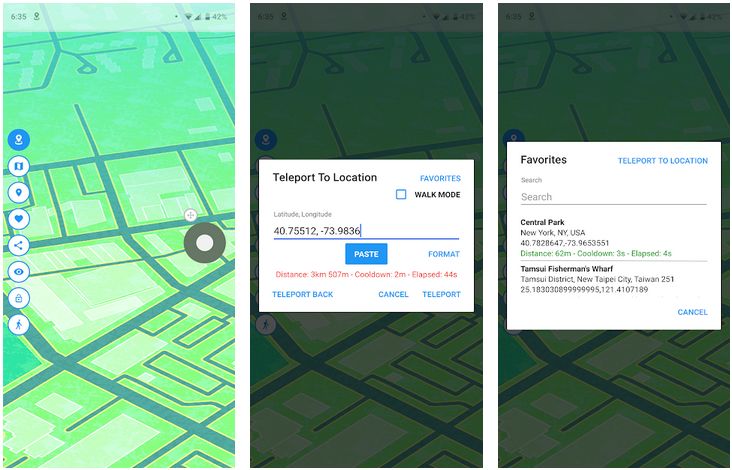 Those settings are:
Manual Location – Set mock location manually using either latitude & longitude coordinates, or using the search function,
Current Location – Use your current location that can be detected automatically via your device's GPS,
Last Location – Use the previously saved location where you closed the app.
And there are more exciting features, i.e., you can select up to three different speed settings as well as an automated option that automatically walks your Pokémon GO character to the assigned location at your customized pace.
Many of our readers have reported they are unable to use the GPS joystick location hack apps as the game shows error 12 failed to detect location, about which I have prepared working solutions along with an in-depth guide to fix the location error.
5. Fake GPS Joystick & Routes Go
First things first, Fake GPS Joystick & Routes is not a free location spoofing app for Pokemon Go. It will cost you a one-time fee of $3.99.
The app works flawlessly without any problem and provides several advanced features as well as operational modes, including a joystick for smooth manual flying movement, automated movement around any specified radius, and the ability to customize speeds and update intervals.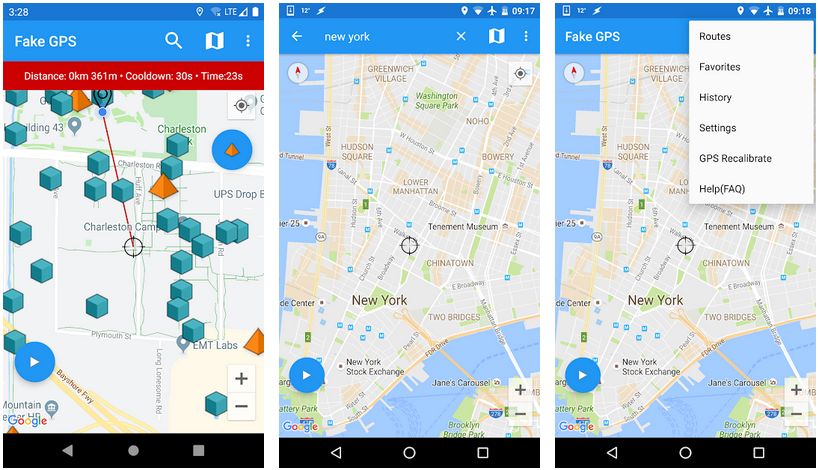 There are a couple of features targeted explicitly towards Pokémon Go users, including expert mode and better spoofing abilities.
Apart from that, the app is capable of keeping track of your location history and allows you to add custom locations to your favorites list for quick access whenever you want.
6. Fly GPS
Fly GPS is one of the oldest Pokémon Go GPS joystick apps that has been around for quite a while now and is being used by a large number of spoofers without any issue. That is precisely what makes it one of the most trusted PoGo location spoofing apps for Android.
The significant advantage of Fly GPS is that it gives you an on-screen joystick that is accessible even while you are playing Pokémon Go, using which you can: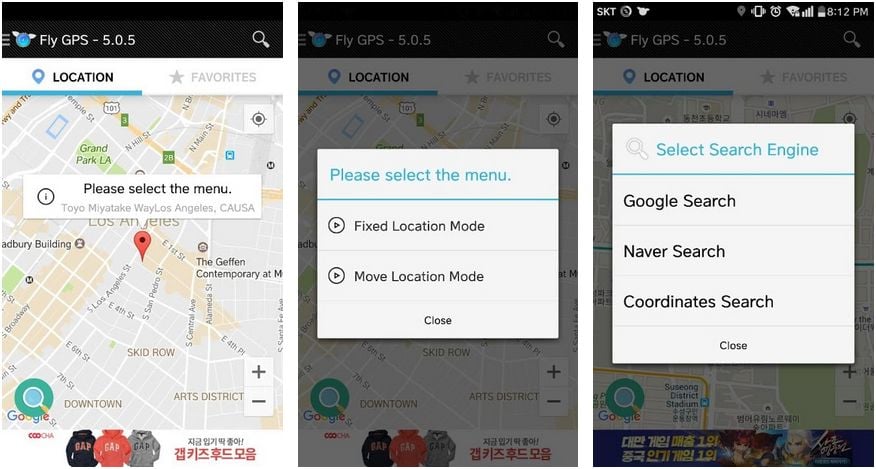 Easily navigate your character around the area,
Catch all the nearby Pokémon,
Visit PokéStop to collect items, and
Go to the gyms around the city.
You can do all of that from the comfort of your home without ever leaving your comfortable couch.
Apart from the ease of controlling your character with a joystick, there are numerous other features, including location search, the option to add a favorite location, and recent search history. All of this makes it easy for you to take your character to any part of the world and catch rare/legendary Pokemon.
In case you don't know, we have a complete step-by-step guide on how to install and configure Fly GPS on Android to spoof location in Pokemon GO with a joystick.
7. TutuApp for Pokémon Go
TutuApp for Pokémon Go is known as the easiest method to spoof location on Android as the developer of the app provides a slightly modified version of Pokémon GO by incorporating a native joystick and location spoofing abilities.
But the problem is that the newer releases of Pokémon Go are a lot harder to modify as compared to the older version due to which the TutuApp version is no longer working with Android.
We have found out that the developers over at the TutuApp have been unable to release a modified version of the latest Pokémon Go for Android. Moreover, the app being provided by TutuApp is just a mirrored APK of the original Pokémon GO app that is already available on the Google Play Store.
If you still want to try your luck with TutuApp for Pokemon, then you can download the app.
Known Issues of Pokémon GO Joystick Location Spoofing
What is the rubber banding problem in Pokemon Go?
The rubber-banding problem occurs when you are navigating around the spoofed location using the Pokemon Go joystick app, and suddenly your character is teleported back to your real location. And the cause of this sudden teleportation is the real GPS data are overriding the fake GPS data.
The rubber banding effect, if happened several times, is known to cause soft bans. And when you are soft-banned, the Pokémon you try to catch will flee. Moreover, spinning PokéStop will not give you any item.
How to fix the rubberbanding problem?
There are three ways to fix the Pokemon GO rubber band problem while spoofing location:
Set your Android phone location accuracy option to the only GPS (never use high accuracy),
Try to be in an area where there is no GPS signal (a basement or room without windows should do the trick),
Wrap the backside of your phone in 2 to 4 layers of tin foil to block GPS signals from reaching your phone.
How to avoid a soft ban? What is the cooldown duration of the soft ban?
Quickly teleporting to a new location and catching a Pokemon or even visiting a gym can trigger a soft ban, after which you need to wait for the cooldown time until you can perform any action in the game.
For the cooldown time and the travel distance calculations, you may refer to the chart below:
| Distance (Kilometers) | Distance (Miles) | Cooldown Time |
| --- | --- | --- |
| 1 km | 0.6 mi | 30 sec |
| 5 km | 3.1 mi | 2 minutes |
| 10 km | 6.2 mi | 6 minutes |
| 25 km | 15.5 mi | 11 minutes |
| 30 km | 18.6 mi | 14 minutes |
| 65 km | 40.4 mi | 22 minutes |
| 81 km | 50.3 mi | 25 minutes |
| 100 km | 62.1 mi | 35 minutes |
| 250 km | 155.3 mi | 45 minutes |
| 500 km | 310.7 mi | 1 hour |
| 750 km | 446 mi | 1.3 hours |
| 1,000 km | 621.4 mi | 1.5 hours |
| 1,500 km | 932 mi | 2 hours |
Conclusion
What are your thoughts about the apps I have discussed for Pokemon Go joystick and GPS location spoofing? Did any GPS joystick hack help you to spoof your location in the game? Or maybe you already know about an app that works for you. Share your views in the comments below. 🙂