Nika TV is your go-to solution to watch and stream TV channels from around the world. You can watch sports, cricket, news, entertainment, drama, cartoons, movies, TV series, and news. You will be able to find channels and content in multiple languages.
📢 Do you want to watch sports channels or the FIFA World Cup 2022 but Nika TV didn't work for you? We have compiled an ultimate list of sports streaming websites and apps for you. Do check it out! 😉
The best thing about this app is that it is absolutely free and there are no subscription charges. If you are looking to watch TV channels that are blocked or censored in your country due to any reason then the Nika TV app is what you should install on your Android phone.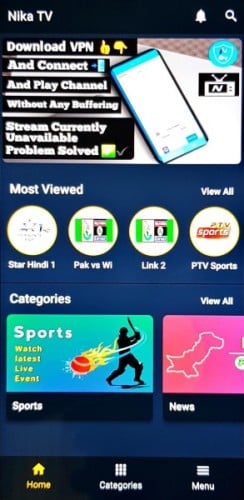 Head over to the next section to learn more about the app.
Features of Nika TV
Discussed below are the key features of Nika TV for Android that make the app stand out from the rest of the streaming apps:
Wide Range of TV Channels: The app gives you access to hundreds of TV channels from all around the world, including channels from Pakistan and India.
Fresh Content: New and updated channels are added almost every day to ensure the app contains all the working TV channels.
Intuitive UI: The interface of the app is designed in such a way that it makes it easier for the user to navigate around different channels.
HD Quality: The playback of the TV channels is in high-definition quality. Which allows you to stream in 720p resolution.
Categorization: TV channels have different categories and the developer has neatly organized and placed each channel in the relevant category to help find the right channel.
Regional Channels: TV channels are sourced from different countries. All of them are regionally divided too, including UAE, USA, Canada, Europe, Pakistan, Bangladesh, and India.
Trending Live Content: In special events like live cricket, football, basketball, hockey, or tennis, you will see specific sports channels in the trending section.
Search Option: You have a search option that allows you to find any specific TV channel within a matter of minutes.
Multiple Languages: You can find a lot of regional channels and content including Urdu, English, Punjabi, and Hindi.
About Nika TV
If you want to keep yourself entertained then there is no better option than Nika TV.
This app offers you TV channels in high definition quality and that too in 720p resolution. All the channels are neatly organized and easily accessible through categorization.
You can find regional content and channels too. Specifically from the countries like Europe, the USA, Canada, UAE, India, Bangladesh, and Pakistan.