We can understand how frustrating it gets when your phone's Internet connection is spotty and, at the same time, you receive a notification from YouTube that your favorite channel has uploaded a new video. You are too eager to watch it and even clicked on the notification, but your phone is struggling to load the video as it keeps on buffering due to the slow Internet speed.
It doesn't matter if you are looking for a YouTube video downloader for Android or if you want some top apps to quickly download videos from any other online videos streaming websites; we have got you covered with this awesome list of 13 best apps you are ever going to need to fulfill your video downloading requirements on Android.
DISCLAIMER: BestForAndroid does not endorse, support, or promote piracy in any way. The end-user is solely responsible for downloading content or media through any app or service mentioned on this website. All the information provided on this website is for educational purposes only.
You are only allowed to download videos where a download button or a download link is shown. According to YouTube's Terms of Service:
You are not allowed to access, reproduce, download, distribute, transmit, broadcast, display, sell, license, alter, modify, or otherwise use any part of the Service or any Content except: (a) as expressly authorized by the Service; or (b) with prior written permission from YouTube and, if applicable, the respective rights holders.
Top Pick: 4K Video Downloader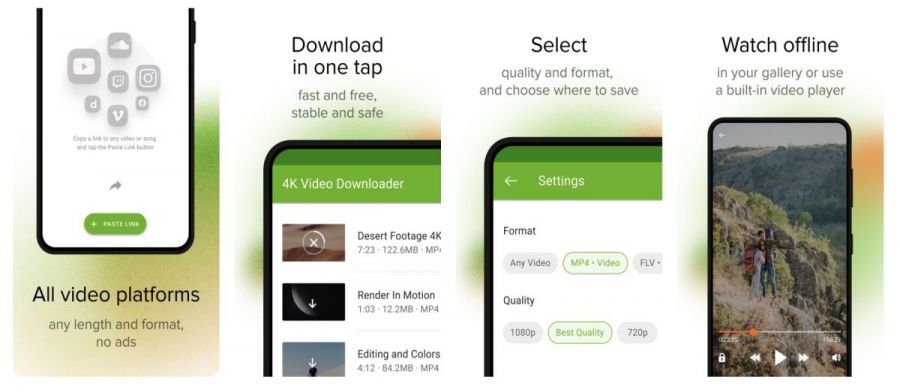 4K Video Downloader is a free video downloader for all leading video platforms like YouTube, Facebook, Twitch, and so on. You can download and save videos for offline download easily with this app. 4k Video downloader also lets you download videos in full 4k and is available for all platforms including Android, Windows, and Mac.
1. TubeMate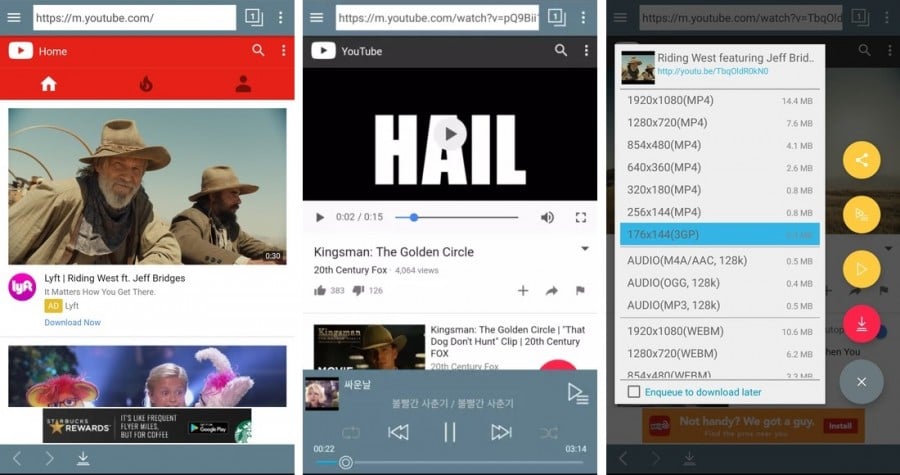 TubeMate is one of the first choices for those who are looking for a way to download videos on your Android because of its greater compatibility with a lot of video streaming websites including the ever-popular YouTube. The app has a built-in web browser using which you can access almost any website to grab video, store it on your device, and watch it whenever you want. Even without the Internet connection.
The usage of TubeMate is really simple. Tap on the menu button at the top-left to access the quick list of video sites. Open any video. A download button will appear. Tap on it to open the download menu with all the possible choices including a selection of MP4, Webm, and audio formats along with various resolutions. You will also see the file size for every format so you can download accordingly.
What Is This Best For: Download videos from almost any website; convert videos into MP3; quick downloading through the URL copied in the clipboard; fast download support with multiple connections; download videos to SD card external storage.
Unique Features: Add download to queue; create custom playlists for your favorite videos; add a link to bookmark for quick access; dark theme support; speed limiters and caption downloading.
2. Snaptube –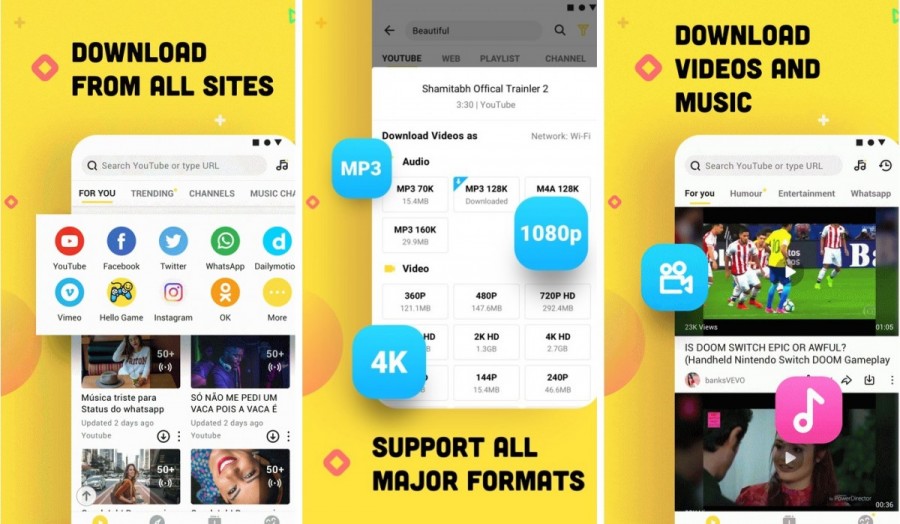 Snaptube is a powerful video downloader app for Android that offers downloading capabilities and make things convenient, easy, and quick. Similar to TubeMate, this app also has a native browser where you can easily browse video streaming sites like YouTube, DailyMotion, Vimeo, and even Instagram; which actually helps you in finding the videos and music you want and download it within a few clicks so you can watch it without an Internet connection.
To download a video using Snaptube you have two basic options, one is to copy the URL of the video and paste it onto the Snaptube URL bar and the other method is to pick any website from the favorites list and browse the website to pick the video and then tap on the download button. The app lets you download in various M4A and MP4 qualities including 1080p, 720p, and 360p along with the MP3 format files.
What Is This Best For: Download videos from a wide range of websites; Option to add any video and music sharing sites to favorites.
Unique Features: Built-in converter that downloads videos in MP3 format; background playback support; night mode.
3. iTubeGo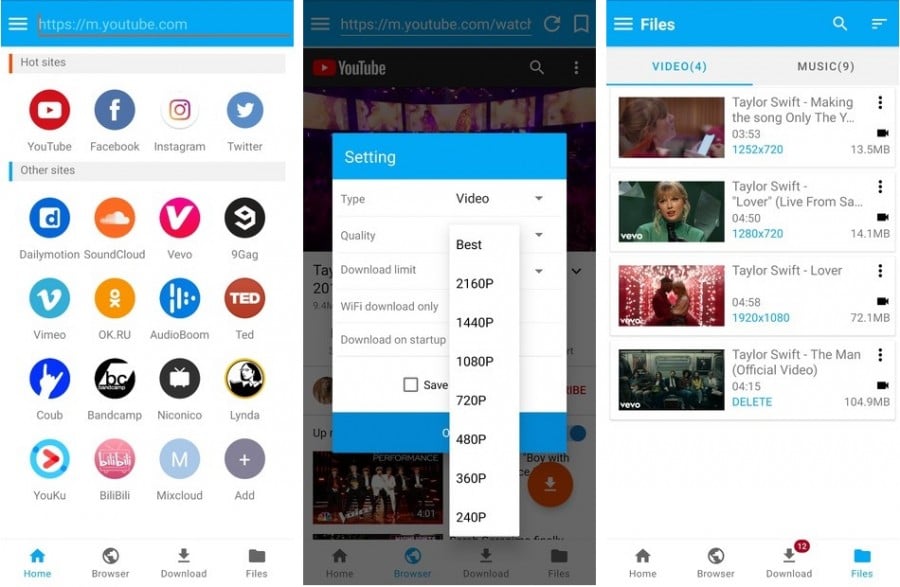 iTubeGo is a video and audio downloader app with a user-friendly interface and support for high definition video and high quality audio downloading capabilities along with an amazing smart link detection feature that lets you download any video just by copying the actual URL and then open the app. The download prompt box will automatically appear.
As per their websites, the iTubeGo app supports the downloading of videos and MP3 audio files from over a thousand sites including Facebook, Twitter, Instagram, Metacafe, YouTube, TikTok, and whatnot. Downloading any file is as simple as tapping on a button. You can then watch it whenever you want. You can also download videos directly to your SD card.
What Is This Best For: Option to add favorite websites to the frequent list; native video and audio files manager; automatic resume downloading when the app launches.
Unique Features: Download videos in the background; save ID3 tags for audio files; download booster with multiple connections.
4. InsTube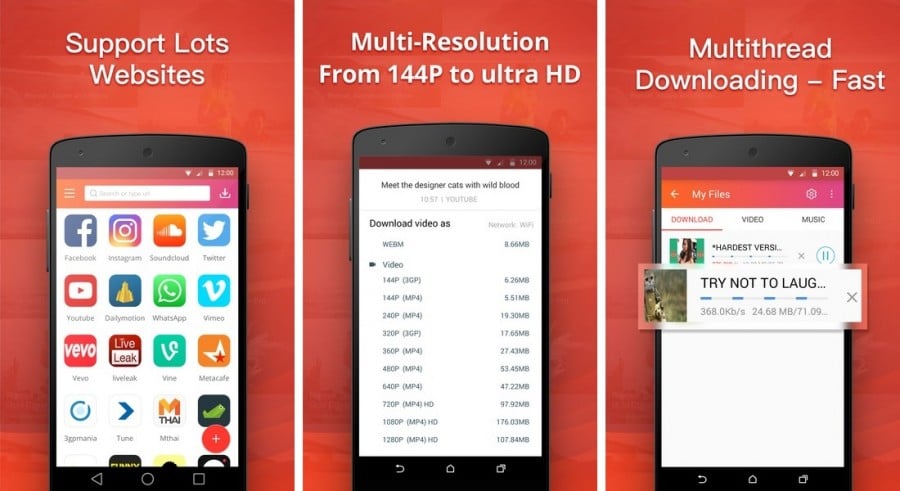 Many users may use InsTube to download videos from YouTube; however, this app has some awesome capabilities and features that make downloading videos and audio files from the Internet a breeze. It supports download from countless video and music streaming sites so that you can store them on your phone or tablet device for offline watching or while traveling and you don't have an Internet connection.
InsTube supports 4K video downloads as well from most of the compatible websites as well as MP3 audio files support. You can play your downloaded video files directly within the InsTube player. And the batch downloading gives you the freedom to download all of your favorite playlists for offline listening, no matter where you are.
What Is This Best For: Batch downloading videos and music files; add any of your favorite video streaming sites to bookmarks for quick access; faster downloads with multithread downloading capabilities.
Unique Features: Lock your downloaded videos, audio, and image files with password; support for multiple formats including 3GP, MP4, M4A, MP3; convert downloaded videos to MP3 audio.
5. VidMate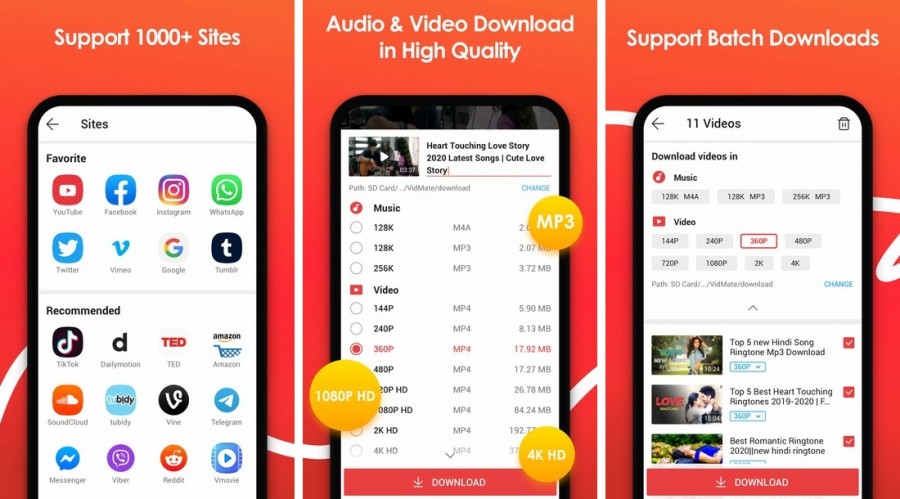 Similar to the ones I have discussed above, VidMate provides a user-friendly UI with a lot of functionalities including downloading videos and music, faster download speeds, and support for download in MP3 format. There is a built-in video player too with background playback so that you can watch videos while you are using some other app on your phone like WhatsApp.
The simplified interface of VidMate will make it really easy and quick for you to download videos from any of the supported video websites, and before beginning the download the app lets you modify the name, format, and resolution of the selected video. You can then add the download to the queue and begin searching for other videos while VidMate takes care of your download and stores them in your selected location.
What Is This Best For: This allows you to download videos in various formats including 4K UHD and 720p HD; find and search for your favorite website by just using keywords.
Unique Features: Download WhatsApp status videos and pictures; native support for more than thousands of video streaming sites; support for multiple languages.
6. Dentex YouTube Downloader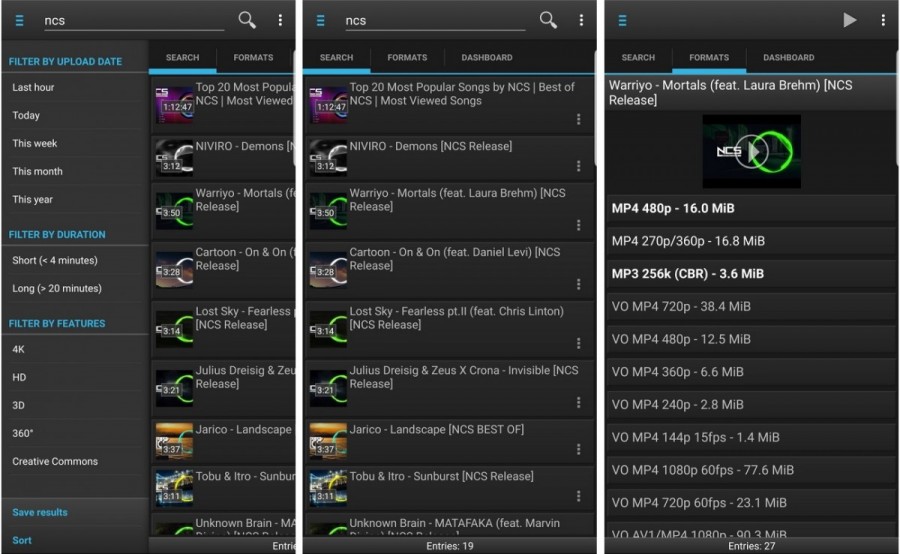 YouTube Downloader (YTD) is one of the oldest and renowned video downloaders in this list and was initially released at the end of 2012. However, this app is designed to download YouTube videos only and will not work on any other video streaming website. What's interesting is that the developer actually abandoned the app but then recently restarted working on it.
YouTube Downloader by Dentex is compatible with Android 5.0 and above and provides powerful search functionality for YouTube videos and music. You can use a quick download feature using the share option within YouTube and selecting YouTube downloader from the list. You can even download videos directly on your external storage i.e. micro SD card.
What Is This Best For: Multithreaded YouTube videos downloading; download YouTube videos in all available formats and resolutions; ability to edit ID3 tags for MP3.
Unique Features: Remote downloads on any other device via SSH functionality; dark mode support.
7. NewPipe
NewPipe is an open-source YouTube client with tons of added features and privacy including the ability to download videos for offline viewing for free. The app is lightweight, consumes little RAM and Internet bandwidth, and has a smaller footprint, all of which saves a significant amount of battery power. There is a popup player support too so that you can enjoy your video while using other apps.
Since NewPipe is very much similar to the existing YouTube app so won't feel much difference in the usability, which includes subscription options, creating new playlists, import playlists from other accounts, ability to re-watch your previously watched videos with the history feature. The download feature allows you to save videos in your choice of resolution or format including 2K, 4K UHD, and MP3 audio.
What Is This Best For: Watch YouTube videos with an added layer of privacy; download videos, audio, and captions with just one tap; resizable popup player; translated into 81 languages.
Unique Features: Open source; adblocking; takes care of your privacy; background playback; floating player; support for SoundCloud, Media.cc, and PeerTube instances.
8. YMusic
YMusic is designed for YouTube, and the app will let you play videos and listen to music in the background while you use other apps like Facebook or Instagram. The app consumes very little data as compared to the original YouTube app by playing the audio-only version. This will make sure that your music and podcasts continue to play even when you have slow Internet connectivity.
YMusic will also let you download videos in various formats for offline listening like when you are traveling or using airplane mode. The app lets you choose the resolution and format according to your requirements. There is a built-in open-source music player as well named Jockey player. Moreover, if you are using the original YouTube app and want to listen to any music in the background or download then simply share that song with YMusic and it will take care of the rest.
What Is This Best For: Quick downloads with the sharing feature; background music playback with the audio-only format.
Unique Features: Detects artists name and album using last.fm integration; saves significant Internet bandwidth with audio streaming; open-source Jockey player integration.
9. YT3 YouTube Downloader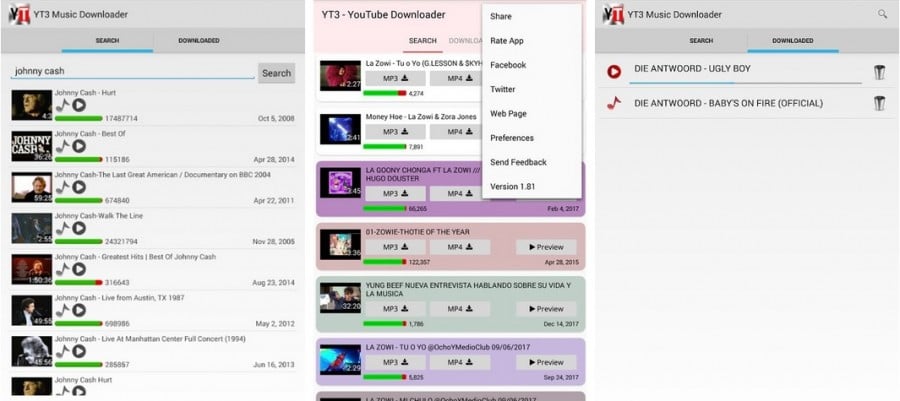 YT3 is a simple and great video and music downloader for YouTube. The basic interface makes it really easy for you to begin downloading your favorite content within a few seconds. The built-in search functionality is powerful enough to help you find all the videos. And there is support for lyrics and captions too.
The app allows you to download videos in various resolutions and formats as well as the ability to convert video files into MP3 for your music player. To begin downloading, all you need to do is launch the YT3 app; use the search bar to enter the keywords; your requested videos will be shown on the list. Tap on the download button and the video will be downloaded.
What Is This Best For: Download music with lyrics; easy to use.
Unique Features: Support for lyrics and captions; simple interface makes it quick and easy to download videos.
10. YouTube Vanced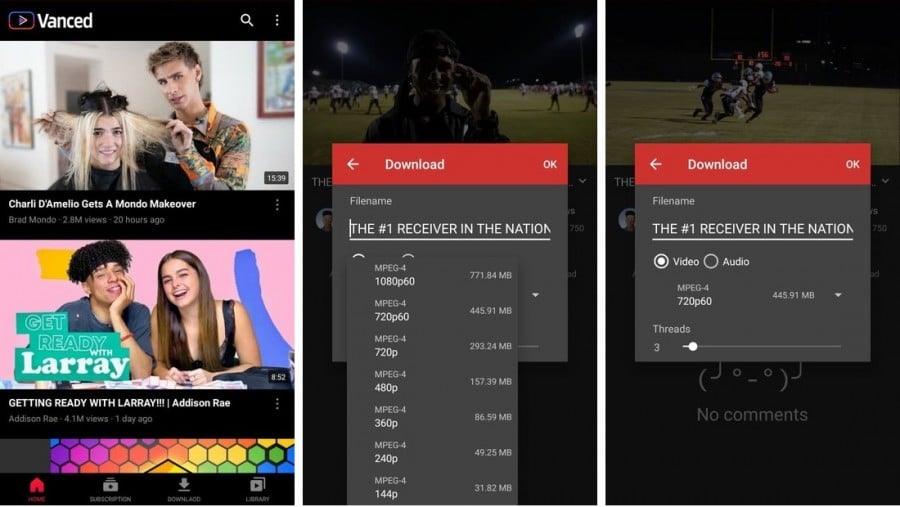 If you are tired of watching ads popping on YouTube every once in a while and you are getting bombarded with sponsored content, look no further, download YouTube Vanced on your Android. You will be amazed at how fluid and easy it really is to watch YouTube videos as well as download them for offline watching whenever you want and you can keep those videos for how long you want.
Hands down, YouTube Vanced is the best app if you are looking to download videos from YouTube only. Moreover, if you use it once then I am sure you will stop using the stock YouTube app on your phone. The app even allows you to log in to your Google account so that you can keep track of your subscriptions and download your playlists.
What Is This Best For: Picture-in-Picture mode; background playback for videos and music; swipe gesture support for brightness and volume.
Unique Features: AMOLED theme support; Vanced manager makes it easy to keep the app updated; perfect YouTube ad blocking and sponsor blocking; auto-repeat functionality.
11. KeepVid

Don't want to download any third-party app just to download videos from your favorite websites? You don't need to look further as KeepVid will help you out. This is a renowned online video downloading website originally designed for computer users but since the majority of the users have now shifted to mobile devices so the developer has improved its compatibility, which makes it usable for us Android users too.
KeepVid online video downloader is not only popular for downloading videos from websites, but it is also capable of converting videos into MP3 format within a few clicks and downloads it directly onto your phone.
What Is This Best For: Download videos in various formats without installing the app; download audio-only version of any video.
Unique Features: Doesn't require downloading and installation of any third party app or extension; works with hundreds of online video streaming sites including YouTube, Instagram, and Facebook.
12. Ucmate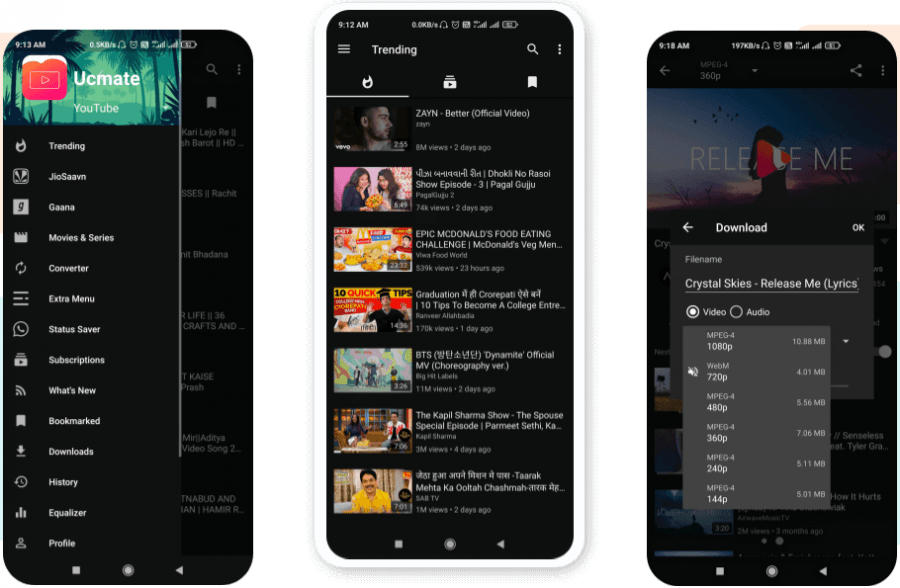 With just a tap of a button, Ucmate will help you download your selected videos and music directly onto your Android phone or tablet device. All you need to provide this app is the URL of the video that you want to download. The app supports downloading in various formats including 720p and 1080p full HD.
Ucmate is not for YouTube only but it supports many other online video streaming sites and social media websites as well including Facebook, Twitter, and Instagram. If you are interested in downloading songs then you can do that too from the supported websites like SoundCloud, Gaana, and a handful of others. You can even play any video directly within the app.
What Is This Best For: Built-in movie, video, and music player; download videos in a variety of formats and resolutions.
Unique Features: Dark mode that makes it easier to use the app during nighttime; add your favorite videos to bookmark.
13. Videoder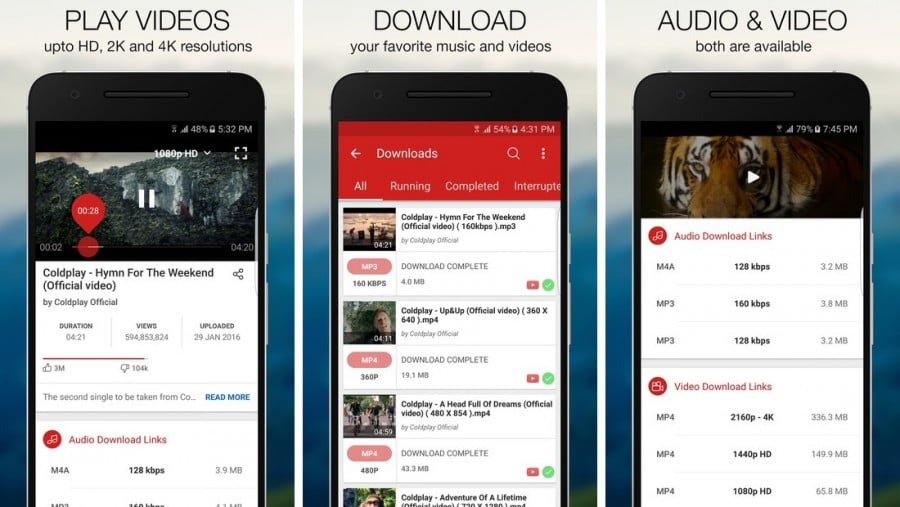 Videoder is an all-in-one app that can fulfill all of your entertainment needs, whether it is streaming videos and music online or downloading any of your favorite content for offline viewing for those times when you are without an Internet connection or on a slow network. It has native support for tons of websites including the ever-popular YouTube, 9gag, DailyMotion, TED as well as social media sites including Facebook, Twitter, SoundCloud.
That is not all, Videoder also allows you to add your own custom favorite site to the list and start downloading videos right away. You can stream as well as download videos in 4K and quickly transfer them to your Ultra HD compatible device. Also, if you don't like waiting then you perform batch downloading too so while you continue searching for other videos the app will keep on downloading content in the background.
What Is This Best For: The link detection feature automatically grabs downloads whenever you copy any compatible website link; for music lovers, the app lets you edit audio tags and cover art.
Unique Features: Batch downloading videos; multiple connections for faster downloads; customize the look and feel with built-in themes; night mode.
YouTube's official app doesn't let you download/save videos for offline viewing unless you opt for their premium subscription. Can it get more annoying than this?
Not anymore, as you have a smartphone in your hand that is running a powerful Android OS, which has an app for almost everything. All you need to do is simply install a free video downloader app and that alone will unlock a great potential to download video from any website including YouTube 😉
Simply copy the video URL, paste it onto the video downloading app, and begin downloading.
Not only that, the downloaders are powerful enough that let you download videos in a variety of resolutions including 2160p 4K Ultra HD, 1440p Quad HD, 1080p Full HD, 720p HD. So if you have a huge 65-inch TV in your lounge and want to enjoy content on a big screen while laying down on your comfy couch then you should download the videos in the highest quality to experience the crisp visuals.
Additionally, if you want to listen to YouTube podcasts while on an airplane or download songs for offline listening, you can use any of these video-downloading apps to convert the downloaded videos into MP3 format in just a few clicks or simply download audio-only directly and then enjoy those in the music player of your choice.
Possibilities are truly endless. It all depends on what you want and how you want it.
How can I download YouTube videos directly to my Android?
Time needed: 5 minutes
How can I download YouTube videos directly to my Android?
Install TubeMate

Install any app from the list above. For instance, TubeMate. APK download link is given already.

Launch the app

Open TubeMate app and use the search bar to find the YouTube video you want to download.

Look for the download button

Once the page is loaded you will see a red download button at the bottom right corner of the screen, tap it.

Parse video

App will parse the video and show you a list of video resolutions ranging from 144p to as high as 4k resolutions. You can also see the file type i.e. MP4, WEBM, and even MP3 audio format. The app will also show you the estimated file size in MB.

Selec resolution and file type

Tap on the desired resolution and tap that red download button.

Start downloading

Your video will now begin downloading.

Find the video inside Gallery

Once downloaded, your video will appear in the Gallery inside the "Video" folder.
FAQ
Can you download a video from YouTube for free?
With the YouTube video downloading apps as well as the online video downloading websites, you can easily download a video from YouTube for free.
What is the best YouTube downloader for Android?
TubeMate is one of the best YouTube videos and music downloader for Android as it allows you to download in both formats including MP3 audio and full HD MP4 video formats.
Is YouTube downloader safe?
As long as you are using a reputable YouTube downloader app or web services, you can keep yourself safe from antivirus and malware attacks. Make sure you have downloaded the app from its original source.