Do you want to download your favorite videos on your Android phone or tablet but you are not sure how? Look no further as here I have tried and tested the best video downloader apps for Android to download videos.
It has been seen that mostly people are looking for a way to download videos on their Android phones or tablets but they don't know about the perfect app that will help them in downloading videos from their favorite video sharing website.
The reason for downloading video could be many. However, according to my observations, some of the most common reasons I have come across is:
You want to watch the video again later when you are offline? Or, you want to send a video to your friends or relatives? Or maybe your Internet connection speed is too slow to stream the video and you want to download it first so you can enjoy it later?
Whatever your motive to download the video is, here I am sharing with you some of the best video downloader apps for Android that, according to my experience, make your videos downloading task easier and help you in downloading videos from any video sharing website.
#01 – TubeMate
Out of all the apps that are listed here, I can assure you that TubeMate is the best video downloader app for Android as I have been personally using it for the past two years, and the app never fails to amaze me!
TubeMate will allow you to download videos from almost any website where a video content is embedded, without showing you any sign of hiccup.
With TubeMate, you can even download YouTube videos without any issue and I believe that this is the same reason why the app is no longer available on the Google Play Store anymore. However, you can freely download it from their official website I have given below and enjoy all the outstanding features. 😉
The developers behind this app make sure that it is fully compatible with every Android phone as well as tablet. And frequent updates for the app is released in order to ensure that you don't face any error or issue while using TubeMate or downloading videos.
#02 – Downloader & Private Browser
Downloader & Private Browser have a similar capabilities as TubeMate but does not allow you to download from YouTube due to some strict legal restrictions imposed by the video sharing website.
Apart from that, it has a built-in browser using which you can go to any video based website and easily grab a downloadable link to the file. It provides some good download speeds, and supports pause and resume functionality too.
If your phone or tablet have external SD card support then you can use the settings page to select the primary location for the storage of your downloaded video files to keep the burden off from your limited internal storage.
There is one key point that you should note about this app. Once your download has been completed, it is required that you export that video file to your phone to be able to either see it in the Gallery or any other video player app.
To export your downloaded video files, you need to go to the "Files" section, tap on the "Videos" folder, then tap and hold the downloaded video file, and then tap on the "Export" button. You should now be able to see your files in the Gallery. 🙂
#03 – Fastest Video Downloader
Fastest Video Downloader is a trustworthy and reliable video downloading app for Android. To make your downloading tasks easier, the app comes bundles with a browser, video file explorer, and download manager.
You can use the built-in web browser to search for the videos and websites. Once the video has been found, the video downloader will automatically detect the file and ask if you want to download it.
The download manager is fully capable of pausing and resuming files that are being downloaded as well as the capability to handle lost connections, depending on the website you are trying to downloading the video from.
And because the download manager supports multiple concurrent connections to the file server, which ensures that you get the maximum downloading speed when you are downloading videos using this app.
The integrated video files explorer provides you with the ability to gain complete control over the video files you have on your Android device, such as rename, delete, or move your video files to another directory.
#04 – Download Video: Downloader
Download Video: Downloader is a popular video downloading app designed for Android devices that has become personal favourite for most of the users due to its remarkable video downloading capabilities.
Similar to any other video downloading app, this one also includes a simple browser so that it can easily grab a download link for the video being played.
The notable feature of the app is that it supports MP3 music downloading too.
So for example, you have listened to some great music video and want to download it in the MP3 format. You will need to search for the MP3 format and it might be difficult to do so right from your Android device. However, this app will make your whole task easier as it has a capability to directly download the same video in the MP3 format. 😉
#05 – Tube Video Downloader
Have you already tried the previous app on the list? If yes, then you will find out that this Tube Video Downloader have an identical user interface. However, it will provide you a much better video downloading section and have a much greater compatibility with video sharing websites.
Apart from that, the app can also download your videos in both MP4 video format as well as MP3 music format, and that too in an enhanced and enriched audio and video quality.
If you are one of those users who prefer to use single app to watch and download videos and music then this app should be your best bet.
#06 – Tube Video Downloader
No. This is not a similar app as before. Even though the names are same but both are developed by completely different developers. To me, it seems like the developers behind this Tube Video Downloader has managed to slightly improve the interface to make it more user friendly.
And not only has the interface been improved, the implementation of pausing and resuming functionality into the download manager makes it more useful if you have an unstable Internet connectivity. This feature is exactly what was missing in the previous app.
Other than polishing the interface and adding those two praiseworthy functionalities, the developer has managed to make sure that the videos are easily downloadable from the major video sharing sites.
#07 – Download Video App for Android
Previously known as MP4 Video Downloader, it is a popular video downloading app for Android that let you download MP4 format videos effortlessly. For those of you who are not aware, a while ago the developer has decided to change the name to Download Video App for Android.
To download videos you have two options, you can either enter the video URL manually or browse the video websites use its central web browser system which will allow the download manager to grab the video file right from the website and begin the downloading process.
If you have any favourite video sharing website from where you frequently download videos then you can add that website to the favourites using a bookmark option right from the integrated web browser so that you can access that website within seconds.
#08 – AVD (Android Video Downloader)
AVD Download Video (Android Video Downloader) app that was once known as Video Catcher is popular app among the Android users who frequently download videos that are shared on the Internet.
Similar to any other popular app, you will find a browser in the AVD app too! This will help you in finding your favourite videos without any hassle of using other web browser to copy the URL and then paste on the app. AVD includes everything in one place so that you can save your time and easily find your favourite videos on the Internet.
Once you have found the video you want to download, simply tap on the video downloader button and your download will begin instantly. You will be able to monitor the download progress of your videos right from the dropdown notification panel.
#09 – FVD (Free Video Downloader)
FVD also known as Free Video Downloader is a minimalist video downloading app that have an uncluttered and well organized UI to make the video downloading tasks easier, even for the novice users. The app is being actively used by more than 10 million Android users to download their favourite videos from the Internet.
The developers has specifically designed this app in such a way that you don't need to copy and paste the URL of the video you want to download.
They have eliminated this procedure and made the whole video downloading task easier by using a native web browser that automatically detects the video being played and then prompts you to download the file in your desired resolution.
#10 – SnapTube
Remember that TubeMate app I mentioned in the first position of this list? SnapTube is similar to that but provides a lot of customizations and large number of additional features that you might not find in any other video downloading app.
Trusted by millions of users around the world, and the easy to use UI, support for almost all of the major video and audio sharing social media websites, fast download mode, and an inbuilt download manager is what makes SnapTube one of the best video downloader apps for Android.
You can download videos in various resolutions including 144p, 240p, 360p, 480, 720p HD, 1080p HD and 4k format too. Moreover, you can also extract the audio from the already downloaded video file and make your own MP3 or M4A music file.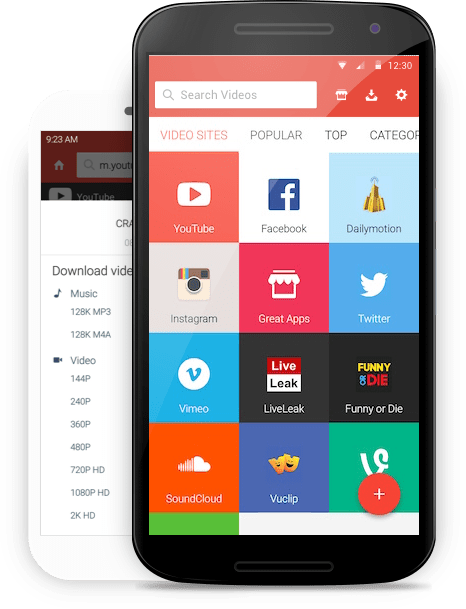 The inbuilt music and video player give you a quick access to all the audio and video files you have on your Android device, and you can use the same player to watch or listen to the media files you have downloaded with SnapTube.
Since SnapTube supports downloading videos from YouTube, which is the reason why it has been removed from the Google Play Store due to the strict YouTube terms and policies against all the video downloading apps.
However, SnapTube is still available for download for free from their official website link given below. And for those of you who are concerned about the integrity of SnapTube app, they are verified by major security and antimalware service providers including McAfee and CM Security. 😀
Which One Is Your Personal Favourite?
I have listed the 10 best video downloader apps for Android, and for me, TubeMate is my personal favourite because it is a lightweight app, have a fast download mode, and supports most of the video sharing websites.
Which one is your personal favourite? Do let me know in the comments section below. 🙂