Parler apk is a popular social media app designed for the supporters of freedom of speech and is compatible with Android and iOS devices. In a nutshell, it is a microblogging app that offers a free speech platform without any censorship and currently has a strong user base of over four million users.
The app works similar to Twitter where users can share their thoughts, post textual content, and share their thoughts without getting anything censored. However, the app has been taken down from the Play Store after the Capitol incident that happened in the United States and Google has pointed out that the mob used this platform to encourage violence.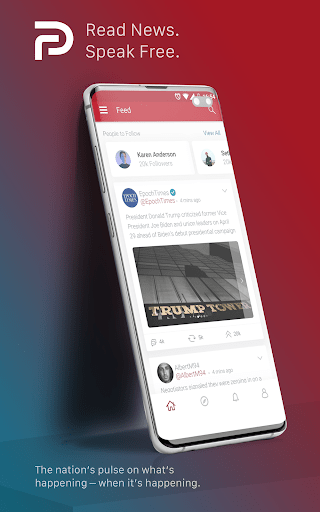 How to download and install Parler APK on Android?
The process we will be using here to install Parler apk on Android is widely known as sideloading and is done by millions of Android users every day to install apps from third-party sources. It's completely safe and helps you install any app you want outside the Play Store.
Here's what you need to do:
Grab your copy of the Parler apk from the download section within this page and save it on your Android device.
On your phone, go to the downloads folder and there you will see the Parler apk file, tap on it and Android will guide you through the installation process.
After successful installation, launch the app from the app drawer or home screen.
You will see the welcome screen, and all you have to do is sign in to Parler using your account credentials.
Why Parler for Android is removed from the Play Store?
Parler is a social media platform that has been popular among Donald Trump supporters and Google has removed the app from the online app store due to posts that are in violation of Google's platform rules and have encouraged violence after the U.S. Capitol riot that took place on January 6th, 2021.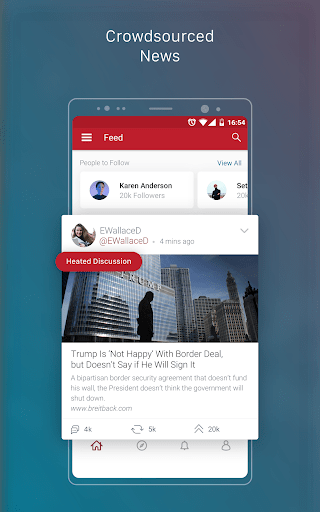 Here's Google's statement about the removal of the Parler app from their app store:
"In order to protect user safety on Google Play, our longstanding policies require that apps displaying user-generated content have moderation policies and enforcement that removes egregious content like posts that incite violence. All developers agree to these terms and we have reminded Parler of this clear policy in recent months.

We're aware of continued posting in the Parler app that seeks to incite ongoing violence in the U.S. We recognize that there can be reasonable debate about content policies and that it can be difficult for apps to immediately remove all violative content, but for us to distribute an app through Google Play, we do require that apps implement robust moderation for egregious content. In light of this ongoing and urgent public safety threat, we are suspending the app's listings from the Play Store until it addresses these issues."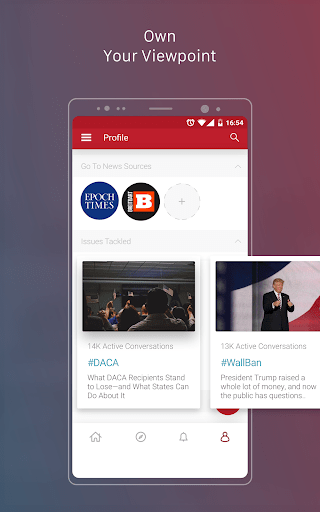 How does Parler for Android works?
Parler is a French word, which means, "to speak" or "to talk". The idea behind the Parler app is similar to that of Twitter, where you share your thoughts on your profile and others can leave a comment on it. You can follow others on Parler too and even share what they said, directly on your profile so that your followers can see the same. Exactly like a retweet on Twitter.
However, Parler is a democratized version of Twitter where you have complete freedom of speech and it's like a community where your security, rights, and privacy are protected, where every user is treated equally.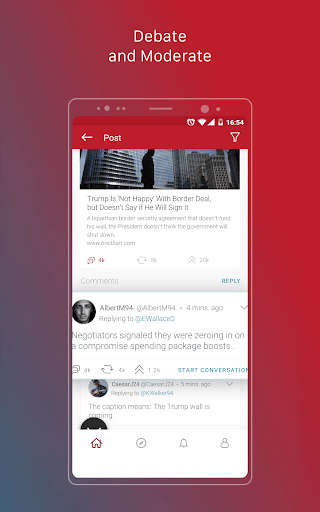 Features of Parler app for Android
Here are some of the features of Parler for Android that makes it different and unique from the rest of the social media platforms:
Discover News and Information – Keep yourself updated with all the latest news and updated related to politics, entertainment, sports, and various other topics while staying within a single platform. You will also get updates from community leaders related to official statements and thoughts.
Engage With Other Users – You can engage on Parler by leaving your comment, vote, share, and echo on other's Parlays along with the ability to share dynamic media like GIFs, photos, and videos. You are even allowed to debate on any topic as well as moderate it, depending on the situation.
Customize Your Profile – Similar to how Twitter or any other social platform works, Parler also gives you complete freedom to customize your profile with a description, location, photo, and background image to make it personalized and stand out from the others.
Share Your Thoughts – You have complete freedom to share your thoughts and let the world know what they need to know without getting anything censored or monitored.
Parler Citizen Verification – For a community and platform that is built on trust, Parler has an in-house verification system that makes sure to keep any unwanted voice out of the platform including bots.