We have thoroughly reviewed the 15 best Android VPN apps to help you open blocked websites or access websites anonymously without revealing your identity.
With these best free and paid VPN apps, you can hide your real IP address to remain anonymous and bypass geo-restrictions for premium streaming services like Hulu, Netflix, and YouTube.
VPN apps for Android are designed to help protect your identity and anonymity while you are online and using online services like social media or websites.
Use Virtual Private Network (VPN apps) on your Android smartphone and tablet devices to keep your personal data and information safe and secure from online spying.
We have featured VPNs that come with a kill switch to make sure you are never connected to the Internet without a VPN and never reveal your real identity.
Are you looking for the best free and paid Android VPN apps that let you access blocked websites, can protect your online anonymity, and enables you to bypass censorship? You have come to the right place.
In the list below, we have reviewed the 15 best Android VPN apps (including free and paid VPNs) that allow you to unblock blocked and censored websites provides unlimited bandwidth along with high-speed servers so that you can browse the Internet anonymously without restrictions.
We, at BestForAndroid headquarters, have manually checked and reviewed each VPN app for Android so that you won't have to waste any time searching for the best ones! You can just simply go ahead and install the one you like from the list below to open blocked sites on your Android smartphone. 😉
#1. ExpressVPN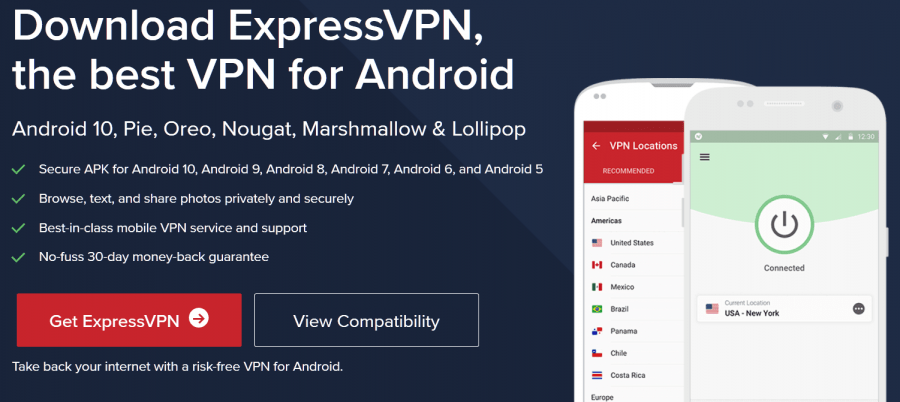 ExpressVPN is a dedicated Virtual Private Network app specifically designed for Android devices while keeping in mind the ease of use for all of its users. The app allows you to easily switch between locations along with the ability to detect and warn you about any wireless network. You will find a kill switch for enhanced all round security while you are browsing internet on your device.
With over three-thousand servers spread across hundred and sixty locations around the world and support for more than ninety countries, ExpressVPN provides great speed and have support for over five devices including Android, Windows, Mac, and Linux so you can enjoy safe and secure internet connectivity on all of your devices.
May not be a cheapest option out of all the VPNs mentioned in the list but definitely one of the best virtual private network services out there as they offers money back guarantee.
24/7 live chat support for all of its customers which aims to resolve any issue that you have been experiencing at any given moment.
Provides great AES 256-bit encryption for secure and safe internet browsing experience no matter whether you are using public WiFi or connected to private network.
Supports up to five devices at a time, which means you can add your smartphone, tablet, TV set top box, laptop, and you are still going to have a free login capacity.
#2. IPVanish

IPVanish is a completely safe, secure VPN app that takes your privacy very seriously, and do not record any activity or internet data while you are connected through the virtual private network app. It is one of the best selection to hide your IP address and get yourself a completely new identity while encrypting your connection.
With more than thirteen hundred servers spread across over seventy-five locations, IPVanish is one of the fastest VPN service in the world. Although there is a huge coverage but the app is designed to handle load through API load balancing technique that suggests you the fastest VPN server for your connection based on your current proximity, location, and ping speed.
Provides encrypted internet connectivity for up to ten devices at the same time, which means you can share a single account with your friends and family members.
You will get a phone and live chat support round the clock in case you run into any problem or issue.
IPVanish does not store any of your personal data or online activity log so you are free to browse the internet without being traced or tracked by spies or government agencies.
Support for industry-level AES-256 encryption with the advanced standard for secure internet access.
Provides a 7-day money-back guarantee, in case you are not satisfied with their services then you can easily get your whole amount back and try another VPN app from the list.
#3. VyprVPN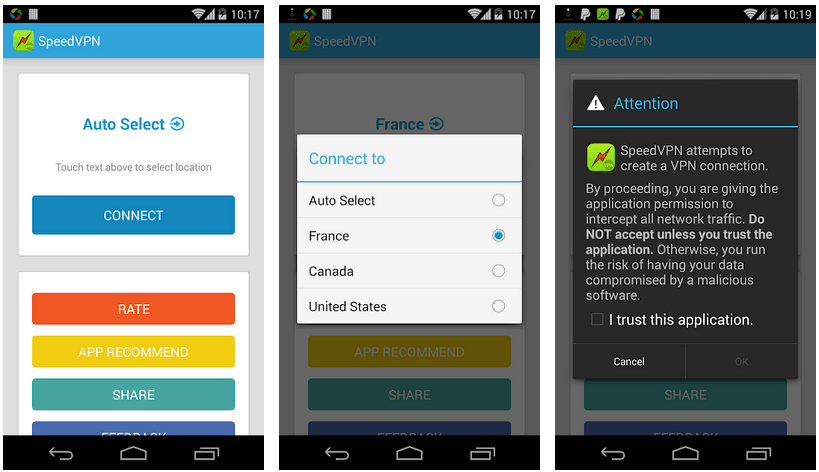 VyprVPN is popular for high-speed servers as it provides faster speeds for streaming, gaming as well as downloading without any throttling. They are able to provide this outstanding service because they maintain and manager their own VPN servers that ensures best performance and reliability without compromising on the security.
You will get one of the strongest Internet unblocking with the use of Chameleon protocol that let you bypass any firewall whether you are at school, work, or using public internet while traveling. This is specifically designed to make your connection unrecognizable by ISP and even government agencies. VyprVPN also gives you NAT firewall along with a zero data logging policy for added security.
Native Kill Switch for unstable internet connections that makes sure all the internet traffic is stopped when VyprNPN is disabled or disconnected for enhanced security.
Similar to ExpressVPN mentioned above, you will get 30 days money back guarantee so that you can fully try the app and see if it suitable for you or not before continuing your contract.
Simultaneously use a single VyprVPN subscription on over five devices that can be your smartphone, laptop, personal computer, tablet, and TV device for movie streaming.
Choose IP address from over seventy countries and seven hundred servers around the world to bypass geo-restriction and enjoy all the exclusive content from any part of the world.
#4. Windscribe VPN

Windscribe VPN is very much different from the other VPNs mentioned on the list as it provides you with free 10GB of bandwidth every month without any subscription or credit card details, all they really need is your valid email ID. And you are allowed to use this free data wherever you want whether it is on your smartphone or laptop or web browser, even for downloading and streaming.
If you really like the free services of Windscribe VPN services then you can upgrade your virtual private network services to a paid version that gives you unlimited bandwidth. And unlimited connections too. Along with an access to servers in over sixty countries globally and they have more than a hundred of data centers so that you always get a great connection speed.
Support for truly unlimited number of devices whether it is your smartphone, tablet, personal computer, web browser, smart TV, or set top box for movie streaming.
You can choose from different VPN protocols including Stealth, TCP, UDP, OpenVPN, and IKEv2.
The free version offers you select from over ten locations around the world including UK, US, and Canada.
Built-in ability to block advertisements from websites and Android apps while at the same time help you access blocked websites and geo-restricted content in services like Netflix.
#5. NordVPN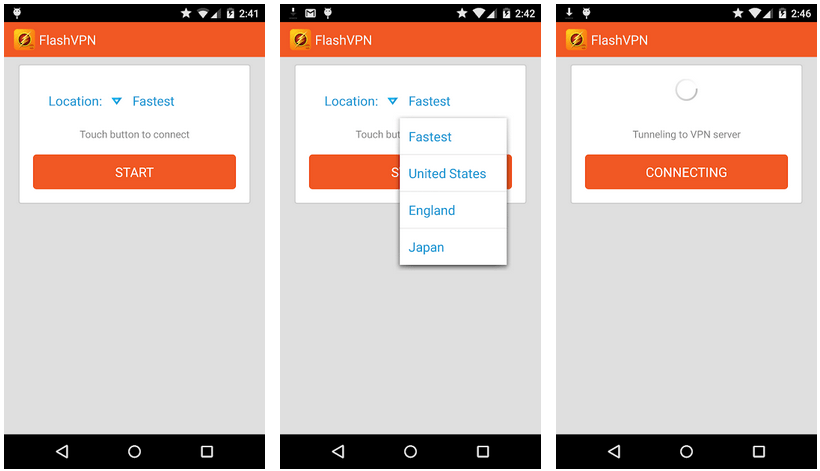 If you are looking for the safest and secure VPN app for your daily usage then look no further, NordVPN is the app you need because it provides you an access to specialty servers that comes with an added of security and allows you to connect to P2P, Double VPN, and Onion Over VPN servers. You will also get TCP and UDP protocols, depending on the reliability and speed of your internet.
With over fifty three hundred servers located in more than fifty nine counties, which gives you an amazing opportunity to have the fastest VPN experience because there is a large number of servers to decrease ping rate while keeping the speed at its peak. NordVPN provides you with a military grade encryption so that no one can peek into your internet activity, even if you are using a public network.
Support for up to six devices at a time, you can easily secure all of your devices as well as web browsing experience on your computers using proxy extensions.
Have a strict no logs policy that means the company does not collect, track, or share your data.
For added security and protection of your identity online, there is automatic kill switch that actively detects your internet connectivity and in case the connection drops then this will block your device from accessing internet.
Blocks malware through CyberSec that protects you against cyber threat and malware.
#6. Private Internet Access VPN

Private Internet Access helps you stay anonymous whether you are using private WiFi, public WiFi, or unsecured hotspots. Using PIA VPN, you can quickly hide your IP address while keeping your connection completely encrypted, which allows you to defeat censorship and access blocked websites and apps.
Private Internet Access gives you access to more than three thousand three hundred servers located in over fifty different countries to make sure you are browsing the internet at the best speeds while maintaining your privacy. What's good about this VPN is that it allows you to use a single account on over ten devices at a time.
PIA VPN fully encrypts your internet traffic by creating several layers of security that prevents unauthorized access to your data while keeping you anonymous.
Once the VPN is enabled, you will be able to open blocked websites, apps, and streaming content and bypass Internet censorship.
Internet Kill Switch that ensures you are using internet through Private Internet Access VPN only and don't accidently leak your online identity.
Ability to block all kinds of advertisements, malware, and trackers whether it is in the website or Android app.
#7. Betternet VPN Proxy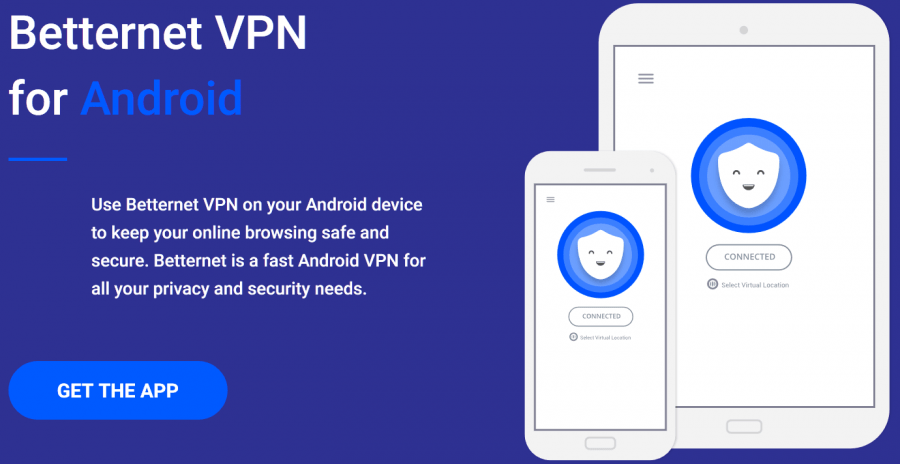 Betternet Technologies has designed an Android app so that you can enjoy their free VPN proxy services on your portable devices too. The app has no advertisements, and you don't even have to fill any registration form. Just install the app, tap on the "Connect" button, and you are ready to go.
With Betternet Free VPN Proxy, you can easily bypass and unblock any website and apps that have been censored by your Internet service provider or the government.
Keeps your connection anonymous using VPN, which modifies your IP address and masks your location to hide all of your usage activities.
The free version of Betternet comes with advertisements, if you want to remove the ads then you have to upgrade to premium version.
Let you browse and surf internet anonymously without the risk of getting your online activities tracked by any third party.
#8. SuperVPN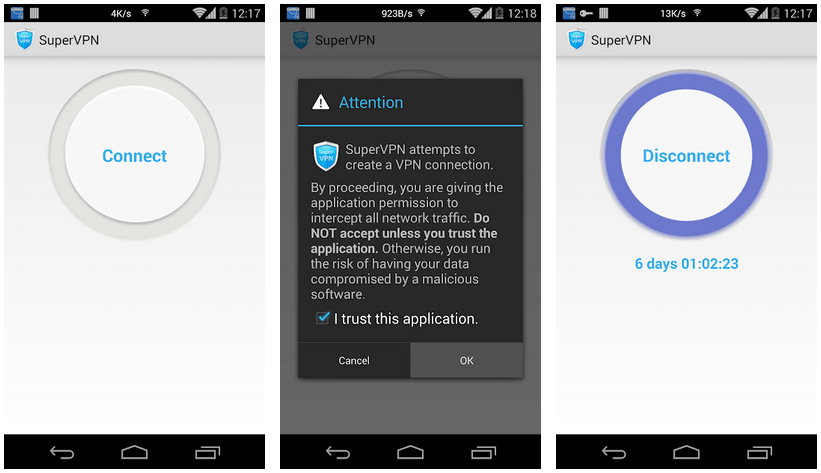 SuperVPN is a free VPN client that has been developed by SuperSoftTech and is available for free. With just a simple tap on the button, you will be automatically connected to the nearest VPN server that will help you in protecting your privacy and safeguard you from all sort of third-party tracking systems.
To be able to enjoy this free VPN service, you don't even have to register or perform any settings on your device. Simply install the app and relish the super power of SuperVPN app without any limitations.
Helps you access blocked websites as well as geographically blocked sites, apps, and streamable content.
SuperVPN has no bandwidth limitation and no speed limitations.
The app originally offers you twenty days of free trial and after that, if you want to continue using the free version then you will be allowed to use it for sixty minutes per session.
#9. Hola Free VPN Proxy Unblocker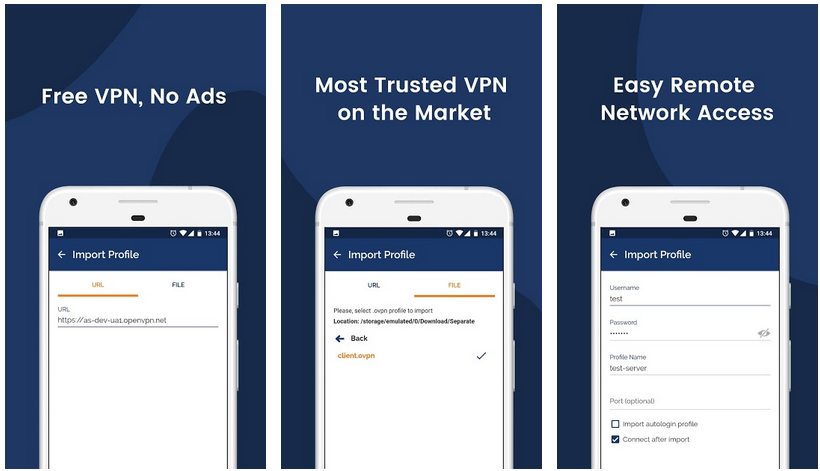 Hola is one of the most simplified VPN proxy apps on the Google Play Store. Their wide range of servers along with a free peer-to-peer VPN service that will give you freedom to access any website and use any app from around the world without imposing any limitations.
Hola VPN make use of their breakthrough peer-to-peer network to help you in accessing any blocked site while at the same time accelerates your web browsing experience and reduce data costs using compression technology.
Provide you with a free of cost peer-to-peer VPN service that helps you unlock any blocked website or app.
There are two types of VPN services offered by Hola VPN i.e. a completely free community based VPN and subscription based where you don't have to be linked with the community.
The VPN is fully compatible with wide range of devices and web browsers including computers, PlayStation, TV devices, Android, Chrome, and Firefox.
#10. VPN Proxy Master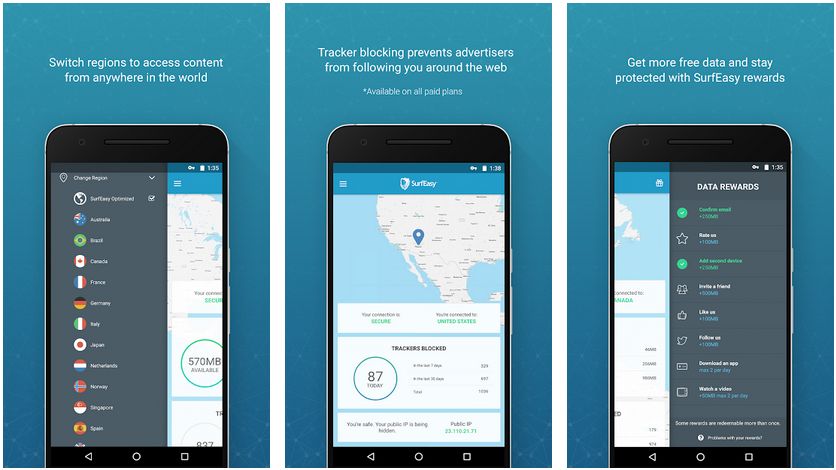 VPN Proxy Master has also designed an Android app to make it stress-free for you to enjoy their free proxy service. Their VPN servers are located around the world that can serve you with the high speed and free of cost proxy so that you can consume all blocked or geo-restricted media on your Android device.
The app can also be used to bypass Internet filters or censorship imposed by the government or your network administrator, whether you are in school or office, it will work everywhere without any restriction.
VPN Proxy Master is absolutely free, you can start using with just a click of a button and it doesn't require any signup or registration.
Offers you anonymous browsing experience that encrypts your internet traffic while giving you a new identity by changing your IP address.
No matter where you are and what type of internet connection you are using, it is completely safe to use internet and surf the web.
Ability to unblock websites, apps, games and even the geo-restricted content offered by Netflix.
#11. SurfEasy Secure Android VPN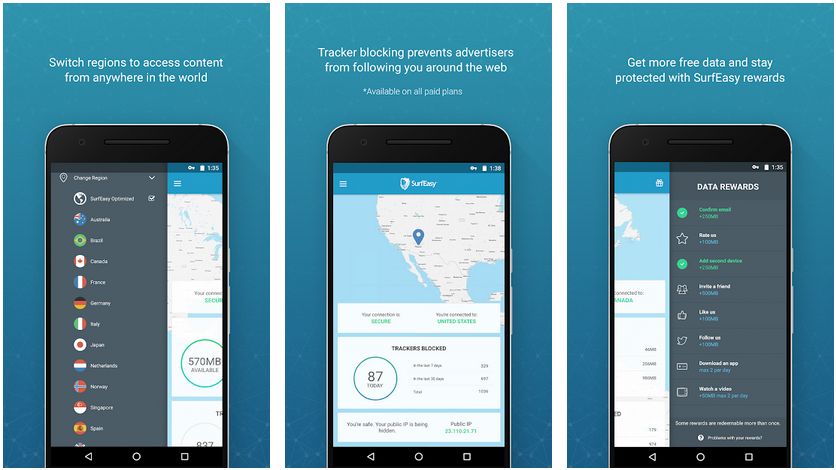 SurfEasy Inc. is a part of Opera Software and one of the top developer at the Google Play Store and has been trusted by many. They have designed an Android VPN app with a slick and intuitive UI.
The SurfEasy VPN app features a secure web browsing experience by encrypting all of your Internet data to maintain your anonymity on the Web whether you are using the Internet in an airport, office, school, or coffee shop.
#12. OpenVPN Connect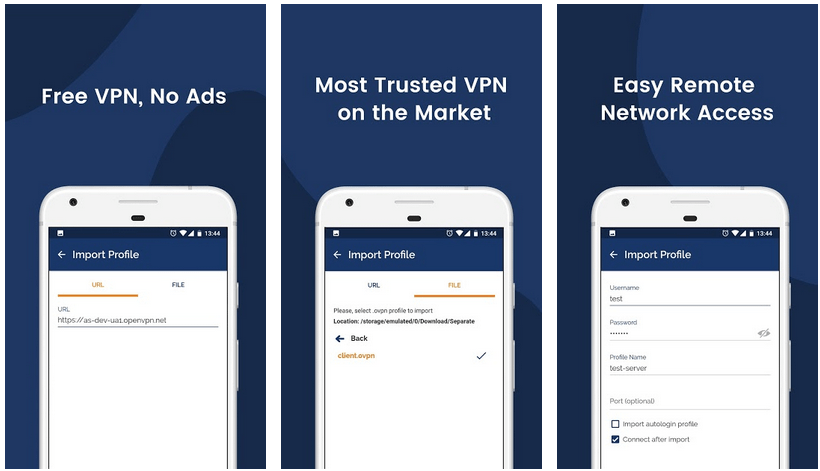 OpenVPN is a popular VPN service provider on the Internet, and they have developed an Android app in an attempt to make it easier for its existing users to avail their services on their Android devices. It is one of the high-performance VPN clients for the Private Tunnel VPN, OpenVPN Access Server, and OpenVPN Community.
The app designed while keeping in mind the needs and requirements of the daily VPN users while at the same time keeping the app battery-friendly so that it won't drain a lot of battery power and will let you use the Internet anonymously for longer.
#13. Touch VPN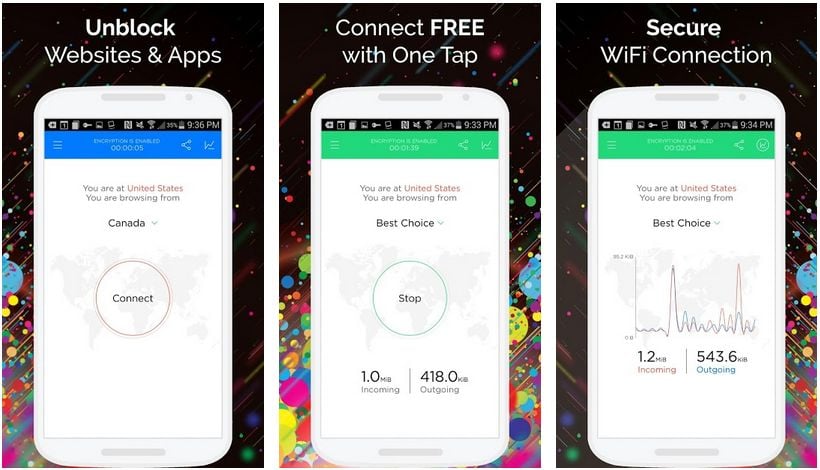 The Touch VPN unlimited proxy app is developed by TouchVPN Inc. for those Internet users who are looking for a reliable VPN service that protects their identity and keep their data secure from the prying eyes of the intruders and hackers while on the Internet.
The app along with the strong SSL encryption will give you freedom to access the Internet even on any unprotected Wi-Fi hotspot or unsecured wireless network while keeping your privacy intact.
#14. SpeedVPN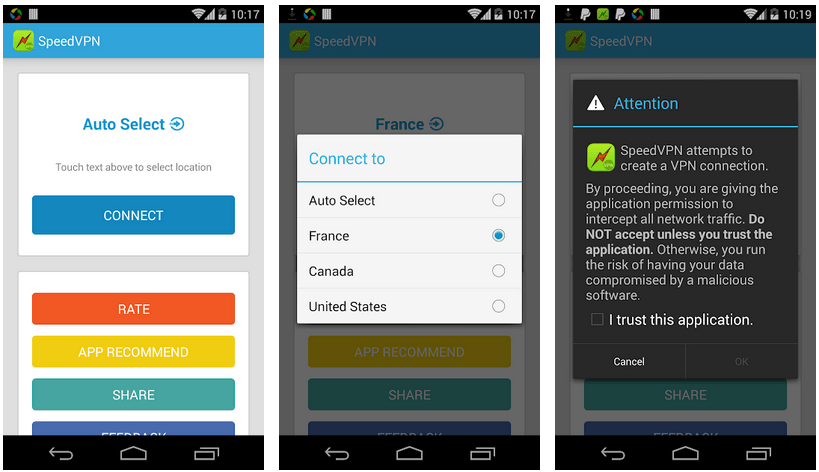 SpeedVPN is a free VPN proxy app by GoSpeed Software and is one of the best VPN clients for Android devices. It provides you with one-click access to the secured and protected proxy servers located around the world including the United States and Canada along with an unlimited bandwidth allocation.
Using this app, you can unblock any geographically restricted website or app in your country. Every time you connect to the SpeedVPN servers, you will get over three hours of uninterrupted connectivity. And you can even extend allocated time by an hour before it ends.
#15. FlashVPN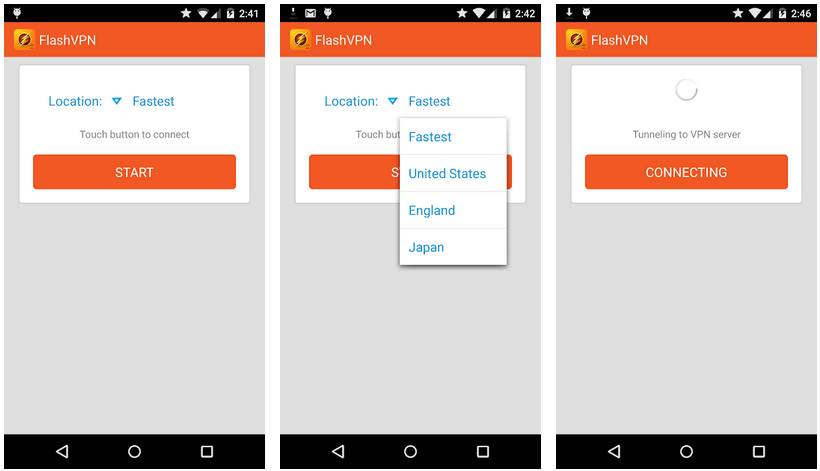 FlashVPN is one of the most reliable and highly trusted VPN and proxy service provider app on the Play Store. The app has millions of active users who gave an average rating of 4.3 out of 5.
The app is targeted towards those users who are beginners and have no knowledge about the operation of VPN proxy service. So all you need to do is click on the connect button and access the encrypted connection to the Internet without any configuration and time limitation.
Which Android VPN app is your favorite?
Out of the 15 Android VPNs we have reviewed, do you have any favorite free or paid VPN app for Android that you most frequently use?
Share with our community in the comments section below, we would love to hear about your views and opinions! 🙂