Aptoide is one of the well-known and popular third-party and community-driven Android App Store where you can find tons of apps and APKs that are usually removed or not available on the Google Play Store. One interesting aspect of Aptoide APK is that it let you install the old or latest version of your favorite app. There are no geo-restrictions too.
Aptoide is the Google Play Store alternative with cheaper apps and you can find almost every app there, shared by others in their personal repository, whether it is paid or free. They have a huge database of more than a million apps. Once you have created your account on Aptoide, you are even allowed to design your Android app store, create a collection of your favorite apps, and share it with others.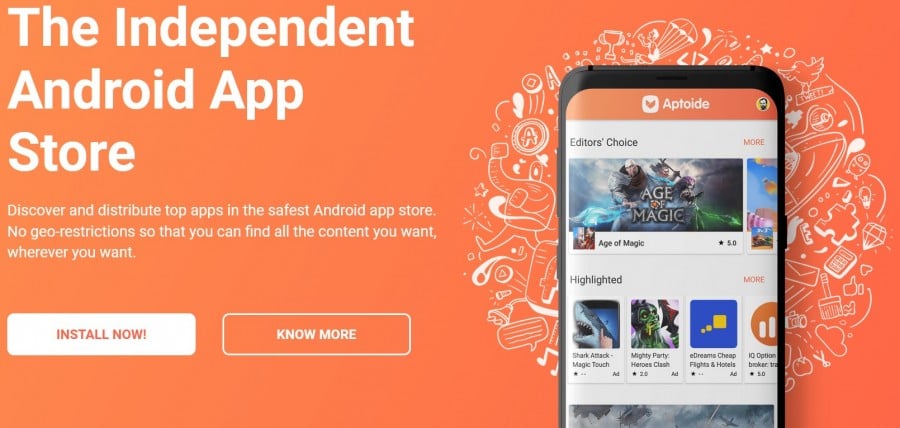 How to Install Aptoide on Android?
The installation process is simple:
Download Aptoide apk from the downloads section, given within this page.
Launch the apk and follow the on-screen instructions to complete the installation process.
Once done, you can find the Aptoide app icon within the app drawer or on your home screen.
Is it safe to install and use Aptoide?
Getting an Android phone infected with malware or other known viruses while installing an app from a third-party source is one of the key factors why people are concerned about the safety of Aptoide.
However, each and every app uploaded onto the Aptoide app store gets scanned for any possible malware, antivirus, or threat. The store even scans and verifies the signature to verify the original developer of the app.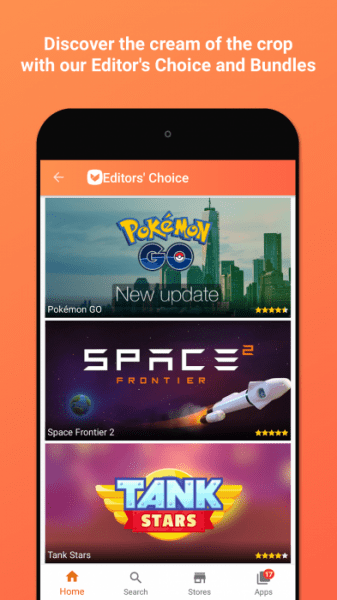 To further safeguard and protect Aptoide users, the developers behind the app store have implemented a trusted stamp, which certifies that any app with a visible stamp means it is 100% safe for the end user.
Moreover, if you want to opt for the Aptoide app store and want to keep your device fully secure and free from any potential virus then you should look for the Apps repository, which is Aptoide's official app store repository, where every app is manually curated by the Aptoide team and you won't be able to find any pirated or sketchy app. This app store alone has over 750,000 apps.
Features of Aptoide for Android
Although Aptoide is a feature-rich app store for Android devices that offers various unique features that are not found in any other third-party app store. I have discussed those features below: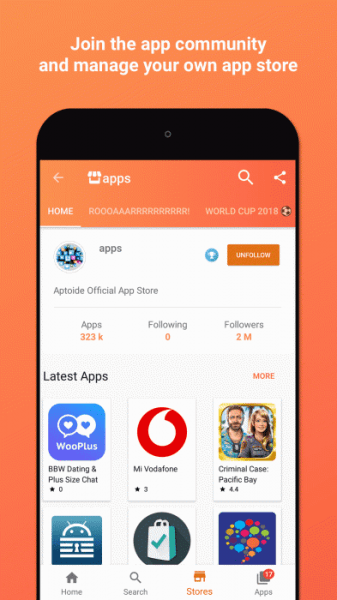 Open Source – A completely open-source and independent app store where you are free to discover apps in one of the easiest ways while keeping yourself safe from getting your privacy and personal data endangered or misused by the app developer or any other third-party app distributor.
Community Driven – Unlike the official Google Play app store, Aptoide does not have a unified store and allows each of its users to create and manage their store, which makes it more like a community-driven store that gives you a feel of being on a social media platform where every other user is sharing their personal collection of apps.
Create Your Own App Store – Aptoide offers everyone a chance to create, design, manage as well as personalize their own app store for Android smartphone and tablet devices where you are free to upload your favorite apps and apk files along with the freedom to share your store with your friends or other fellow Aptoide users.
Reviews and Comments – Similar to Play Store, users can leave reviews and comments about any app and even rate the app based on their experience. Moreover, others can reply to the comments as well, which makes it more like a community where people can share their experiences and interact with each other.
Follow Other Stores – Various publishers and distributors have created their personalized stores on Aptoide where they release some exclusive apps, if you have an account on Aptoide then you can follow those stores which keep you updated with any new releases or updates about your favorite apps. You can keep your account private too, to make sure no one knows you are following these stores.
Support For Multiple Languages – Aptoide stores are officially translated into more than thirty-five languages. So whether you are looking for an app or looking for a reliable review, all of the information will be translated into the language you understand, which makes things fluid.
Benefits of Using Aptoide
Here are some of the key benefits of having an Aptoide app store installed on your Android smartphone or tablet device; you can call these the reasons why Aptoide is better than the official Android Google Play Store.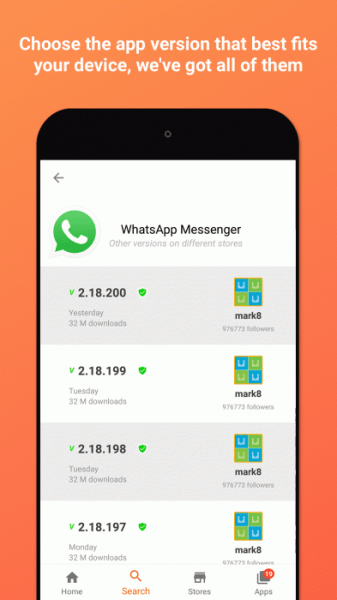 No Account Required – You can freely discover, download, and install apps on your Android without any prerequisites like signing up or creating a new account. This makes Aptoide a private experience where you can keep yourself and your identity anonymous.
Huge Database – Have a huge database of apps including Android applications related to games, productivity, social media, and whatnot. Apart from the usual apps, you can find apps that are not even released on the Play Store or may have been removed from there due to policy concerns.
Downgrade Apps – On Play Store, there is no way to downgrade the app to the previous or older version and we have to download APK from a third-party site for that. However, on Aptoide you can easily select the version you want to have on your device and the same will be installed within a matter of minutes.
Share Apps Without Internet – If you want your friend to have a certain app installed then there is no need for an Internet connection, Aptoide allows you to locally share any app with another Android device without depending on the Internet connectivity. And the process takes less time than actually downloading one from the Internet.
No Geographical Restriction – Being an Android user you must have come across a situation where you were searching for an app on the Play Store but it said this app is not available in your country. You will not have to experience anything like that, you are free to download and install whatever app you want regardless of your geolocation.
About Aptoide App Store
Aptoide is an autonomous app store that serves as a huge repository of Android games and apps. It is not just a singular app store rather it is a collection of multiple app stores. Not only that, it works as a platform for all app developers where they can showcase their skills and ideas to a wider audience.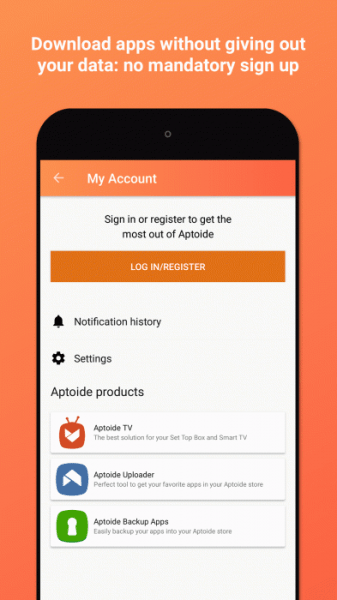 Since the initial launch of the Aptoide apk, the app store is being developed and maintained with the help of recommendations from the community to assist other users in discovering new apps and content based on their liking and interest. Now there are numerous in-app stores being actively managed by Aptoide clients and partners who are providing users with updated content proficiently.
The app store comes with notable features including 'Aptoide Uploader' that allows publishing of your favorite apps on the store and 'Aptoide Backup' to create a backup of the apps installed on your phone and store that on your personal app store. You, as a user, will have the option to have either a private or a public store.
Talking about the interface is relatively similar to the Google Play Store. You can navigate between top apps, trending, and the latest app updates through the tabs. The home screen of the Aptoide store displays featured and trending apps. You can also search for the app you are looking for using a search bar and the powerful inbuilt search engine will search through all the publicly available Aptoide app stores.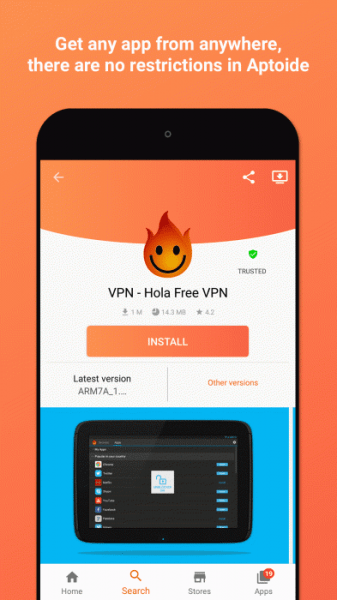 You can even download the previous version of any app, which undoubtedly is one of the most requested features of the official Play Store. There is a special editorial tab as well alongside the home tab.
What's more interesting is that you are also allowed to create your own personal app store as well as follow others via the Stores tab, which makes it look like an app store social media network.
Based on the apps you have installed and other stores you have followed, Aptoide is also going to recommend to you other relevant stores that can be followed from the available list or you can type in the name of the particular store you want to follow.