The selection of that perfect wireless earbuds depends on several factors including your budget, style, and usage requirements. Here we have reviewed the six best cheap Bluetooth wireless earbuds for Android you can buy for under $15.
As manufactures are making advancements in technology with every passing year, the good old headphone jacks are now becoming obsolete and being taken over by the latest and advanced Bluetooth technology that has turned out to be reliable and cheaper than ever before.
Let's begin with our recommendations for the best Android wireless earbuds.
Why Trust Our Reviews
At BestForAndroid, our goal is to help you find the best product, offering maximum value and usefulness for the price you are paying. We believe in transparency and provide recommendations based on our collected data. We aim to give you as much knowledge as possible about any specific product along with our opinions and interesting facts to make your purchase decision easier.
Best Cheap Bluetooth Wireless Earbuds You Can Buy For Under $15
Our Pick: Skullcandy Jib Bluetooth Wireless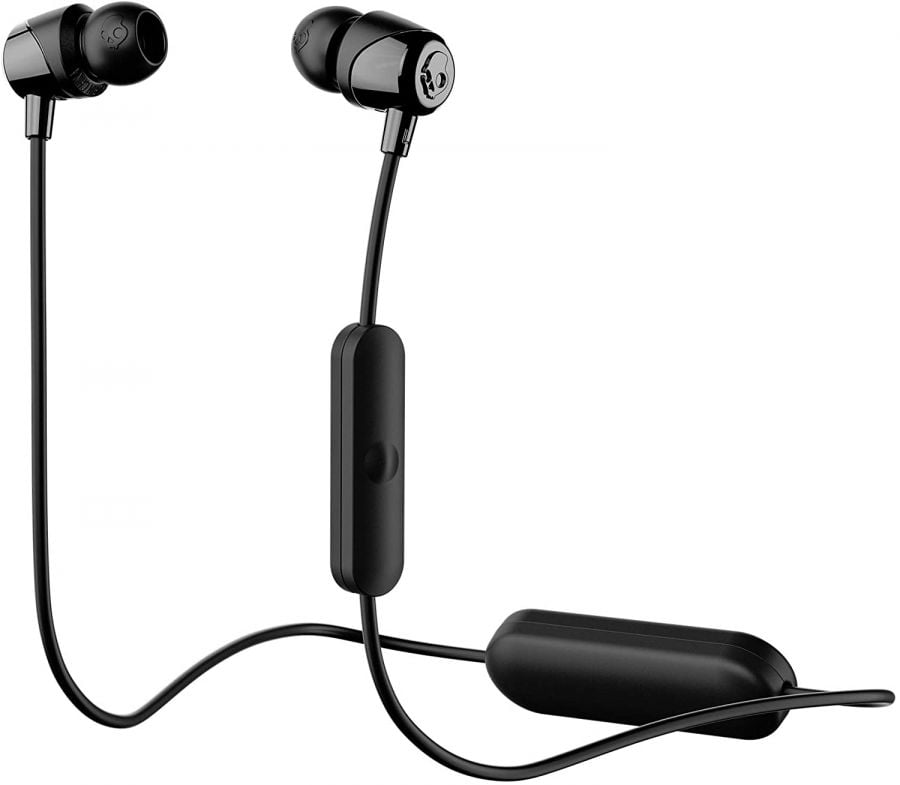 | | |
| --- | --- |
| Brand | Skullcandy |
| Color | Black |
| Form Factor | In-ear |
| Weight | 0.33 ounces |
| Mic | Yes |
| Battery Time | Up to 6 hours |
| Dimensions (Inch) | 3.23 x 0.91 x 7.28 |
If you are into heavy-bass listening experience then Skullcandy Jib Wireless is going to be the perfect Bluetooth earbuds for you. These fit really well and feel comfortable even if you wear them for longer hours, which makes them somewhat suitable earbuds for your occasional running sessions.
Pros
Incredibly lightweight design; small and easy to carry around with you.
Sound quality is excellent if you are getting these to listen to the music.
Over-charge protection so once the batteries are fully charged it automatically shuts itself off.
Cons
The controller doesn't come with a volume adjustment button.
It may not produce neutral sounds, as it is more towards bass profile.
Noot NP11 Wireless Bluetooth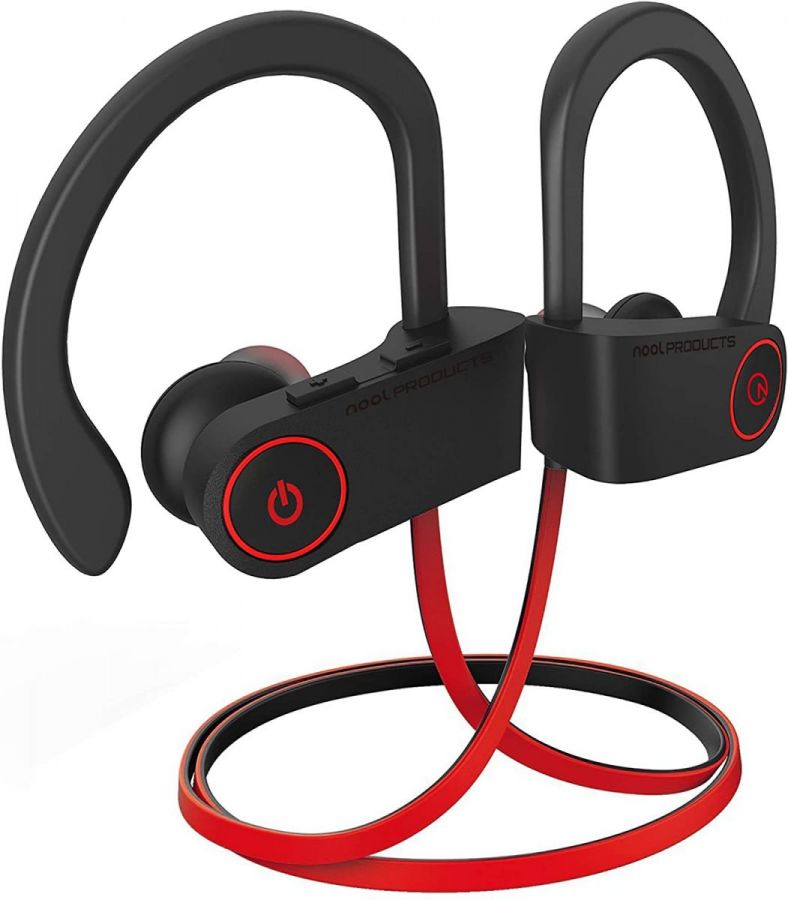 | | |
| --- | --- |
| Brand | Noot |
| Color | Black |
| Form Factor | In-ear |
| Weight | 8 ounces |
| Mic | Yes |
| Battery Time | Up to 8 hours |
| Dimensions (Inch) | 3 x 3 x 1.5 |
If you are looking for wireless earbuds that you can wear while doing your sporting activities then NP11 by Noot will be the most suitable for you as it is IPX7 sweatproof and have ear hooks, which makes these perfect while performing activities like gym, running, and exercise. The earbud comes bundled with a storage pouch, three earbud cover sizes, and a micro USB charging cable.
Pros
With IPX7, your earbuds will remain protected from sweat and while performing sports activities.
Earbuds have easy-to-use controls for volume, play/pause, and answer/end phone calls.
Comes with Bluetooth 4.1 and EDR universal compatibility, which allows you to stay connected with two devices simultaneously.
Cons
Blue connectivity light blinks every 5 seconds might become annoying for you if you are planning to use these while driving at nighttime or in a dark room.
SAN.COMO PS-001 Bluetooth Earbuds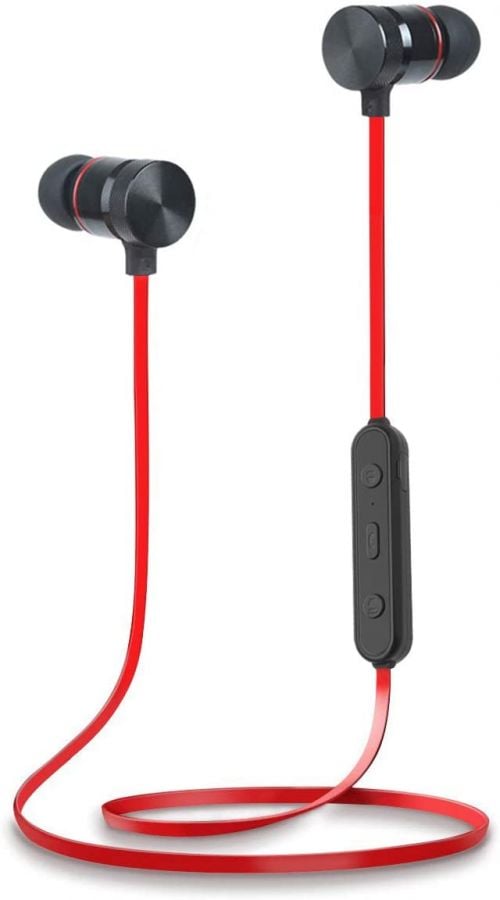 | | |
| --- | --- |
| Brand | SAN.COMO |
| Color | Red |
| Form Factor | In-ear |
| Weight | 2.39 ounces |
| Mic | Yes |
| Battery Time | Up to 8 hours |
| Dimensions (Inch) | 6 x 4 x 0.7 |
PS-001 Bluetooth earbuds by SAN.COMO will be fantastic for you as it offers durability, great portability, over eight-hours of continuous operational time, and its ergonomic design gives you maximum flexibility for your day-to-day usage while you are commuting or at work.
Pros
Comes with the latest Bluetooth 5.0 that is backward compatible and lets you easily pair with almost any Bluetooth-enabled device.
Can stay connected to two devices at the same time with the lowest latency.
Magnetic design that automatically attracts left and right earbuds to keep the wire organized and untangled.
Cons
The Bluetooth sometimes disconnects due to low signals and causes disruption in communication when talking on call.
iFrogz Plugz Wireless Bluetooth Earbuds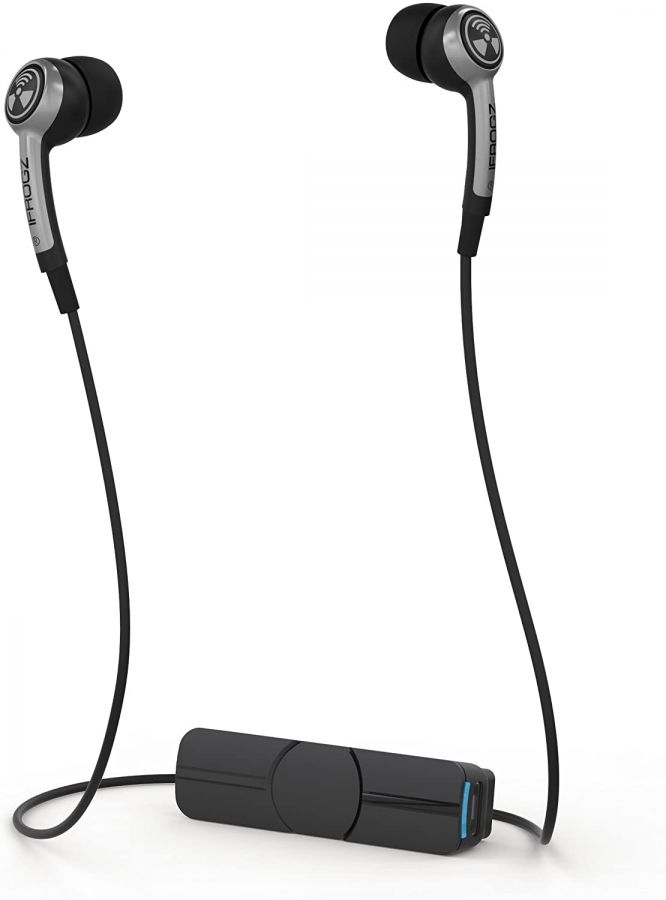 | | |
| --- | --- |
| Brand | iFrogz |
| Color | Silver |
| Form Factor | In-ear |
| Weight | 2.11 ounces |
| Mic | Yes |
| Battery Time | Up to 4 hours |
| Dimensions (Inch) | 1 x 0.5 x 0.5 |
The hassle-free earbuds for those who are looking for something small and lightweight, and want to experience an unparalleled performance. Plugz by iFrogz features 9mm drivers that deliver superb audio for calls and music at almost any volume. The design of these is slightly different from the others as the earbuds are connected to the wireless magnetic hub clip and that's exactly where you can find controls for call and music.
Pros
Comes with additional silicone tips to make sure it fits every ear for a comfortable listening experience for extended hours.
The silicon tips for earbuds come with a lifetime replacement warranty if in case they get damaged or worn out.
Cons
Does not comes with overcharge protection so make sure you never leave them on charge overnight.
AnNido Bluetooth Wireless Earbuds with Charging Case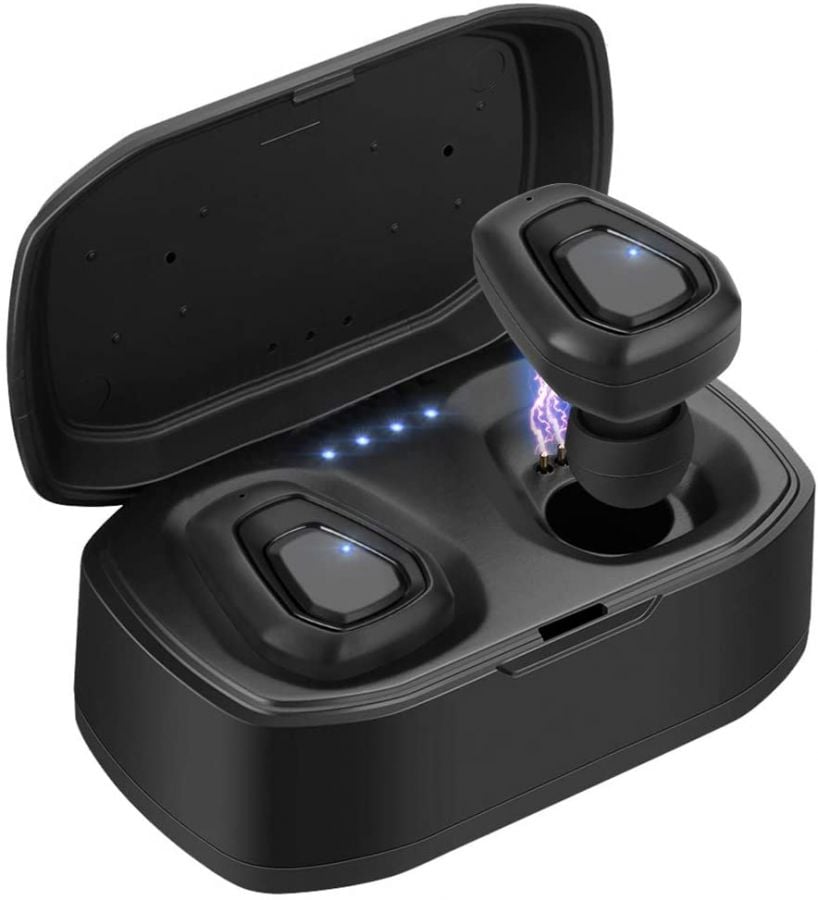 | | |
| --- | --- |
| Brand | AnNido |
| Color | Black |
| Form Factor | In-ear |
| Weight | 3.52 ounces |
| Mic | Yes |
| Battery Time | Up to 16 hours (5 hours per charge) |
| Dimensions (Inch) | 1.81 x 3.15 x 1.42 |
AnNido Bluetooth wireless earbuds are ergonomically designed to make them sit comfortably in your ears. Good thing is that it comes bundled with four additional earbud sizes to provide you with the optimal fitting so you can wear them for hours without feeling discomfort. Since many opt for wireless headphones during outdoor activities, so having a solid fit is important to make sure they don't fall off.
Pros
Completely sealed design with an IPX8 rating, making it water and sweat resistant and the most suitable for sports.
Features Bluetooth 5.0, which consumes less power and makes your earbuds last longer on a single charge.
Stereo sound and built-in microphone in both earbuds for immersive listening and calling experience whether you use a single or both earbuds.
Cons
Batteries are sometimes worn off quicker than usual due to frequent charge and discharge as they come with a charging case.
Rademax T12 Bluetooth 5.0 Earbuds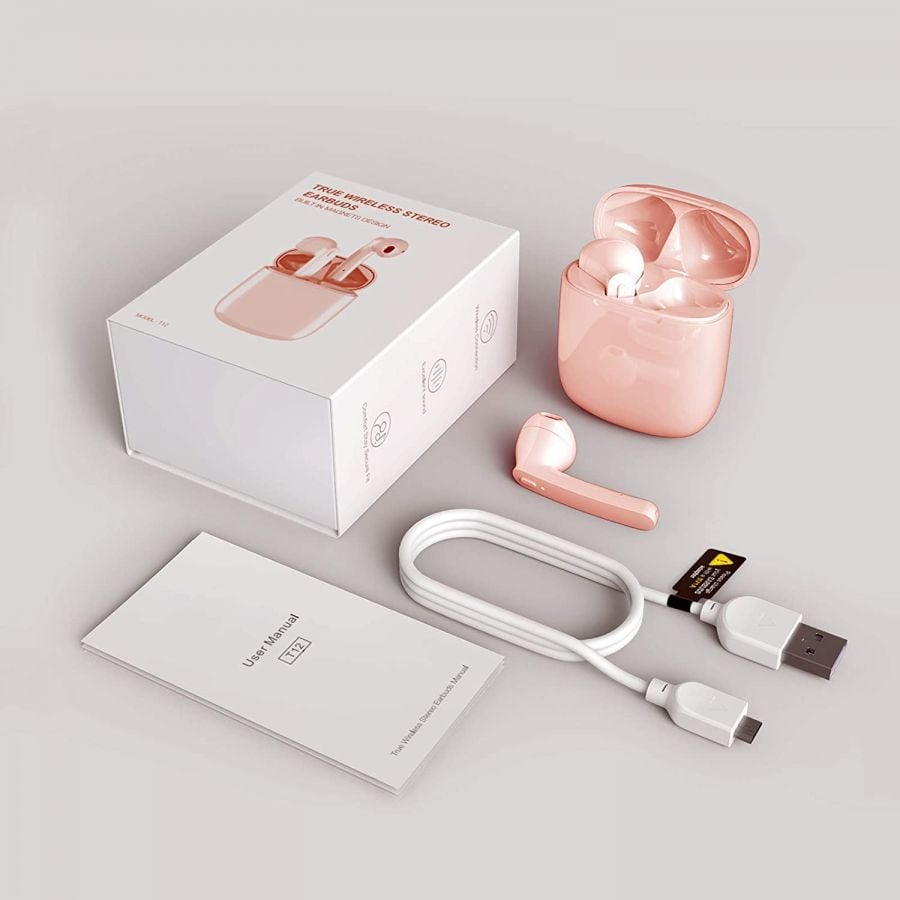 | | |
| --- | --- |
| Brand | Rademax |
| Color | Pink |
| Form Factor | In-ear |
| Weight | 1.23 ounces |
| Mic | Yes |
| Battery Time | Up to 35 hours (4 hours per charge) |
| Dimensions (Inch) | 3.54 x 3.15 x 1.42 |
Perfect wireless earbuds designed to give you super crisp and crystal clear sound thanks to the HD rendering technology and 13mm vibrating diaphragm. As this comes with portable storage and charging case, you can get over 35 hours of playback time as each charge lasts about 4 hours. And thanks to the Bluetooth 5.0 integration, you get a highly stable connection even at a longer distance.
Pros
A simplified design that incorporates a single button that makes it a no-brainer earbuds to receive calls or control music.
The IPX5 design makes it suitable for intense activities like gym, hiking and jogging without getting the earbuds water damaged.
Single earbud mode, which allows you to use any one of your preferred earbuds for talking or music listening.
Cons
Some people find it hard to be able to keep these earbuds fixed in their ears for longer.