Electric scooter is one of the perfect solutions for revolutionizing your commute. Modernized scooters are fun and thrilling to walk around the neighborhood. With no need for gas or parking, you can save time and money while reducing your carbon footprint. SmooSat offers a range of electric scooters designed for all ages, making your commute enjoyable for everyone.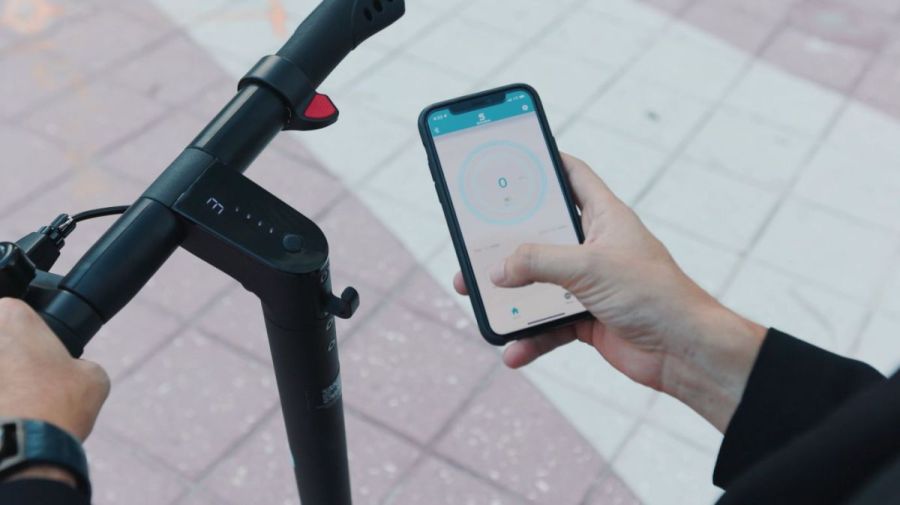 Let's take a closer look at three of SmooSat's top models. These are Smoosat Max (with smart app control via Bluetooth), SmooSat E9, and SmooSat S8. Each of these scooters has unique features that make them ideal for commuting. Whether it's for a child, a teenager, or an adult, the variety of scooters will suit your needs best. And best of all, they're all available at affordable prices.
So why wait? Join the electric scooter revolution and enjoy a stress-free commute with SmooSat! Let us examine one and one scooter to know the best solution for you.
SmooSat Max Electric Scooter For Adults
The SmooSat Max Commuter Electric Scooter is designed for adults who need a reliable and efficient mode of transportation.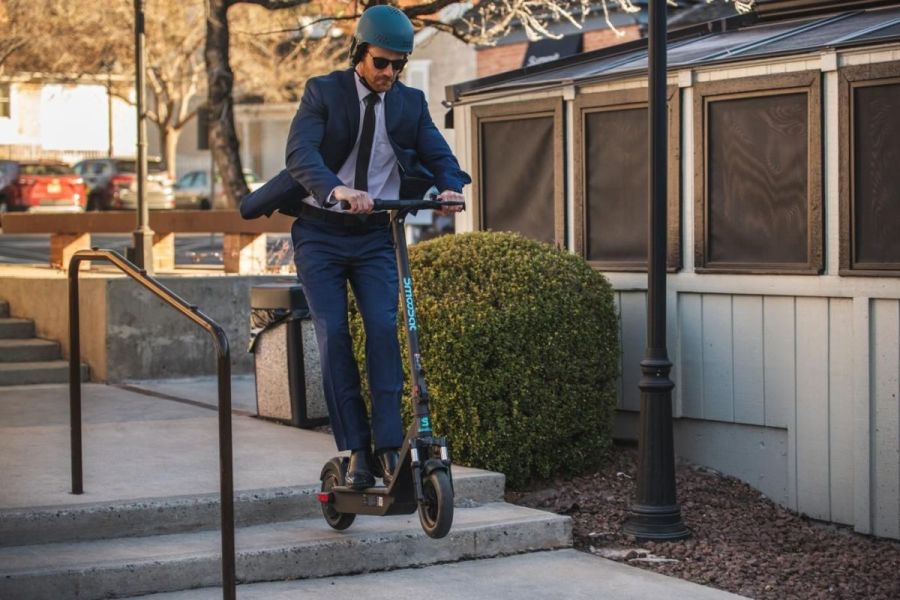 With its powerful 500W motor, it can easily reach a top speed of 18.6 mph, even on a 15-degree hill, and can support a maximum weight of 264 lbs.
Control Your Bike With Phone App & Bluetooth
One of the unique features of the SmooSat Max is its smart app control via Bluetooth. This allows riders to lock and unlock the scooter, review their riding history, control speed modes, and turn on or off the headlight, all from their smartphone.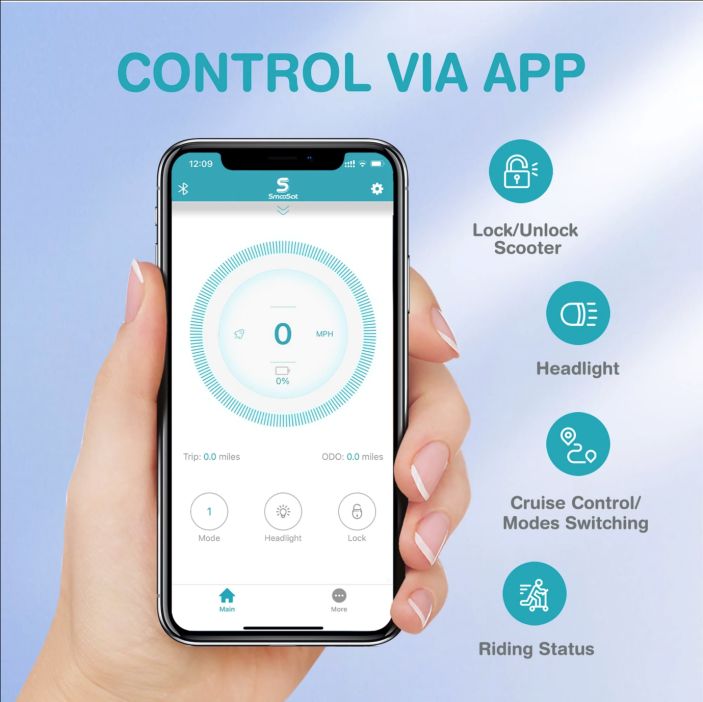 A lot of Advanced Features
For long-distance commuters, the SmooSat Max is a game-changer. It features a 12Ah automotive-grade battery that can travel up to 30 miles on a single charge. Plus, the 10″ solid tires and front dual shock suspension make for a comfortable ride, even on rough terrain.
Awesome Prices
Despite its impressive features, the SmooSat Max is still an affordable option for those in need of a daily commuter scooter. It's competitively priced and readily available for purchase online.
SmooSat offers this modernized, advanced, fully Bluetooth-controlled, durable, and fast Max Scooter at $499.97 on Amazon.
SmooSat S8 Kick Scooter For Teen Agers
The SmooSat S8 Kick Scooter is an excellent choice for kids aged 8 and above who love to ride around and have fun. It has several features that make it a top choice for parents who want their children to have a safe and enjoyable ride.
The S8 kick scooter is designed with large 8″ PU cast wheels and precision bearings (ABEC-9) for smoother wheel rotation and better passing performance. This ensures a smooth, comfortable ride for your child.
The scooter's sturdy and durable aluminum alloy frame can bear up to 220 lbs, making it ideal for kids and adults alike. The anti-misfolding design avoids shaking, while upgraded reinforced rubber anti-skid pedals and rear fender brakes ensure safe riding and braking.
Parents will appreciate the adjustable handlebar height that can be easily adjusted to fit their child's height. The Y-shaped grip of the S8 scooter is more comfortable than the ordinary T-shaped handlebar, reducing pressure on the arm and wrist and avoiding stiffness pain in the arm.
It is available on Amazon, offering it at a discounted price of $49.99!
SmooSat E9 Electric Scooter is the Best Choice For Kids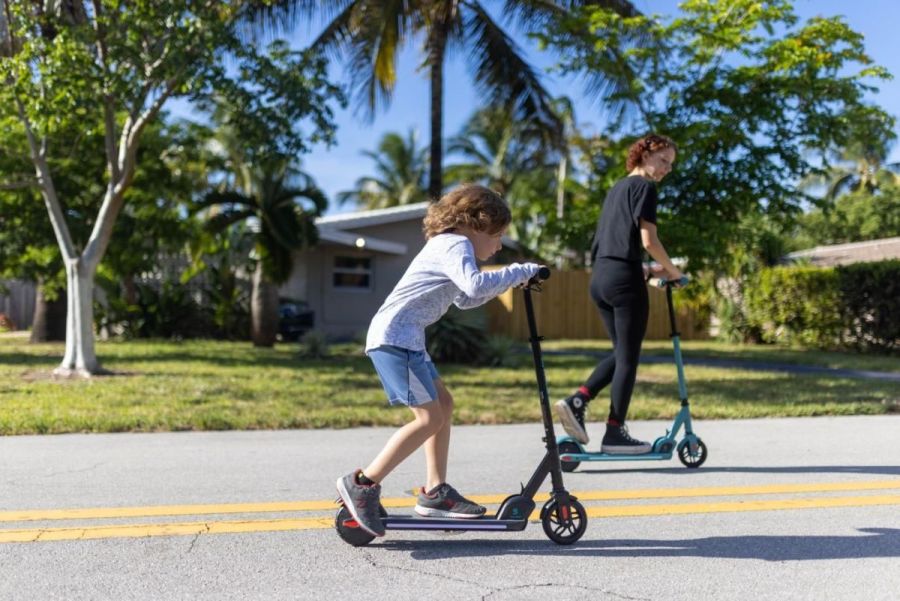 The SmooSat E9 scooter is perfect for introducing children to the world of electric scooters. It serves as an excellent entry-level option, enabling a smooth transition from a non-electric scooter and providing an opportunity for your child to learn how to ride electrically. With its smooth ride and two safe maximum speed limits (6/10 MPH), it offers peace of mind.
Powered by 130W Brushless Motor and 54 Wh Rechargeable Battery. The electric kids scooter can travel 5 miles on a full charge and lasts for 40-60 minutes of use, making riding fun longer.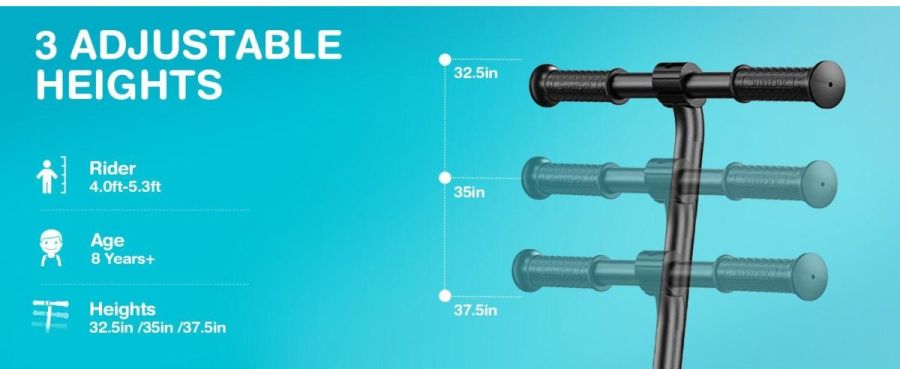 SmooSat is offering this modernized electric scooter at $127.99 in its store. You can save 39% today.
Concluding Thoughts
Electric scooters are the perfect way to revolutionize your commute. SmooSat offers a range of electric scooters for all ages, making it an enjoyable experience for everyone. We looked at three of SmooSat's top models, including the SmooSat Max Electric Scooter for adults, the SmooSat S8 Kick Scooter for teenagers, and the SmooSat E9 Electric Scooter for kids. Each model has unique features that make it ideal for different needs. Additionally, these scooters are affordable and readily available for purchase online.
So why wait? Join the electric scooter revolution today with SmooSat!