The display is one of the most prominent features of the Samsung Galaxy S20 Ultra. It has a huge 6.9-inch 120Hz display with a sharp Quad HD+ screen resolution. Which, although looks magnificent, but if damaged can easily cost you $300 to $350 to replace. And as we carry our phone with us everywhere so the chances of accidental damage increase significantly.
However, there are much cheaper ways to keep your phone's stunning and fragile display free from damages. And one of them is to install a tempered glass screen protector.
Here we have reviewed some of the best-tempered screen protectors for Samsung Galaxy S20 Ultra that can help keep your phone safe from those accidental drops and cheaper to replace.
Why Trust Our Reviews
At BestForAndroid, our goal is to help you find the best product, offering maximum value and usefulness for the price you are paying. We believe in transparency and provide recommendations based on our collected data. We aim to give you as much knowledge as possible about any specific product along with our opinions and interesting facts to make your purchase decision easier.
Galaxy S20 Ultra Tempered Screen Protector
Our Pick: Tempered Glass Screen Protector Full HD Clear 3D Curved Edge by Whitestone Dome Glass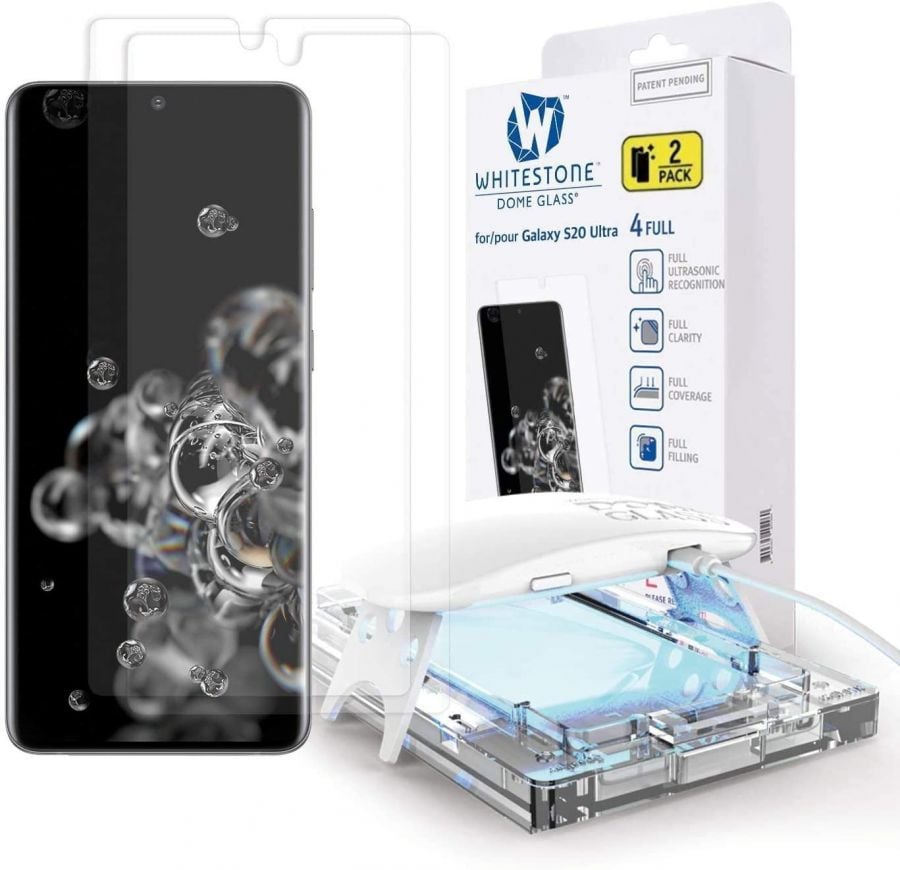 | | |
| --- | --- |
| Brand | Whitestone Dome Glass |
| Material | Tempered Glass |
| Ultrasonic Fingerprint Compatibility | Yes |
| Number of Glass Protectors | 2 pcs |
| Compatible Phone Model | Samsung Galaxy S20 Ultra |
Thanks to the installation tray that comes with it, you can easily install the glass protector on your phone with just a single push. The rest of the work will be done using the provided ultraviolet adhesive curing light.
For best installation and optimal results, you need to have some patience and enough time in your hand to put your phone into the installation try, correctly apply the adhesive solution on the screen, place the tempered glass, and then use the UV curing light to evenly distribute and solidify the liquid solution.
In the end, you will get that edge-to-edge protection from impacts and shocks. As well as the clear display with zero compromises on the touch sensitivity.
Pros
With the dome glass technology and advanced adhesive solution, you can continue to use the in-display ultrasonic fingerprint scanner without any issue.
The provided installation kit makes sure the installation is error-free, perfect, and without any air bubbles.
Ultra-clear tempered glass provides high transparency that gives you the most natural viewing experience.
If installed correctly, this super-thin protector does not compromise touch sensitivity.
The box comes with two pieces of tempered 3D dome glass protectors, which is good for a backup.
Cons
Requires a significant amount of time and patience to correctly install the protector and cure the supplied solution with UV.
The adhesive solution has to be spread evenly and the protector needs to be applied with extreme patience in a less dusty environment to avoid the formation of air bubbles.
If you messed up the installation then the same glass protector cannot be reapplied. You will need to use a new glass protector and start from scratch.
Universal Liquid Glass Screen Protector with $500 Screen Protection by Luvvitt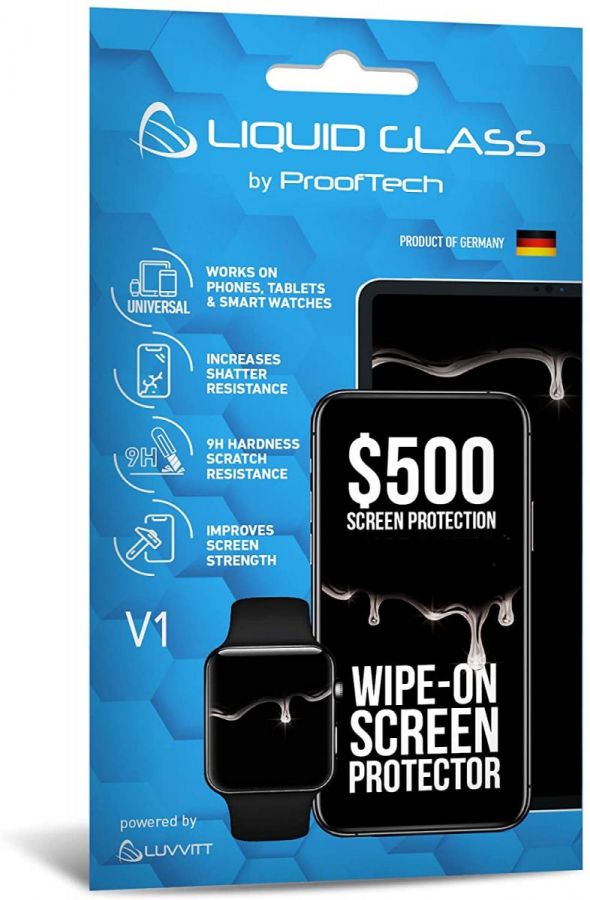 | | |
| --- | --- |
| Brand | Luvvitt |
| Material | Liquid Glass |
| Ultrasonic Fingerprint Compatibility | Yes |
| Protection | Protects up to 6 devices |
| Compatible Phone Model | All variants of Samsung Galaxy S20 |
A universal liquid glass screen protector that offers extreme durability and transparency as it seamlessly blends into the glass of your smartphone. Once applied, it can protect your device from moisture, scratch, and provides resistance from impacts.
The silica dioxide (Si02) liquid adds an invisible coating that protects the screen by increasing the hardness level to 9H and adds an additional layer of glass on the top of your screen. This is the easiest screen protector to apply on your phone as it has a universal fit and provides a bubble-free application.
Since it is a universal fit so it can be applied to almost any mobile device, which makes it the ideal product for Samsung Galaxy S20 Ultra as this phone has a curved screen, and does not affect the usability of the fingerprint scanner in any way. What's interesting is that it comes with a $500 protection coverage for your phone.
Pros
Makes your phone's screen stronger and resistant to scratches from everyday usage.
One liquid glass package can be easily applied to over six mobile devices including your watch.
Does not affect the usability of a fingerprint scanner in any way.
Once the liquid glass is applied, you can install tempered glass on top of it for added safety.
This blue bundle offers you damage protection coverage of over $500 for any one of your devices.
Cons
Not recommended to use if your device has cracks on the screen.
The liquid needs to be applied during bedtime and requires overnight drying for best and long-lasting results.
The effectiveness of liquid glass lasts about a year, after which it needs reapplication.
3D Curved Auto-Disperse UV Gel Tempered Glass Screen Protector by Mowei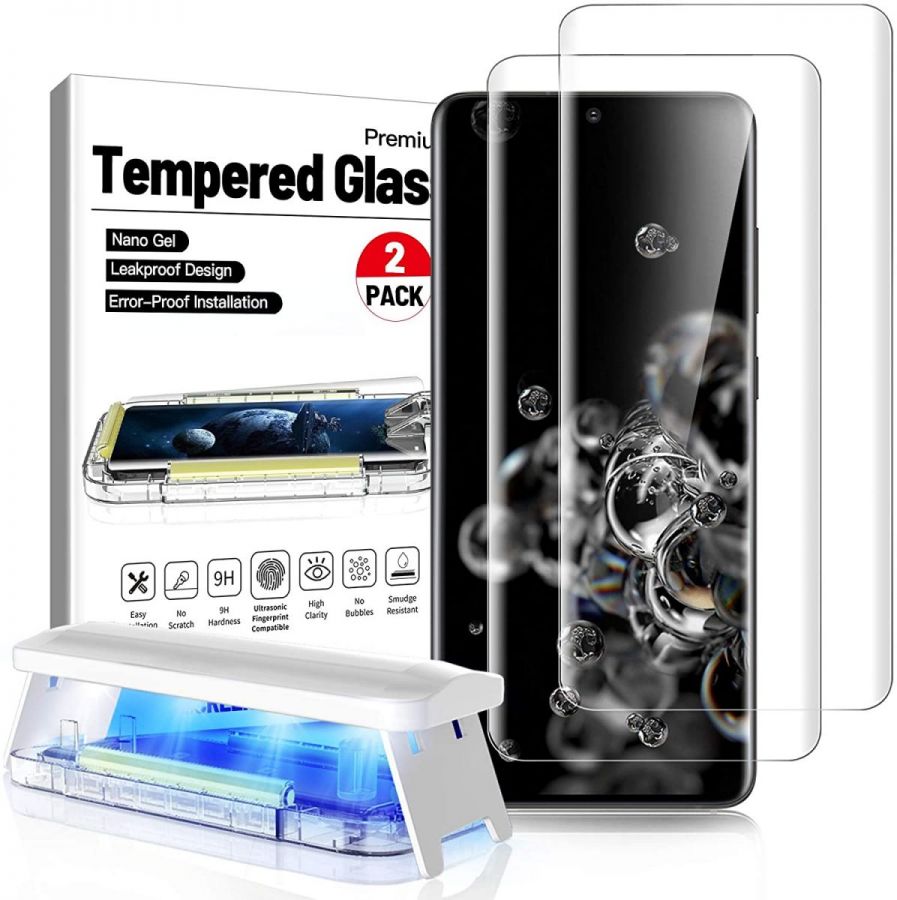 | | |
| --- | --- |
| Brand | Mowei |
| Material | Tempered Glass |
| Ultrasonic Fingerprint Compatibility | Yes |
| Number of Glass Protectors | 2 pcs |
| Compatible Phone Model | Samsung Galaxy S20 Ultra |
A complete easy-to-install kit to apply 3D curved tempered glass on your Samsung Galaxy S20 Ultra in the perfect manner without any hassle.
The kit comes with two tempered glass screen protectors with 9H hardness, curing UV light, adhesive gel, and an installation tray. All of which combined prevents air bubbles and errors during the installation and makes the process so simple that almost anyone can apply. However, it is always recommended to watch the provided video to learn the techniques.
Pros
Comes with an installation tray and a UV adhesive gel that can be cured using the provided ultraviolet light for absolute protection of the screen from scratches and high-impact drops.
Comparatively better than those plastic films as tempered glass provides much longer durability and enhanced protection.
The ultrasonic fingerprint scanner works perfectly fine as the application of gel fills all the gaps between the glass and your phone's screen.
For beginners, a complete step-by-step video guide is provided that teaches how to properly install the protector.
Cons
Most of the back covers cannot be used after installing the 3D tempered glass protector as they can easily push the glass out from the edges.
Provided adhesive gel needs to be applied to the whole screen surface properly including the edges as corners are the first spot where these protectors start lifting off.
Full HD Curved Edge Liquid UV Tempered Glass Screen Protector by Foluu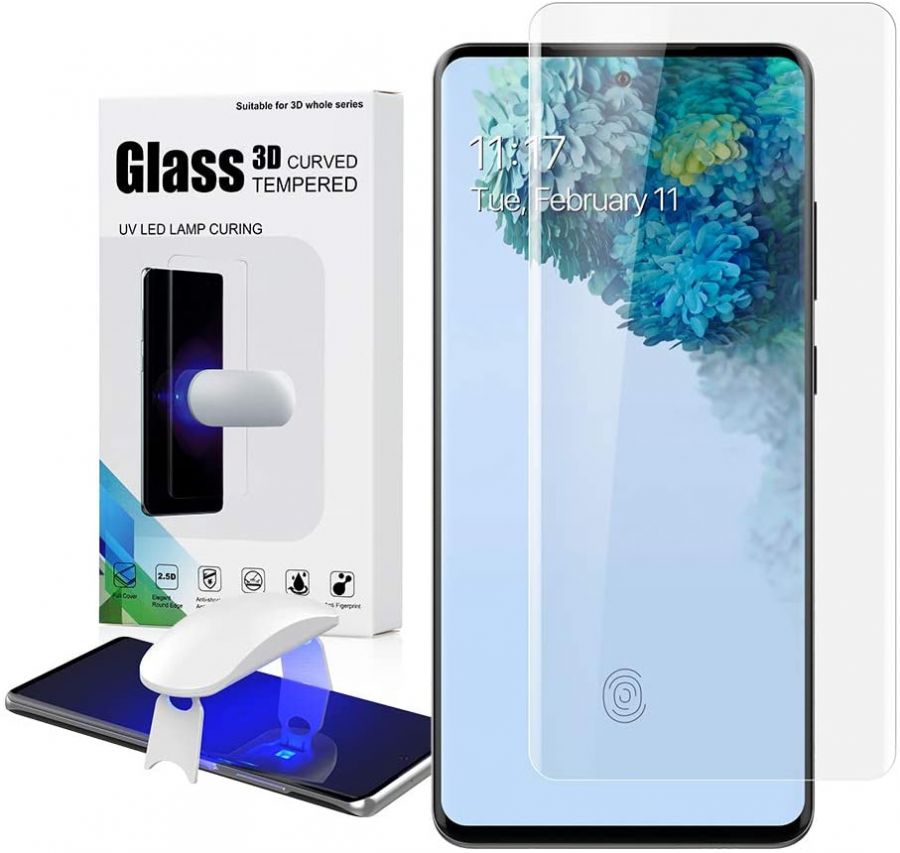 | | |
| --- | --- |
| Brand | Foluu |
| Material | Tempered Glass |
| Ultrasonic Fingerprint Compatibility | Yes |
| Number of Glass Protectors | 1 pcs |
| Compatible Phone Model | Samsung Galaxy S20 Ultra |
This tempered glass screen protector is being sold by Foluu and what's unique about this is their exclusive adhesive solution (named LOCA) designed especially to be fully compatible with the S20 Ultra's in-display ultrasonic fingerprint sensor.
The adhesive can be quickly cured and fixed and helps keep the protector securely fixed to your phone's screen by using the provided ultraviolet light. Also, most of the protectors don't protect from fingerprint smudges but this one offers oleophobic coating on the top, making the surface resistant to fingerprints and oil marks as well as easier to clean.
Pros
Provides bubble-free application using the supplied advanced liquid optical clear adhesive (LOCA) that prevents any dust and air bubbles from forming between the screen and glass protector.
Curved edges of the tempered glass screen protector provide ultimate edge-to-edge protection from dust and impacts.
One of the very few screen protectors that give you an oleophobic coating that resists oil marks and fingerprints from sticking to the surface and makes it fairly easy to clean.
Cons
Sometimes after the installation of the screen protector and due to the change in surface, the fingerprint reader might not be able to recognize your finger so you will need to remove your existing fingerprints and add new fingerprints again.
Does not comes with the installation tray, making it a slightly challenging task for a beginner to apply and install the protector.