OnePlus phones come with an ultra-fast charging technology called Warp charge that can charge your phone from 8 percent to full charge in just 35 minutes. And what's interesting is that you can continue to use your phone for navigation or calls while it is connected to the charger and it won't affect the charging speed or performance in any way.
Almost all the latest variants of OnePlus smartphones offer warp charging technology including OnePlus 8, OnePlus 8T, OnePlus 8 Pro, OnePlus 7T, OnePlus 7 Pro, and OnePlus 7T Pro. Older models do not support warp charging but you can charge them using the dash charge technology. What's interesting here is that most warp chargers offer backward compatibility and supports dash charging too.
Talking about technical details, Warp charger offers 30W and works on 5V and 6A whereas Dash charger offers 20W and works on 5V and 4A. Moreover, when you are Warp charging your phone, whenever the battery capacity reaches about 90 percent it will automatically switch the charging wattage to about 10W to continue charging safely while prolonging battery life.
| | | | |
| --- | --- | --- | --- |
| Name | Brand | Material | Link |
| 30W Warp Car Charger | VELOGK | Aluminum-alloy finish | View Product |
| Warp and Dash Car Charger with Type-C Cable | Dongguan | Elegant aluminum alloy anti-scrub design | View Product |
| Dual USB Port Warp and Dash Car Charger | APETOO | Cast metal | View Product |
Let's just quickly jump onto the review and find out which Warp charger is the best for our car to quickly charge our OnePlus 8 Pro.
Why Trust Our Reviews
At BestForAndroid, our goal is to help you find the best product, offering maximum value and usefulness for the price you are paying. We believe in transparency and provide recommendations based on our collected data. We aim to give you as much knowledge as possible about any specific product along with our opinions and interesting facts to make your purchase decision easier.
Best Warp Car Chargers for OnePlus
Our Pick: VELOGK Warp Car Charger 30W with Warp Type-C Cable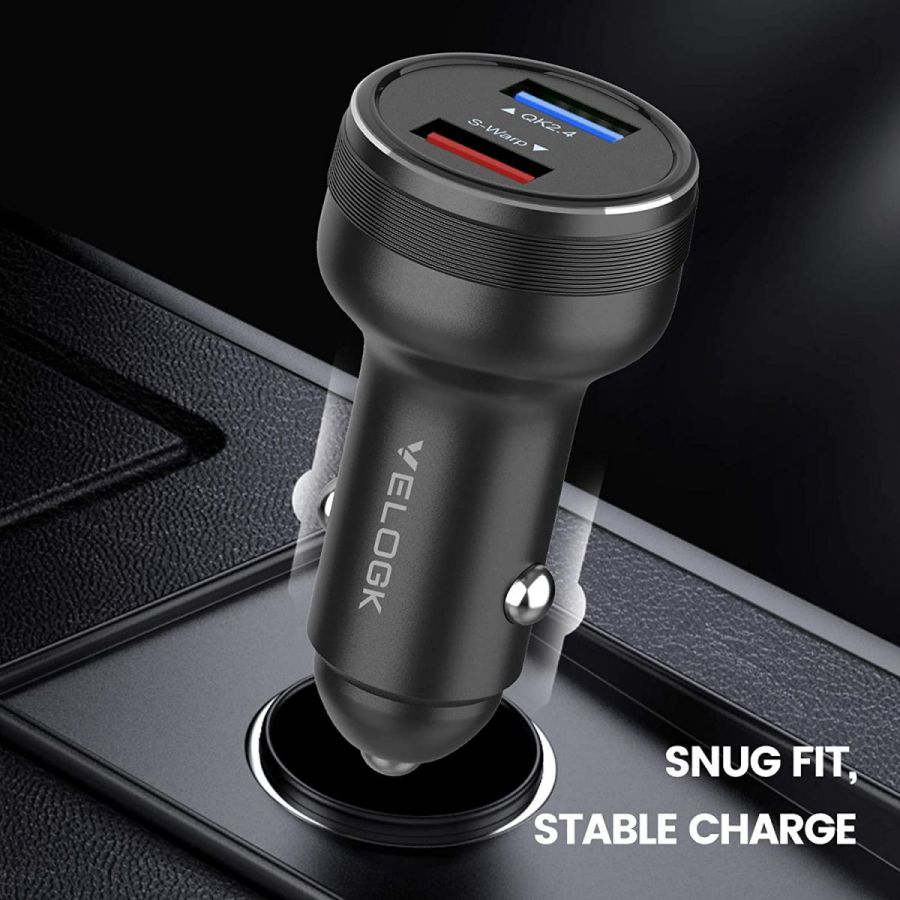 | | |
| --- | --- |
| Brand | VELOGK |
| Material | Aluminum-alloy finish |
| Charge Compatibility | Warp 30W Charge with S-Warp USB Port / Dash Charge / QC 3.0 |
| Color | Black / Red / Silver |
VELOGK is kind of a new brand in the market but since we are doing a review to find the best warp chargers for OnePlus so we took the bullet and placed the order. Once it arrived and the moment we connected it to our OnePlus 8 Pro using the red USB port, it actually started warp charging our phone.
Even the phone's lock screen showed a WARP charge. We are amazed. And thanks to the 30W rating, it managed to charge the phone from 12 percent to 87 percent pretty quickly even though I was continuously using it. Also, the provided type-C cable is of good quality as well.
To be honest, we never expected it to charge our phone at this speed, provided how cheap it really is as compared to the original one. And talking about build quality, the body is metallic aluminum.
Great build quality at a cheap price.
Comes with a type-C charging cable.
The charger, since it is made from aluminum, gets hot when charging at warp speed.
The fitting of the charger is not correct and sometimes does not fit firmly into the cigarette lighter.
Warp and Dash Car Charger with USB Type-C Charging Cable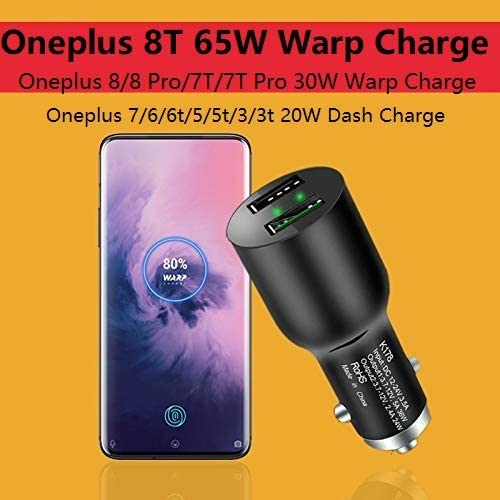 | | |
| --- | --- |
| Brand | Dongguan |
| Material | Elegant aluminum alloy anti-scrub design |
| Charge Compatibility | Warp Charging / Dash Charging / Standard Charging |
| Color | Black |
This dual-port car charger comes with warp charge functionality and offers backward compatibility to dash charge as well. But this functionality is available in one port only whereas the other port is for standard charging that is suitable for regular phones like Samsung, iPhone, HTC, or any other devices.
To be able to distinguish between the two ports, the manufacturer has used a green USB port for the Warp charging and a black USB port for regular charging. But since this gets a bit tricky to find out, especially as the charger is plugged into a cigarette lighter so there is a light next to the warp port to identify which one is a fast-charging port.
Even though it is an aftermarket Chinese charger but the build quality is great, thanks to the aluminum alloy finish. And with the cheap pricing, you can easily get your hands onto a warp car charger without spending a fortune.
Premium build quality with light indication and different USB port colors.
The standard port features Qualcomm Quick Charge suitable for Samsung, LG, and other fast charge compatible devices.
The charger could possibly be less reliable and there is a possibility that it may stop working over the passage of time.
There might be a conflict between your phone and charger when using the latest security patch version while the charger is on an older version. This may cause warp to not work properly.
APETOO Dual USB Port Car Charger with Warp and Dash Capability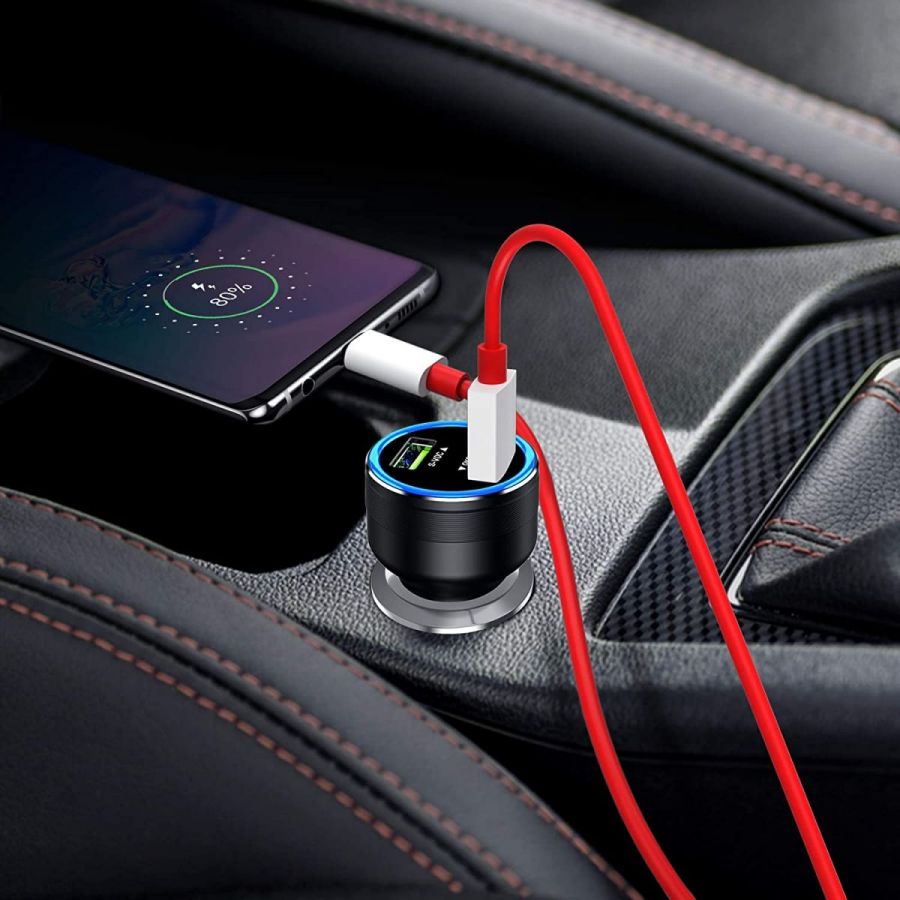 | | |
| --- | --- |
| Brand | APETOO |
| Material | Cast metal |
| Charge Compatibility | Warp Charging / Dash Charging / Standard Charging |
| Color | Black |
The APETOO car charger provides all three charging functionalities including warp charge, dash charge, and standard quick charge thanks to the well-designed circuit. Each port can be easily identified thanks to the color difference between the ports. Warp and dash charge is a green port and the standard charge is a blue port.
Right after connecting our OnePlus 8 Pro to the charger, it took the charger several seconds to the computer, and then the charger automatically recognized the phone and begun charging it in warp mode.
The provided USB Type-C cable for charging is highly durable and has a solid construction. The TPE jacket on both the connecting joints makes the wire sturdy and less likely to break or damage with usage.
Quickly switches between warp charging and dash charging, depending on your phone's capability and support.
Comes with a 3.3ft USB type-C charging cable.
The front is well illuminated to make it easy to find the charger and ports.
The charger sometimes fails to recognize the phone's charging capabilities and constantly switches between dash charge and warp charge, which rather than charging the phone drains the battery even further.
The charging socket that plugs into the cigarette lighter port does not fit properly and stays wobbly.
Conclusion
These are some of the best chargers out there for your oneplus phone. You can buy them from Amazon. In case you live in any other country and don't have access to Amazon US, then you can use package forwarding companies to get any package from the US to your country. Out of the three warp car chargers we have reviewed, the charger manufactured by VELOGK is the best. It is enclosed in an aluminum-alloy finished material with the perfect build quality and the warp charging capabilities are up to the mark, and with the provided type-C cable it managed to charge my phone to about 80 percent real quick.