While watching videos on YouTube we used to have an option to skip ads until recently where we are now forced to watch ads. Not just one, but multiple ads throughout the video, which makes it annoying and affects the experience. But you don't have to suffer anymore as here we have shared a few tricks and apps to block YouTube ads on Android.
So whether you prefer using the official YouTube app, looking for a YouTube app with a built-in ad blocker, or you want to watch YouTube without ads on a web browser, we have got you covered.
We have divided this guide into two subcategories and reviewed all the tried and tested ways to block ads on YouTube.
Browsers with built-in ad blocker – In this section, we have shared three web browsers for Android that comes with ad-blocking capabilities and will allow you to watch YouTube without ads.
YouTube ad blocker apps – This section contains six apps that work as a third party YouTube app and offers similar features but comes with ad-blocking functionality.
How to Watch YouTube Without Ads on Browser
To help you block YouTube ads on Android devices, we have reviewed three Android web browsers that come with native ad-blocking functionality:
#1. Brave Browser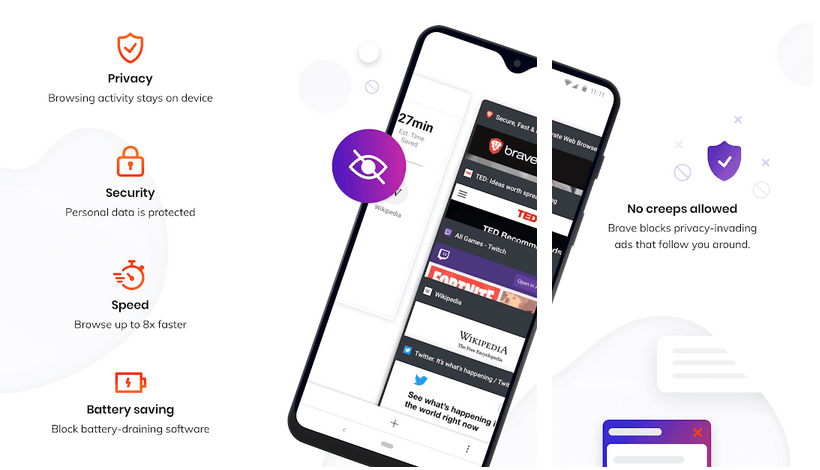 Built on the same engine as Chrome and with a similar interface, Brave has a built-in ad blocker that ensures no ads may interrupt your internet browsing, and you can stream YouTube videos without being forced to watch an advertisement.
The features are similar to that of Chrome-like history, bookmarks, and allow you to keep track of third party cookies. The only con is that you cannot sync your bookmarks and history across devices.
So if you would like to use the default Chrome browser for your day-to-day web browsing and you are tired of those ads, Brave is the best choice for you.
#2. Opera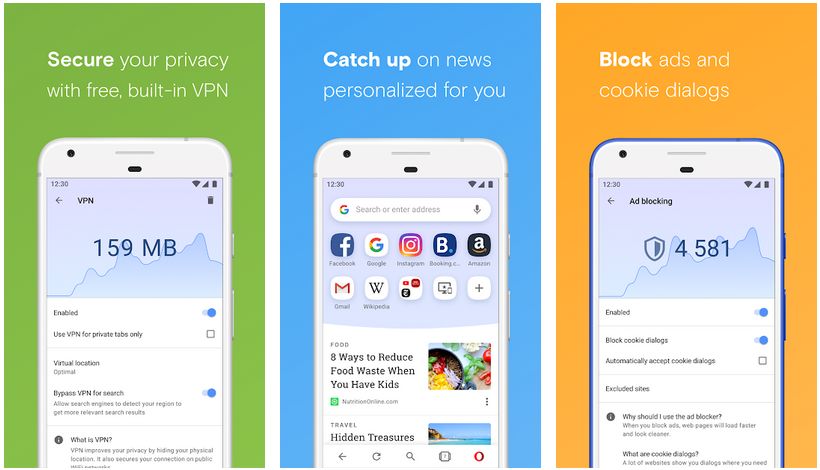 We all must have heard the name of Opera and have used it at least once in our lifetime. It's one of the oldest web browsers designed developed back in April 1995. It is well known for its safety, stability, and agility. Its built-in compression allows you a faster web surfing experience while consuming less Internet data.
Opera comes with a built-in adblocker feature that can be enabled with a single click, and you can stream YouTube videos or surf through the internet without watching the ads. The only con is that the ad-blocking feature is non-customizable, and you cannot whitelist or blacklist websites.
#3. Mozilla Firefox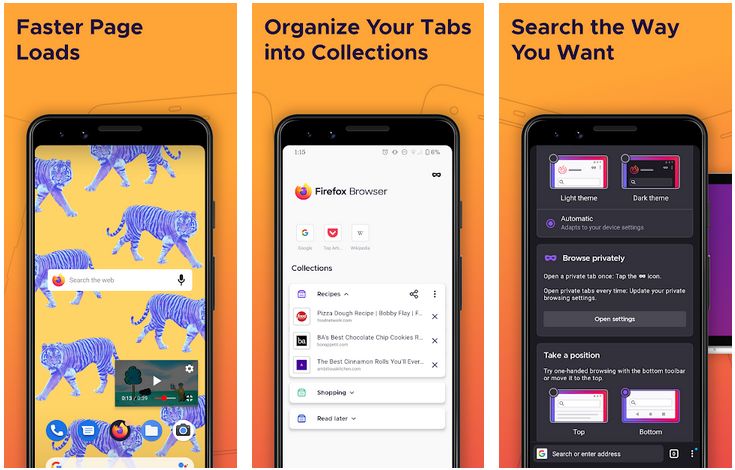 Released in 2011, Mozilla Firefox for Android carved its niche by extended security and stability. It utilizes lesser hardware resources compared to other web browsers ensuring a fast browsing experience and offers optimum security for regular users. This is one of those rare browsers that allow the installation of add-ons.
Below we have listed three popular Mozilla Firefox add-ons that let you block unwanted ads while streaming YouTube videos on Android without affecting your browsing speed.
Adblock Plus (ABP) – It is one of the most popular and open-source add-ons for adblocking and content filtration. It not only allows you to block ads on static webpages but also enables you to block annoying YouTube ads. It supports websites that run unobtrusive ads by not blocking them.
uBlock Origin – uBlock Origin is another popular and efficient adblocker that not only blocks static and pop-up ads but also helps you block video ads on YouTube. It is very light on hardware and consumes minimal resources that ensure an optimal browsing experience. You just need to install and activate the add-on to start enjoying YouTube videos without ads.
Ghostery – The primary focus of Ghostery is to secure your online privacy by blocking web trackers and analytics from tracking your online activities. It has an efficient ad-blocker that gives you a truly customizable ad-blocking experience and can help you block video ads on YouTube as well as other video streaming sites.
Best YouTube Adblocker Apps for Android
Some of us want to stick to the original YouTube app while others are okay with third-party YouTube apps that come with additional useful features as long as they serve the purpose.
For that, we have tested and compiled a list of six popular third-party apps you can use as an alternative to the official YouTube app and avoid those video ads while enjoying your favorite music videos, vlogs, or tutorials on YouTube.
You may need to allow installations from unknown sources on your Android device to be able to install these YouTube ad-blocking apps. To do so, on your device, go to Settings -> Security and enable the option "Allow installation from Unknown Sources."
#1. NewPipe
NewPipe is one of the latest additions to the league. An open-source app that does not require you to root your device to block ads on YouTube and let you download videos in audio and video formats.
NewPipe gives you a search bar using which you can search for your favorite YouTube videos and watch them because it does not support logging into the YouTube account. The resolution choices are also limited. But if you are looking for an app that is light on hardware and does the job with zero ads, NewPipe is your go-to.
Features – Audio playback in the background, no ads, allows audio and video downloads.
Pros – Zero ads, minimal interface, no need to root your device.
Cons – Does not allow login to YouTube account, does not support 1080p or higher resolutions.
#2. BG Player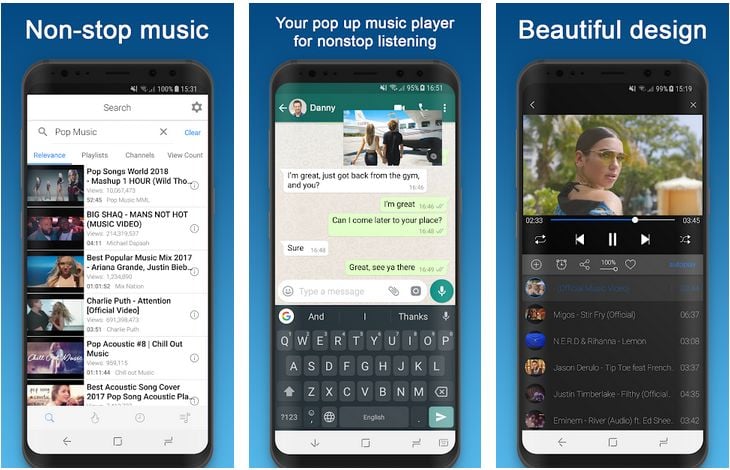 BG Player mainly focuses on the music part of YouTube and loads the playlists very well. Other usual videos can also be played in the app as a secondary feature. It does block YouTube video ads. However, it has its own in-app ads that can be a headache unless you have an ad blocker installed already.
The best part of having a BG Player is the ability to download music playlists and then play them offline whenever you want.
Features – Support for YouTube playlists and lyrics, allows background music playback.
Pros – Blocks YouTube ads, available on the Google Play store.
Cons – Has its own in-app ads.
#3. YouTube Vanced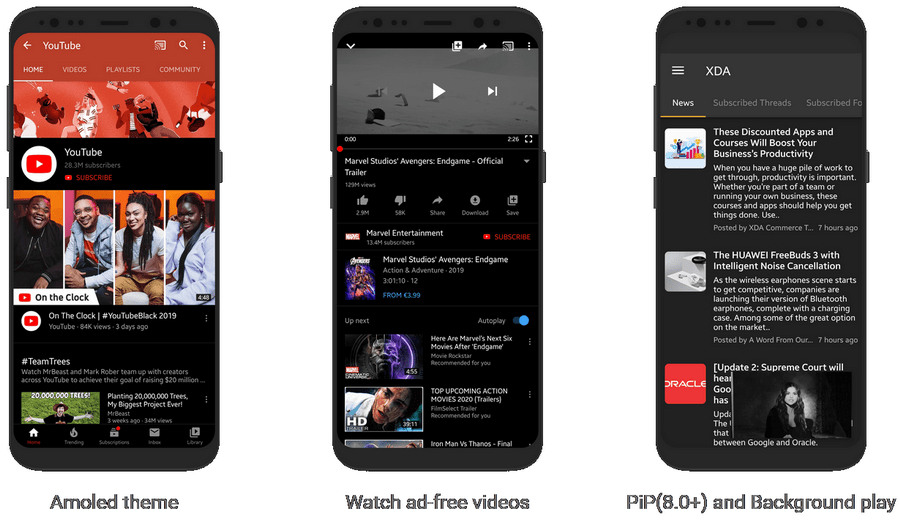 YouTube Vanced is one of the most popular and widely used alternatives for the official YouTube Android app. It is a modified version of the official app but has all the basic functions along with additional useful features like the ability to download videos, background playback, and Picture-In-Picture mode, which makes this app irresistible for most users.
If you are looking for an ad-free YouTube experience, then we will highly recommend YouTube Vanced. You can even log in to your account to enjoy the personalized YouTube experience.
The background playback feature comes bundled with a floating window (also known as picture-in-picture mode) that lets you watch YouTube videos while using other apps on your mobile like text messaging or emailing. The app also has a dark mode, so you can watch videos for a longer time without hurting your eyes.
Features – Dark mode; background playback; picture-in-picture mode; ability to download videos; blocks all the advertisements.
Pros – No root permission needed; no need to uninstall the official app.
Cons – The app might feel lagging sometimes.
#4. TubeMate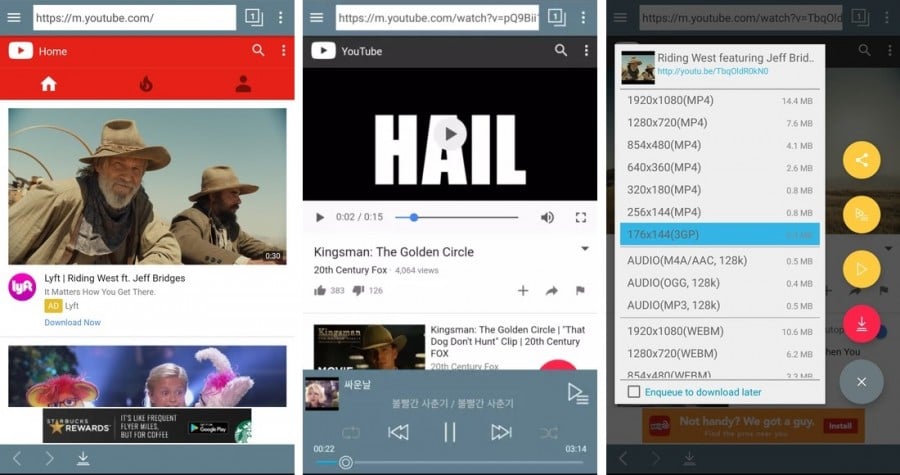 Basically, TubeMate is a video downloading app but supports video streaming too. It has native support for dozens of video streaming websites. Talking about YouTube, it can load the mobile version of the YouTube website and lets you stream or download videos from there.
Although TubeMate itself is free to download and use it is ad-supported so that the developers can keep the app updated, it can block YouTube ads on Android. Talking about its download functionality, it allows you to download videos directly to your phone's internal storage or SD card.
Features – Ability to stream and download videos from multiple websites;
Pros – You can access all of your favorite video streaming websites; an easy and quick way to download MP3 or videos from YouTube.
Cons – Needs to be updated frequently; shows in-app ads.
#5. FlyTube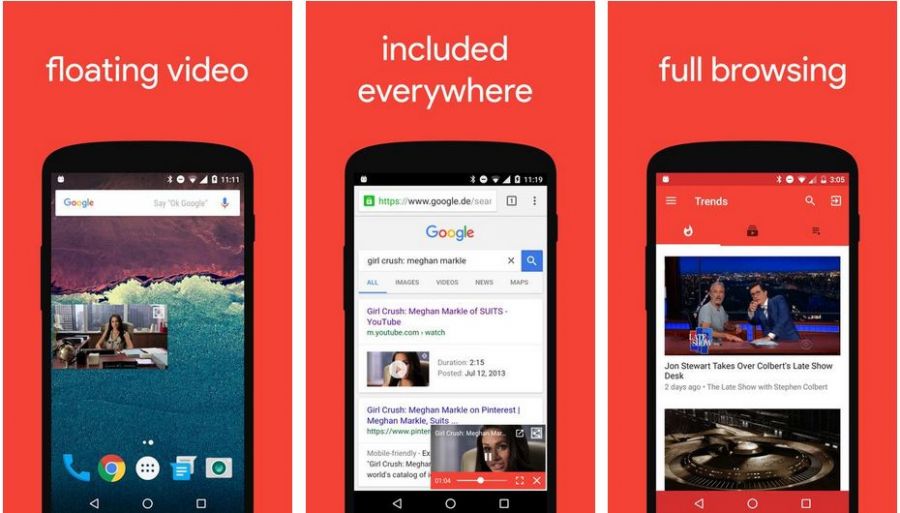 FlyTube is one of the most lightweight alternatives to YouTube that uses minimal resources, blocks all the unwanted ads, and does the job just fine without putting much strain on the hardware of your Android device.
Similar to OGYouTube, FlyTube has a hover mode (Picture-In-Picture mode) too, that allows you to watch videos in a small window while you are using another app. It also lets you sign in to your YouTube account and use your customized playlist.
Features – Extremely light on hardware; and supports hover mode.
Pros – Puts less strain on hardware; supports all the basic functions of the official YouTube app.
Cons – Does not allow downloading like other apps; a bit outdated and no longer receives updates.
#6. YouTube Go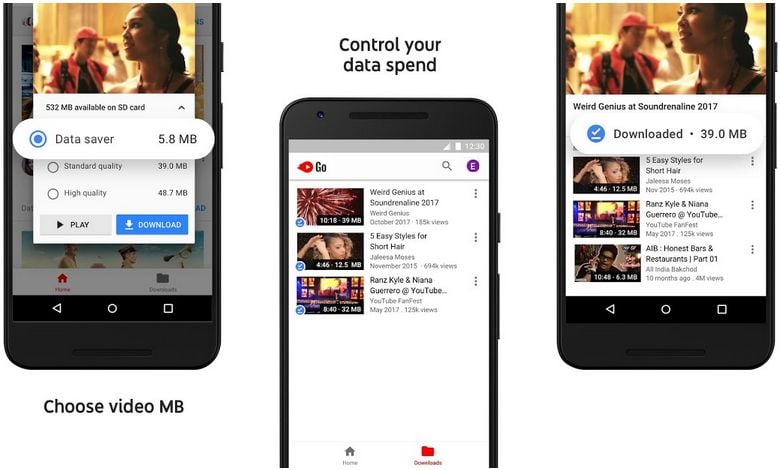 Yes, believe it or not, YouTube Go is an official app developed by Google itself. It is a lightweight version of the official YouTube app that allows you to stream videos while consuming lesser data and is really helpful in scenarios where you have a slower or intermittent internet connection.
YouTube Go is not limited to streaming, but you can even download videos for offline viewing while keeping a continuous check on your data usage and storage. The app is so data-friendly that it lets you preview videos before you watch or download them.
Features – Consumes minimal data and hardware resources.
Pros – Designed to work with slow internet connections; allow you to download videos to watch them offline without buffering.
Cons – Does have ads on videos if streamed online.
BONUS: Watch Ad-Free Videos with YouTube Premium
Similar to other video streaming services out there, YouTube is free to use. However, they offer a paid subscription as well named YouTube Premium. The subscription not only lets you enjoy a truly ad-free experience without any boundaries of platforms ranging from website to mobile app.
YouTube Premium also grants you access to the exclusive content available on the platform, including YouTube Originals, which includes exclusive series and movies, and YouTube Music Premium, where you will get to use features like background playback as well as the ability to download them for offline playback.
Google does offer a one-month free trial, and after that, you need to pay $11.99 a month for YouTube Premium.
There are chances that a lot of us are not able to afford a monthly subscription for YouTube Premium or it might be possible that the Premium service is not even available in our country so this is where we have to find alternatives to enjoy the video content without being disturbed by unwanted ads.
Frequently Asked Questions
Here are some of the most frequently asked questions related to YouTube and blocking YouTube ads on Android phone and tablet devices:
What types of advertisements are served on YouTube?
At the Beginning of the Videos – You often have to watch the ads at the start of a video, and you get the option to skip those ads only after 5-10 seconds. These do cause hassle, but the idea is to give users the convenience of an uninterrupted video by showing an ad in the beginning.
In-video Ads – Some YouTubers allow YouTube to show ads in-between their videos, and such ads do help YouTubers to earn some extra bucks even though they can get a bit annoying when you are watching a video, and you are forced to wait for about 15-30 seconds for an ad to finish.
Unskippable Ads – YouTube introduced these ads in late 2018, and they are quite a hassle for us viewers as we are not able to skip these ads and forced to watch them until the end.
Is it legal to block YouTube ads on Android?
Some of you might question the legality of blocking ads on YouTube or any other website. There are no laws that forbid you from blocking ads from any website. It may have an impact on the earnings of a content creator who is relying on the income from ads to develop and provide you with valuable/entertaining content. However, if you want, you can choose to block those ads.
Conclusion
We have done extensive research and compiled all the possible ways to block YouTube ads on Android.
So whether you are looking to block video ads on the web browser, YouTube app or looking for an alternative YouTube video streaming app that not only allows you to block ads but has additional premium features too, then we hope that the solutions provided above have helped you choose the best option for yourself.
Share your views, experience in the comments below, and tell us which of the above-mentioned methods did you try and which one worked for you. 🙂