Here is what this post is all about:
Get rid of all those intrusive videos, graphics, and text ads that appear on your Android device while using apps or browsing websites with powerful ad blocker apps.
We have reviewed and listed some of the best ad blocker apps for Android that blocks advertisements throughout your Android device.
We have included some advertisement detectors too, which come in handy in those cases when you don't know which app is showing ads, or why it appears out of nowhere, it could be malware. Check the Android ad detector section to find out more.
We see ads while playing games, watching videos, and browsing the web, which is why the usage of ad blockers has become essential for the majority of people.
EDITOR'S NOTE
Many websites, apps, and services let you pay a certain amount for an ad-free experience. We will highly recommend you opt for that instead of ad blocking because online content creators and developers earn their living through advertisements. Just a thought 🙂
We do accept the fact that there are a large number of websites and apps filled with intrusive and forced ads, which kills the usability while making it hard for us users to consume the content, and then eventually, we are forced to look for ad blockers.
Most of the ad blockers we have featured in this blog post are free and open source. However, it is important to note here that ad blockers are not usually available in the Google Play Store because any app that is designed to block advertisements simply violates section 4.4 of the Google Developer Distribution Agreement and is removed from the Play Store.
There are a large number of ad blockers available for Android devices, but not all of them are reliable, and many will ask you to purchase a premium account. We have tried and tested all the ad blockers and listed some of the best ad blockers for Android available for free.
Top Choice: Stands Fair AdBlocker Browser ⭐
Stands Fair AdBlocker is a free and open-source ad blocker that blocks annoying ads, pop-ups, and malware. It also protects your privacy by preventing companies from profiling and selling your information without your permission. Stands Fair AdBlocker is available for Chrome, Firefox, Edge, and Opera.
Here are some of the features of Stands Fair AdBlocker:
Blocks annoying ads, pop-ups, and malware
Protects your privacy
Speeds up page loading
Saves traffic
Maintains site functionality and appearance
Can be customized to block specific ads or websites
Stands Fair AdBlocker is a great way to improve your web browsing experience. It is free, open-source, and effective. If you are looking for a way to block ads and protect your privacy, I recommend giving Stands Fair AdBlocker a try.
#1. AdAway Ad Blocker
AdAway allows you to surf the Internet and use all types of Android apps without coming across those annoying advertisements. It's an open-source ad blocker for Android and uses host files for ad blocking. This means whenever any app requests an ad then that request will be redirected to 127.0.0.1, i.e. localhost. Simply said, the request goes nowhere and no ads are served.
AdAway ad blocker lets you download a preconfigured hosts file right from their website, but it has native support for custom as well as modified host files. Talking about host files, on Android OS, these files are stored in a read-only system partition, which is why the app requires root access to modify that file.
Completely open source and a free ad blocker.
Option to select your own host file.
Ability to modify hosts file and add websites or apps to whitelist/blacklist.
Requires root access.
Need R/W access on your phone's /System directory.
#2. AdGuard for Android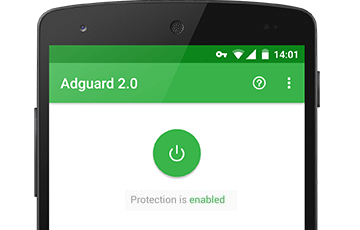 One of the most powerful advertisement blockers AdGuard for Android manages to provide remarkable filtration and protection from ads as well as any kind of online tracking and phishing website, which in turn improves the web page loading time, saves bandwidth and protects your phone against any potential threats and malware.
AdGuard is a powerful ad blocker for Android that can block advertisements throughout the Android system. Whether you are browsing the web or using any app it can block all kinds of ads. There is an Apps Management tool as well that will let you customize the ad filtration according to your personal preference.
System-wide blocking of ads and protection against phishing and malware.
Does not require root privileges, making it work flawlessly on non-rooted Android devices.
The Premium version requires payment for system-wide ad blocking if you are looking to block advertisements shown within the apps.
#3. AdClear For Android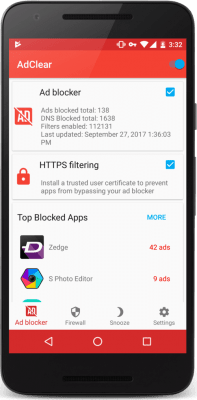 AdClear is a reliable and leading ad blocker app developed by Seven Networks for non-rooted Android devices. The app helps you block all sorts of annoying advertisements on your device. It is capable enough to block YouTube advertisements as well as all types of encrypted, malware, and intrusive ads shown on websites or while using apps.
In short, AdClear is a system-wide ad blocker that can keep in-app, popup, and clickbait ads away from your sight. The app comes bundled with native features like firewall and doze that help save battery life without affecting the page loading times. The app is available for free to download for Android phones and tablet devices.
Absolutely free ad blocker that does its job pretty well and receives frequent updates.
Work perfectly fine on non-rooted Android devices.
Possibly shares user info with its partners.
It might be hard to block system-wide ads on Android 7.0 and higher, so it is better to use it with Dubbel as recommended by developers.
#4. Block This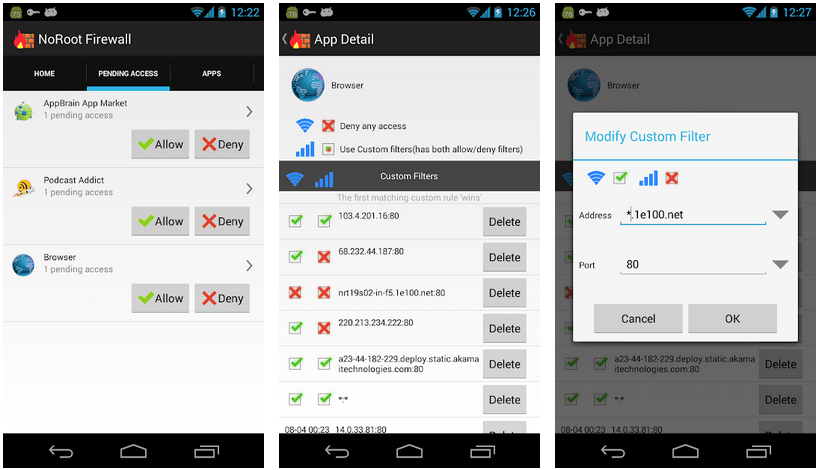 Block This is an open-source, DNS-based, free ad blocker app for Android phone and tablet devices. It has a native capability to block all kinds of advertisements system-wide, which means no ads in web browsers and in-app. And it certainly consumes less battery as compared to the other ad blockers thanks to the adblocking system it uses.
It doesn't matter in what format the ad is being served, whether it is image, audio, popup, video, or banner ad format. Even tracking cookies. Block This ad blocker can block all of them without a hitch. That is not all; the app acts as security protection too as it can stop known malware from affecting your phone.
DNS and VPN-based ad blocker that takes care of your privacy too.
Ability to bypass internet censorship and provides access to inaccessible web pages even if your ISP blocks those sites.
Does not require root privilege.
Didn't receive any further updates; however, it is open-source, so anyone can go ahead and look at the codes, especially developers.
May does not work on some latest Android OS; it never hurts trying, though.
#5. Blokada Ad Blocker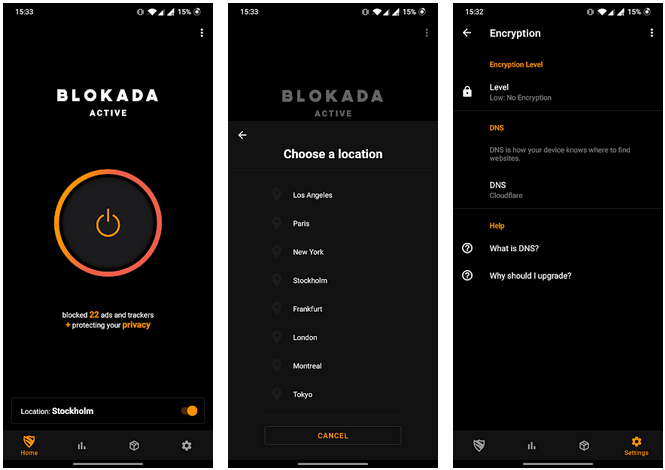 Blokada is a speedy and battery-friendly ad blocker for Android that comes with many stability updates. This is to make sure the ad-blocking functionalities remain at par on all the supported Android devices. Some filters give you complete freedom to configure a whitelist and blacklist to filter out which ads to block and which should be allowed.
What's interesting is that Blokada also offers you to see how different websites and the installed apps that are on your phone are tracking you. The app even helps you in blocking suspicious requests while keeping yourself anonymous.
Helps in keeping your Android phone and tablet devices secure and protected by preventing it from displaying unwanted and malicious ads.
The app works system-wide so it can block ads and keep your device secure from in-app advertisements as well as those shown in the browser.
The latest version is compatible with Android 5.0 and above only. This may not be a negative for many, but it might be for older Android device users.
#6. Adblock Plus
Adblock Plus is an open-source ad blocker for Android, similar to AdAway. It is a system-wide ad blocker capable of completely blocking all kinds of advertisements including popups, banners, in-app ads, ad blocks as well as any tracking or malware-based ad. That means this app can keep you protected from all sorts of harmful ads too.
Adblock Plus is also available in a web browser version, which works specifically on websites and web pages while you are browsing, so if you are interested in that variant, then head over to the section named Ad Blocker Browsers for Android within this blog post to learn more about it.
Absolutely free and open-source ad blocker.
Two ABP options, system-wide or browser-based.
Some non-intrusive ads are not blocked.
Requires you to configure AdBlock Plus as a proxy server to route all the traffic through the app, only if your device is not rooted.
The app is no longer updated, and you have to use development builds for system-wide adblocking.
#7. DNS66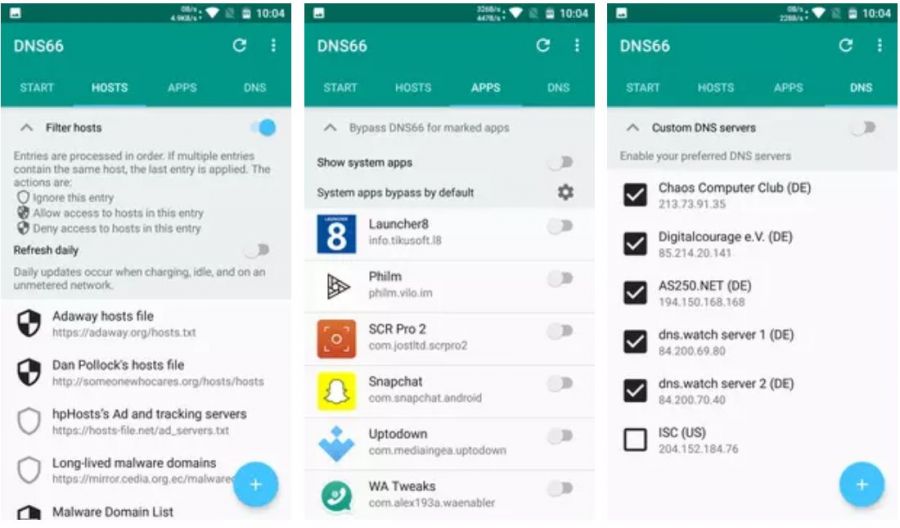 As the name of the app suggests, DNS66 uses DNS to block hostnames and advertisements as well as allows you to add other DNS servers for enhanced privacy and ad blocking. The app is designed to create a local VPN on your device, and all the DNS server traffic is passed through it, which works best for ad blocking on Android devices.
The good thing is that DNS66 is a powerful ad blocker that does not require you to have a rooted Android device, and you don't need to play with proxy settings as well. You can easily configure the ad blocker with custom DNS servers and hosts list to whitelist or blacklist any advertisement.
Provides a configurable list of hosts and custom DNS servers, which can be used to allow, ignore, or deny queries for advanced adblocking.
Does not require root access.
The app doesn't receive frequent updates.
#8. Disconnect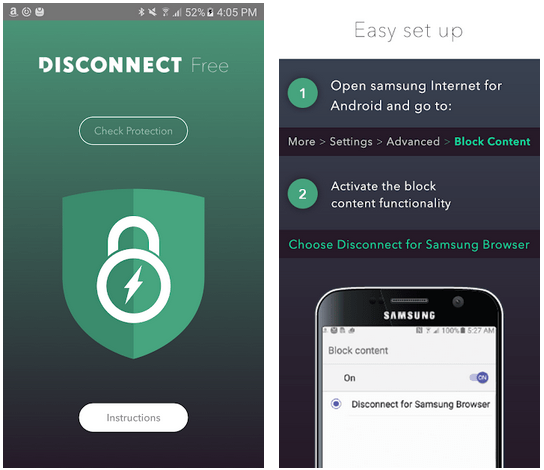 Disconnect Pro is a premium tool for Android that gives you complete control over your privacy along with the capability to block advertisements that usually hurts your phone's battery life and negatively impact your Internet bandwidth.
In a nutshell, Disconnect Pro is actually a VPN and tracker protection app for your mobile devices, and since it is a system-wide app so it can keep you protected from malicious content and block ads across your devices, whether you are browsing the web or using an app.
Removes ads, protects privacy, and provides a shield that acts as a tracker and threat protection while you are online.
Offers a VPN service and masks your IP address.
A bit costly service for blocking advertisements and safeguarding your privacy at a price of a whopping $50 annually for three devices. If my calculations are correct, then you have to pay $1.38 per month for each device.
Some features are specifically targeted toward Samsung devices.
The app doesn't receive frequent updates, so you can expect some bugs here and there.
#9. NetGuard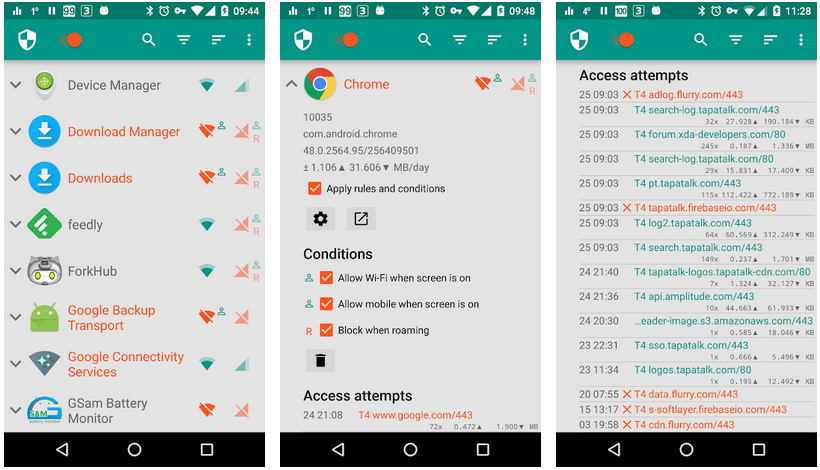 NetGuard is a powerful app that provides you with some of the most simple as well as advanced techniques for blocking Internet access for any app and address. You can individually add any app or web address to the list and then allow or deny its access to the Internet, whether it is a WiFi or cellular data connection.
The best thing about NetGuard is that it still receives frequent updates from the developers to keep the bugs and known issues away and maintain the best ad-blocking experience for every Android user who is looking to block ads on their devices.
Blocking Internet access helps in reduced data usage along with increased privacy.
The open-source app along with a simplified interface.
Helps save a significant amount of battery life by blocking ads and tracking requests.
Compatible with non-root Android phones.
#10. No Root Firewall (Droidwall)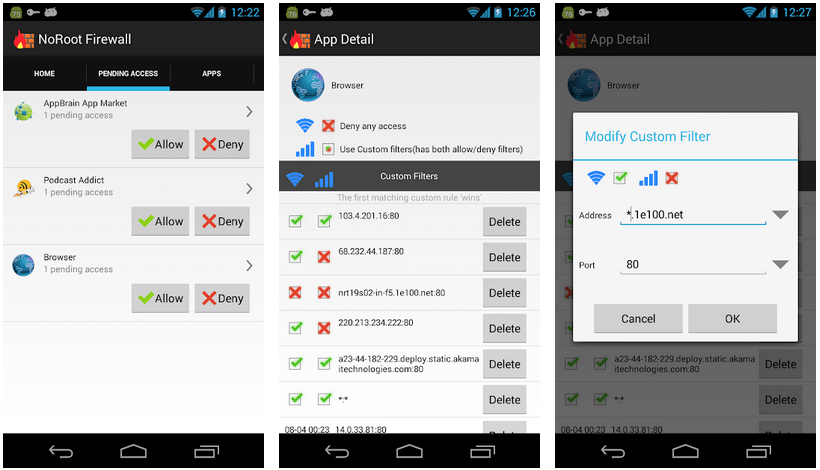 If you happen to use a computer or if you have ever configured the network, then you must have heard about the firewall. It is designed to prevent unauthorized Internet access to a specific app or network request. So with the No Root Firewall app, you can block ads on specific apps by preventing foreground data access to the app.
However, one should keep in mind that configuring the firewall to block ads on any app would also prevent it from accessing an Internet connection. For those who don't know, No Root Firewall was previously known as Droidwall. The best thing about this app is that it doesn't require any special permission that could make you uncomfortable.
Does not need root access to enable or disable the firewall.
Shows a log to track which app is showing a popup and intrusive ads on your phone.
If you are new to the firewall, then the list of apps and configurations might feel a bit hard.
The app didn't receive any update since November 2014, so there might be a possibility that some features might not work on your version of Android.
#11. AdLock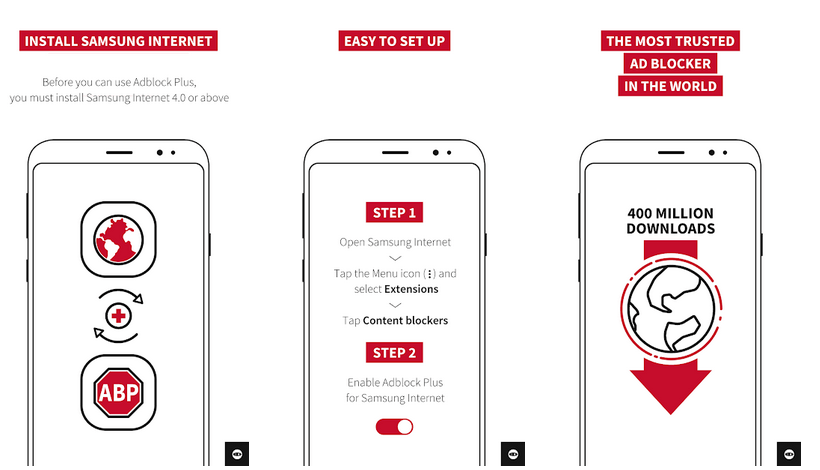 AdLock is a relatively new ad blocker that has already shown itself as a reliable tool in the fight against annoying and malware advertising, phishing websites, and all kinds of tracking. It is light and energy-saving, which, to be honest, is quite important for all Android users so that your phone lasts longer on a single charge.
AdLock has an inbuilt customizable firewall that saves tons of megabytes of unwanted mobile traffic generated by advertisements. That special feature adds the possibility to block ads on websites using an HTTPS secure connection (Google, Reddit, Facebook).
Works on all Android devices without root.
A system-wide ad blocker that stops advertising in both browsers and apps.
Blocks all types of ads, including banner, autoplay, malware, and popup ads.
Works for free only for 14 days trial and then requires buying a year ($11) or lifetime ($27) license. They offer a 30-day money-back guarantee, though.
Best Ad Blocker Browsers for Android
The list of best ad blockers continues to the section here where we have reviewed and shortlisted some of the best ad blocker browsers for Android that work specifically on web browsers only and helps you in blocking ads while browsing websites.
#12. Adblock Browser for Android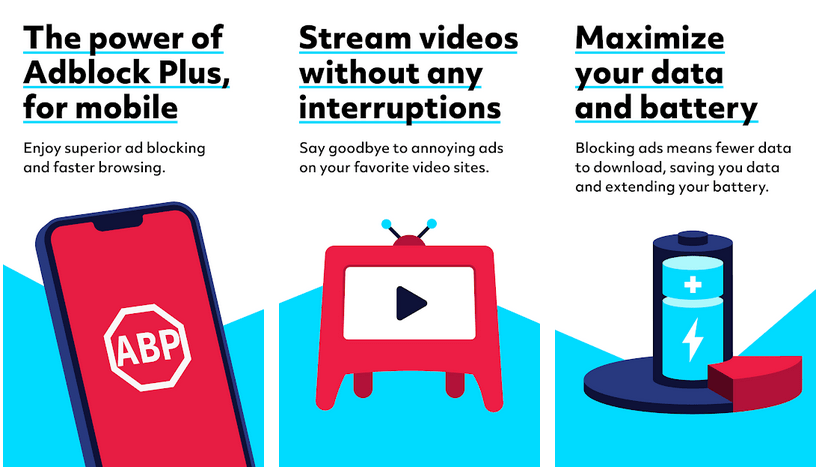 Adblock Browser for Android is a browser-based advertisement blocker and is powered by AdBlock Plus, making it one of the most reliable ad blocker apps for web browsing. This app will let you browse the web faster, safer, and in a secure manner while completely blocking those annoying advertisements.
Adblock Browser is customizable and gives you complete control over the mobile web browsing experience in terms of saving battery life and blocking all sorts of advertisements. It also acts as a security layer that helps protect your Android device from malware ads.
Browser with native support for advertisement-blocking functionality.
With enhanced privacy and security designed to protect your smartphone/tablet from malware.
Sometimes, the keyboard does not pop up.
When browsing websites with a lot of advertisements and scripts, the web browser becomes slow and unresponsive.
#13. Free Adblocker Browser by Rocketshield
This Free Adblocker Browser by Rocketshield, Inc. can make your web browsing on mobile devices a lot more simple and easier by blocking banner ads and video ads while ultimately enhancing your Internet surfing experience with a feature-rich web browser.
Keeps your web browsing experience safe and secure by warning you about malware and adware advertisements that can steal your personal data. Moreover, blocking ads also saves a significant amount of battery life.
Powerful enough to block all types of pop-up advertisements.
Blocking ads saves a significant amount of bandwidth.
Functionalities of some websites get broken due to adblocking.
#14. Adguard Content Blocker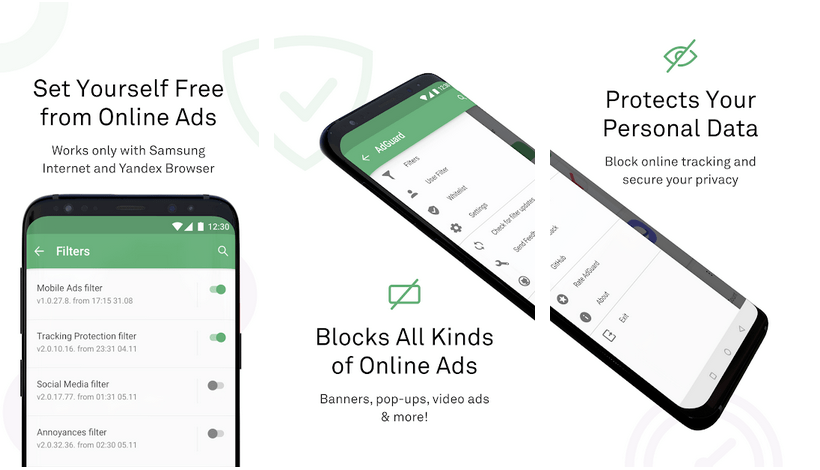 Adguard Content Blocker is a free and open-source ad blocker for Android phones and tablet devices. This ad blocker does not require you to have root access on your Android device to block ads and tracking sites. However, one important aspect you should keep in mind about this app is that it will only work in two browsers, i.e. Samsung Internet Browser and Yandex Browser.
The Adguard content blocker app comes with some native customizability options, which means the app allows you to create your very own ad filtration rules, including blacklisting and whitelisting sites. The best thing about this app is that it receives frequent updates from the developer to make sure everything is working perfectly fine.
Readymade filtration rules to block ads and tracking sites.
Does not require root access.
Lightweight and does not affect page loading speed.
Only works in Yandex and Samsung Internet browsers.
Can't block advertisements in any other app installed on your device.
#15. Brave Privacy Browser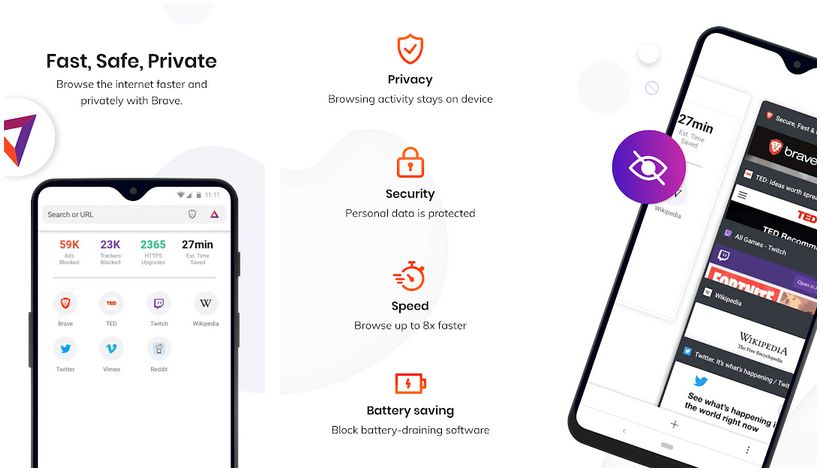 Brave Browser is designed for speed, efficiency, and effective ads blocking along with the protection of your data from trackers by enforcing HTTPS requests and giving more control over the cookies. And blocking ads and tracking websites reduces battery usage and enhances the overall performance of your device.
Block and unblock ads on any web page with just one tap.
Protects your privacy with a private browsing feature that lets you browse websites anonymously.
May not be able to block all types of ads from all the websites.
#16. Adblock Plus for Samsung Internet Browser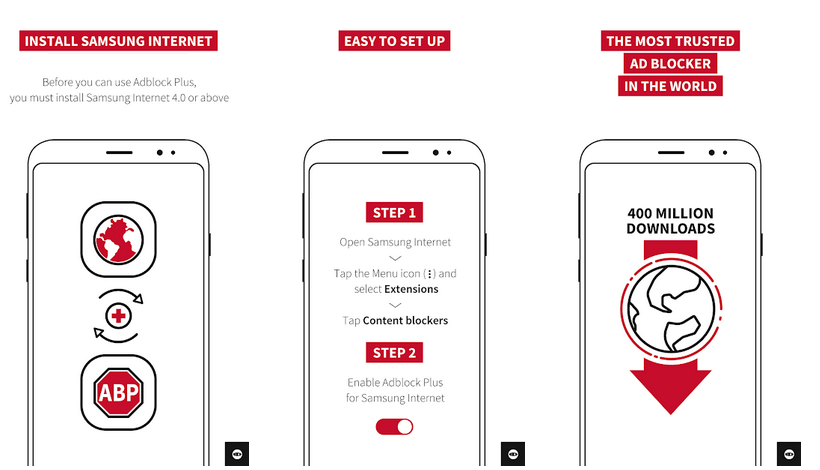 If you are using a Samsung phone/tablet and running Samsung Internet Browser, then this ad blocker app by AdBlock Plus is going to be your favorite now. This app will completely enhance your browsing experience, saves your bandwidth data, and improves battery life by blocking all types of annoying advertisements and tracking websites.
To be able to block ads and make Adblock Plus work properly, you are required to have Samsung Internet 4.0 or the latest installed on your Android device.
Complete control over blocked advertisements.
Work flawlessly on non-rooted Samsung devices.
Designed for Samsung devices installed with the Samsung Internet 4.0 web browser or the latest.
#17. Firefox Focus: The Privacy Browser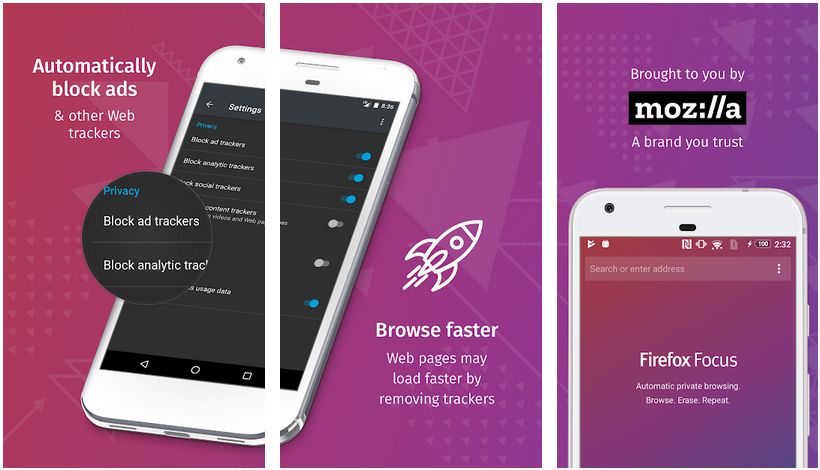 As the name of the app itself suggests, it is a private web browser designed and developed by a trustworthy brand, i.e. Mozilla for Android phone and tablet devices. Firefox Focus comes with a built-in feature to automatically block ads as well as other trackers used by websites, which in turn improves the overall web browsing speed.
It can easily help you remove track of websites you have visited, any passwords that you have entered, or cookies that are generated because you visited some site. This plays an important role in getting rid of tracking ads.
Automatically blocks common web trackers out of the box and does not require any special configuration.
Removes all the history and browsing records, including cookies, trackers, and passwords.
Sometimes latest update causes issues with ad blocking.
The browser crashes on some Android devices when using multiple tabs.
#18. Bromite Chrome Ad Blocker
Bromite is a Chromium-based ad blocker with enhanced privacy, all of which is included within a web browser. The key aim of the developers behind this web browser is to give its users a clutter-free web browsing experience without invading privacy. It also features an ad-blocking engine to block intrusive advertisements.
Bromite is available for Android 4.4 KitKat and the latest Android OS. As it is open source and receives frequent updates from the developer to make sure it is bug-free, has no compatibility issues, and continues to block advertisements.
Built-in ad block system that allows you to use filters from ad-blocking plugins like EasyPrivacy, uBlock Origin, and a few others.
Always on an incognito mode for enhanced privacy.
Not available on the Google Play Store and needs to be sideloaded for installation.
BONUS: Best Ad Detectors for Android
This is a bonus section where we have shortlisted the best ad detectors for Android phones and tablet devices. These apps are not meant to block ads on Android, but these can surely help you in finding out exactly which app is showing you unwanted ads on Android out of nowhere.
Let's suppose you have roughly about 30 apps installed on your phone and one of the apps is showing you a full-screen popup advertisement or ads in the notification area. Now it's hard to figure out which app is the malware and how to stop these ads.
The best way is to install an ad detector and let it run in the background, and it will automatically detect and let you know which one is adware. This way, you won't have to perform a factory reset on your phone.
#19. AppBrain Ad Detector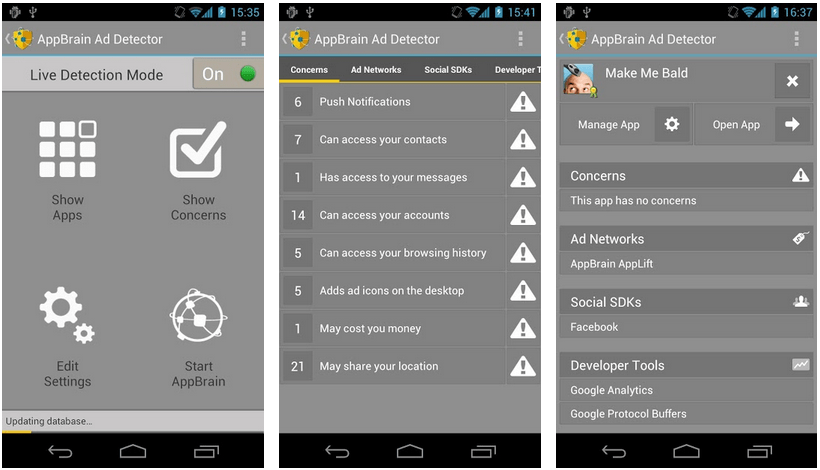 AppBrain Ad Detector is designed with the aim to help you find the apps that are showing ads without sharing with you the app name. So in case you see unusual advertisements on your phone in areas like the notification section, unwanted icons on the home screen, or random bookmarks, this app can help you reach the root cause and find exactly which app is showing you those ads.
That is not all. Apart from detecting ads, there is a section for Concerns where the AppBrain ad detector will show you exactly what permissions any app is asking for and why it is being asked. You can then look into the app and see if the app really needs those permissions, or it could be adware or malware trying to steal your data and information.
Find and detect which app is showing push notification ads and spam.
See which app has access to what permission and when and why those apps are asking for specific permission.
It is not designed to block ads.
The app may not be compatible with the latest Android operating system as it receives less frequent updates.
#20. Popup Ad Detector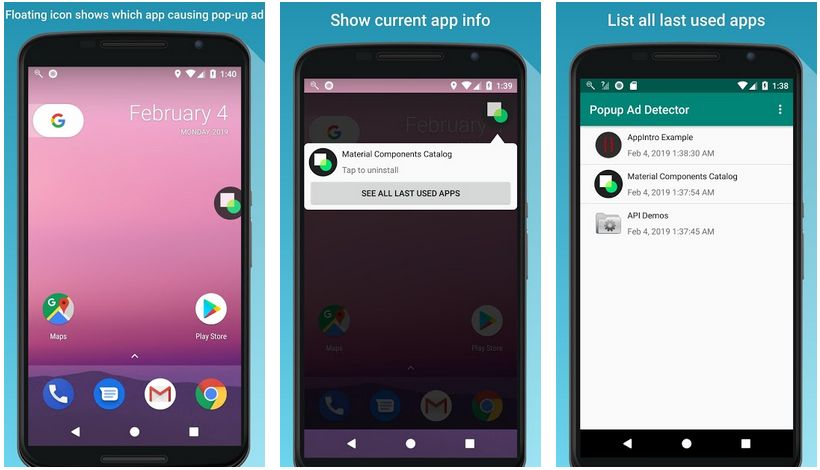 As the name of the app suggests, Popup Ad Detector is designed to help you with finding which app that is installed on your Android device is showing you popup advertisements. Not only that, it can detect full-screen ads that appear out of nowhere on the home screen, lock screen, and notification bar.
Popup Ad Detector is a very simple and easy-to-use app that keeps running in the background and shows a floating icon over the screen that tracks and indicates which app showed you the advertisement so that you can uninstall it.
Helps to find which app is showing you the popup ads and Airpush ads, whether it is on the home screen, lock screen, or notification area.
The app is frequently updated to make sure it can detect ads without bugs and remains stable.
The app will not block advertisements.
Requires permission for displaying over the apps as well as accessibility access.
#21. Goclean Ad Detector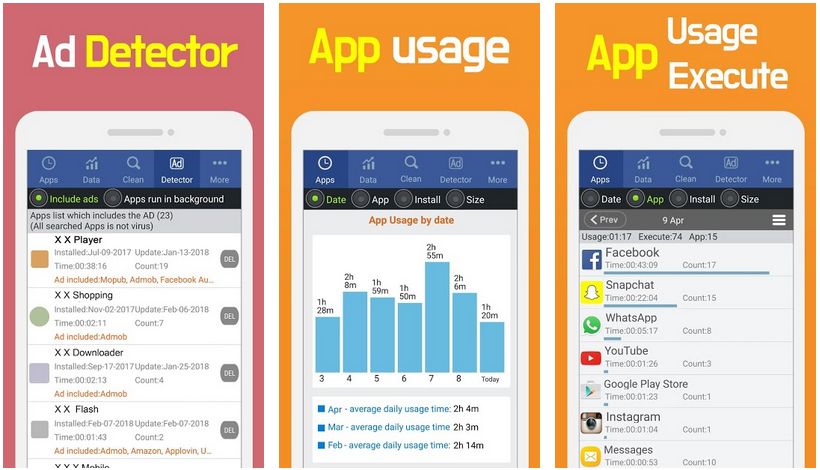 Goclean is a feature-rich ad detector that not only detects ads but also comes bundled with tons of valuable features to help improve the usability and performance of your Android phone and tablet devices. Those added features include app usage monitor, data usage management, battery saving, and files finder, and show you which app is asking for excessive permissions.
The Goclean ad detector can help you with scanning and finding apps that are showing banner ads, air push ads, notification bar ads, and full-screen timed ads. It will then suggest you either block Internet access to those apps or completely uninstall them from your device.
Takes no more than a few minutes to detect and find which app is showing popup ads and Airpush adverts.
Comes with added features to improve the usability and performance of your device.
Not much user-friendly and has a bit steep learning curve for beginners who are just looking to find which app is showing unwanted ads.
Don't have the ability to block ads and can only help in finding abnormal advertisements.
#22. WebGuard Ad Detector and Ad Blocker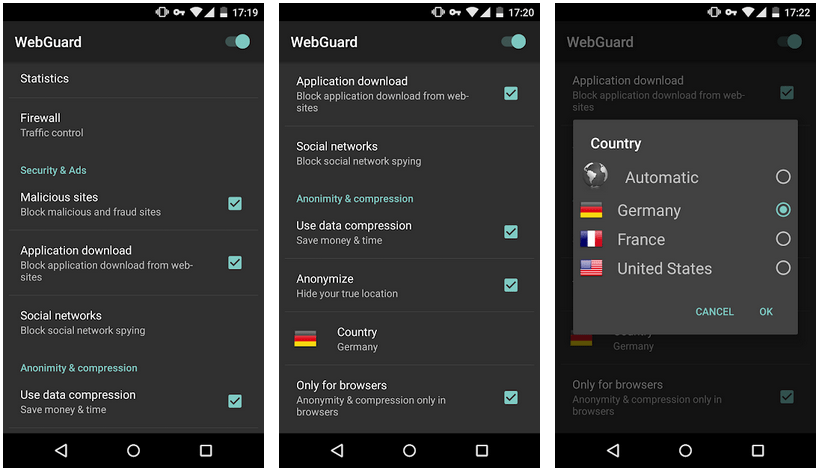 The app WebGuard isn't only an ad detector, but it is also a very powerful and premium ad blocker that uses a local VPN service to monitor Internet traffic, track any vulnerability, and manage to block all types of adverts including popups, banners, trackers, and intrusive ads.
WebGuard is not a free app and requires you to have an active subscription so that you can enjoy all the services and features offered by the app. There is a trial period, though, during which you can test and get yourself familiarized with all the features.
Does not require you to have root access on your Android device.
Uses local VPN service to monitor, track, and block malicious and harmful ads.
Protects against cracking and surveillance trackers and makes sure to keep your information hidden.
You need to have an active subscription to enjoy all the features and services offered by the app.
Aggressive ad blocking might interfere with the usability of the websites you are trying to browse.
Tips For Using Ad Blockers
Consider using an ad blocker. There are heaps out there like AdBlock Plus, uBlock Origin, and AdGuard. They're designed for various browsers and gadgets.
Got random notifications pop up? Go to your browser settings, find the "Permissions" section, then "Notifications." Now you can switch off those pesky notifications from unknown sites.
Report those irritating ads. If any ad annoys the hell out of you, don't just ignore it – report it to the ad network. That way, you can save others from stumbling upon it.
Want some privacy? Use a private browsing mode. This keeps your history and cookies hidden, stopping ads from tracking you.
Keep your software fresh! Older software can be an open door for malware, which can spam you with unwanted ads. Always remember to update.
Be picky about your clicks. If an ad feels sketchy, avoid it. Better safe than sorry about possible phishing attempts which can rob your personal info.
Use a security suite for an overall shield. This can stop malware and other threats that throw undesirable ads your way.
Frequently Asked Questions
Here are some of the most frequently asked questions by Android users about ad blockers that we usually come across. We decided to create a dedicated section where we answer all those FAQs so that you won't have to ask us repeatedly, which saves our time, and we can direct you to the working solution within a matter of minutes.
How do I stop ads from popping up on my Android?
There are moments when we see unexpected ads on the lock screen or home screen while we are working on something else. The ad suddenly pops up out of nowhere.
The best way to deal with these types of popup ads and air push ads in the notification area is to install an ad detector. We have a list of the best ad detectors in the previous section of this blog post, where we have reviewed four ad detectors that can help you find the origination of popup ads.
Once you have found which app is showing those annoying ads, then you will have two options, you can uninstall that unwanted ad-serving app or block Internet access to that app using a firewall. This will help you stop ads from popping up on Android.
Is there any ad blocker for Android?
Yes, there are many. Some are browser-based ad blockers, and some are system-wide ad blockers. Out of the two, which option to choose completely depends on your usage and the way you are looking to block ads on your Android device.
Browser-based ad blockers only work on web browsers by integrating themselves with the browser that is already installed on your Android and blocking ads that are shown on the websites you are browsing.
Whereas, system-wide ad blockers are more powerful and can block advertisements shown on apps and games you are running on your Android. It can block air push ads, malicious banner ads, notification bar ads, harmful lock screen ads, intrusive pop-up ads, adware, and whatnot.
Which is the best ad blocker?
According to our tests and manual reviews of the best ad blocker apps that we tried and tested while writing this blog post, we will recommend AdAway ad blocker as it has a blacklist and whitelist feature and can help you control which ads you want to see and which ad to block. It gives you much greater control over the ad blocking. Since it edits the host's file for ad-blocking so it requires root access.
If you have a non-rooted Android device, then we will suggest you go ahead and install Adguard for Android as it comes in both variants, i.e. Adguard Content Blocker for web browsers and Adguard for Android which is a system-wide adblocker.
Is Adblock Plus safe to use for Android?
Yes, Adblock Plus is safe to use for Android, but because it uses proxy servers to bypass all the traffic and block ads, so many suggest staying away from it, and some find it unsafe. It doesn't require root, and it is one of the best solutions to block advertisements on your whole device.
Conclusion
That is it. Whether you are looking for a system-wide ad blocker or a simple browser-based ads blocker or maybe just looking for apps that can help track down those intrusive full-screen popup ads, you can easily rely on these best ad blockers for Android, subject to your requirements and compatibility with your phone/tablet devices.
Which one of the ad blockers did you like? Do you have any favorite Android ad blockers that you use very frequently? Please let us know in the comments down below. We would love to hear about it! 🙂
If you ask for my suggestions, I will recommend you to go for AdAway, but if you are running a non-rooted Android device, then Adguard should work really well.
If this article helped you in finding the best ad blocker for your Android phone, then please don't forget to share it with your friends and help them get rid of intrusive and annoying advertisements 🙂