I recently acquired the Vantrue Element 3 Dash Camera for my vehicle and I have to say, it's been an excellent addition. It's got a great range of features, from high-quality images to integrated rear and interior cameras, this system is very impressive. I found the unboxing to be quite impressive too – the packaging was professional and well-designed and it included all the items necessary for installation.
You can check it out on Amazon here.
Installation is Easy But Takes Some Time
The instructions were easy to understand, though the installation process was a bit tedious, mostly due to the efforts needed to hide the power cords, if you're not comfortable doing that kind of work, it might be wise to hire someone. That being said, the length of the power cords was adequate for most vehicles.
The setup was easy to follow and didn't take too long. All the camera's features and preferences were explained thoroughly and very easy to find. I especially like how intuitively the camera operates – the control buttons are well-marked and the indicators make it very easy to use. There are also lots of voice commands which add to the convenience. Connecting your phone to the WI-FI gives you many additional features like track mapping and controlling the device through the app.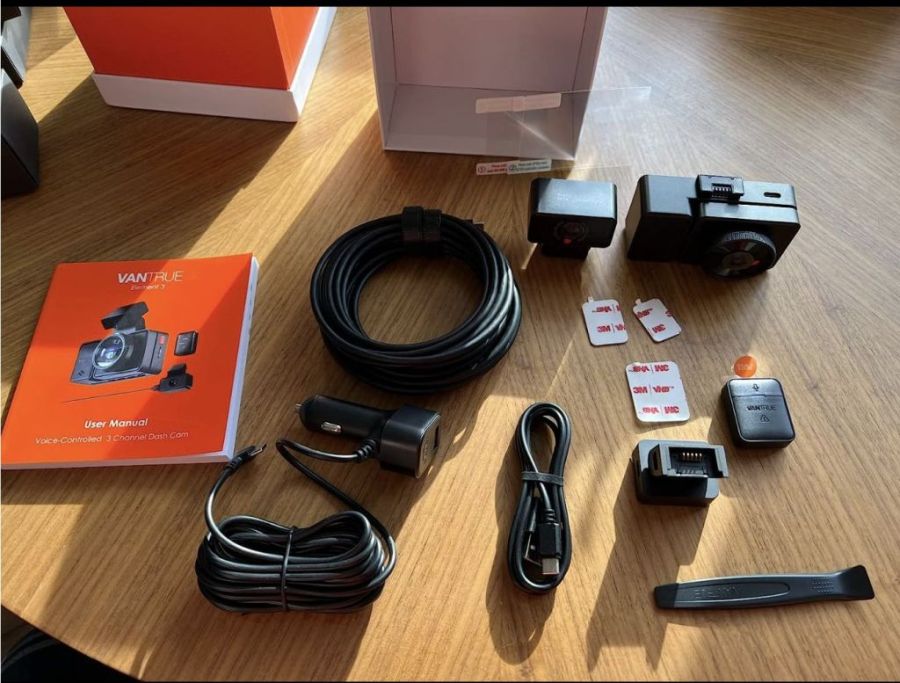 Look & Feel
The VANTRUE Element 3 dashcam is a fantastic product. The IPS screen is lovely to look at and the control buttons feel great under the finger. It mounted well and was able to fit into almost any windshield with ease. The 11.4ft power cord and data cable are really nice additions, making it easy to power and view the dashcam away from its mounting location. With the Type-C charging, it's possible to use a longer cable, if needed. The magnetic mount allows you to easily remove and put back the dashcam – Love this convenience feature.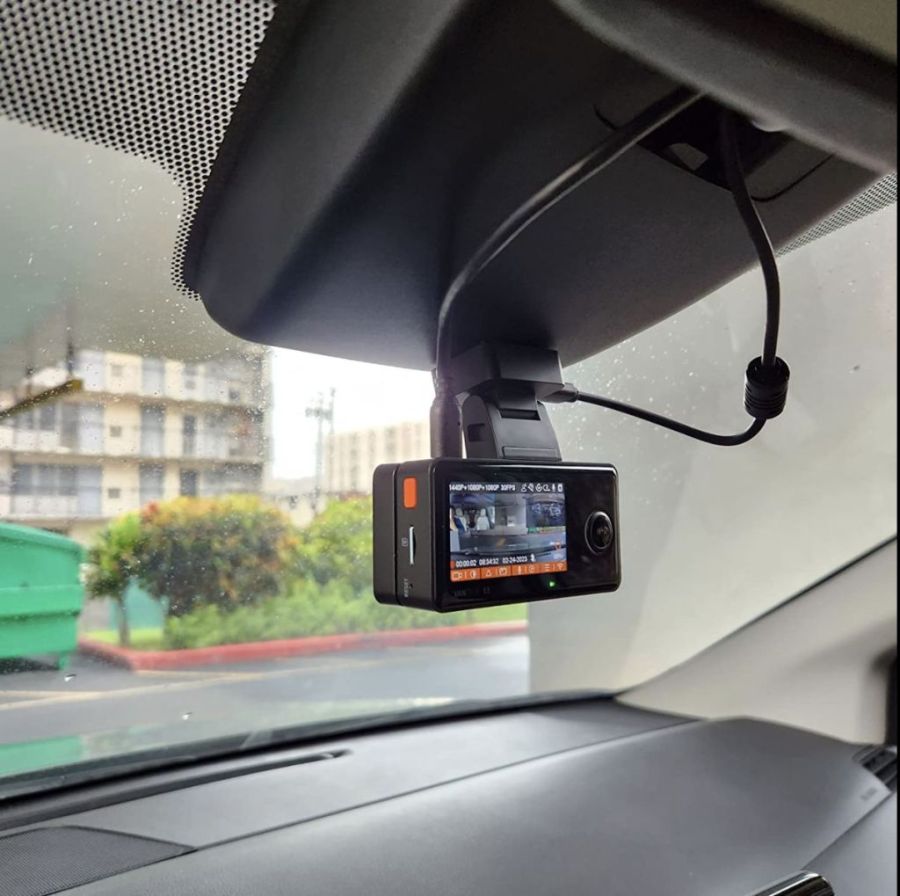 Features
The main camera is equipped with a powerful Sony Starvis IMX335 500M sensor, providing clear visuals with a wide dynamic range. The front and rear cameras also offer a 160° field of view. A bonus addition is the cabin camera, which is perfect for night vision or low-light conditions. It is equipped with four infrared LED lights and captures in black and white, while its 165° field of view allows both passengers to be captured at once, even when mounted on the passenger side. All these features combined make this a must-have dash cam for your car.
The main camera has 4 distinct buttons that each serve a different purpose. However, the best part of this camera is definitely the voice control feature! It works incredibly smoothly! Not to mention how convenient it is to be able to attach the remote control to your dashboard and save videos with one touch – an absolutely incredible feature!
This dash cam is a great choice with an impressive list of features. It can save video up to 1944P+1080P+1080P with 30FPS and has the capacity to store up to 40 hours of recordings with a 512GB max capacity.
In addition to its standard features, this dash cam also boasts two bonus features – an emergency lock option as well as a time-lapse setting, which makes it easy to save memory on the card.
Perhaps the most helpful feature of all is the 24/7 Parking Guard with Low-light Night Vision, which is an excellent safeguard for your car while it is parked.
Video Quality
This dashcam impresses me in terms of video quality and performance. The 1440p front camera delivers good detail, color, and motion compensation, especially impressive at night. I also like the exterior camera's default exposure setting; helps with sharp images.
The rear camera captures are also more than passable. On the whole, the Element 3 looks to be a reliable and effective dashboard camera, with excellent daytime and night-time imaging.
My Review
Video quality: The Vantrue Element 3 records in 2.5K resolution on the front camera and 1080p resolution on the rear and interior cameras. The video quality is excellent in both day and night conditions. The front camera has a slightly overzealous default exposure setting, which can result in some washed-out colors in bright sunlight. However, this can be easily fixed by adjusting the exposure settings in the camera's menu.
Night vision: The Vantrue Element 3 has excellent night vision. The rear camera has a built-in infrared illuminator that allows it to record clear video in low-light conditions. The front camera also has good night vision, but it does not have a built-in infrared illuminator. This means that the front camera will not be able to record as clear video in very dark conditions as the rear camera.
Parking mode: The Vantrue Element 3 has 24/7 parking mode with motion detection. This means that the camera will continue to record even when your car is turned off. If the camera detects motion, it will save a short video clip. This can be useful for recording incidents that happen while your car is parked, such as hit-and-runs.
Voice control: The Vantrue Element 3 has voice control for basic functions, such as recording, taking a picture, and turning on parking mode. This can be useful if you do not want to take your hands off the wheel to interact with the camera. However, not all voice commands are supported. For example, you cannot use voice commands to change the camera settings.
App support: The Vantrue Element 3 has a free app for viewing and downloading videos. The app is easy to use and allows you to view videos, take screenshots, and download videos to your phone or computer. However, the app can be slow to load, especially if you have a large number of videos stored on the camera.
Price: The Vantrue Element 3 is an affordable dash cam for the features it offers. It is a great option for budget-minded drivers who are looking for a three-channel dashcam with excellent video quality and night vision.
Final Verdict
This Triple Dashcam from Vantrue is an excellent choice for drivers who want comprehensive protection from traffic disputes and fraud. It packs plenty of features for the driver, making it a great companion for your daily commute.
The only downside some people may find is the green LED from the rear camera, which is quite visible from the driver's seat. Though, it can be tucked away with some tape! Also, the pricing is on a bit higher end. In my personal opinion, the VANTRUE Element 3 is an awesome dashcam and worth buying.