In the past couple of years, the smartphone has become something very important in our daily routine life than a communication device. With the rise and demand for smartphones in the market, the cases of devices being lost and theft are also increasing. This article will guide you about how you can find the IMEI number of stolen/lost Android devices.
Each mobile device has its unique IMEI (International Mobile Equipment Identity) number. This identification number is used by all GSM networks to identify the validity of devices and it can also be used to blacklist a stolen smartphone to ban its operation on all GSM networks, which is really helpful.
This means you can call your cellular network provider and ask to blacklist your stolen Android device. But for that you will need to have IMEI number so here are the two best way to retrieve the IMEI number of stolen/lost Android device:
#1. Find IMEI using Google Account
You can remotely retrieve the IMEI number of any lost or stolen Android phone/tablet device using your Google account, which is directly linked to the Find My Device service.
It is necessary for Android users to sign in using Google/Gmail account. This way all the allowed mobile information gets automatically synced with your Google account. This is exactly how cloud backup works and it stores your contacts, settings, app data, and also your smartphone information like IMEI.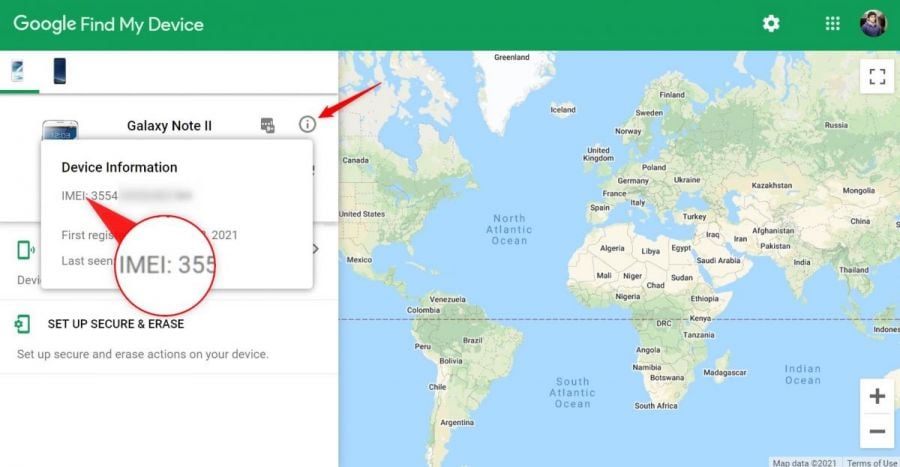 Now, to retrieve IMEI details using Google account, you need to follow these steps:
Visit the Find My Phone page.
Sign in to the Google account that was being used on that device. And you will be redirected to the Find My Phone page.
You will see all of your devices that are linked to this current account.
Right next to the device name, you will see information icon.
Tap that icon and a popup will appear where you can find the IMEI number as well as the last seen details of your device.
That is how easy it is to retrieve the IMEI number of your lost or stolen Android device. And this method should work even if your device has been reset after it was lost.
#2. Bonus Tips to Find the IMEI Number
Here are a handful of bonus tips that may help you find the IMEI number of your lost/stolen Android device. However, keep in mind that these tricks depend on availability.
Check your Android device's purchase receipt or bill. IMEI number is written there for warranty purposes.
Look at your phone/tablet box, the IMEI number is present there as well.
IMEI number is written on the backside of your device. And if your phone has a removable battery then you can find it underneath the battery.
By dialing *06# on your device's dial pad (this is only possible if you did that before your phone was lost and you recorded it somewhere safe).
On the majority of Android devices, the IMEI number is found on the Android's About Device page, which is located in the Settings menu.
Please provide your feedback in the comments section below and let us know whether you were able to find the IMEI number of your Android phone or tablet. If you know about any other method then share with us in the comments. 🙂