A step-by-step guide to help you find and disable Google weather alerts or notifications cards on Android that are usually sent automatically by Google mobile app (the app that comes preinstalled on most Android devices).
Google mobile app is actually a search app by Google, which not only shows you all the relevant news (according to your interest) through Google Discover but also gives you other alerts including weather alert notifications, sports, reminders, unpaid bills, and whatnot.
Weather alert cards are enabled by default on the Google app and we can understand not everyone needs these notifications on a daily basis (especially those living in tropical areas) because the weather remains constant throughout the year.
Or, possibly, you are using a third-party weather app and no longer want Google (formerly, Google Now cards) to send you unwanted notifications telling you that the weather is going to be clear and sunny. Again.
Google has several innovative small features to make its users more comfortable while using smart devices. And thanks to their mobile app, we all get weather updates regularly on our Android smartphones based on our current region.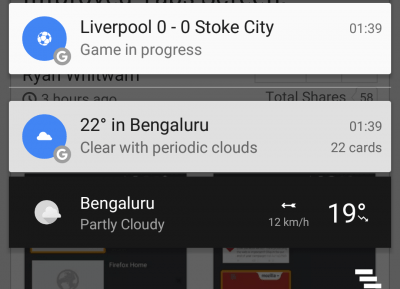 When we actually look at the Google weather alerts feature, it only seems helpful for those who need it. But not everyone is the same and not living in the same weather conditions, and not everyone wants to receive these frequent weather alerts in the form of notification.
In case you haven't noticed yet, this feature comes preinstalled with your Android smartphone alongside Google Play services. And live weather updates are a part of the Google app, which is enabled by default for everyone, whether you like it or not.
Regardless, it is an excellent feature for those who are very curious about the weather conditions and are in a region where frequent weather changes are common. But the story is different for others who are living in the areas where the weather remains stable for at least a month or so.
If you are one of those who want to stop receiving weather alerts by the Google mobile app (Google Now cards), we have a solution for you. We have an easy-to-follow guide using which you can manually disable this feature and get rid of the weather update notifications.
Why am I getting weather notifications on Android?
As we have already mentioned at the beginning of this blog post, every Android device comes installed with a Google mobile app, which apparently is a part of the system app and cannot be uninstalled or removed.
The same app generates the Google weather notification card that randomly appears in your Android notifications area. That is not all. There are chances that you are already receiving alerts and cards for sports updates, important news updates, calendar events, movie updates, and a bunch of other alerts.
You can check out the above screenshot to find out which Google app notification modules are enabled by default.
In a nutshell, the Google app uses your interests and recent search as well as your geolocation to show weather information, news alerts, and promotional notifications. And this is the reason why you are receiving all those annoying alerts in your notification panel.
Now, it's time to turn that off.
How to Turn Off Weather Notifications Card in Google App
The steps are really simple for killing the weather alerts from the Google app in Android. The step-by-step guide is below:
NOTE: If you are using the latest version of the Google app and Google Play Services, then it is going to be straightforward.
Find and open the Google app, and it must be located either on your home screen or in the app drawer.
There you will see a Google search bar along with Google Discover filled with interest-based news and information about weather, news, sports, movie, and entertainment. Tap on the More button at the bottom bar containing various options.
Now you will see a window with some other options to customize your experience. Find the Settings option and tap it to open the Google app settings.
As you can see in the screenshot below, there should be another set of menu items. Find and tap on the Notifications menu.

Here you will see all the enabled Google notifications.
To turn off weather notifications only, scroll down and uncheck the following options from the list:

Current weather conditions,
Weather alerts for big changes, and
Daily weather forecasts.

If you want, you can completely turn off all notifications from Google mobile app at once by toggling off the Show notifications option.
Similarly, you can also turn off other unwanted notifications.
That's all about disabling the weather updates from Google on your Android device.
Moreover, you can do a few more things while you are on this same settings page. You can go to the advanced settings option and adjust your notification preferences for each set of a module like custom notification sound or enable/disable vibration alerts.
How to turn off all notifications from Google mobile app
If you have already tried the above steps, but you are still receiving weather updates from Google mobile app, then you may want to know more about disabling all alerts from Google.
It has been noticed that on some devices, the modifications we have done above might be overwritten automatically, and you continue to receive those unwanted alerts in your notification area.
If you are experiencing similar issues, then the following step-by-step guide is going to be helpful for you. In addition to that, this will also let you disable all alerts from Google mobile app forever, regardless of your preferences in other apps and settings.
When you receive a notification from Google, tap and hold on to that notification in your notification panel.
That notification will expand with some options, and you can directly block the notification by toggling off at that menu.
However, if you want to disable all notifications and adjust your preferences, then tap and hold on the same notification and tap on the Manage Notifications option.
Here you can disable the notifications completely or set your custom preference for the different Google app notifications.
Bonus tip
You can use the same method to customize notifications for all installed applications on your phone.
Final Words
Apart from disabling all the notifications from Google mobile app and completely stopping Google cards from appearing, we strongly recommend you to turn on the Weather alerts for big changes option to continue receiving high priority disaster alerts and natural calamity alerts promptly.
Unbelievably, this feature has saved many people from running away from places that had experienced severe flooding and hurricanes. Considering that point, you should keep that single option turned on for your own safety.
That is all about how to disable Google weather notifications from the Google mobile app on Android. You can change your settings anytime according to your preference. Try all the steps now, and check if it works.
In case you continue to experience issues, then feel free to let us know in our comment section for further assistance. 🙂