Are you trying to find and follow someone's profile on Instagram but all you have is their phone number? Don't worry here we are going to show you a hidden discovery feature to find Instagram account by phone number.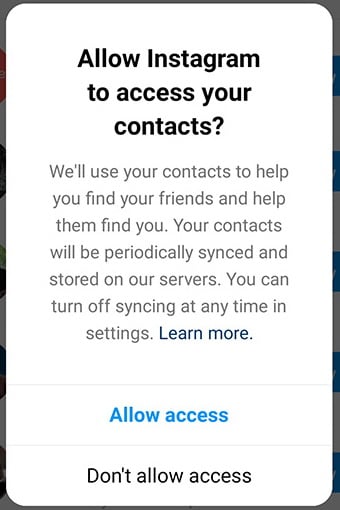 Due to privacy, Instagram does not support search using a phone number (which you must have tried already) and according to Instagram's terms of use, you are allowed to find and connect with anyone by searching his or her profile name or the exact username.
However, the trick is, if you allow Instagram to access and store your contacts on their servers then it will automatically show you the suggestions and help you find people from your contacts to follow. The key here is to save their number in your contacts first and then allow access to Instagram.
In case you don't know how exactly you can do that, we have prepared a short and easy-to-follow step-by-step guide you can follow to find and search for an Instagram user by phone number. Another way to find someone's Instagram account would be by using a public records lookup service like Information.com. All you have to do is enter their name and phone number, and the tool will show you all their social media profiles.
📝 Note: It's important to respect people's privacy and only use this method if you have a legitimate reason to find someone on Instagram using their phone number, such as reconnecting with an old friend or verifying someone's identity before engaging in business transactions online
Find and Search For Instagram Account Using the Phone Number
On your phone, make sure you have already added the phone number to the contacts of the person you want to find on Instagram. If not, then please do so.
Open the Instagram app and go to your profile by tapping on the option located at the bottom right corner.
Tap on the ☰ menu button, located at the top right corner, then tap on ⚙️ Settings.

Tap on the Account option.

Select Contacts syncing option.

You will find Connect contacts toggle switch, simply tap on it to enable it.

A popup will appear asking you to allow Instagram to access your contacts. Tap Allow to grant access to Instagram to sync all the phone numbers stored on your device.

Once the permission is granted, you will see a Contacts connected message.

Go back to your profile, and tap on the Discover People button located right next to the Edit Profile button (highlighted in the screenshot below).

This will pop open a Discover People bar. Tap on the See all option (as highlighted in the screenshot) to open the Discover people page.

You can now see all the suggestions for the people who have linked their accounts to the phone number. It is important to note here that Instagram will suggest people based on your following and contacts too, and you cannot distinguish between the suggestions.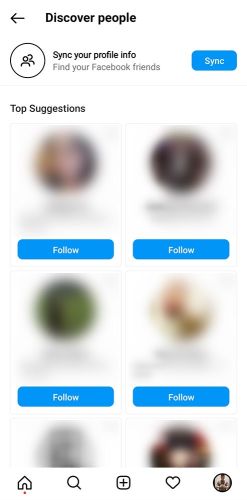 Have you ever wondered how you can find out who unfollowed you on Instagram? There are multiple apps and manual procedures to keep track of your list of followers.
According to Instagram, once you have connected your contacts with your account, other Instagram users who have your contact number saved on their device and have linked it to Instagram will also receive recommendations to follow you. Recommendations about friends are randomly sent as notifications on Instagram.

Do you want to secretly view your friend's Instagram story without letting them know? We have some tried and tested methods you can quickly follow right now to anonymously see stories. Also, if you want to hide your active online status on Instagram then simply follow this quick guide and your friends won't be able to tell when you were last online.
It's really easy to find anyone's profile on Instagram and it takes no more than a couple of taps, however, it is important you know their username because the same profile names can be used by a lot of accounts. But I hope connecting your contacts with Instagram will help you filter out accounts and help you find the one you are looking to follow using their contact number.
Tips To Find Someone on Instagram From Their Phone Number
Use the Instagram "Discover People" feature. This feature allows you to find people on Instagram who are connected to your phone contacts. To use it, open the Instagram app and go to your profile. Tap the three lines in the top right corner of the screen, then select "Discover People." If you have the person's phone number saved in your contacts, they will appear in the list of suggested people.
Check the person's social media profiles. If the person you're looking for has other social media profiles, such as Facebook or Twitter, they may have linked their Instagram account to those profiles. You can try searching for their name or username on those platforms to see if you can find a link to their Instagram account.
Make sure the phone number you have is correct. If the number is incorrect, you won't be able to find the person on Instagram.
The person you're looking for may not have their phone number linked to their Instagram account. In this case, you won't be able to find them using the methods above.
Be aware of privacy concerns. When you connect your phone contacts to Instagram, you're giving Instagram permission to access that information. If you're concerned about privacy, you may want to avoid using this feature.
Share your views in the comments below and let us know if you were able to use this hidden Instagram feature to find someone on Instagram from their number.