Our readers have been asking us how they can save someone's Instagram profile picture on mobile or desktop devices. We are here with the tutorial to help you download high-resolution full-size zoomable profile photos from Instagram.
If you have ever used Instagram then you must have noticed that the profile pictures are tiny and you are not allowed to zoom in or view an enlarged version of the photo, which makes it nearly impossible to download or save IG dp on the computer or mobile devices.
But not anymore, I have compiled a list of working online web-based tools that are compatible with Android, iOS, and PC and there is an Android-specific app too to help you get the profile picture. Even if that profile has blocked you on Instagram. Let's just quickly jump to the guide.
Save Instagram Profile Picture Through Website on Android, iPhone, and PC
If you are looking for a quick and easy way to download Instagram profile pictures then the online web-based tools I have reviewed in this section are going to help you out. You can save full-size Instagram display pictures in high quality within minutes and that too without any effort. All you need for this to work is the username (or profile URL) depending on which tool you are using.
#1. Instadp

Instadp allows you to save Instagram dp of any profile with just two clicks. Not only that, the site allows you to perform other tasks too i.e. downloading Instagram videos, photo posts, stories, and even reels.
This online tool seamlessly works on both, mobile as well as desktop, and lets you download the profile picture in HD quality.
#2. Instafinsta

Instafinsta is an all-in-one tool to search, find, and download all the media items from Instagram with just a tap of a button. You can download and store profile pictures, photos, videos, reels, stories, highlights, and other stuff.
Moreover, if the media you want to download is uploaded by a private Instagram profile then you can use the private downloader option to grab the photo URL through your Instagram and provide you with a download link.
#3. IGDownloader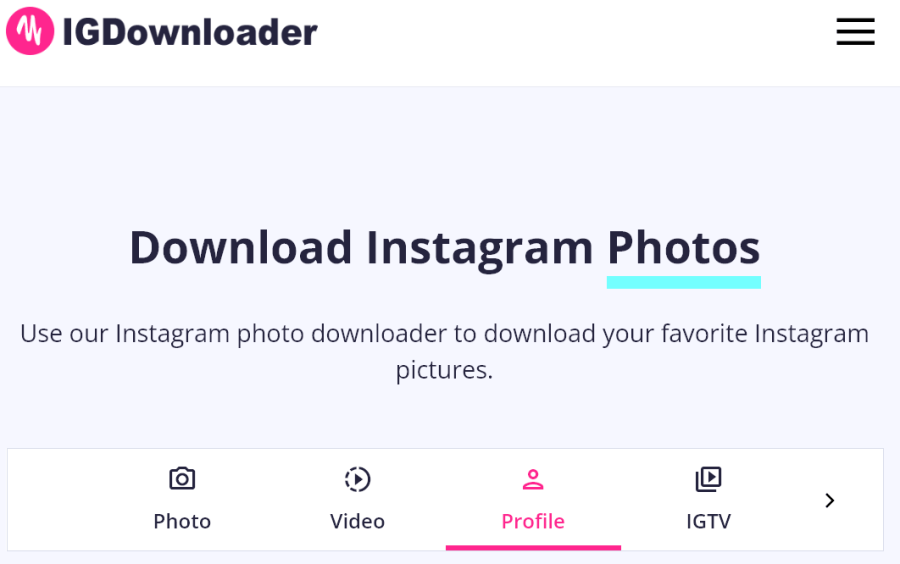 IGDownloader is another helpful online tool to easily download photos, videos, IGTV, avatar, and reels. The site has a tool for almost all the media downloading possibilities.
The files you are going to download through the tool will be in high quality and full resolution, all for free. All you need is the URL for the post you want to download.
Use Android App To Download Instagram Profile Picture
If you are not comfortable downloading Instagram dp through a web browser and you are in search of a more intuitive option then we have one of the best options for you i.e. a dedicated Android app to download full-size Instagram photos and profile pictures in high quality.
Profile Download for Instagram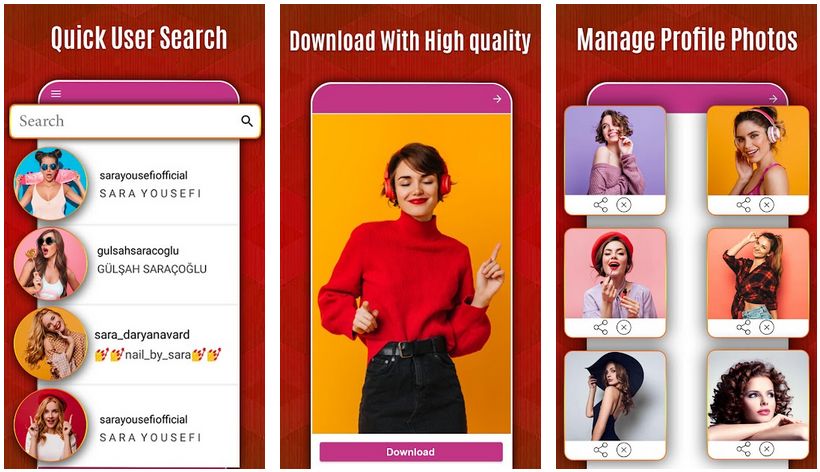 Profile picture downloading is not allowed by Instagram and you cannot even enlarge it regardless of what option you try. But with the Profile Download for the Instagram app, you can simply enter the username of the Instagram profile, and then you can save the picture directly to your phone in high quality.
The tool is so powerful that even if the profile is private you will be able to download the display picture on your Android phone.
Which tool did you use to download your Instagram profile picture?
Out of the four tools that I have included in the tutorial, which one worked the best to save high-resolution Instagram profile pictures directly on your device? Please share your experience in the comments section below. Your opinions and comments are our fuel. We read each one of them and love to respond too! 🙂