Asphalt 8 Airborne mod apk is available for download for Android. It is one of the most popular and action-filled exciting racing games for mobile devices, which has managed to become the favorite for many due to its stunning 3D graphics and huge collection of over three hundred cars and motorcycles. And after the recent update, the game works offline as well.
The mod version of this game offers you free shopping, unlimited money, unlimited credits, unlimited tokens, maximum stars, anti-ban, and infinite nitro, along with all the tracks and races unlocked.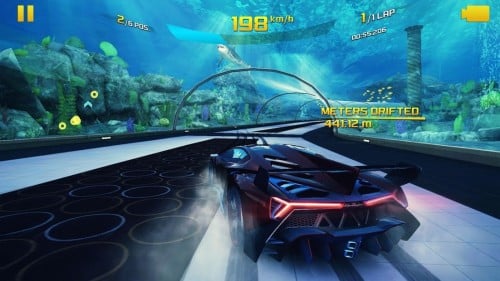 You can participate in events, seasons, and even live events if you are in career mode. The game offers you several game modes to choose from including regular races, drifting, drag racing, and limited-time cup races.
How to Install Asphalt 8 Mod and OBB Data on Android?
In this section, we are going to guide you with the procedure for how to download, install, and set up the Asphalt 8 mod apk along with OBB data files on your Android devices. A perfect guide that is even suitable for newbies.
DISCLAIMER: We at BestForAndroid are not responsible if Asphalt 8/Gameloft terminates or suspends your account due to the usage of mod. All information provided here is strictly for educational purposes, and we are not responsible for how you decide to use the information provided.
UPDATE: The newer version doesn't require you to download the OBB data file, all you need to download and install is the APK file and let the game download data from the Internet. However, to avoid getting your ID banned by Gameloft, you will need to turn off the Internet connection while playing the game.
If you have the original game already installed on your phone then first you need to uninstall it.
Download the modded apk version from the link given at the beginning of this page.
On your Android phone, you need to enable the option that allows the installation of apps from unknown sources.
Install the apk and enjoy unlimited money, free credits, and free shopping.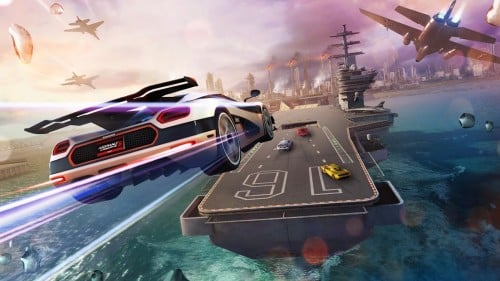 What's Modded?
Although a lot of mods are widely available on the internet however we are only going to discuss the mod we have uploaded here for our readers. Here are the feature and in-game items as well as multiple currencies that are modded in the latest version.
There are chances that some of the mods mentioned below may not work, depending on the server-side improvements and fixes by the game developers.
Unlimited Money, Credits, and Tokens – The moment your game launches after proper installation, the game will have unlimited money, unlimited credits, and unlimited tokens so that you can buy all the luxury cars that are available in the shop.
Cars and Bikes Unlocked – All 300 cars including bikes and luxurious sports cars are unlocked through the mod and available for you to purchase.
Personalize and Mod Cars – You can be more expressive by personalizing and modifying your cars as well as bikes using the mod shop where all the items are unlocked from the very beginning and can be bought using the in-game currency.
Race Tracks and Races – All the racetracks including the new and old ones are unlocked so you can freely go ahead and start racing at the racing track of your choice. You can perform almost any race and complete any content or competition you want, as all of the races are unlocked too.
Free Shopping – You can shop as much as you want and whatever you want from the in-game store including racing kits, body kits, cars, bikes, nitrous, wheels, rims, body paint, vinyl, decals, carbon fiber kits, and whatnot. All of the items are available for free.
Unlimited Nitrous Oxide – You will get unlimited nitrous oxide for all of your vehicles in which nitrous cylinders and kits are installed, without paying to get them refilled.
Booster Time Multiplier – Booster time for all of your races will be multiplied from the very first race so you can earn the maximum amount of boosters for all the levels and tracks that you are going to complete.
Anti-Ban Mode – In a single-player mode, the mod by default comes with an anti-ban system that protects your account from being banned due to the usage of mods.
Apart from the mods and modded features mentioned above, there are minor bug fixes and game enhancements in the mod to make your gaming experience more interesting than ever before.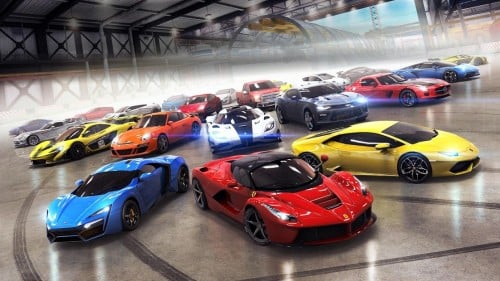 What's New In The Latest Version?
The most recent and the latest version of Asphalt 8 Airborne for Android adds multiple new features that completely revamped the gaming experience.
We have discussed those new additions here in this section:
Luxury Cars – More than ninety high-performance and luxurious cars are added to give the existing game a completely new dimension and the tracks feel a lot more interesting as the newer addition to the collection are high-speed cars with enhanced performance and very different handling than the existing ones.
Improved Audio Immersion – Cars now produce a lot more better and realistic sound as compared to the previous version where the sound effects generated by cars used to be similar to each other.
New Ramps For Enhanced Airborne – Developers have added more ramps into the tracks, and maps so that you can perform and experience more airborne and complete in-game challenges using the ramps, and perform 360-degree jumps. The game even lets you maneuver your car, which gives you additional stunt points while racing.
Exotic Locations – There has been an addition of more than twelve different exotic locations to add more interest into the game, which includes Dubai, San Diego Harbor, the Nevada Dessert, Venice, and Iceland just to name a few. These tracks can be easily accessed through the career mode and each track includes several shortcuts.
New Additional Features – A handful of new features are added too which include several hundred events that are spread over nine seasons, and an enhanced car and environmental damage system that is detailed to add the realistic effect, amazing visuals, and reflections for more real touch and gaming experience.
New Game Modes – Developers have introduced two game modes i.e. infected and drift gate. Infected is like a knockdown where you need to touch the opponent's car to infect them. Whereas the drift gate mode requires you to keep drifting your car while passing through the gates to earn maximum points.
Multiplayer Gaming – You can now play in a multiplayer mode that allows you to play with over twelve total players simultaneously for added fun and action.
Asynchronous Racing – Asynchronous racing unlocks the ability to openly dare your friends and invite them to race side by side using your favorite sports car and on your favorite track and see who performs the best.
Share Score Cards – You get the ability to share your scorecards on social media to show your friends all of your racing achievements and to prove that you are a pro racer.
Leaderboards – With the leaderboard, you can easily compare your score with that of your friends or other driver and players from all around the world and see where you rank among them.
Extreme Arcade-Style Racing – As the game has received a new set of exotic dream cars along with exceptional graphics, Asphalt 8 Airborne has become one of the go-to games for simulated racing enthusiasts.
Amazing Music Collection – Mix of fully licensed upbeat and heart-thumping music as well as an amazing collection of real tracks from the artists like The Crystal Method, Bloc Party, and Mutemath, which take the racing experience to a whole new level.
Dedicated Multiplayer Store – With the addition of multiplayer races, there has been an addition of a dedicated multiplayer store as well where you can now use your multiplayer badges, which you have earned by beating rivals, to unlock exclusive in-game items for your car and bikes.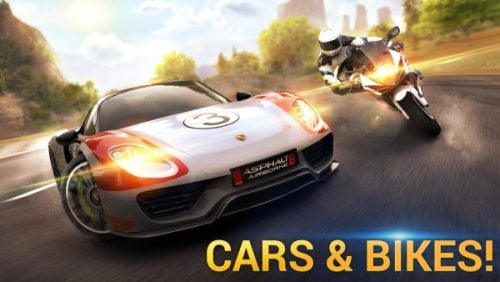 Key Features of Asphalt 8 Airborne Mod for Android
Asphalt 8 Airborne is one of the most feature-rich games for car racing enthusiasts ever developed by Gameloft as the game continues to add the latest in-game items, racing modes, luxurious cars, and tracks.
Let's dive into some of the key features of the game and find out exactly what makes it unique:
Licensed Cars and Bikes
With Airborne, you get access to hundreds of licensed luxurious cars and motorbikes, all of which are high-performing and ready to drive.
The high-end car model manufacturers include Bugatti, Lamborghini, Porsche, and some other top-of-the-line manufacturers who make supercars.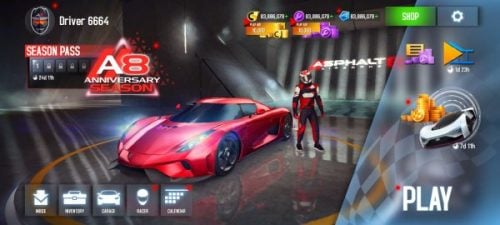 Personalize Your Sports Cars and Motorcycles
Become expressive by personalizing and decorating your high-end A-list vehicles and sports cars to make them unique and give a personal touch.
The modding and garage shop allows you to modify and personalize a lot of aspects of your car.
High-End Vehicle Collection
All of the high-end top vehicle collections can be used to drift in style as well as to explore the scenarios, new world, and even the latest racing tracks, about which you can find brief info below.
New World, Tracks, and Scenarios
With every update, developers behind Gameloft add a bunch of new worlds where you can find interesting tracks as well as scenarios where you can drift and race with your opponents.
Each track can be mirrored too. This provides added possibilities and you can discover faster routes too!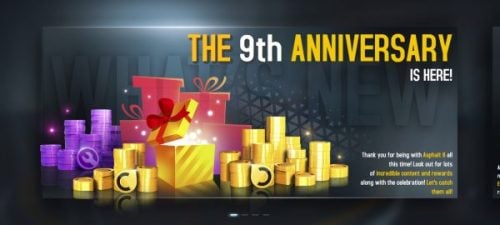 Hit the Ramps and Get Airborne
With the addition of new maps, racing tracks, and fresh asphalt, you get a better chance to hit those ramps and take your car for a fly, beyond the limits of physics.
You can even do the tricks like performing barrel rolls as well as 360-degree jumps or you can maneuver the vehicle while it's in the air to pull off additional stunts.
Whether you are in a sports car or a sports bike, these stunts can be performed and you will get bonus points for these.
Single Player and AI Modes
Whatever suits you, you can choose between single-player mode and AI mode, depending on your taste and mood.
Talking about AI, developers have made significant improvements to the AI and computer-based opponents to give it a realistic touch. Moreover, you can further customize the AI opponent from game settings.
Find Shortcuts and Fastest Routes
Get to the finish line faster than your opponents do just by finding shortcuts, which leads you to the end of the race faster than your rival, helping you break your personal records and you can easily make it to the leaderboard.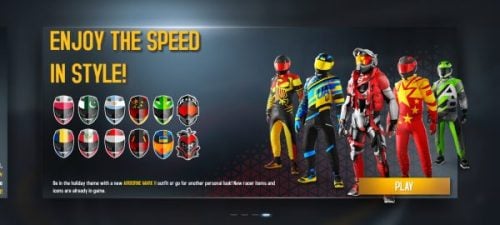 Customize On-Screen Game Controls
Since it is designed for touch-screen devices so you get the option to customize on-screen game controls.
Including the placement of brake, acceleration, and nitrous, whether you want the controls for left and right steering or want to steer using the gyro and accelerometer.
Fresh Content with Frequent Updates
Whether you are a new player or have already been playing the game for quite a while, the developers make sure to keep the Asphalt 8 Airborne updated with fresh content every once in a while.
Career Mode
If you like to play in the career mode then you will notice that new seasons, as well as live events, are added very frequently, this is where you are going to find lots of attractive challenges for both bikes and cars.
Seasons and Leagues
For a multiplayer setup, where you have to compete with a real opponent, some seasons and leagues allow you to race against your opponents and score the highest points to win the challenge and unlock special prizes.
All of this is available every season but it is time-limited so you need to complete those within the mentioned time.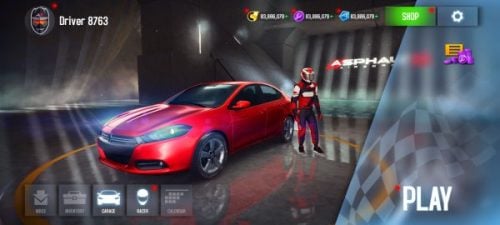 Android Device Requirements for Asphalt 8
If you are looking at the game in terms of the required storage space and how much it consumes. You will be pleased to know that Asphalt 8 is not a space-consuming game.
However, for the sake of those who are planning to run this game on their Android device whether it is new or old, here we have compiled a list where you can find all the minimum and recommended Android device requirements for the game.
Minimum Android Requirements:
The majority of the newer Android devices, including tablets and mobile phones, come with at least 3GB of RAM and more than 64GB of internal storage as the support for the external SD card is becoming obsolete.
So here are the minimum requirements to install and run Asphalt 8 on Android:
| | |
| --- | --- |
| Operating System | Android 4.4 KitKat or above. |
| RAM | 1.5 GB |
| Storage Space | Approximately 2 GB |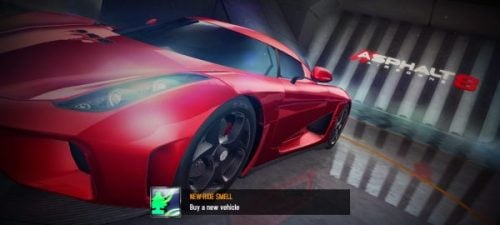 Recommended Android Requirements:
For the recommended Android requirements, we have created a tablet where you can find the requirements that will allow you to play the game on maximum graphics settings and the graphics or game will not lag even if you are performing stunts or using nitrous.
So here are the specs to make sure the game runs smoothly on your device:
| | |
| --- | --- |
| Operating System | Android 5.0 Lollipop or above. |
| RAM | 2 GB |
| Storage Space | At least 2.5 GB |
| CPU | 1.8 GHz Octa Core |
| GPU | Adreno 506 |
Although the game was originally released back in August 2013, to date, it has been one of the most popular games among racing game enthusiasts as it comes with five gaming modes, hundreds of cars and bikes, and new content every season.
About Asphalt 8 Airborne
Without any doubt, Asphalt 8 Airborne is one of the best racing games on Android that provides you with four different control options i.e. tap to steer, tilt to steer, tilt to steer along on-screen controls for acceleration & brake.
Moreover, the dynamic weather and upgraded maps, and physics are what give you one of the most realistic racing experiences on mobile devices.
In the Asphalt 8 apk, you will find about 190 high-performance cars and bikes with the ability to push each one of them beyond their limits.
You can upgrade and customize your vehicles using the huge collection of decals to stylize as you wish. Furthermore, the game has over forty high-speed tracks taken out of 16 exciting locations.
But to be able to enjoy all of those to their max, it is important to have tokens, credits, and money.
Not to forget that tracks and races need to be unlocked too, which requires you to play in a career mode and compete with the rivals while winning all of them to reach the next levels that will reward you with new tracks, cars, bikes, and tokens.
We know that all of that requires a lot of time and effort.
However, now with the help of the Asphalt 8 Airborne mod apk, you can gain access to all of those higher-level features with just a tap on the button.
You will be able to shop for free, and have an unlimited amount of in-game money including credits, tokens, and money.
The Asphalt 8 mod app's latest version will also let you multiply the booster time, take your profile to the max levels, and give you unlimited nitro so that you can win all the races.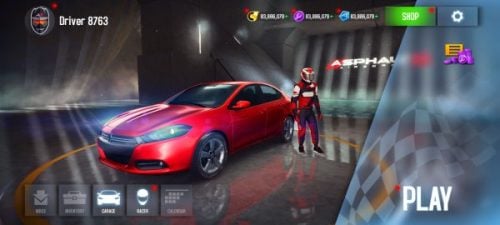 Frequently Asked Questions (FAQs)
Here is one of the most frequently asked questions related to the Asphalt 8 mod apk:
How to fix "Code: 500, Message: Asset Pack Download Error (-13)"?
The error "Code: 500, Message: Asset Pack Download Error (-13), The app is not owned by any user on this device. An app is owned if it has been acquired from Play." might appear.
Here is what you need to do:
1. Uninstall Asphalt 8 mod app from your phone.
2. Open Play Store and search for Asphalt 8 and tap on the "Install" button. Once it starts to install, simply cancel the installation.
3. You can now install the mod apk. The OBB data should download now.