Are you looking for the best offline Android games that do not require an active Internet connection and let you freely play without a WiFi or data connection? Here you will find the ten best games that can keep you glued to your phone.
Since we have access to the Internet on our mobile devices all the time, everywhere we go. This is the reason why most of the recent Android games require you to stay connected to the Internet for an uninterrupted gaming experience. But unfortunately, many of us can't stay online all the time.
For example, when you are on a road trip and want to save your phone's battery power but still want to keep yourself entertained with your favorite games, or when you are on a long flight and want your character to level up.
This is why our team decided to research and we made a list of the ten best offline Android games that work without an Internet connection. Not only that, but we added games having the potential to keep you entertained for hours. 😀
#1. Plants vs. Zombies 2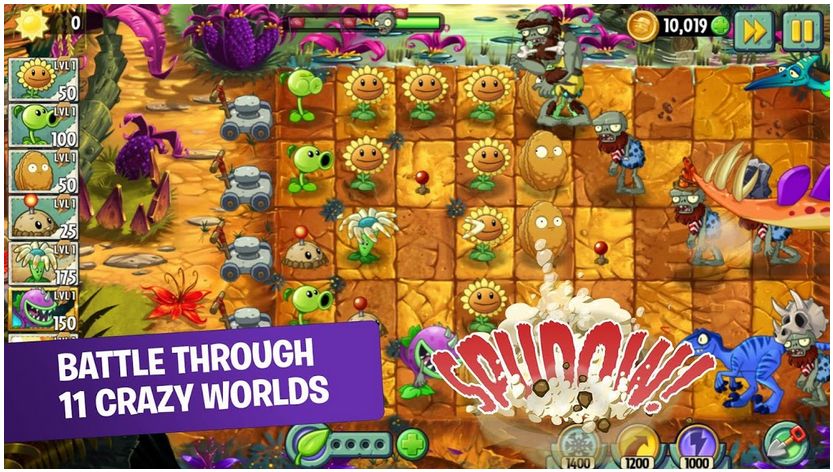 Plants vs. Zombies is an addictive Android game that let you join and lead some of the most intense battles between plants and zombies. You can assemble your army of plants, increase their overall resistance, and give them a boost with Plant Food.
PvZ 2 is developed by Electronic Arts and receives frequent updates every once in a while to add new features like new worlds, great plants, and the sliest zombies to make sure that you won't get bored playing similar stages.
Level up in the game by earning prizes, and points and completing quests.
Frequently updated with new worlds and extras.
Offers in-app purchases for premium plants.
The game has a bug that might make you lose some game progress after an update.
There is no other way to unlock premium plants than using the in-app purchase option.
Consume a lot of space (around 650 MB).
#2. Gangstar Vegas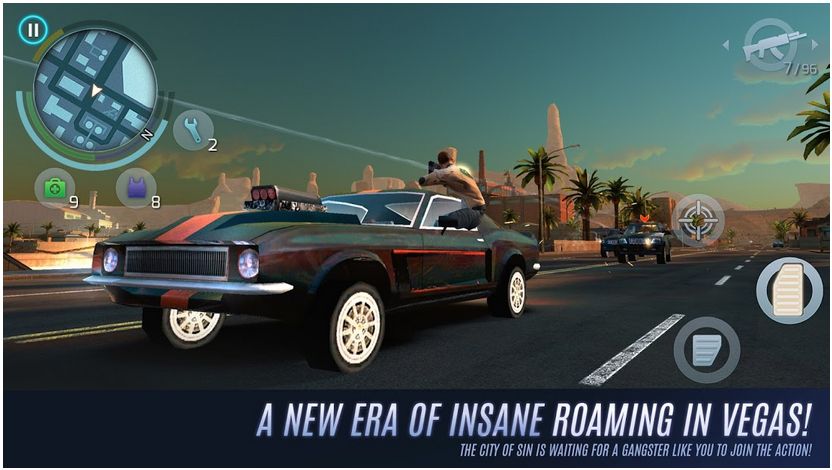 Yes, Gangstar Vegas is an offline game. It features an open-world, third-person shooter and action game, which features realistic graphics and excellent gameplay that matches the popular game title Grand Theft Auto series.
The game is developed by Gameloft and is available for free to download. It contains over eighty action-packed missions, the ability to explore the big Las Vegas city, purchase a huge variety of virtual weapons, and let you freely drive any vehicle during the gameplay.
Frequent updates promise to add new items, vehicles, outfits, and weapons.
Offers in-app purchases for premium items.
Some missions are next to impossible to pass.
Some stability issues cause lag during the gameplay.
The game data requires massive storage space (more than 3 GB).
#3. Dumb Ways To Die 2: The Games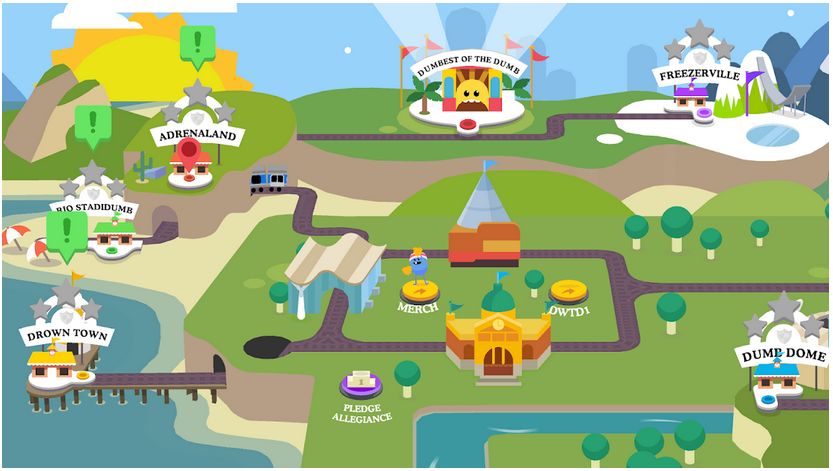 Dumb Ways To Die 2: The Games is a sequel to the popular Dumb Ways To Die, which is a simple, humorous, and the best time-killing game. The gameplay comprises quick and timed levels where you have to try your best to keep those small characters from dying.
Eventually, you will experience the difficulty of the tasks increasing as the game starts to pick up the pace. The developers have used vivid colors to represent characters as well as the scenery making the overall gameplay simple yet powerful for everyone.
There is a wide variety of levels to keep you busy.
New levels and stages are added every month.
The game becomes unresponsive and glitches at times.
Contains ads.
#4. Color Switch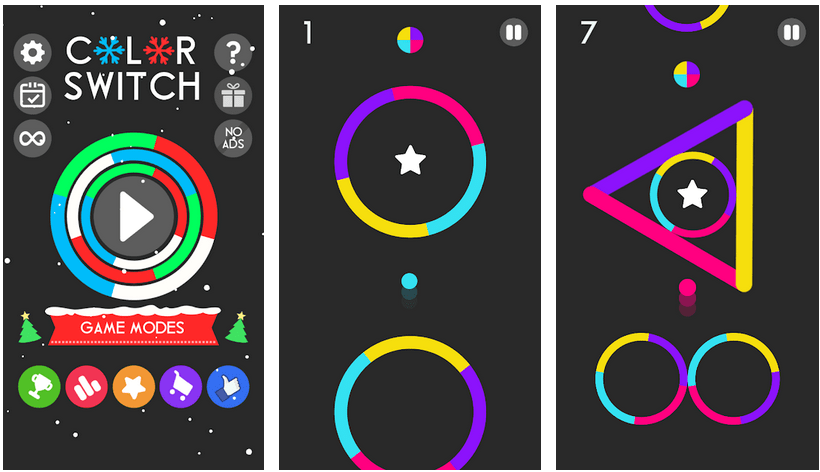 Color Switch is an addictive action and puzzle-type game for Android where you have to carefully tap the ball to make sure it passes through each hurdle without touching the wrong color. And you will get to collect a star whenever you cross a hurdle. Then those collected stars can be used to purchase/unlock balls.
The game has been added to the Google Play Editor's Choice list and becomes the number one addictive game of the year around the world. There are over twenty-four game modes to choose from, and each mode contains over a hundred thought-provoking levels.
Receive frequent updates and bug fixes.
New game modes, levels, and balls are added with every update.
Active developers and support team.
Contains ads.
Touch or tap might become unresponsive at times.
#5. Bad Piggies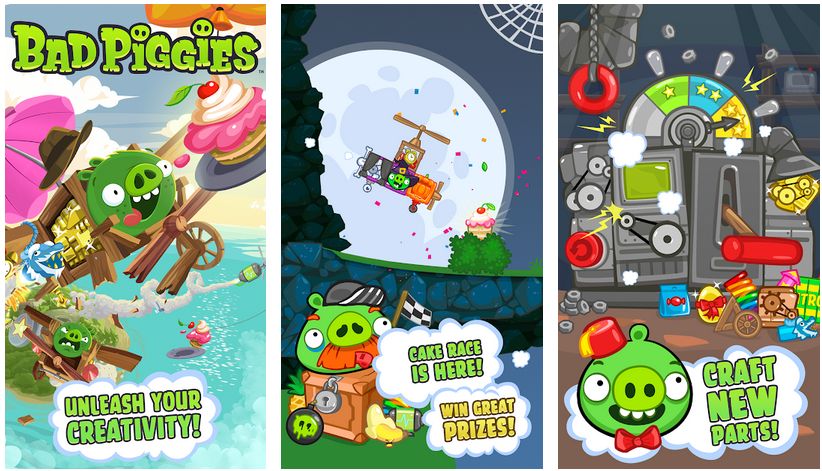 Bad Piggies is a puzzle-based game where your primary objective is to collect maximum stars in each level to make sure you have enough stars throughout the way to complete that episode. However, there is a slight twist. You have to build an ultimate machine for pigs using a huge collection of parts and have to make sure that it is durable enough to reach the eggs successfully without blowing into pieces.
The game Bad Piggies is developed by Rovio Entertainment Ltd., the same developer who created some of the most addictive Angry Birds series. There are over two hundred challenging levels, and you can unlock special levels if you managed to collect three stars by completing all the objectives in each level.
Receive frequent updates.
New parts and objects are added with every update.
Some levels might be challenging to complete with all three stars.
Contains ads.
No premium or paid version.
#6. Beach Buggy Racing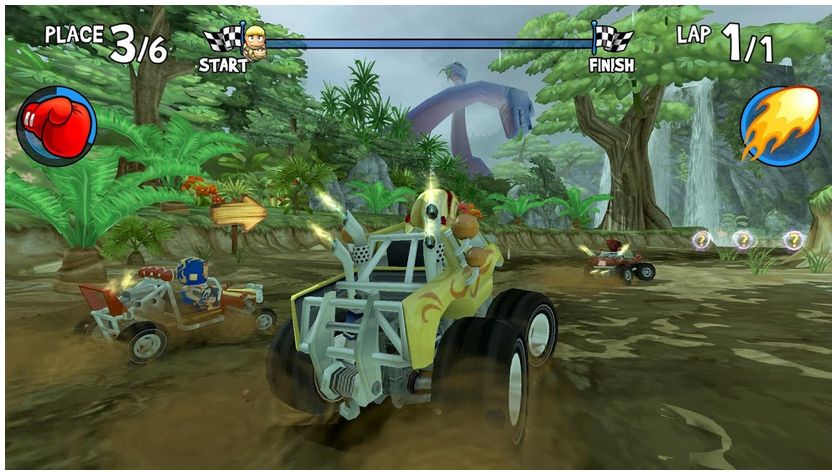 If you are into racing games, then you must have already heard about the Beach Buggy Blitz. And the Beach Buggy Racing is its follow-up development by the Vector Unit team. It is a brilliant game with some intense race modes!
The game offers you an action-filled off-road cart racing chaos where you can race against competitors, and each of them will have their own unique and individual capabilities. The game allows you to build a collection of powerups, and unlock a wide range of cars that you can drive in six different modes and a huge selection of race tracks.
Active support and development team.
Does not require a lot of space for installation (about 100 MB).
Offers in-app purchases.
For first-time players, it will take some time and skills to get used to the handling.
Some races might be harder and more challenging to complete.
#7. Unblock Me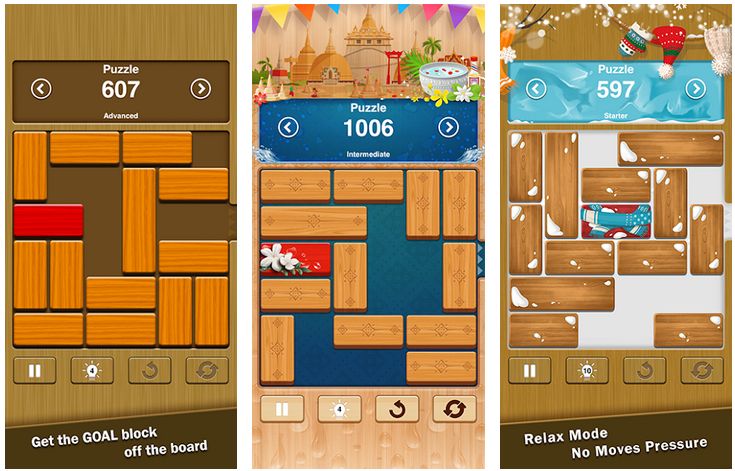 The Unblock Me is one of the most addictive puzzles and problem-solving games for Android that will train your mind and improve your logical skills with its challenging levels. Your key goal in every level is to unblock the red block out of the board by sliding the other blocks out of the way. And you have to achieve that in the least possible moves.
There are four difficulty levels to choose from and have two different game modes i.e. Challenge Mode and Relax Mode. That will allow you to make sure that your mind can go through various challenges while keeping yourself mentally fit.
Very active developer support.
Receive frequent updates and bug fixes.
Advertisements can be removed through in-app purchases.
Contains ads.
The Multiplayer mode might malfunction sometimes.
#8. Roll The Ball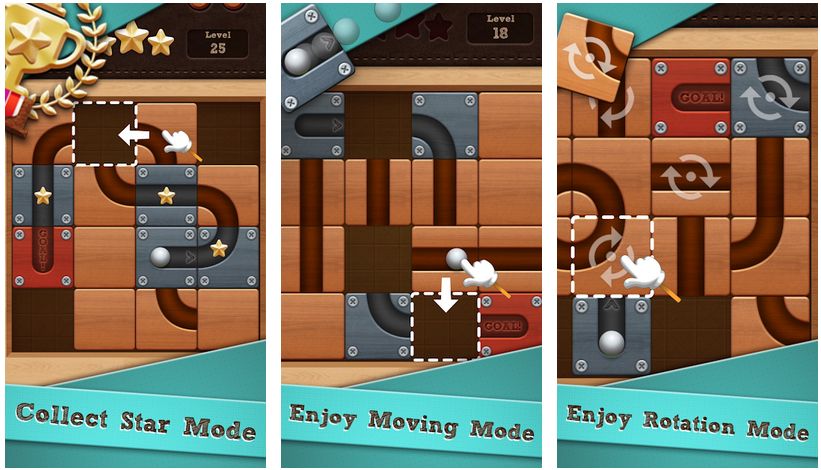 Roll The Ball is another addictive puzzle based game that is mixed up with sliding and unblocking, which makes it even more addictive and brainstorming for your mind. The game consists of various puzzle-solving components including sliding, physics, maze, and no time limit.
The game has thousands of classic and challenging levels that you can play for hours, at your pace, and that too without any limitations. The game also awards you with daily bonuses and gifts that can be helpful for you to solve hard puzzles.
Supports cloud saving.
Synchronize and compare your game progress with friends through Google Play Leaderboard and Achievements.
An ad-free version can be purchased for $1.99 through in-app purchases.
Contains ads. A lot of ads. (TIP: if you play without an Internet you won't see any ads)
#9. Crazy Kitchen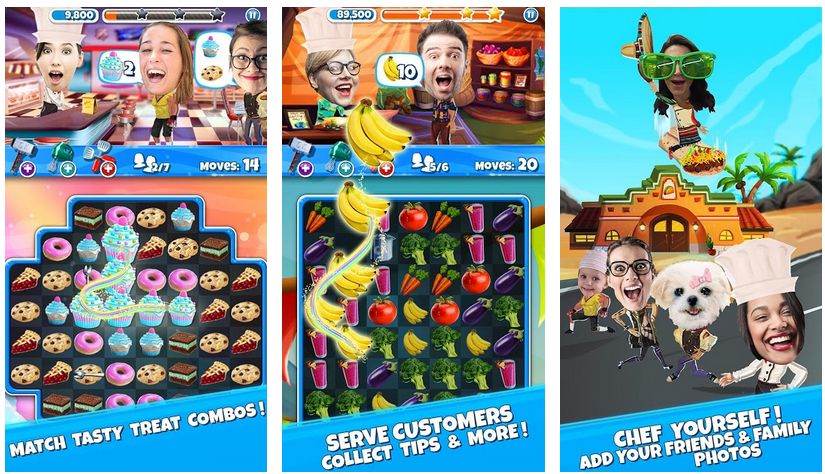 Are you looking for a fun way to improve your cooking skills? If yes, then Crazy Kitchen is the best app for you, as it will make you a cook at one of the craziest kitchens and assigns you different cooking tasks that you need to complete within the given time.
You will experience the ultimate craziness of the kitchen, and you will face the final challenge to satisfy the needs and hunger of your customers. The game has some of the best visuals and includes more than five hundred exciting levels that will test your cooking skills.
Receive frequent updates and bug fixes.
New game modes and levels are added with every update.
In-app purchases for premium items.
Contains ads.
#10. Assassin's Creed Pirates
Do you like to play action games? If yes, then Assassin's Creed Pirates will be one of those games that you should have on your Android phone. You will be playing as Alonzo Batilla, who is a young and determined pirate captain, who challenges empires, can break the rules, and collect gold.
To fight with your enemies and show your battle skills, you can choose from a wide variety of weapons, and then defeat them to become a true legend. Moreover, cutting-edge graphics and three-dimensional visuals will make your gaming experience more realistic.
Frequent updates and bug fixes to improve the gameplay experience.
Offers in-app purchases.
Lacks cloud storage to save game progress.
You might experience a little bit of freezing and lag during gameplay.
#11. Solitaire Bliss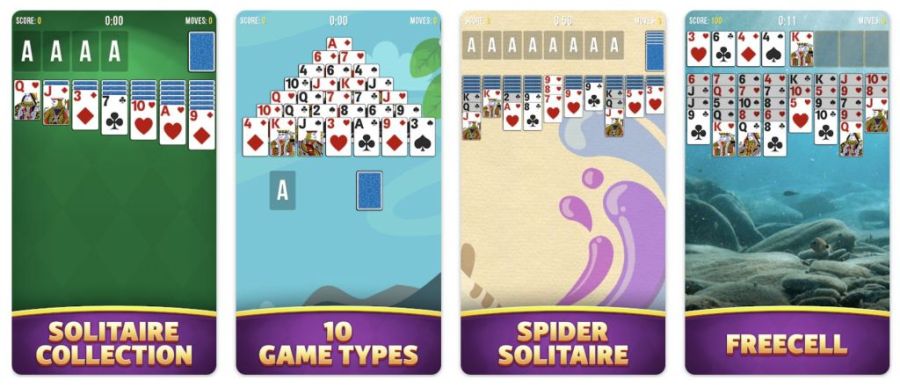 The Solitaire Bliss app by Mongoose Net Ltd. is available for free on the Google Play store. There are 28 variants of ten classic games available on the app. Choose from Klondike solitaire, FreeCell, Pyramid, Spider Solitaire, and more. There's no need for an internet connection because once you download the app you'll be playing offline on your Android device.
Some unique game features include unlimited hints and undos, random and solvable deals, different card designs, autocomplete, and left-handed mode!
Which Offline Android Game Is Your Favorite?
I know this list is not exhaustive, and there are a lot of game titles that can be played offline on Android without the Internet connection, some of the other games include Subway Surfers, Temple Run, Fruit Ninja, Hill Climb Racing, Townsmen.
Which offline Android games are on the top of your gaming list? Please share with me in the comments down below, I would love to hear about them! 😀