Are you a Naruto fan and looking for an Android game that is based on the original anime? You have come to the right place as here you can download Ninja Heroes APK for your Android device.
Apart from the apk, we have also shared some bonus tips and tricks, and mods to help you get the most out of this game. ;)
Ninja Heroes (also known as Ninja Heroes Reborn) is a Naruto-based action role-playing game (RPG) developed by the RedGame Studio for Android mobile devices. In this game, you will discover the real world of ninja and experience the exciting adventure by learning a wide variety of Jutsu, leveling up your ninja character, and ultimately becoming one of the strongest ninja heroes.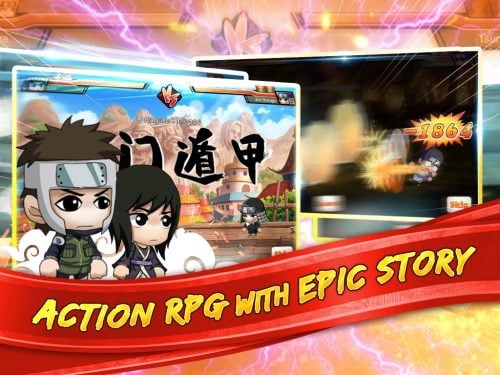 However, it is not an easy task to become the strongest ninja. You need to compete against other real players from all around the world in an attempt to claim the title of the durable ninja. You can build your very own toughest ninja village by challenging in the epic multiplayer battle and winning the clash.
There are over hundreds of unforeseen techniques, mods, and thousands of strategies that you can apply to swing the battle in your favor, all of which makes it even more immersive than ever.
You need to perform all those training and battles so that you can make sure you are well prepared for the biggest ninja war of the history and become the legend of Ninja Heroes.
Ninja Heroes Features
Ninja Heroes is an action-filled game that is jam-packed with tons of exciting features. Following are some of the most notable features of the Ninja Heroes Android mobile game: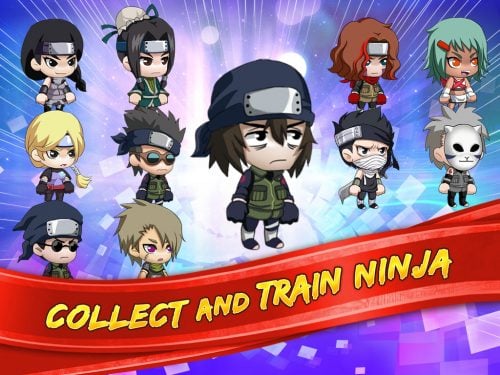 Play the game by using different techniques that will give you the opportunity to collect over 100 different Ninjas.
There are more than a hundred supernatural abilities i.e. Jutsu that your ninja will utilize during the battle, including the most popular ones like Taijutsu, Ninjutsu, Dojutsu, Senjutsu, Genjutsu.
You need to battle and defeat Jinchuriki to be able to obtain their extraordinary powers of a tailed beast and eventually transform your regular Ninja into the strongest one.
To become the greatest Ninja of all time, you can play in the PvP (Player versus Player) gaming mode area to challenge against the opponent randomly selected from any part of the world.
There is a lot to achieve within the game including the possibility to train your ninja that will help you level him up, participate at Senior Ninja Trial, the ability to explore the ninja world and a lot more that keeps you engaged for endless gaming and battles…
How Ninja Heroes Android Game Works?
Ninja Heroes apk for Android uses a simplified combat system that makes it easier for any player to quickly learn the attacking and battling techniques. In the beginning, you are provided with few characters you then need to work your way up to unlock more ninja characters. There are over a hundred ninja characters to unlock.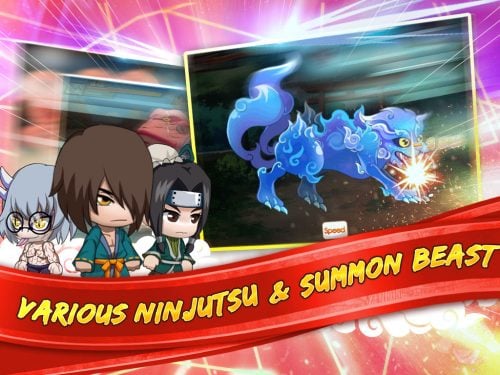 Once new characters are unlocked, you can then train your ninja characters so that they can learn new techniques, which in turn will improve their attacking powers, helping you to compete and win battles with higher-level players.
Now, when you have a variety of ninjas within your team, you can then select the ninja and create your own perfect and powerful ninja lineup that can beat your opponent team.
Tips and Tricks to Easily Get Ninja S in Ninja Heroes
We don't yet have any hack and mod for Ninja Heroes Android version but during this initial phase, we do have some tips and tricks which will help you get ahead from your friends in the game and get Ninja S/Ninja SS quickly.
While playing Ninja Heroes you will come across moments when you feel like spending actual money on the in-app purchases to quickly unlock ninjas and get Ninja S or Ninja SS. But to save your hard-earned money, here we are sharing some tips and tricks that will help you in easily capturing all those special and high-level heroes including Class-S Ninja.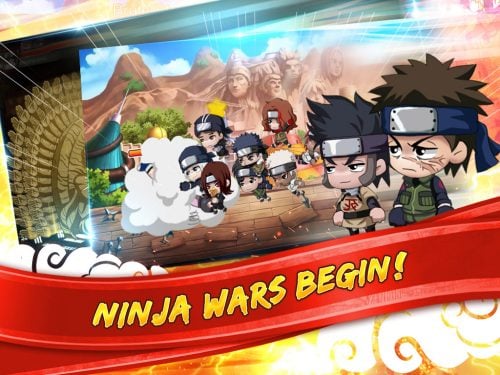 While attacking your opponent's village, you should first raid all the buildings and then the ninjas.
To increase your chances of getting Ninja S, try to gather information from the ninja around the building as he can guide you to the appearance of Class-SS Ninja or Class-S Ninja in the village.
Successful capture of Ninja SS requires you to have a ninja with advanced capturing capabilities, so first try to get hold of a ninja that can perform advanced capture like Class-B ninjas.
Ninja Heroes App Demo Video
Do you know what Ninja Heroes gameplay on Android looks like? Watch a short demo video below to find out:
You can download Ninja Heroes free for your Android phone and tablet devices from below…