Snaptube apk for Android is designed to download videos and music from online streaming websites in various formats, including MP3 and MP4 for easy offline viewing.
So if you ever wanted to download videos and MP3 files from online streaming services like YouTube, Facebook, Twitter, DailyMotion, and many others directly on your Android phone, then this app is the best choice for you. We know about many apps that support video downloading, but Snaptube lets you convert them to MP3 format as well.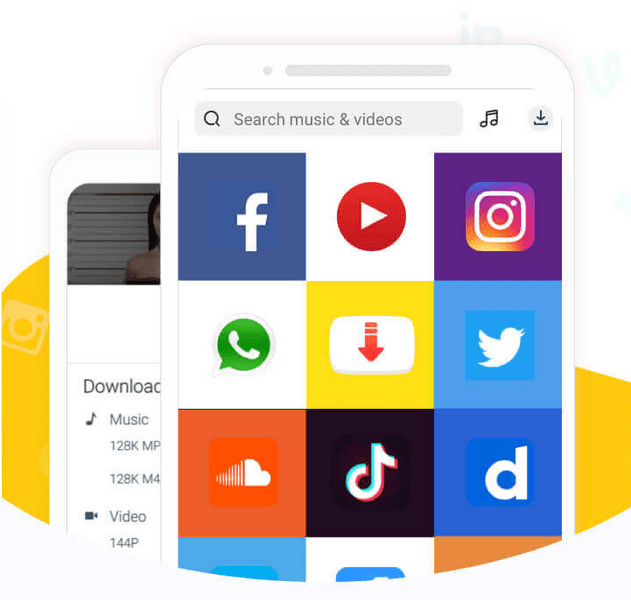 We all are aware of the fact that on the Internet, there are so much video and audio content freely available that you may want to download and create your very own personal collection. There was a time when music and different songs were available online in MP3 formats. Then the Android app world got revolutionized with online content access where streaming is the only possibility.
You can listen to songs online on Podcasts or Soundcloud. Similarly, music DVDs and CDs for video songs are now entirely replaced by platforms like YouTube. There are thousands of videos shared on Facebook every day.
However, searching for related videos and then downloading them becomes a tedious task when everything is scattered on so many different platforms. Snaptube apk has made this task extremely easy for all Android users by creating one platform that can be used to download videos and audio from all of these online streaming platforms like YouTube, Twitter, Facebook, SoundCloud, and DailyMotion.
You can also use another popular video-downloading app known as VidMate, which supports HD video downloading from almost all video-based websites.
Once downloaded, the videos can be played on the in-built Snaptube player. The app is loaded with different features and options to download videos and music in multiple formats.
About Snaptube APK
Snaptube is quite a simple yet interactive platform that allows users to download video and audio content from social media platforms and other streaming apps. Gone are those days when you have to connect to Wi-Fi or switch on your data to watch your favorite video on YouTube or to listen to your playlist on SoundCloud.
So if you see any video on Twitter or Facebook and want to download it, then this app will help you download that on your Android phone with just a single tap. There is no limitation on downloads. You can download as much content as you want and create your collection.
You can select your preferred format of HQ MP3 or HD video as the app provides different options to choose from before you download. That is a perfect solution to download unlimited video and audio content free of cost and store them for offline viewing.
The videos are divided into different categories to help make it easy for you to find them. You can even find similar videos in the categories section. The categories are music games, entertainment, news, lifestyle, and many more.
If you are looking to download your favorite videos and music from YouTube only then we will recommend getting the free YouTube Downloader for Android. Alternatively, there is Dentex Downloader as well that gets frequent updates.
Features of Snaptube Video Downloader for Android
Snaptube provides a handful of features for downloading videos and music from various websites; here are a few of the most remarkable ones:
It is an integrated multimedia platform allowing audio and video content downloads from multiple online streaming and social media websites.
Videos from YouTube, Twitter, Facebook, and other sites can be downloaded free of cost in various formats.
You can download any video through the Snaptube apk with just a simple tap by copying the video/post URL.
It can be synced with the YouTube account to unlock features like History, Playlists, and Watch Later.
Different videos can be added to the playlist and downloaded anytime.
Video files can be converted to audio formats and then downloaded.
Ensures reliable and fast downloading with features like multiple connections and simultaneous downloading.
User Interface
An in-built video player similar to YouTube allows you to play the video before downloading. There is a dedicated search bar available on the top of the screen that can be used in case you do not find your video in the given categories. There is a long list of sites supported by the Snaptube apk, which means you can download audio and video content from these sites:
Facebook, Instagram, Vevo, WhatsApp, Daily Motion, Animeq, Vimeo, Vine.co, Musical.ly, Vuclip, Metacafe, Liveleak, Twitter, Tune.pk, Pagalworld, Dailytube.in, MrPopat.in, Pinguda, 3GPMania.co, FunnyOrDie, Vid.me.

The Snaptube home screen is quite vibrant and engaging. There is a search bar on top where you can search for any YouTube video. This search bar functions the same way the YouTube search bar works.
There are three tabs on top, which include For You, Trending, and Channels. There are icons of all the supported sites available, and then there are the most trending videos available at the bottom of the home screen. The tabs present at the bottom consist of Home, Games, Subscriptions, My Files, and Me.
The user is not asked to provide any personal details for the signup; however, the YouTube account has to be synced with Snaptube to proceed with the video downloading process. Once you have entered your YouTube account details, then the app will automatically sync all your playlist and history for an enhanced experience.
There is also a dark mode pop-up on the right side of the screen. You can switch between the day and night mode according to your choice. The day mode makes the background white, and the night mode changes the background color to black. It is recommended to switch between the modes, as the dark mode is suitable for your eyes when using the phone during darkness.
The "My files" tab consists of all the downloaded files and downloading history. It also displays the total storage of the phone, so you can keep track of the available and consumed phone storage. There are four tabs in the My Files bar, which include Download, Music, Video, and Playlist.
The great thing about Snaptube is that it divides different types of downloaded content into relevant categories, so all downloads stay organized. It also shows the music and playlist of the phone itself.
The "Me" tab shows all your activities related to YouTube. The playlist that you have created is automatically updated in-app, and you can begin to download the videos from that. You can also check your history and videos marked as watch later.
How to Download Videos and Music with Snaptube on Android
Let us explore the playlist and downloading procedures of the Snaptube app for Android. It is easy to start with YouTube because we have already synchronized our accounts.
There is a download button available with all the videos shown in the app. Once you click the download button, you will be redirected to another window with various download formats.
You can download the video as an MP3 audio file or an MP4 video file. The size of the file is mentioned along with the download format options. The following formats are available for audio and video downloads:
Audio – MP3 70K, 128K, 160K, and MP4A 128K.
Video – 1440P UHD, 1080P HD, 720P, 480P, 360P, 240P, and 144P.
As the user can download from multiple online streaming and video-sharing platforms, the downloading process is different for each website. Let us take an example of downloading videos from Instagram. Please note that a similar process applies to the majority of other platforms like Facebook and Twitter.
If you want to download a video from Instagram, open the Instagram app, and click on the More button available on the lower right side of the video. Then copy the URL of the video and paste it into the search bar in Snaptube. It will automatically add the video to the list of videos to be downloaded.
There is an elaborative settings menu available so that the users can personalize their feeds accordingly. The user can enable the pop-up window option where the video can be played in a small window present at the bottom left corner while browsing other content. This way, you can browse and watch videos simultaneously.
The user can enable the option of downloading the videos from the URL copied in the clipboard. The user can set the total number of simultaneous downloads. For example, by default, two tasks can be downloaded simultaneously. However, the user can set it to one download at a time to speed up the downloading process.
You can also enable a restriction on downloading if you want the downloading to be done only via Wi-Fi. There is an option for a fast downloading mode that uses multiple connections to enhance the downloading speed.
There is a path set by default where all the downloaded videos are stored. Snaptube comes with an experimental feature that allows the user to play music even when you are on the lock screen.