Lucky Patcher apk for Android is one of the best choices for the games and apps patchers and hackers who like to quickly get the in-app purchases patched to get free upgrades and purchases as well as the option to get paid apps for free.
The patching not only stops there but you can even hack the in-game currencies and resources like coins, gems, money, unlock levels and characters, or any other item that usually requires you to spend some real money using the credit card. And Lucky Patcher enables you to get all of that free. You can even create your very own modified version of the compatible apps and remove all the advertisements too.
Let's jump into the post where we are going to discuss in detail all the ins and outs of the app and how it can help you quickly modify your favorite games and apps without any prior knowledge about hacking.
How to Download and Install Lucky Patcher Mod?
In this section, we are going to guide you through the procedure for how to download, install, and set up the app on your Android smartphone or tablet device. This a perfect guide suitable for every Android user, especially newbies.
The downloading and installation process of the Lucky Patcher mod is easy and simple to follow. No matter how knowledgeable you are about Android and the apk installation process, the guide is designed to make things simple and easy for you to get the app.
Note: You may need to enable the installation of apps from unknown sources through the Android security menu to be able to sideload/install the apk on your device.
It is important to note here that this is a paid and modded version of the Lucky Patcher so make sure you have uninstalled any existing version from your device, otherwise, the app will not be installed and might show an error.
Download the Lucky Patcher apk file from the download section located at the beginning of this post.
Tap the apk you just extracted and follow the onscreen process to install the app.
Once installed, launch the app from the app drawer. You can now begin with the hacking and patching process of your favorite games or any other compatible utility apps where you want to get in-app purchases for free without entering any credit card details.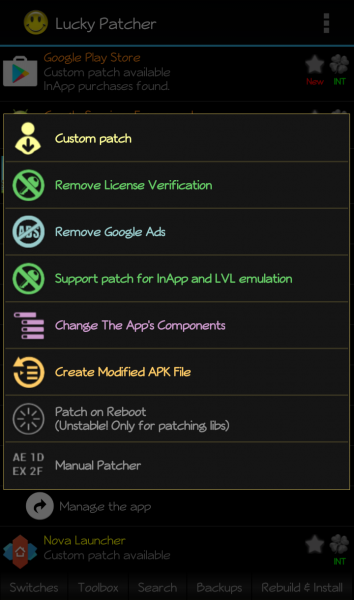 What Can You Hack/Mod With Lucky Patcher?
Lucky Patcher is a powerful app for Android smartphone and tablet devices, it is capable of providing you with not only app hacking and cracking abilities but there are a number of tasks you can perform on the Android apps with this app.
Here in this section, we are going to talk about each one of those:
Load Custom Patch – The app offers you the ability to load a custom patch.
Remove License Verification – With this feature, you can remove license verification from apps and games with just a tap.
Remove Ads – Apps these days, especially free apps, comes with tons of ads that badly affect the way we use apps so you can get rid of them and make apps ad-free.
In-App Purchases Emulation – You can find a patch that allows you to patch in-app purchases emulation so that you can make purchases for free without a credit card.
Patch License Verification (LVL) – This allows you to emulate the license verification patch for paid apps that are downloaded for free.
Disable/Modify Permissions – Permissions are usually hard to modify or disable in the app but with the Lucky Patcher, you can modify as well as disable permission requests of the apps and games.
Support for Hex-String Patching – If you know what you are doing and you are knowledgeable about how to manually patch the apps/games then you can use the Hex-String patching method.
Generate Modified APKs – With the power of Lucky Patcher, you can create a modded version of the app or game apks once they are successfully patched using the method mentioned above.
Do you know how to hack in-app purchases on Android games and apps using Lucky Patcher? We have a complete 100% working step-by-step guide to help you free in-app purchases on Android games and apps with Lucky Patcher on Android.
Key Features of Lucky Patcher for Android
Lucky Patcher is not just a simple patching app that is used for hacking purposes but other interesting key features make the app interesting for the users including the tools that come in handy while hacking games or other apps. We are going to discuss those briefly in this section:
Remove And Block Advertisements
Who loves advertisements after all? This smart patch in the Lucky Patcher helps you get rid of ads from within the apps and makes it completely ad-free.
The best part is that these pop-up ads won't be interfering with your game progress anymore as the ads continue to pop up while you are playing the game and causes unwanted interference. However, you need to keep in mind that this patch may not work on all the apps and games.
Free In-App Purchases
If you have ever used any utility apps or have played some free games then you must have come across in-app stores that offer you to buy coins, gems, upgrades, or in-game money that can be used within the game.
You can use and apply the patch specially designed for that game that completely blocks the purchases and enforces a bypass that allows you to make in-app purchases like gems, coins, and money without actually providing any credit card details.
Quickly Patch and Mod Games/Apps
What's interesting about Lucky Patcher is that it comes preloaded with tons of custom patches, mods, and hacks that one can apply to their games or apps to crack or modify it. This will help you get a lot of gold, gems, in-game items, and a lot more.
One must need to make sure that the custom patch, which is being applied to the game, must need to be fully compatible otherwise, either the game may stop working or the patching process will fail.
Bypass License Verification
You can get a lot of paid apps for free from third-party websites however many of them have license verification and needs to be verified before you can start using them, this is designed to protect the app from unauthorized usage. This stops anyone from using the app even if they have the paid version for free.
But with the help of Lucky Patcher's license verification bypass, you can easily remove that license verification protection from the app and start using it on your Android device just like if you would have paid for it.
Modify And Remove App Permissions
Apps these days come with intrusive permission requests that make it hard for some of us to install and give the app all the wanted permissions. Especially permissions like access to cameras, contacts, and storage. But the issue is that without granting those permissions the app will not function properly.
This is where Lucky Patcher allows us to completely get rid of those permissions from the app by simply creating a modified version of it, which works just like the original.
Buy Paid Apps For Free
On Android, we have Google Play Store from where we can find and download all the apps from various categories, and the store has a database of hundreds and thousands of apps. However, many of the premium ones are paid and require you to provide credit card details to proceed with the installation process.
What's interesting here is that Lucky Patcher can even apply a patch to the Google Play Store app, creating a completely new app from where you can download and install paid apps for free without providing any of your credit card details.
App Cloning
App Cloning is a powerful feature that gives you endless possibilities depending on what you want to achieve. The key reason why the majority of users use the cloning function is that they want to run multiple accounts of the same game on a single Android device.
Yes, that is actually possible. All you need to do is use the App Cloning feature, Lucky Patcher will generate the same app with the name of your choice, and it will have a unique app ID too so that it won't conflict with the existing app.
Freeze The App
We install apps on our phones thinking that we are going to use them someday in the near future but that app continues to run in the background, sending you notifications every once in a while, and consumes battery power and CPU resources as well.
This is where the freeze functionality helps you freeze the app, which completely stops it from running in the foreground and background unless you want to run it again, and that is exactly when you have to unfreeze it using the Lucky Patcher app.
Create A Backup Of The App/Game And Restore It
In case when you are switching phones or uninstalling a game from your device there is no native way within the Android OS to create a backup of the game/app and its data.
Lucky Patcher is an advanced app with special capabilities as it allows you to not only create a backup of the app/game. But you can create a complete backup including the data files and store it anywhere you want. Later, you can use Lucky Patcher to restore all the game/app files and data from the backup.
Move the App To/From the System and SD Card
If you have root access and you have granted root permissions to the app then it will even allow you to move any app to the system directory (/system/app) and make it a system app. Moreover, if your phone/tablet supports microSD card storage then you can also move any app to the external storage i.e. /sdcard/ directory within your Android device.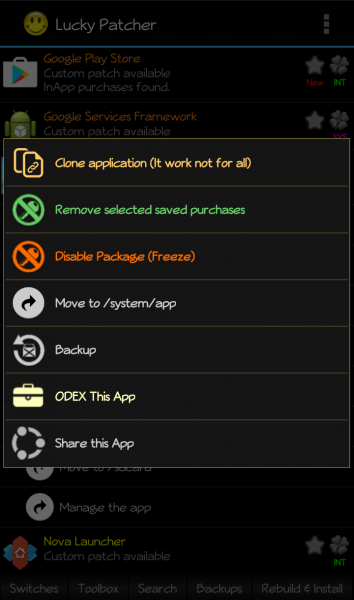 What Are The Capabilities Of Lucky Patcher Mod Lite
If you look closely at our downloads section, which is given at the very beginning of this post, then you will figure out that there are actually two different variants available i.e. a simple and the most popular version Lucky Patcher whereas the other one is Lucky Patcher Mod.
Here are the details about the true capabilities of the Lucky Patcher mod lite version:
Light Weight – The app has become lightweight and consumes very little space as all the other unnecessary language packs have been removed except English, Italian, and Spanish.
Optimized Graphics – Graphics and visuals have been highly optimized to make the app work as smoothly as it could, even on a lower-end device.
Images and Graphics Compression – Compression plays a huge role in decreasing the apk file size so the modders have compressed all the graphics and images.
Duplicate Images Removed – There were duplicate images within the apk file, all of the unnecessary duplicate images have been removed.
Tiny File Size and Footprint – File size has been significantly reduced and the app has declined footprint.
How One Can Use Lucky Patcher?
Lucky Patcher is a powerful app designed for Android smartphone and tablet devices that help in generating a modified version of any original app. You can even generate a specific version that offers you access to unlimited resources through the modded in-app purchases. You can get resources like gems, coins, money, and even items. All for free.
For the usage, all one needs to do is first install the app that you want to modify and then launch the Lucky Patcher app. Select the app you want to hack from the list of apps and then you can select the modification you want to apply to that app from the list.
There are a handful of modifications and patches to choose from the list, however, the possibilities and availability of hacking and patching any specific app depend on its type. For instance, if you select the compatible app for modification then Lucky Patcher will show you all the patches that are suitable for that including the in-app purchases hacking and modding.
What Is Lucky Patcher?
Lucky Patcher for Android is designed and developed by ChelpuS, which enables you to permanently remove ads from apps, modify their permissions, apply custom patches, free in-app purchases, and bypass license verification of premium/paid apps.
Once the app is downloaded and installed on your device then you can use this free utility to hack games and apps effortlessly within a matter of seconds. And the best thing is that it doesn't even require you to have any prior knowledge about modding and hacking.
It is one of the most advanced and simplest modifications and patching apps ever designed for Android OS as it gives you complete control over the app and games that are already installed on your device.
Above all, it's free.
You can mod countless apps and games, block ads and make apps ad-free, remove unwanted system apps from your Android device, have the ability to move apps to an SD card from internal storage, option to quickly remove license verification from paid games and apps.
However, it is important to keep in mind that to be able to modify and patch apps or perform all the following mentioned advanced tasks, you need to have a rooted Android device.
But, if you don't have root access or looking for a no-root Lucky Patcher mod version then the app we have provided in this article should work flawlessly without root too, and will let you patch/bypass license verification. Apart from that, some expert features will be hidden.
So, whether you want to modify the app to remove ads or want to patch your favorite game, the original latest version of Lucky Patcher can help you achieve all of that in a blink of an eye and does not require you to be tech-savvy.