Are you in search of a premium, fully personalizable, performance-based, lightweight launcher for your Android phone? Look no further, Nova Launcher Prime mod apk is the best launcher and home screen replacement app you are ever going to install on your Android device.
Nova Launcher Prime is best known for its swiftness, flexibility, and customizability. All of this gives this launcher complete control over your Android home screen so that you can personalize it according to your liking.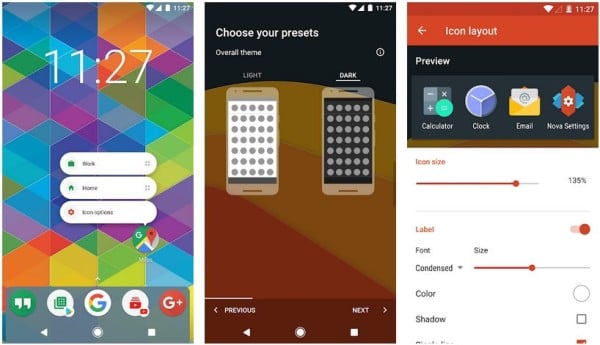 How to Install the App?
It is really easy to download and install Nova Launcher Prime on any Android device. All you need to do is follow these steps and you can completely customize the look and feel of your Android including icons, themes, app drawer, widgets, gestures, and whatnot:
Note: You may need to enable the installation of apps from unknown sources through the Android security menu to be able to sideload/install the app.
Download the Nova Launcher Prime mod apk file from the download section located at the beginning of this post.
Tap the apk you just downloaded and follow the onscreen process to install the app.
Once installed, you should be able to find the app in the app drawer and launch it from there. You can now begin customizing and personalizing your Android UI and UX according to your liking with this powerful launcher.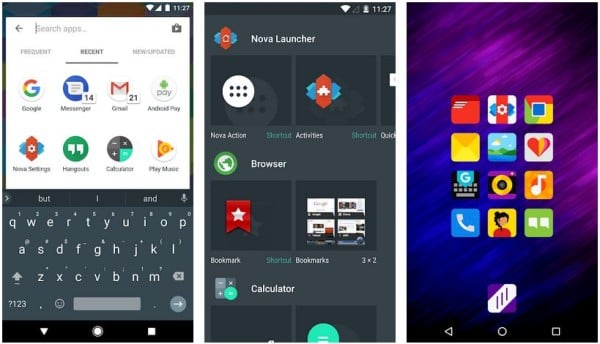 What's Modded in the Nova Launcher Prime for Android?
In this section, we are going to highlight all the features of Nova Launcher Prime mod for Android:
Mod Lite: Resources are cleaned to make the overall app size small than usual, and the modder managed to decrease it to 4.39 MB only.
Removed Wallpapers: Wallpaper previews are removed to further lower the resource usage by the app.
Lollipop Icons Removed: Android Lollipop theme icons are rarely used by the majority so all of those icons and theme-related resources are removed as well.
Grid Layout Extended: Nova has a limitation on grid layout on the app drawer and home screen, both of which have been extended up to the layout of 20 x 20.
Dock Icons Limit Changed: Dock icons are usually limited to seven, which leaves enough space for devices with higher resolutions so the limit has been increased to thirteen.
Universal Screen DPI: Graphical aspects including icons, wallpapers, and text have specific DPI settings for specific screen sizes, which has been made universal to adopt with the majority of the devices.
Icon Size Limits Changed: Limitations for icon sizes have been modified that allow you to increase the overall size of icons up to 200 pixels and decrease the size to 20 pixels.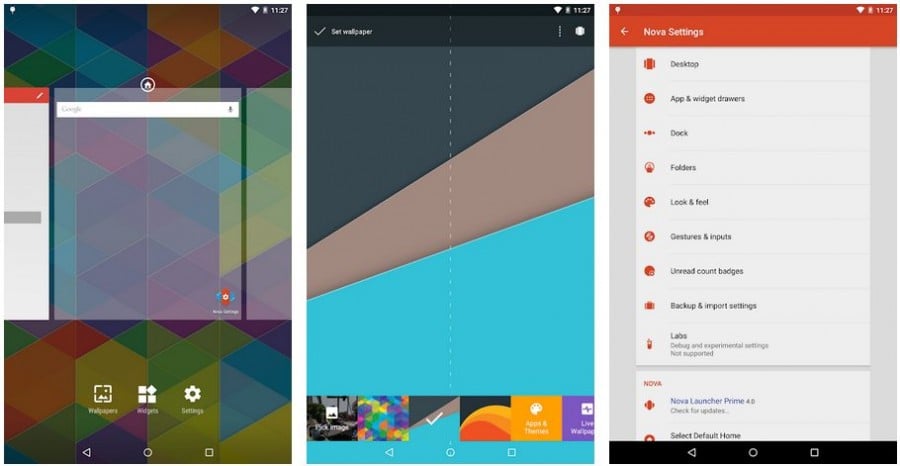 Features of Nova Launcher Prime
Gestures – Allows you to quickly open your favorite app or any defined Nova action by performing gestures on the home screen. Swiping two fingers from left to right will open the YouTube app.
Icon Swipes – Make your home screen more useful by adding icon swipe gestures to any icon located on the home screen. Swiping up on the WhatsApp icon will open the Messages app.
Hide Apps – You can make your App Drawer clutter-free by hiding away all those apps that you don't use but still want to be installed on your phone.
Drawer Groups – Let you create tabs and folders within the App Drawer to help you group all those apps into custom tabs and folders to keep things well organized.
All of these remarkable features will easily let you ditch your stock Android launcher and force you to start using the Nova Launcher Prime, which is by far the best launcher you are ever going to use on your Android phone.
Are you still not convinced enough? Watch a short demo video below to see the Nova Launcher Prime in action and find out all the capabilities of this launcher.
More Details
With Nova Launcher Prime for Android, you can change app icons, modify layouts, play with wonderful animations, and even adjust the way your App Drawer looks like. All of those customizations will entirely enhance how you actually use your phone and will let you make it operate exactly the way you wanted it to.
The Nova Launcher Prime is designed to provide you with both, incredible performance and extraordinary customizability, and that too without being overly complicated to use.