We all grew up knowing Pokemon from either trading card games, anime series, or the first video game from Nintendo that was released in 1996 for Game Boy. Pokemon are fictional characters that humans (their trainers) catch and keep as pets to train and compete against each other.
Later on, the Pokemon media franchise grew into the most sold trading card game and became the second best-selling video game. Keeping the popularity of the Pokemon franchise in mind, Niantic Incorporation chose it for their first AR (Augmented Reality) based game and released Pokémon Go which encourages its players to physically move from their geolocation and actively explore the area around them.
Pokémon GO was one of the first games that require you to get up from the couch and move in real-time, and this concept was widely appreciated throughout the globe. During its peak popularity, we have seen people roaming around the neighborhood in search of Pokemon as well as crowds at different Pokestops (to get free items or lure Pokemon). All of which moved socializing and mobile gaming one step forward.
Later on, Niantic Studios and other developers started to adopt AR to develop more games based on the same technology. Mobile phone devices got further advancements with new generation processors, enhanced RAM, and extended battery life to make sure the resource-hungry AR-based games continue to run smoothly.
In this blog post, we have reviewed about ten popular Android games similar to Pokémon GO that you may like and should try.
#1. Harry Potter: Wizards Unite

We are going to start this list with my personal favorite, Harry Potter: Wizards Unite. This game was developed with a collaboration between Niantic Studios and Warner Bros, and it's one of the games possessing the greatest similarities with Pokémon Go.
You start the game by choosing one of the four Hogwarts houses: Gryffindor, Hufflepuff, Ravenclaw, or Slytherin. Then you get to choose the magical wand and your professions like an Auror, Magizoologist, or Professor –each of which has its own unique set of skills.
The gameplay is pretty amazing and nostalgic for those who have seen the Harry Potter movies or read the books. It allows you to visit greenhouses in real-time that are located in geolocation around your area where you can gain and grow ingredients for your magical potions. You can brew magical potions, visit fortresses to fight magical beasts, and cast spells with the magical wand.
If you are a Harry Potter fan and interested in playing an AR-based game for an immersive experience, then this game is the one for you.
System Requirements:
To run Harry Potter Wizards Unite, you need to have Android 5.0 Lollipop or above running on your device.
The game requires a minimum of 2GB RAM and 2GB storage space with an active internet connection.
Are you still playing Pokemon Go? Here we have an ultimate guide on how to hack Pokemon Go and catch all the Pokemon from the comfort of your couch. 😉
#2. The Walking Dead: Our World

The Walking Dead: Our World is a zombie-themed game. It is one of the most downloaded and top-ranked augmented reality games out there. The gameplay immerses you into a zombie apocalypse from which you need to walk your way out by fighting zombies in the AR-based geolocations.
The game has a strong storyline and allows a multiplayer option through which you can invite a group of your friends to play with you and save the world together. To make things more interesting, you can upgrade your avatar, guns, and survival items, all of which are going to help you build shelters for other survivors and protect them from zombie attacks in and around your area.
System Requirements:
The game requires you to have an Android smartphone with an Android 5.0 Lollipop or above operating system.
2GB RAM
2GB of storage space
Along with an active internet connection to run this game smoothly.
#3. Jurassic World Alive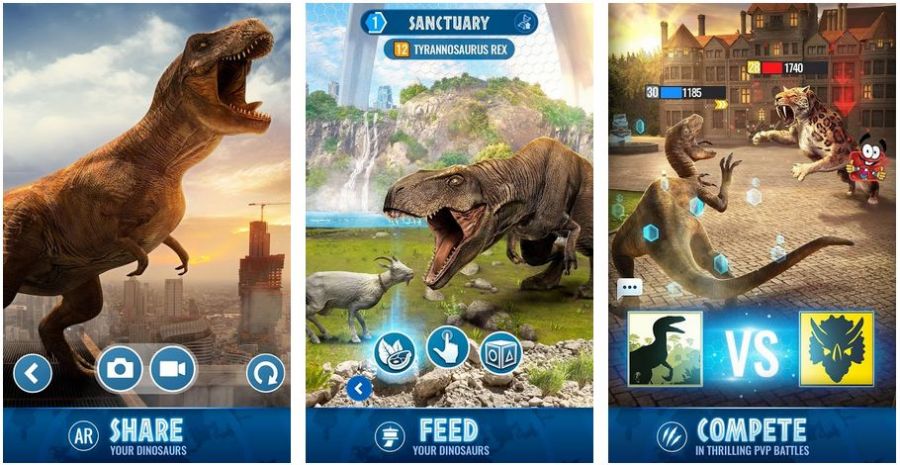 Jurassic World Alive is an AR-based mobile game like Pokemon Go for Android phones that is based on the idea of the Jurassic Park movie series.
The storyline comprises dinosaurs who are roaming freely, and you can expect to find them at the corner of your street or maybe somewhere in your kitchen. Developers have added new breeds that you have never heard about or seen in the movies. Those may give you goosebumps.
Gameplay makes you a member of the Dinosaur Protection Group, and you have to collect epic dinosaurs and rescue them back to their sanctuaries. The options are to save dinosaurs in the area by locating them through the drone and turning the AR mode on to communicate with them and rescue them. You can also battle the dinosaurs in the real-time PVP arena.
System Requirements:
The game download requires about 600MB of storage space on your Android device.
Your phone must need to be running Android 4.4 Kitkat or above.
#4. Garfield GO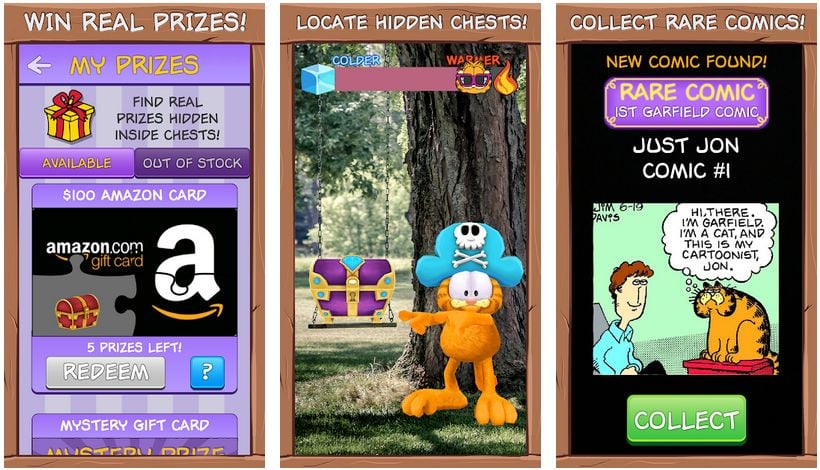 Who doesn't know about Garfield? The lazy pizza-loving cat.
Garfield Go is an immersive AR-based game featuring our favorite character Garfield that takes you on a treasure hunt around the area, collecting coins buried and spread all over the real-world map. You need to feed Garfield and follow coins on the map around your area to help him find the hidden treasure boxes that include real prizes like gift cards from Domino and Amazon.com.
The game also features the voice of the actual voice actor for Garfield. As you progress through the game, you will earn medals and badges as achievements. You can also trade trinkets that you have collected during your quests and redeem them for in-game rewards. Build and complete your comic collection.
System Requirements:
You can play Garfield GO on almost all Android devices running Android 4.1 Jellybean or above operating system.
#5. Ingress Prime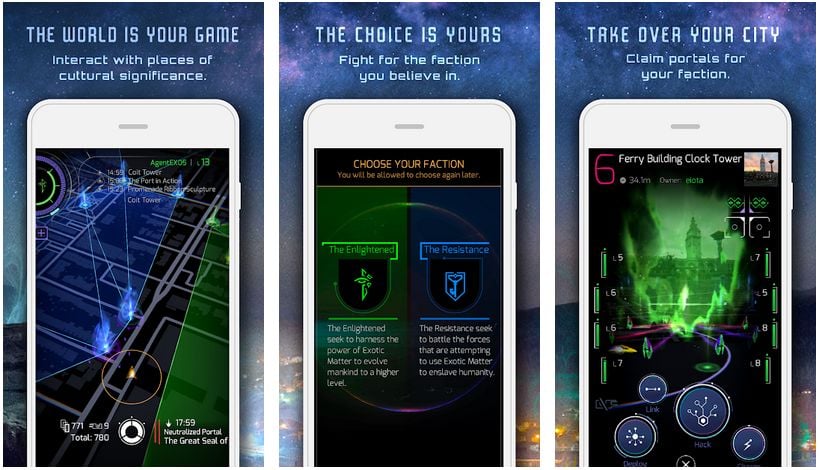 Ingress is a fiction-based augmented reality game for Android devices released by Niantic Studios. The storyline starts with scientists discovering the energy that can influence the human thinking process.
The gameplay allows you to interact with the other players in real-time. All players are connected, and everyone's action has an effect on the game, which is what makes Ingress stand out from the other AR-based games.
You start the game by choosing a faction for yourself. It could be either:
Enlightened (they want to use the energy for empowerment and control of the human race),
Resistance (they are trying to protect humanity by fighting against Enlightened).
The real-world map is the game map where you need to find energy portals, clues, and hidden signs on the streets with your AR-enabled device. You acquire skill points by collecting valuable resources, every player is playing their part for the success of their cause which makes the game more interesting, and results are constantly changing.
System Requirements:
Ingress requires an Android device with Android 4.1 Jellybean or above.
Minimum of 512MB of RAM along with an active internet connection to run smoothly.
#6. Zombies, Run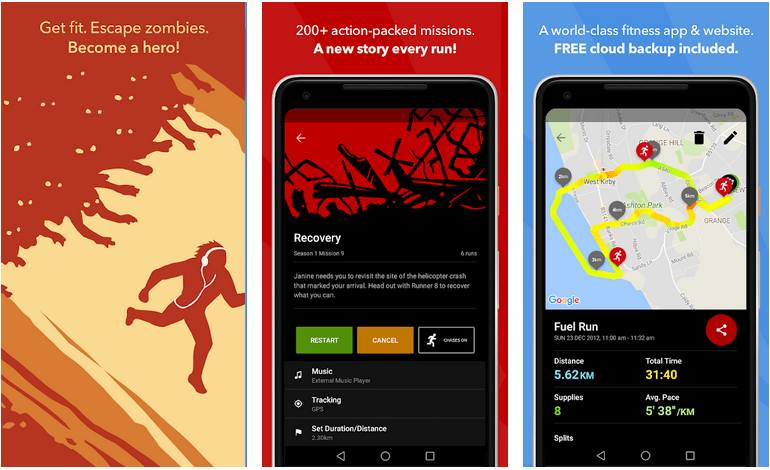 Zombies Run will be one of the perfect games like Pokemon Go for you if you are conscious about your fitness and want to make your daily jogging exciting by integrating AR into your routine.
Imagine going to your daily jogging track, and instead of the same old boring landscape, you have goals being whispered in your ear, it creates a post-zombie apocalypse environment around you, and you act as your character to run and try dodging the zombies chasing you.
Zombies, Run also keeps track of your speed through GPS, and the gameplay adapts accordingly. To immerse yourself deeper into the game and make things exciting, you also have to collect items around you to make your town survive the apocalypse.
System Requirements:
Zombies, Run requires a GPS-enabled Android phone or tablet device.
Along with 1GB of RAM,
And an active internet connection.
#7. The Walk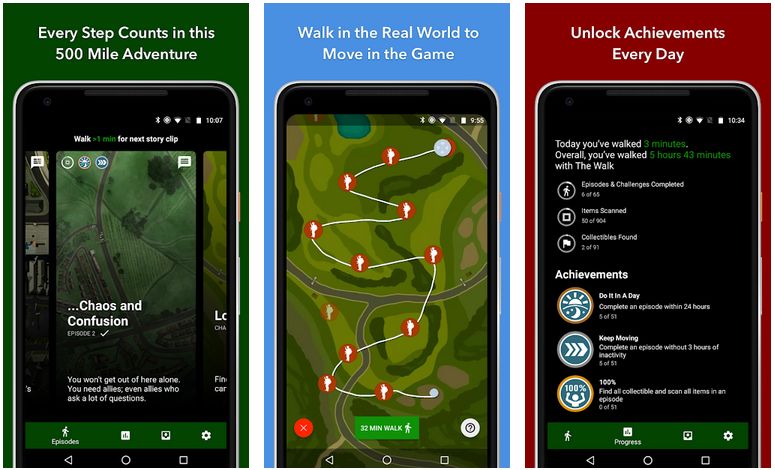 Six to Start, the creators of Zombies, Run developed The Walk, which is a fitness game with a story and is designed for those who are not into zombies but want to make their daily walking routine fun and exciting.
The game has a three-month goal in which you listen to audio stories that unlock as you walk closer to your goal and deliver a package to save the world. You can unlock achievements every day and discover clues hidden in over sixty-five episodes and challenges.
For those of you who don't know, The Walk is developed and created with help and assistance from the UK's health department and NHS.
System Requirements:
The Walk can easily run on Android devices with Android 5.0 Lollipop or above.
Requires you to have a GPS-enabled device with an active internet connection.
#8. The Machines

The Machines game is probably one of the most high-end games that use AR technology, accompanied by 3D sounds, and is similar to Pokemon Go. It requires advanced hardware because it has the most immersive gameplay in the world of augmented reality gaming.
The gameplay allows you to choose a robot character for you and fight your competitors in perspective-based motions. Your physical position is constantly being monitored, and you need to shift a position to attack/dodge your opponent frequently. What's interesting is that the 3D sounds also tend to change with your position, making the experience even more exciting like a real-life robot fight.
Update: Game No Longer Available
#9. Army of Robots

Army of Robots is an AR-based shooting game that helps you pass your time effectively anywhere, like in your home or office, to avoid boredom. Even though it is not one of those games like Pokemon Go but it still somehow shares the similar technology.
The storyline is based on an alien army of robots invading the earth with intentions to wipe out humanity, and you need to shoot them by pointing and moving your phone towards them all. The more robots you shoot, the farther you progress in the game. With every passing level, the difficulty is going to increase as well.
System Requirements:
The game requires Android 7.0 Nougat or above.
At least 2GB of RAM and support for the AR engine.
Conclusion
We have thoroughly reviewed some of the best and most popular AR-based (augmented reality) games like Pokémon Go so that you can easily read through the details and choose which game you would want to try for your next favorite pass time.
Augmented reality is constantly growing, and with time more games will certainly be launched. Until then, you can enjoy the nine handpicked games by our team that is similar to the popular Pokémon GO game.
And don't forget to let us know in the comments below which one is your new personal favorite. We would love to hear about your experience. 🙂