Cookie Clicker for Android and PC is a clicking (or tapping) game where you have to continuously click or tap on the screen to complete tasks or earn rewards. In this game, you have to begin by clicking on the cookie to bake cookies. Once you have collected enough then you can buy buildings from the shop, which helps automate the cookie baking process.
Having tons of buildings in your fleet will allow you to amplify the number of cookies your bakery can produce per second, which ultimately helps in buying more buildings.
Although, as you start buying high-end buildings and your bakery begins to generate a huge number of cookies, the game becomes highly addictive. However, there's one issue, making all of these cookies in the initial phase takes a lot of effort and time.
But you don't need to worry as here we are sharing with you working cheats and hacks for Android and PC that allows you to have tons of cookies within a matter of seconds, which then let you buy buildings or upgrade existing ones to produce even more cookies that are delicious and you can start ruling the universe.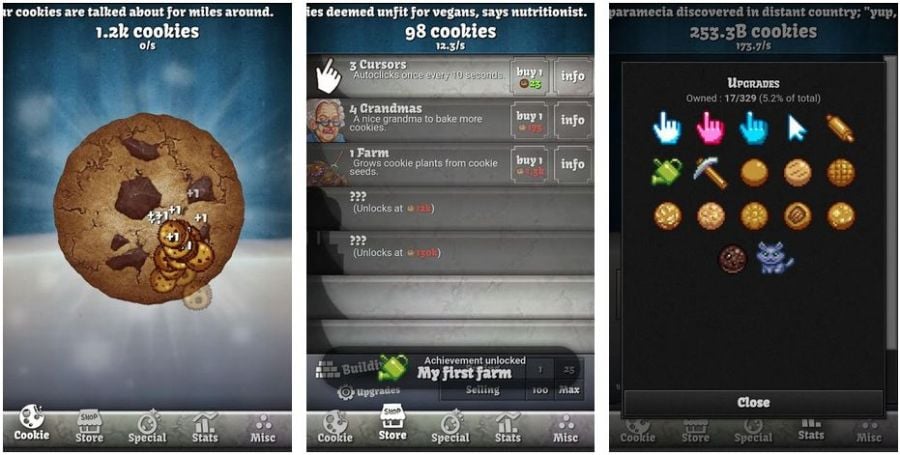 Cookie Clicker Cheat and Hack with Open Sesame Tool
Here we are going to share with you one of the best working hacks for Cookie Clicker that work on the official Cookie Clicker website and you can use on Android as well as PC. All you really need is a compatible web browser on which the game can run without any problem.
Simply follow these steps to access the hidden Open Sesame control panel and enable or apply hacks and cheats:
IMPORTANT
It is advised to create a local backup of your existing game because some impacts of the cheats are nonreversible.
Open the official website of Cookie Clicker or click here to visit the website of the game.
Tap on the name of your bakery and enter this name exactly as we have shown "saysopensesame". Make sure it is written at the end.
Once done, tap on the Confirm button.
An Open Sesame panel button will appear which you can use to hide/show the control panel.
All you have to do is select the option you want to apply and the changes will reflect onto the game.

That is it. Now you can enjoy all the powerful features of this hidden Cookie Clicker hack and cheat control panel.
Features of Cookie Clicker Open Sesame Cheat Tool
Here are the cheating features available in the Cookie Clicker Open Sesame cheat tool that you can use to hack the game and generate tons of cookies effortlessly:
Gives You An Award: The moment you enable the Open Sesame cheat, the game will instantly award you with an achievement named, Cheated Cookies Taste Awful. This will be added to your game even if you haven't used any cheat functionality.
Golden Cookies: Spawn Golden Cookies at your will with just a tap of a button. And you can decide what power that cookie is going to give you upon clicking.
Modifiable Upgrades: The upgrades and their impact on the cookies and the overall games can be modified according to your requirements like how many cookies the upgrade is going to require and how much it is going to upgrade the cookie production.
Remove/Add Upgrades: You get the ability to add and remove upgrades whenever you want with just a tap of a button. Alternatively, you can use the debug upgrade option to toggle the upgrade between on/off.