Fortnite has already gained its position in the list of top games in the world. It is currently trending among people from all generations on multiple gaming platforms such as PC, Mac, Tablets, and smartphone devices.
The company behind this popular game has already received loads of appreciation and awards exclusively for developing this ultimate gaming experience. Here is a very useful and complete guide on everything about Fortnite for beginners.
What is Fortnite?
Fortnite has some similarities with the other Battle Royale shooting games. It's a multi-player shooting game where over 100 players can play at a time. Just like the other games such as Player-Unknown's Battleground, Fortnite air-drops 100 players to the playing area from a bus attached to an air-balloon. In the case of PUBG, it air-drops players from a moving airplane.
If you are in survival mode, after reaching the ground, the players can start to fight with other players to survive. The playground shrinks as time progresses, and the players should move into the playground to avoid death.
When landed, you won't have any weapons with you except a pickaxe on hand. You need to find your required weapons scattered randomly in different locations. Players can grab desired weapons and tools to fight in the game.
Now comes the best part of Fortnite; players can create building materials with the trees, cars, and other materials around the playground. You can build your custom walls, ramps, and other things. This feature is not yet available in most of the Battle Royale games including the most popular PUBG.
What is the Free Pass and Battle Pass?
Fortnite has a very interesting progression system that lets you target for two-game passes, i.e. Free Pass and Battle Pass.
The Free Pass is available in multiple stages. It does not cost you any money, but you can earn it while performing great in the game. It lets you access some funny items, including the custom account icons and emotes. You can grab it by completing the challenges given in the game every season.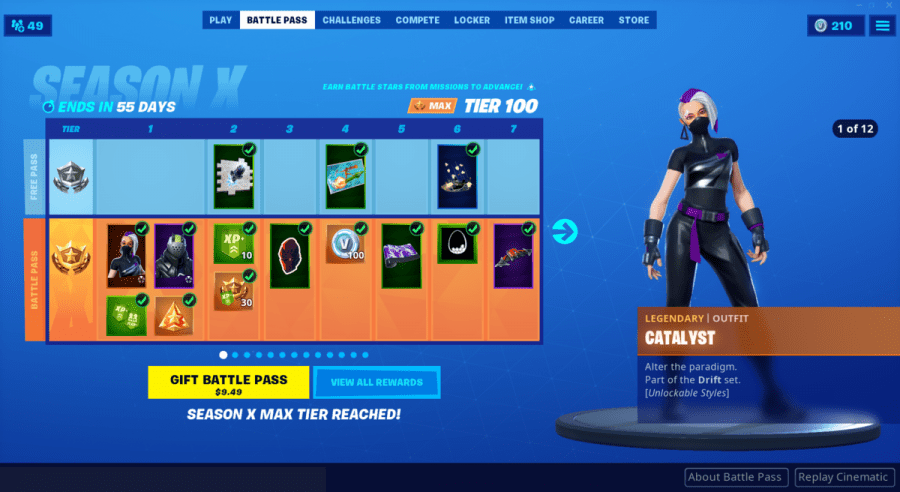 Talking about the Battle Pass, it lets you unlock serval premium rewards easily. It gives you some premium cosmetic rewards and experience boosters. However, the Battle Pass is not free as compared to the Free Pass. You will have to purchase it with 950 V-Bucks (premium coins inside the game), which equals $9.50. One pass lasts for a duration of one full season, and you will have to purchase another one once the season ends.
How to play Fortnite?
Just like any other Battle Royale game, Fortnite is also not very easy for a beginner to understand. It takes some time to understand how to play the game at first. However, we are here to help you learn to play Fortnite as a beginner.
The open-world map in the game lets the players fight with other players and the game-controlled characters. You can walk around the map locations to find enemies and kill them.
The game has a multiplayer mode, single-player mode, and co-operative mode. In the single-player mode and the co-operative mode, you can enter the game to fight with the game-controlled characters. The co-operative mode lets you fight with these characters as a group. However, these modes are especially for beginners so that they can understand the game easily.
The multiplayer mode is the most popular game mode in this game as it lets 100 players enter the game at once and fight each other. This is completely an online mode; you will have to be connected to a good internet connection throughout the gameplay. You can enter the game individually or as a squad of 4 players. The last person to survive the battle wins the match.
Players will have to submit their email addresses to create an account to play. For Xbox One users, an Xbox Live Gold account is required to start, whereas the PS4 users do not require a PlayStation Plus account. Once you have verified the email address, you can start playing with your account.
How many people play Fortnite?
As mentioned above, Fortnite is popular across the globe, with a lot of players on multiple platforms. The total number of active players is still not known, as the company hasn't revealed any official figures after May 2019. However, the company has announced that they have over 250 million players as of March 2019.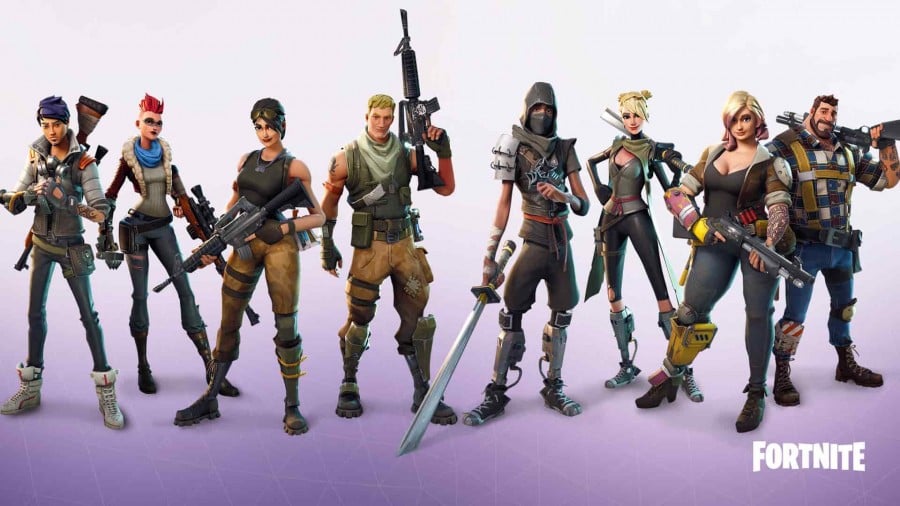 These are the official information from the company after counting the number of registered and verified accounts. Anyways, it is worth pointing out that the total number of accounts includes some inactive accounts too. We don't have official information on the inactive accounts. Also, it's been many months after the May announcement, so the number of accounts may have changed now.
As announced by the company, Fortnite had 78.3 million in August 2018. Now the official figure is 250 million according to the May announcement. So, it is a great growth for the company as the best Battle Royale game in the market. We will update this post once the company announces a new figure for the total number of active accounts.
When did Fortnite come out?
If you are enthusiastic about Fortnite, you will want to know some history of the game.
Epic Games first teased this game in 2011 at the SpikeTV Video Game Awards. The interesting fact is that the company teased the product just three weeks after they created the idea of this game. The company was celebrating its 20th anniversary that year and introduced Fortnite to the global gaming communities.
"Imagine a world where you explore, you scavenge, you build and ultimately you survive" – the company's statement about the game while revealing.
Cliff Bleszinski, design director at Epic Games, revealed the Fortnite at SpikeTV Video Game awards in 2011. After that, the company started the active development of this game with new features and elements. They opened the registrations for the closed Alpha of the free-to-play Battle Royale game in April 2014. The company started the first round of Fortnite's Alpha testing in December 2014. The second phase was started in March 2015 with even more testers.
Soon after this, Epic Games announced the compatibility of Fortnite with Mac OS and started the closed beta phase at the end of 2015. After this, many people came to know about the game and showed interest in it. As a result, the company set big ambitions for the game.
On July 21, 2017, the company launched the early access version of the Fortnite for Windows, Mac, Xbox One, and PlayStation 4 platforms. The game was available on July 21st for those who pre-ordered the game and July 25th for the rest. The same year, in September, the company launched the Battle Royale as a free-to-play for everyone.
It took around one year for them to launch the game on a mobile platform. Fortnite was launched on the iOS platform in March 2018 for free. Soon after that, they launched this game on many other platforms and devices and had some troubles too.
On July 12, 2018, Fortnite was made available to the Android-based NVIDIA Shield TV users. However, they launched the beta version of the game officially for Android devices on August 9, 2018. It was available for the Samsung Android devices only. Later, the company expanded support for the beta version to some other Android devices.
Minimum System Requirements & Supported Devices for Fortnite
Fortnite is indeed a heavy and resource-hungry game that consumes lots of data and storage space, which is the same reason why the game is available on limited devices. Here is a list of the supported devices.
Supported Android Devices
Samsung Galaxy: S7 / S7 Edge, S8 / S8+, S9 / S9+, Note 8, Note 9, Tab S3, Tab S4
Google: Pixel / Pixel XL, Pixel 2 / Pixel 2 XL
Asus: ROG Phone, Zenfone 4 Pro, 5Z, V
Essential: PH-1
Huawei: Honor 10, Honor Play, Mate 10 / Pro, Mate RS, Nova 3, P20 / Pro, V10
LG: G5, G6, G7 ThinQ, V20, V30 / V30+
Nokia: 8
OnePlus: 5 / 5T, 6
Razer: Phone / Phone 2
Xiaomi: Blackshark, Mi 5 / 5S / 5S Plus, 6 / 6 Plus, Mi 8 / 8 Explorer, Mi Mix, Mi Mix 2, Mi Mix 2S, Mi Note 2
ZTE: Axon 7 / 7s, Axon M, Nubia / Z17 / Z17s, Nubia Z11
HTC: 10, U Ultra, U11/ U11+, U12+
Lenovo: Moto Z/Z Droid, Moto Z2 Force
Sony: Xperia XZ/Premium, XZs, XZ1/Compact, XZ2/Premium/Compact, XZ3
Here is an official list from Epic Games. If your phone is not listed above, no need to worry. You can still play the game if you have the following hardware requirements on your phone:
OS: Recommended Android 8.0 or higher, 64 bits
RAM: 3GB or higher
GPU: Adreno 530 or higher, Mali-G71 MP20, Mali-G72 MP12 or higher
The Minimum System Requirements for PC/Mac Devices
As mentioned already, the game is heavy and requires good hardware to run it smoothly without any interruptions. Here are the officially released minimum hardware requirements to run Fortnite on your PC/Mac devices:
Windows 7/8/10 64-bit OR Mac OSX Sierra
Core i3 2.4 GHz processor
4GB of RAM
Intel HD 4000 video card
The Recommended System Requirements for PC/Mac Devices
The requirements mentioned above are just enough to run the game on your device with the basic performance settings. However, if you want to enjoy the game in full with all the graphical effects and textures, you will need to have a device that follows these recommended system requirements.
Core i5 2.8 GHz processor
8GB of RAM
Nvidia GTX 660 or AMD Radeon HD 7870 equivalent DX11 GPU
2GB VRAM
If you are sure that your device meets the above requirements, you are good to go. If it doesn't even meet the minimum system requirements, you can't run the game on your device.
How to Download Fortnite?
It can be somewhat confusing for a beginner to download and install the latest version of the Fortnite game on Mac, PC, Xbox, PS4, iOS, and Android devices. However, it is very easy to download the game.
All you need to have is a device that has enough specifications to run this heavy game. The game weighs around 9-15GB on each of the above platforms. If you are using a limited internet connection with a data cap, we will recommend you to switch to an unlimited data connection to download it.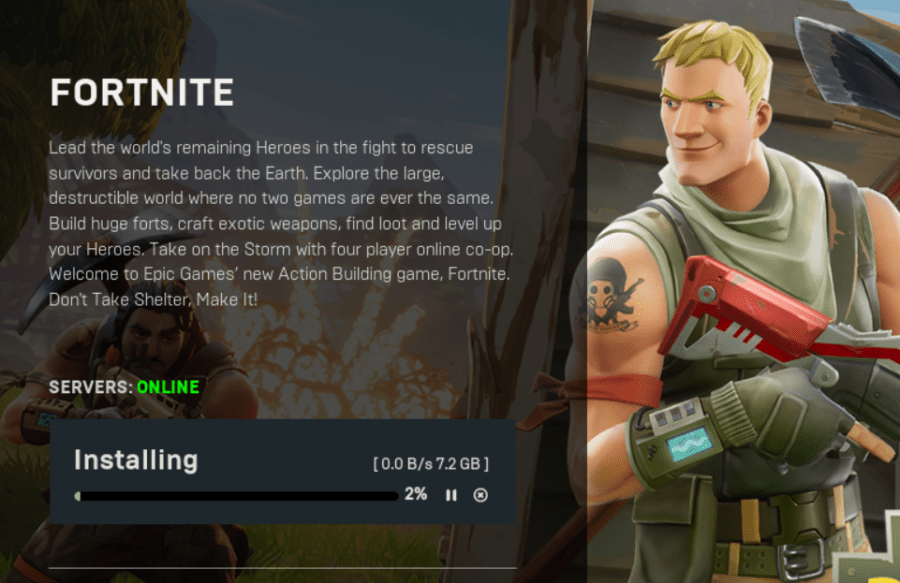 You can't download this game like other popular games. This one is not yet available on Steam for both Mac and PC devices. So, you will have to download it separately.
As a precautionary measure, it has been suggested that one should never download games from third-party websites on the internet. The chances of containing malware inside the third-party game packages are high, and it is not worth taking the risk. So, you can simply head over to the official website of Epic Games and download the original copy for free.
Download Fortnite for Mac, Windows, Android, and iOS
You can open the above link on your PC, Mac, and Android devices. You need to select your device platform and it will start to download the official Fortnite installer from Epic Games. Open the installer and it will start downloading the game files instantly. After downloading the files, you can start installing the game within the installer.
However, for iOS devices, you can open the Apple App Store right on your device and directly install the game from there easily.
You can download Fortnite for Xbox, PS4, and Nintendo Switch from their native stores accordingly. Use the following links to start downloading.
Download Fortnite for Play Station.
How to get better at Fortnite?
If you are an in-experienced newbie player, your death rate will be very high during the beginning phase. You need to learn some skills and techniques to avoid sudden deaths and improve the gaming experience. If you are suffering from instant death from enemies, we are here to help you with the best tactics to get better at Fortnite.
1) Choose where to land, it makes the gameplay better
The landing position is very important in Fortnite. I am sure that many guides and experts advise newbies to land in less populated areas. They claim that landing in a less-crowded area makes it less vulnerable for the player.
However, that is a bad idea if you want to improve your gaming skills and in-game experience. You need to land in populated areas to learn combat and improve your overall skills.
The landing place is not very important, but proper planning plays a significant role. You need to have a proper plan on what to do right after landing on the ground. You can plan the tactics and the actions while you are on the bus.
Some people try to land as fast as possible and collect the necessary goods and weapons. At the same time, some others prefer a sneaky approach and try to crouch behind the enemies slowly. Either way, what you are going to do after landing is completely your choice.
2) Use a good quality earphone for an enhanced gaming experience
That is the basic requirement in almost all shooter games. You need to have good-quality headphones for the best in-game experience. Thanks to the surround sound, using a high-quality earphone will help you listen to every sound around you.
You can easily detect the movements and presence of enemies nearby and continue the combat accordingly. In addition to these, you can easily find all those golden chests located in hidden places around the playground as it makes a special sound whenever you are nearby.
3) Practice and learn the game at first
For an absolute newbie, the main issue is getting killed at the very moment after landing. If you are also facing this issue, no need to worry. You need to spend some time on the game to learn more about gaming and controls. In the process of playing, you may be killed multiple times, but it is your opportunity to understand the strategies and game tricks and work your way from there.
The best strategy is to jump into the ongoing battlegrounds and engage in combat to understand other players' tricks and movements. You can easily pick the available weapons and choose the best one for you.
Fire testing different weapons will let you learn the recoiling and accuracy of each weapon to choose them wisely in the next respawn. On the contrary, if you keep hiding by getting behind the bushes and buildings, you won't be able to polish your skills and will continue to fail the working of the game.
4) Grab resources and use them for building
Fortnite lets you build different materials like the roof, walls, and stairs using the raw materials collected from the playground. Unlike other shooter games, you need to keep some raw materials handy at all times to build structures whenever the need to defend yourself arises; this way, you will become professional in the combat.
You can collect the raw materials by destroying trees, machines, doors, and buildings around you with a pickaxe. Use those materials to build walls and stairs to defend yourself from your enemies during battle.
Also, it is important to keep an eye on the enemy buildings and try to get away from them to avoid fatality. If your enemy is building a higher stair and climbing on it, try to place one of the materials on that to stop them, otherwise, build higher stairs than them.
5) Master the movements and win the opponents
You need to master your movements to challenge your opponents and win them easily. You can use some of the movement tricks to confuse other players and improve your game performance.
At first, you can utilize the power of jumping while moving through an open space. You can fool the snipers sitting at a distance by jumping while running. It makes it difficult for the enemies to target you and fire with precision on you. In addition to that, jumping helps you increase the movement speed.
The next important thing is rapid and unexpected movements during combat. You can move aggressively throughout the game to confuse other players. You can also crouch while moving. Crouching helps you avoid footstep sounds while moving nearby an enemy. Otherwise, enemies can detect your presence with the footsteps.
In addition to that, crouching helps you improve your accuracy. If you are crouching and stopping for a second before firing, your firing accuracy will reach 100% dramatically.
How to play Fortnite on PC?
Fortnite was launched on PC before it was released on mobile devices. It has become very popular on Windows PCs, and there are millions of players using it on computers. If you are a beginner, here is how to play a Fortnite game on a PC.
First, you need to set up your Epic Games account by visiting the official website. It is required to sign up for this game.
At first, you have to download the Epic Games launcher and open the Fortnite game easily. As mentioned above, you need to have a good quality internet connection to play it smoothly without server issues.
Now launch the game from the Epic Games launcher and sign in with your Epic Games credentials. In the game window, you will see two options – Save The World and Battle Royale.
You can choose the Battle Royale to get started with the gameplay. Before starting it, you can open the settings from the menu and familiarize yourself with the controls in the INPUT tab in settings. You can modify the input settings in this menu as your wish.
Now you can choose the game mode by clicking on the button located just above the PLAY button. You can choose from SOLO, DUOS, and SQUADS options as you wish. Make sure you check the FILL option to include other players in the game; otherwise, you will end up joining a game with all solo players. Once all is done, click on the PLAY button to start the game.
These are all the available game modes:
Solo: Battle it out on your own.
Duos: Pair up with a friend.
Squads: Choose two to three others.
50v50: Join one of two teams of 50 each (you'll find extra loot here but more lethal storms).
Playground: Practice with weapons in this low-pressure environment and build massive structures.
Steady storm: Be prepared for relentless storms.
After clicking on the PLAY button, the game window will show the loading screen. Then it will open up a warm-up mode that lets you walk around and try your controls before starting the real game. Once the countdown has ended, you will be taken to the playground on a bus attached to the flying balloon. You can jump to the desired location and use your control to land properly on the ground.
Once landed, you can run around to find weapons and items required to continue the battle to survive. However, you need to make sure that you are not attracting the nearby enemies and avoid getting killed by them.
In case you are killed by someone, you have the option to continue to watch other players' gameplay or start a new game. You can use this spectating opportunity to learn the battle tricks and combat styles and ultimately become a pro player.
During your gameplay, you will notice an indicator that informs you that the storm is shrinking. You can open the map and run to a safe area. If you get yourself caught in the storm, it is going to cause damage and once you run out of health, you will get eliminated from the game.
Here are the common input controls in Fortnite on PC:
Run/sprint: Shift
Jump: Spacebar/Up arrow
Use/interact with objects/pick up items: E
Crouch down: Ctrl
Fire: Left mouse button
Reload: R
Aim down sight: Right mouse button
Change weapons: Scroll wheel on the mouse
Building slots: F1 through F4
Rotate building structure: R
Change building material: Right mouse button
Map: M
You can use these controls to master the game.
So, these are some of the few basic things to know before playing Fortnite on a PC.
When will Fortnite 'Save the World' be free?
As mentioned above, the popular Battle Royale is free-to-play in the Fortnite game on all supported devices and platforms. However, there is a co-op PVE mode named Save the World, which is still under development. At this time, users have to pay for it to enjoy the Save The World mode in their Fortnite application. It will cost you $39.99 to grab this game mode.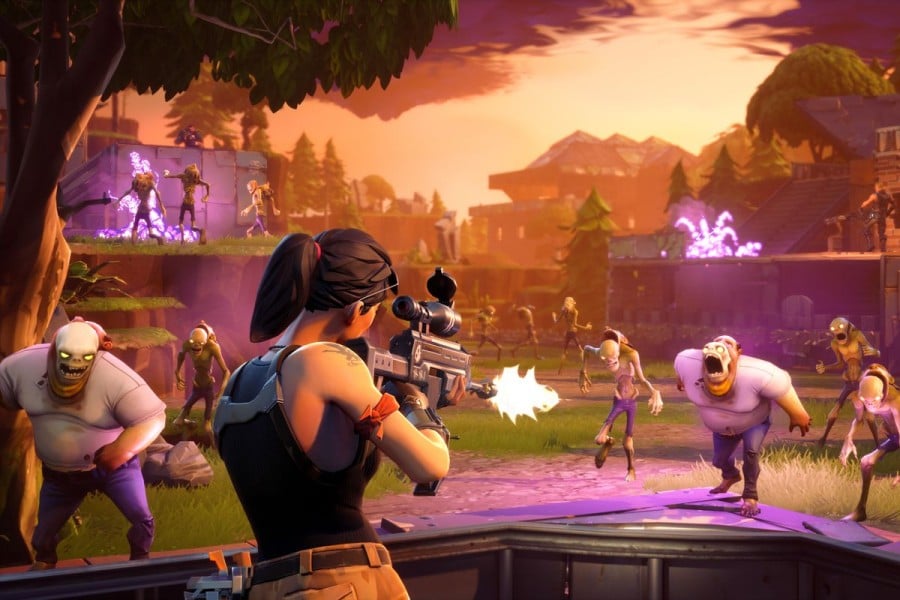 The company has been working on it for the last few years and was set to release it officially in 2018. But that didn't work out properly, and you have to spend money to own it as of now.
To support this, they stated that they are working on the mechanics and backend of Save The World mode to prepare it for free-to-play availability. That is the reason behind the delay in the public release of the said mode.
However, we have good news for global Fortnite fans. The company has just revealed that they are planning to make the Save The World mode free-to-play in the coming seasons.
In a blog post, the company announced that the users could earn X-Ray tickets by taking part in quests, mission alerts, and daily login rewards. Users can use these tickets inside the Save the World mode only. That indicates the company's plans to launch the free-to-play version of the same.
The company hasn't yet revealed any official release date for this. However, the announcements, rumors, and news from the company indicate that they will be launching it by the end of this year for free users. Until then, the company will be working on the backend and functioning of the mode for an overall smoother gaming experience.
How much money has Fortnite made?
Epic Games is not a very open company when it comes to revealing its total earnings. However, they are making a very good amount of money from gamers each year. If we dig in deeply, most of their money is coming from other business models in the gaming industry, rather than the in-app purchases on their games. Their earning model is very promising and long-term.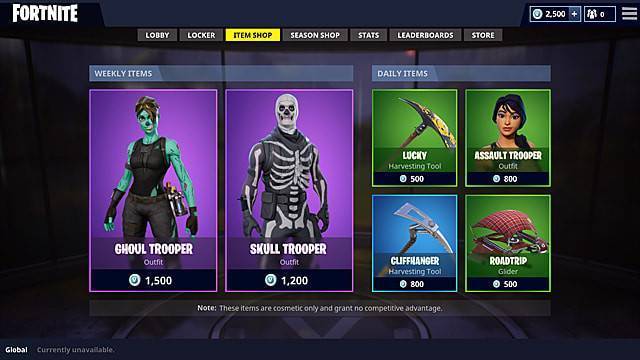 Anyways, according to Nielsen's SuperData tracking arm report in 2018, Fortnite has made around $2.4 million as revenue. Fortnite charges $10 for the most popular Battle Pass from the users, and it adds to the Epic Games' overall revenue. They are making additional money from Fortnite with in-game items such as virtual money (V-Bucks), add-on items, and special outfits. However, it is worth noting that they are not charging any money from the users to play the game for free.
Why is Fortnite so popular?
As you know, Fortnite is dominating the Battle Royale category and is making a buzz on the internet. We see many posts and clips of the best gameplays of Fortnite all over Facebook, YouTube, and other platforms.
Have you ever thought about how it became so popular when there is some strong competition in the same category? There are multiple reasons to justify this.
First of all, Fortnite is a free-to-play game with not even a single fee for playing the game in normal cases. It attracts millions of players across the globe, and they just fall in love with the features and the experience it offers, even on the free version. Many of the popular online games were using the same strategy to increase the user base.
Fortnite is not only a shooting game with boring traditional gameplay. Instead, it allows you to play the game without even firing a single shot. That means you can easily roam around and explore the playing area. The playground is filled with mysteries and new things to explore, which attracts everyone to the game. Moreover, it is a skill-based and creativity-focused game that requires you to learn something new at each match.
Seasonal promotions are another point that attracts many new users to the game. When the company announces a seasonal event, everyone starts posting about it on social media and forums. When someone who doesn't know anything about the game sees this, he/she is more likely to install the game to know what it is all about. That makes the game very popular in the digital world. It is a great strategy used by Epic Games to popularize their game.
Now comes the power of social media. Fortnite gets most of its new users from various social media platforms and dedicated gaming forums. As mentioned before, all the active players always spam Facebook, Reddit, YouTube, and other platforms with live streams, gameplay videos, and screenshots to show off their skills and achievements.
That leads to a big buzz on the internet and it results in more popularity for the game. Not only Fortnite but also Player Unknown's Battleground gets benefits from this.
How to uninstall Fortnite?
Although that's a personal preference, why would someone uninstall such a beautiful game?
Some people prefer to uninstall the game because they get too addicted to it and waste their precious time. That alone is a very good decision when you have so many responsibilities on your hands. Gaming should be a time-limited entertainment activity that does not affect productivity — another reason to uninstall the game could be having low-powered hardware and device to run such a massive game.
Whatever the case might be, if you are sure about uninstalling, here we have a guide for you:
Before uninstalling it, you must remember that all the stored data will be deleted upon successful uninstallation of the game. So, if you want to use the game later, you will have to download the contents all over again.
Let's start!
Uninstall Fortnite on Windows PC
Go to Settings and click on Apps.
Scroll down and find Epic Games from the app list.
Click on the option with the name Epic Games and Click Uninstall.
Complete the Uninstall confirmation, and you are done.
Uninstall Fortnite on Mac
Click on the Finder
Click on the Search bar and type Epic Games to see the search results with all the files related to it.
Select all files from Epic Games and drag them to Trash. After deleting, you will permanently lose all the files of the game.
Uninstall Fortnite on Android
You can easily uninstall all applications and games on your Android phone without much effort.
Simply tap and hold on to the app icon from the home screen or app drawer. Then you will see the option to uninstall it. Tap on it, and you are done uninstalling the game from your Android smartphone.
How to gift in Fortnite?
Gifting in Fortnite is one of the most attractive features of this game. You can easily send gifts and special items to your friends and co-players in this game.
However, Epic Games has a strict list of requirements to gift items to friends inside the game. Below are the official requirements and terms from their website:
Make sure you have Multi-factor authentication enabled on your account. If you're not sure how to get this setup, then check out the instructions here.
You must have been friends with somebody for at least 48 hours before you can send a gift to them.
You will only be able to gift three times within 24 hours.
You can only gift an item that is currently available in the Item Shop.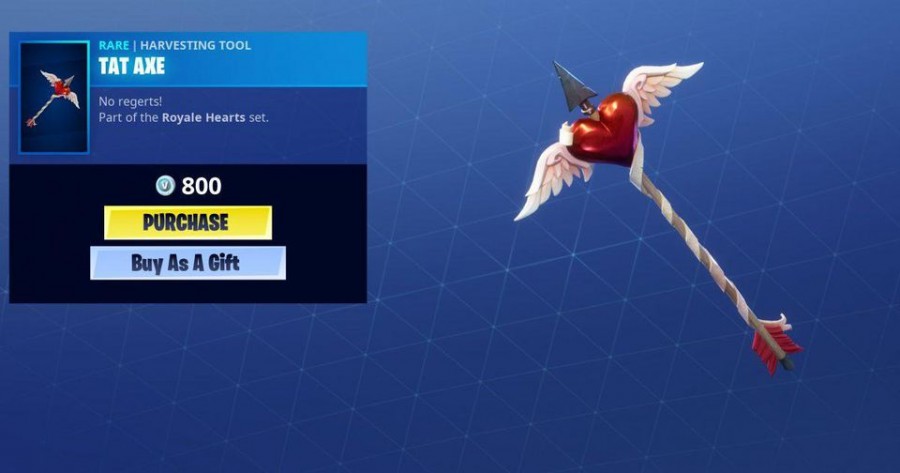 If you meet the above requirements, you can send your gift right away. For that, you just need to head over to the item shop and select the product. After selecting, the purchase screen will show you two options to either purchase for yourself or send as a gift. Tap on the Send as a gift button, and you can send it with a custom note too.
Conclusion
We hope you had a fantastic journey through our ultimate Fortnite guide. This guide contains almost all the information required for a complete newbie to know more about the game deeply.
We will update this blog post continuously with new facts and information related to the Fortnite game and its creators Epic Games.
If you have any questions or doubts, make sure to write those down in the comments section below. We will love it if you share this guide with your friends before inviting them to play this awesome game with you.
Happy gaming!