Are you experiencing failed to detect location 12 or a location not found error in Pokemon GO and unable to play the game? Or maybe you are trying to spoof/mock your location using GPS joystick apps but the game is unable to get the location? Follow our guide to fixing the failure to detect location issues in Pokemon GO.
According to our research, there are two main reasons why many of you are experiencing this error:
Reason 1 – You are somewhere under the buildings where your Android phone/tablet is unable to receive GPS signals.
Reason 2 – Mock Locations option is enabled on your Android phone/tablet.
Without wasting any moment, let's quickly jump into the solutions:
1. Enable GPS Location Services on your Phone
Since the game is unable to detect your location, so we will have to check and make sure the location services and GPS option are enabled on your phone.
Go to Settings and tap on the Location option.
Tap on the Mode option and select High Accuracy to set GPS to maximum location accuracy mode.
Once done, try to play Pokemon Go and see if the failed to detect location error disappears. If you are still experiencing the error then I will highly recommend you to move somewhere outside as it could be happening due to low/poor GPS signals.
2. Disable Mock Location Feature from Developer Settings
Here we will go through a little bit advanced route in an attempt to troubleshoot the problem, which is to disable the mock locations feature on Android.
Go to Settings, find the About Device option and tap it. This option should be located under the System section.
Find Build Number and tap on it seven (7) times and then you will see a toast message that says, you are now a developer.
Go back to Settings and now you will have Developer Options. Should be right above the About Device option.
Tap on the Developer Options. Enable toggle, if you see any option. A new popup message will appear that says, these settings are intended for development use only. Tap OK to continue.
In the list, look for Allow mock locations checkbox, it should be located under the Debugging section. If allow mock locations is enabled, then tap on it to disable it.
In some Android versions, instead of allowing mock locations checkbox, there would be a select mock location app option. If that's the case, make sure it says, no mock location app set.
3. Update Pokemon Go to the Latest Version
Running an older version of the game can sometimes conflict and cause location errors. It is always best to keep your game updated as it gives you the latest fixes and there are minimal chances of something breaking.
Here is how you can check for updates:
Open Play Store.
Using the search bar, search for Pokemon Go.
Tap on the game.
If there is any update available then you will see a green Update button. Tap it.
Once successfully updated to the latest version, you can try opening the game and check if the GPS location error is resolved.
4. Restart Pokemon Go
Yes, simply closing Pokemon Go, clearing it from the recent apps list, and then relaunching it usually fixes the location error. The reason is the game resets and refreshes the request for the location services. This also forces the game to detect location.
5. Log Out and Log-In into the Game
There are certain problems due to which the game sometimes stops getting location data, so to take care of this manually you can log out of your account and then log back in. This cycle is another quick fix to resolve failed to detect the location 12 error in Pokemon Go.
Here is how you can achieve this:
In the game, go to Settings.
Scroll down till the very end, you will see the Sign Out button. Tap it.
Now log back into your account using your username and password.
Try to play the game like you usually would see if the issue is resolved.
6. Clear Data and Cache of Pokemon Go
Just like any other operating system Android also stores data and cache files for every app, which helps speed up the launch and processing speed of the app so you can quickly start playing the game.
However, over time these temporarily stored cache data begin to cause conflicts with the system and show errors. So, it is important to clear the cache and data of any app that causes issues.
Here are the steps to clear that:
NOTE:
You will be logged out from your Pokemon Go account. Make sure you remember your username and password.
On your phone, go to Settings and tap on Apps. In the list of apps, find Pokemon Go and tap it.
Tap on the Storage option.
Tap Clear Cache and Clear Data buttons.
That's how simple and easy it is to refresh the app. Open the Pokemon Go app and the game will now ask you to log in to your account.
7. Restart Your Phone
As simple as it may sound, restarting your phone fixes a lot of underlying issues that are otherwise left ignored. This method alone will resolve various errors.
On your Android phone, find the power button, press and hold it for a few seconds until the power off menu appears on the screen. Tap on the Restart button to reboot your phone.
8. Use a Location Spoofing App
If you are trying to play Pokemon GO on an Android device with GPS spoofing or GPS hacking apps (like Fake GPS GO, Fly GPS, GPS JoyStick) through Android's "Mock Location" feature to spoof location, but are unable to play because the game is showing the error 'Failed to detect location (12)'.
Simply follow the steps below to permanently fix the error and continue spoofing locations in Pokemon GO after the Android security update:
To be able to spoof your location in Pokemon GO after the latest Android security update you need to root your device. So the first step to root an Android device is to find out the make and model number of your Android phone or tablet by going to Settings and then the About Device section.
Since the procedure to root an Android device is different for every phone manufacturer, I will suggest you first try an easy and one-click Android rooting app KingRoot.

In case your phone/tablet is not supported by the KingRoot app then simply perform the following example Google search i.e. "how to root Galaxy S7 SM-G935F" (obviously, you need to replace 'Galaxy S7 SM-G935F' with the model number of your device) and you will find many tested and proven ways on how to root your particular Android device.
For best results, I will recommend you opt for system-less root.

Once your phone is rooted, download the GPS JoyStick Fake GPS location APK and install it on your phone. (Alternatively, you can download Fake GPS GO apk but here I am using GPS JoyStick app because it provides better compatibility.)
We will now use a unique Privacy Mode feature of the GPS JoyStick app to hide the presence of the location spoofing app from Pokemon GO. So open GPS JoyStick and under the Quick Options section, you will find Privacy Mode. Tap it.
It will ask, "Do you want to generate a new copy or update an existing generated one?" Tap on Generate.
In the provided box, type a new app name. Here I am using "PoGo GPS App" as a new name. Then tap on Start.

The generation of the new app will take about a minute to complete
Once the app has been generated successfully, the installation screen for the PoGo GPS App will appear. Tap Install.

Now first you need to uninstall the GPS JoyStick Fake GPS Location app and then convert PoGo GPS App to the system app. For that, we will use the Link2SD app. This app will let you move PoGo GPS App to the system directory within a matter of seconds and will take care of all the permissions.
When Link2SD has been installed, open the app and allow it root access.
You will now see a list of all the apps installed on your device. Find PoGo GPS App and tap on it.
Tap on the menu button located at the upper right corner and then tap the Convert to system app option.

A convert app popup, as shown in the screenshot below, will appear. Tap on OK to proceed. It will take a while to convert.

Once the app has been converted successfully, you will see a "Reboot device" toast message. Please reboot your device for the changes to take effect.
Now we have to configure PoGo GPS App. Launch the app and tap on the menu button located at the top left corner.
Tap Settings.
Under Settings, you need to make sure the following four options are enabled:

In case you are wondering, the Enable System Mode option will let you spoof your location in Pokemon GO without enabling mock locations. And remember, enabling and disabling the Disable Location Service state option will require you to reboot your device.

Enable Indirect Mocking,
Enable System Mode,
Disable Location Service,
Enable A-GPS Reset.
That is all with the setup. 😀
Now you need to unroot your Android device because if you stay rooted then Pokemon GO will not allow you to play the game.
Simply use the SuperSU app's built-in feature to unroot your phone. In case you are wondering, the SuperSU app must have already been installed after you rooted your device.
On the other hand, if you opted for the system-less root method then you will be able to enable/disable root using a simple switch as shown in the screenshot below using iSU. 😉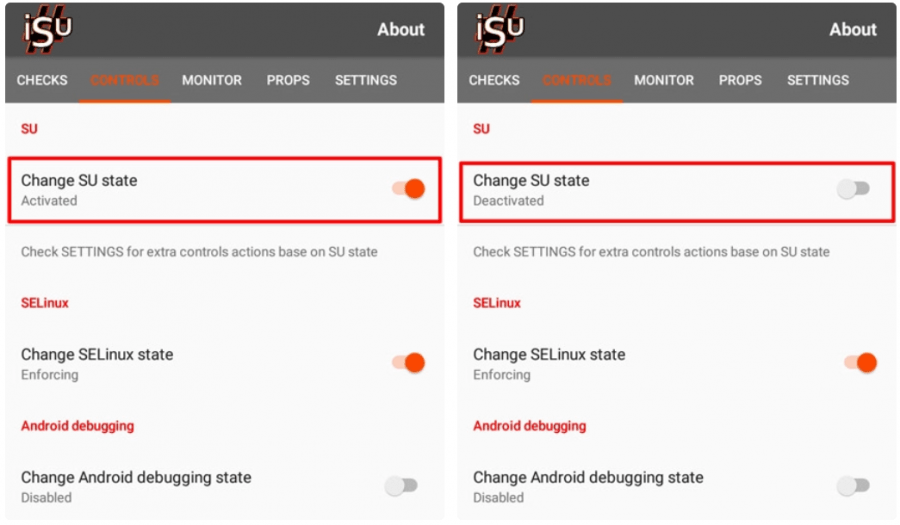 We will now check if our Android device has been unrooted properly. For that, we need to install the SafetyNet Helper app.
Open the app and run the test. It will perform several tests on your device and let you know if your device has passed or not.
If the tests are cleared successfully it means your device has been unrooted successfully and you can now play Pokemon GO. Else, if any of the tests failed then you need to perform step #18 again in order to unroot your device.
In case you are unable to unroot your device then please leave your comment in the comments section below. I will help you out! 🙂
Go to Settings -> Location and set the location mode to Device only.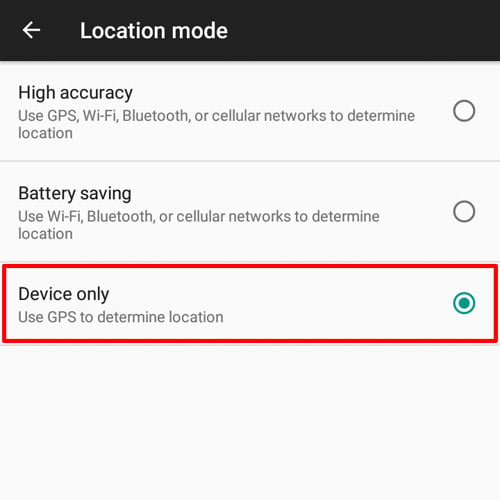 Open PoGo GPS App, select the Set Location option, and then tap on the option that says Click here to open the map. A map will now open and you can select whatever location you want your Pokemon character to spoof. Then tap on the Start button to begin spoofing in the selected location. You will see a hovering menu with a joystick and all the controls.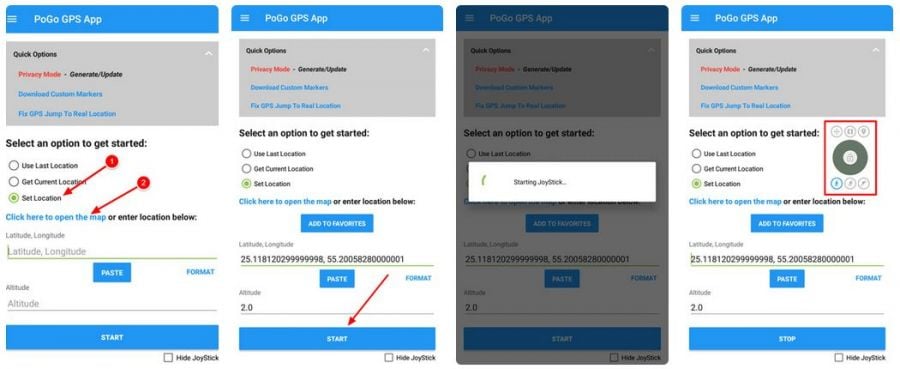 Now you can launch the Pokemon GO game and control your Pokemon character with the joystick to spoof your location. There won't be any 'failed to detect location error' and you will not see any Pokemon GO blacklist warning screen, all thanks to the GPS JoyStick's Privacy Mode.
Conclusion
I hope the methods mentioned here in this article have helped you in fixing failed to detect location 12 error in Pokemon GO. And also you must have by now found a working solution to spoofing your location in the game.
In case you have any questions or if you are stuck at any step then leave your question in the comments section below and I will try my best to get back to you with a working solution. 🙂