Are you experiencing failed to detect location 12 or a location not found error in the Pokemon GO and unable to play the game? Or maybe you are trying to spoof/mock your location using GPS joystick apps but the game is unable to get the location? Follow our guide to fixing the failure to detect location issue in Pokemon GO.
According to our research, there are two main reasons why many of you are experiencing this error:
Reason 1 – You are somewhere under the buildings where your Android phone/tablet is unable to receive GPS signals.
Reason 2 – Mock Locations option is enabled on your Android phone/tablet.
Now, in case you are unaware, 'mock locations' feature is being widely used by the Pokemon GO users to spoof their location using GPS spoofing apps like Fly GPS, Fake GPS GO and other similar location hacking apps. These spoofing apps allow them to take their Pokemon GO character to any part of the world and catch Pokemon from the comfort of their home.
Psst…are you enjoying Pokemon Go? Don't forget to claim some of the most exclusive items and free gifts from Niantic using these seasonal Pokemon Go promo codes. 😉
Mock locations feature in Android have a back door bug that allows GPS spoofing apps to mock your location without revealing that to the system as well as any app including the Pokemon GO. So, the developers of the game have no idea if you are using any location spoofing app.
However, in an attempt to stop spoofers from using location hacking apps on Android, it seems like Pokemon GO developers have teamed up with the developers over at Google. This is what forced them to release an Android security update through OTA for Android 4.4.x KitKat, Android 5.x Lollipop, Android 6.x Marshmallow, Android 7.x Nougat, and some latest versions too.
This security update was released in March 2017, which has directly affected how the spoofing apps like Fake GPS GO and Fly GPS works to spoof your real location in Pokemon GO and apparently patched the mock locations feature.
We will suggest you read: How to control your Pokemon GO character with a joystick
Once the latest security update has been installed on your phone, the Pokemon GO app will be able to find out if the GPS is being altered using mock locations then it will show you an error message about the location not found, making it unable for you to play the game unless mock locations option is disabled.
After the Android security patch update, the only possible way to spoof your location in Pokemon GO is to first root your Android phone/tablet and then use the GPS spoofing apps. I have discussed in detail about spoofing on Android after security patch below in the tutorial section.
How to Fix Failed to Detect Location in Pokémon GO?
Here is a detailed step-by-step tutorial where we will help you troubleshoot the error failed to detect location error in Pokemon GO and ultimately fix the issue.
And if you are one of those PoGo users who is trying to use Fly GPS, Fake GPS GO, or any other similar GPS spoofing and hacking apps with Pokemon GO to spoof your location then please head straight to Method #3 below to fix the problem of GPS signal not found. 😀
Method 1: Check and make sure location services are enabled
The first method. This is where we will check and make sure that the location services are enabled on your Android phone/tablet device or not.
Follow these steps:
Step 1 – Go to "Settings" and tap on the "Location" option.
Step 2 – Tap on the "Mode" option and select "High Accuracy" to set GPS to maximum location accuracy mode.
Step 3 – Now, try to play Pokemon GO and see if the failed to detect GPS issue has been resolved or not.
If it is still not resolved, then follow the steps mentioned in method #2 below.
Method 2: Disable mock locations in developer options
In this second method, we will go through a little bit advanced route in an attempt to fix failed to detect location problem that you are experiencing while playing Pokemon GO on your Android phone.
Follow the below steps to find and disable mock locations feature on Android:
Note
If the "Developer options" is already enabled on your device then please start following this method from Step 4.
Step 1 – Go to "Settings" and scroll down until you find "About Device" option and tap on it. This option should be located under the System section.
Step 2 – You will now see a list of information about your device, find and tap on the "Build Number" 7 times and then you will see a toast message that says, "You are now a developer".
Step 3 – Developer options is enabled on your phone. To check, go back to the "Settings" and you will see that the "Developer Options" has now appeared right above the "About Device".
Step 4 – Tap on the "Developer Options". There you will see a toggle button on the top and a large list of check boxes. Tap on the toggle button to enable Developer Options.
A new popup message box will appear that says, "These settings are intended for development use only". Tap on the "OK" button to enable.
Step 5 – Look for "Allow mock locations" checkbox, it should be located under the Debugging section. If this option is enabled, then simply tap on it to disable mock locations.
Also, it is possible that in your version of Android, instead of Allow mock locations checkbox there will be "Select mock location app" option. Make sure it says, "No mock location app set".
Step 6 – That's all. Now, try playing Pokemon GO and see if the issue failed to detect location has been resolved or not.
This method should work and fix the failed to detect location error because the latest Android security update has patched the mock locations option, which most of the Pokemon GO users were using to spoof their location.
But, what if you still want to spoof your location in Pokemon GO after the Android security patch update? Next method i.e. Method #3 is where I will guide you on how to spoof in Pokemon GO even if your phone has received the latest Android update.
Method 3: Spoofing in Pokemon GO after Android Security Patch
This third and last method is for those of you who are trying to play Pokemon GO on Android device with GPS spoofing or GPS hacking apps (like Fake GPS GO, Fly GPS, GPS JoyStick) through Android's "Mock Location" feature to spoof location, but unable to play because the game is showing the error 'Failed to detect location'.
Simply follow the steps below to permanently fix the error and continue spoofing location in Pokemon GO after the Android security update:
To be able to spoof your location in Pokemon GO after the latest Android security update you need to root your device. So the first step to root Android device is to find out the make and model number of your Android phone or tablet by going to Settings and then the About Device section.
Since the procedure to root Android device is different for every phone manufacturer, I will suggest you first try an easy and one-click Android rooting app KingRoot.

In case your phone/tablet is not supported by the KingRoot app then simply perform the following example Google search i.e. "how to root Galaxy S7 SM-G935F" (obviously, you need to replace 'Galaxy S7 SM-G935F' with the model number of your device) and you will find many tested and proven ways on how to root your particular Android device.
For best results, I will recommend you to opt for system-less root.

Once your phone is rooted, download GPS JoyStick Fake GPS location APK and install it on your phone. (Alternatively, you can download Fake GPS GO apk but here I am using GPS JoyStick app because it provides better compatibility.)
We will now use a unique Privacy Mode feature of the GPS JoyStick app to hide the presence of the location spoofing app from Pokemon GO. So open GPS JoyStick and under the Quick Options section, you will find Privacy Mode. Tap it.
It will ask, "Do you want to generate a new copy or update an existing generated one?" Tap on Generate.
In the provided box, type a new app name. Here I am using "PoGo GPS App" as a new name. Then tap on Start.

The generation of the new app will take about a minute to complete
Once the app has been generated successfully, the installation screen for the PoGo GPS App will appear. Tap Install.

Now first you need to uninstall the GPS JoyStick Fake GPS Location app and then convert PoGo GPS App to the system app. For that, we will use the Link2SD app. This app will let you move PoGo GPS App to the system directory within a matter of seconds and will take care of all the permissions.
When Link2SD has been installed, open the app and allow it root access.
You will now see a list of all the apps installed on your device. Find PoGo GPS App and tap on it.
Tap on the menu button located at the upper right corner and then tap the Convert to system app option.

A convert app popup, as shown in the screenshot below, will appear. Tap on OK to proceed. It will take a while to convert.

Once the app has been converted successfully, you will see a "Reboot device" toast message. Please reboot your device for the changes to take effect.
Now we have to configure PoGo GPS App. Launch the app and tap on the menu button located at the top left corner.
Tap Settings.
Under Settings, you need to make sure the following four options are enabled:

In case you are wondering, the Enable System Mode option will let you spoof your location in Pokemon GO without enabling mock locations. And remember, enabling and disabling the Disable Location Service state option will require you to reboot your device.

Enable Indirect Mocking,
Enable System Mode,
Disable Location Service,
Enable A-GPS Reset.
That is all with the setup. 😀
Now you need to unroot your Android device because if you stay rooted then Pokemon GO will not allow you to play the game.
Simply use the SuperSU app's built-in feature to unroot your phone. In case you are wondering, the SuperSU app must have already been installed after you rooted your device.
On the other hand, if you opted for the system-less root method then you will be able to enable/disable root using a simple switch as shown in the screenshot below using iSU. 😉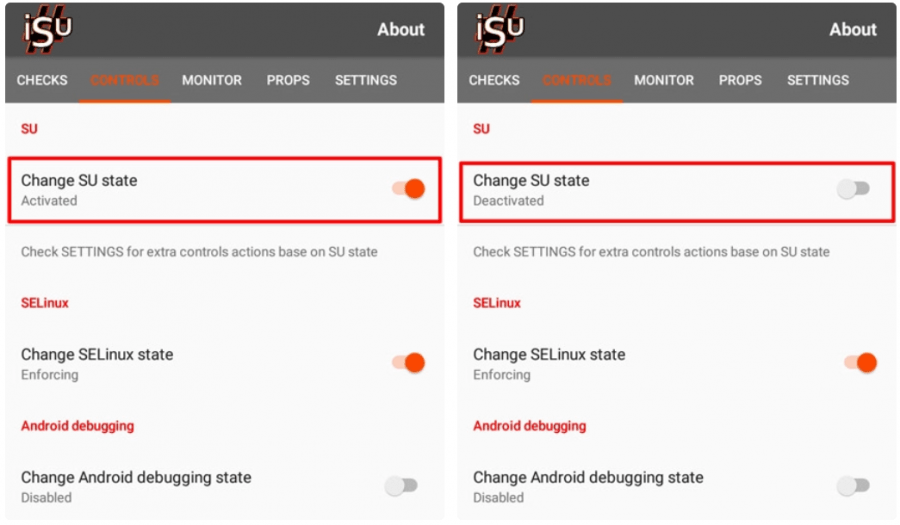 We will now check if our Android device has been unrooted properly. For that, we need to install the SafetyNet Helper app.
Open the app and run the test. It will perform several tests on your device and let you know if your device has passed or not.
If the tests are cleared successfully it means your device has been unrooted successfully and you can now play Pokemon GO. Else, if any of the tests failed then you need to perform step #18 again in order to unroot your device.
In case you are unable to unroot your device then please leave your comment in the comments section below. I will help you out! 🙂
Go to Settings -> Location and set the location mode to Device only.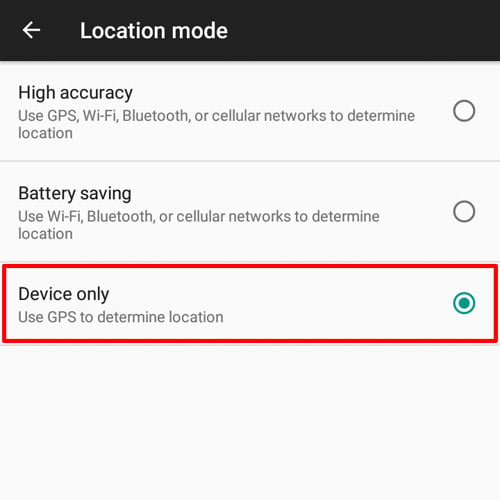 Open PoGo GPS App, select the Set Location option, and then tap on the option that says Click here to open the map. A map will now open and then you can select whatever location you want your Pokemon character to spoof. Then tap on the Start button to begin spoofing in the selected location. You will see a hovering menu with a joystick and all the controls.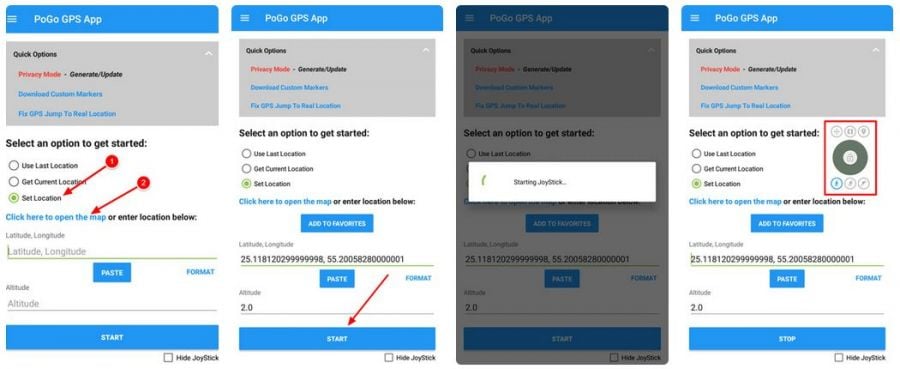 Now you can launch the Pokemon GO game and control your Pokemon character with the joystick to spoof your location. There won't be any 'failed to detect location error' and you will not see any Pokemon GO blacklist warning screen, all thanks to the GPS JoyStick's Privacy Mode.
Conclusion
We hope the methods mentioned here in this article have helped you in fixing failed to detect location error in Pokemon GO. And also assisted you in spoofing your location in the game even after your phone has received the latest Android security update.
In case you have any questions or if you are stuck at any step then leave your question in the comments section below and we will try our best to get back to you with a working solution. 🙂