Here we have an ultimate guide to help you play YouTube in background on Android without paying for YouTube Premium.
We are going to share with you all the working techniques and loopholes that you can use to play YouTube videos and music in background.
So if you are looking for a way to have background playback support for YouTube on Android, then you are going to love this guide.
Are you fed up of keeping your phone's screen on all the time just because you are listening to your favorite music or podcast on YouTube? Keeping the screen continuously on causes your phone's battery to drain much faster and will not let you do anything else on your phone.
Look no further as here we are going to share with you a step-by-step tutorial on how to play YouTube videos/music in the background on Android. Or a lot better, you can turn off your phone's screen, and YouTube will just continue to play podcasts, music, or video.
Before we jump onto the tutorials and apps, we would like to mention Google introduced the YouTube background playback feature in YouTube Red (which is now reinvented as YouTube Premium), which is actually a paid membership that offers you some of the most incredible features including ad-free videos, background play, option to save videos for offline, audio-only mode.
But you don't have to worry about YouTube Premium plan as the methods and apps we are about to share with you in this guide will help get all the premium features without paying a penny.
Yes! For free 😉
Not only that, some apps even allow you to download videos and MP3 from YouTube for offline playback.
Isn't it wonderful? 😀
Let's get started…
How to Play YouTube in the Background on Android?
So, without any further ado, let's jump onto the twelve easy-to-follow methods and apps you can use right now to play YouTube songs, podcasts, and videos in the background on your Android phone and tablet devices:
1. Using Google Chrome Browser on Android
One of the best, quickest, and well-known methods that allow you to play YouTube in the background is by using the Google Chrome web browser. Yes, the same browser that comes preinstalled on almost every other Android device.
The procedure for that is mentioned below:
Open the Google Chrome browser and go to YouTube.com.

Tap on the menu button and then enable the "Request desktop site" option.

Chrome will then load the desktop version of YouTube.

Search for the video/open the video you want to play in the background.

Once the video starts playing, simply minimize the Chrome browser and look at the notification area, you will notice a new notification with play/pause buttons has appeared.

You can use these buttons to control YouTube background playback while you continue using other apps.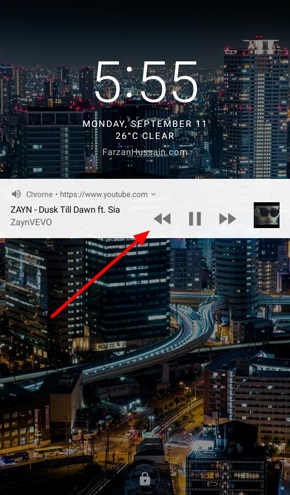 The best part is that the method lets you listen to YouTube music even when your Android phone is locked and the screen is off (as you can see in the screenshot).
If because of any reason you are unable to use this trick on your Android phone, then you won't have to worry as we have a list of working apps that will let you enjoy background playback on YouTube.
2. YouTube Vanced
YouTube Vanced is one of the best out there to enjoy all the notable features of YouTube Premium without paying for premium. You can have background play support along with the ability to block in-video advertisements and the option to download videos for offline viewing, which comes handy when you are on a plane.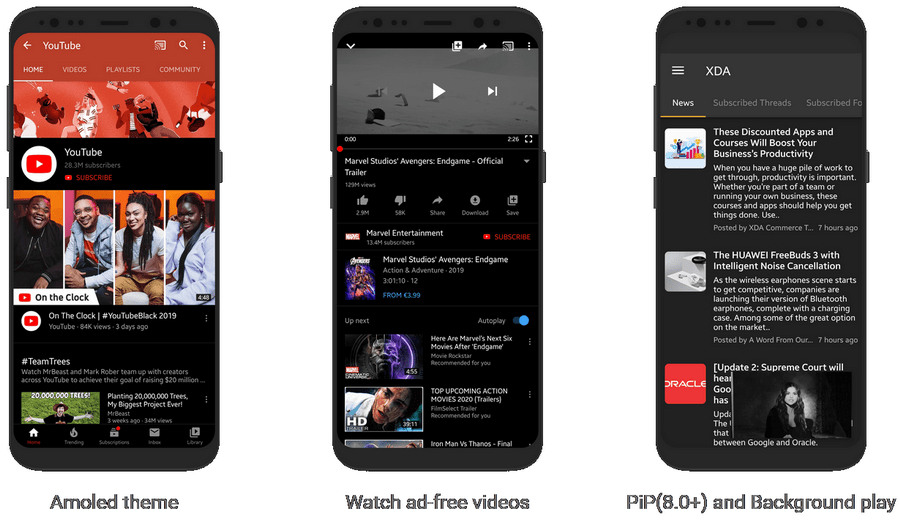 Moreover, if you are using an Android device running Android 8.0 Oreo, then you will be able to get your hands on PiP (Picture-in-Picture) mode. That is not all since most of the devices come equipped with AMOLED screen, you can even download YouTube Vanced AMOLED themed variant for better battery optimization.
Ad-free – Built-in ad blocker that completely blocks all the ads while playing YouTube videos on your Android device.
Background Playback – Ability to continue playing videos even while you are using any other app.
Listen to YouTube Music even with your mobile screen turned off.
100% compatibility – Fully compatible with all Android devices, including ones with/without root access.
Not available on the Google Play store and needs to be sideloaded via APK.
Download YouTube Vanced APK for Android
3. iYTBP – Injected YouTube Background Playback
iYTBP (also known as injected YouTube Background Playback) is actually a modified version of the original YouTube Android app with few added functionalities like background playback, screen-off playback, and advertisement removal.
Actually, it is based on the source code of the Xposed module 'YouTube Background Playback' and developers have created this app for those who don't have an Xposed framework on their Android mobile device. Moreover, it is important to mention here that the iYTBP app works on both rooted as well as non-rooted phones.
There is iYTBP vanced version too, which is the most up-to-date modified YouTube version with background playback support along with added features like adblocking.
Enhance video quality without sacrificing bandwidth usage by force enabling the VP9 Codec option.
Support for casting along with additional themes and UI improvements.
Save videos for offline viewing right from within the app (only if the "Save Offline" option is supported).
Support for all types of advertisement blocking, including video ads and layout ads.
Do not allow you to download YouTube videos.
Due to modifications and features included in the iYTBP app, it is not available in the Google Play Store.
You can download the iYTBP APK and learn how to install it on your Android phone/tablet device on the XDA Developers forum.
4. Free Music Player for YouTube: Stream
The Stream is a free music and video player for YouTube, which gives you a floating pop-up player that allows you to multitask. You can listen to your favorite songs or custom playlist on YouTube in the background while using other apps like chatting with your friends on social media or using navigation.
You will have a customizable floating popup window to fulfill your requirements of watching videos along with the freedom to use other apps on your phone. Originally, the app used to provide the ability to listen to YouTube even when the device screen is off, but YouTube Terms of Use forced the developers to remove that functionality completely.
Listen to uninterrupted YouTube music and watch endless video content while using other apps in the foreground.
Create a custom playlist and edit existing playlists using a simplified drag-and-drop interface.
Import your existing YouTube playlist to your Stream account and then add new songs or effortlessly manage the queue.
Has built-in battery saver mode that automatically reduces brightness to save battery power.
There is no way to save YouTube videos/music as offline on your Android device.
No option to hide the floating popup YouTube video window.
Do you want to download videos and music from YouTube directly on your Android phone/tablet devices? Here we have tried and tested the ten best apps to help you download videos.
5. FireTube
FireTube (com.palmerintech.firetube) is designed and developed by the developers over at PalmerinTech. One of those apps that actually support playback of YouTube in the background on Android. Even when your phone's screen is turned off. Unlike previously mentioned apps that let you play in the foreground only.
The biggest advantage of FireTube player is that it also lets you stream audio-only and shows you the thumbnail picture, which saves a lot of precious bandwidth and you will be able to listen to a lot of music while spending fewer amount of data (if you are on a metered network).
Once the app is launched, simply select the music you want to play or create a queue/playlist by selecting songs from the list and tap on the play button. Then you can easily switch between music only mode and video mode. You can even select the quality based on the Internet connection speed.
Play YouTube music in background in either video/audio-only mode.
Listen to YouTube videos even when your phone screen is off.
Ability to create, modify, import customized playlists right into the FireTube app.
Removed from the Google Play Store due to the YouTube Terms and Conditions.
Some features might be buggy due to slow development and sluggish bug fixes.
Download FireTube APK for Android
6. YMusic – YouTube Music Player
YMusic (com.kapp.youtube.final) is a powerful YouTube player as well as a video downloader app for Android. The app lets you play YouTube music while the app is in the background and even allows you to download videos and music from YouTube in various formats.
Similar to the iYTBP app we have mentioned above, with the YMusic app, you can enjoy the audio-only version of the songs. This can help you save a lot of your precious bandwidth and your phone resources because it completely eliminates the video part.
The user interface can be fully customized according to your personal preference. It also comes preloaded with over eighty-one different color combinations.
Play any YouTube video and music in the background.
Support for home screen widgets.
Enhance the music listening quality using a predefined and custom equalizer.
Option to download YouTube videos in various formats including MP4, MP3, WebM, Opus.
Sync your existing YouTube playlist with YMusic.
Login to your YouTube account.
Not available on the Google Play Store as the app infringes on the YouTube Terms and Conditions.
Download YMusic for Android from the XDA Labs
7. OGYouTube
OGYouTube (com.google.android.ogyoutube) is a modded version of the original YouTube app for Android that adds a handful of features and functionalities to improve the overall usability of the app. The modification even allows you to listen to your favorite music on YouTube in background and also provides downloading functionality.
The addition not only stops there. With the OGYouTube app, you can listen to uninterrupted YouTube music even when your phone's screen is off/locked. What's more interesting is that the player lets you continue listening and watching YouTube videos in a popup window so that you can use other apps.
Listen to YouTube music when the screen is off or while you are using other apps.
Advanced set of features to seek controls, modify the volume, and change brightness levels.
Download multiple YouTube videos in qualities ranging from 140p to 1440p, including subtitles, or just the MP3 version.
No longer updated as the developer stopped further development on the OGYouTube app. But the last stable release still works.
Download OGYouTube APK for Android from the XDA Labs repository
8. AT Player: Free Music Download, Music Player, MP3 Downloader for YouTube
The AT Player is a feature-rich and provides various additional functionalities to make sure you can play YouTube in the background while you use other apps on your Android phone.
It is a lightweight player that consumes minimal battery and has a sleep timer too so that you never have to worry about leaving the music player running for hours unnecessarily. To further save your phone's battery power, the app has a player lock mode that automatically locks the screen, which comes handy when you are in the listen-only mode, i.e. while driving or doing daily chores.
With AT Player, you can organize your personalized playlist within the YouTube player, or you can also import your existing playlist from your YouTube account. It also supports lyrics mode and gives you a playback control right in the notification area.
The player pops out, and the floating player provides ultimate music listening experience while you use other apps like Facebook or chatting with friends on Messenger.
Search for music on YouTube and millions of trendy songs from within the player.
Import your existing playlist from YouTube or create a new one directly from the AT YouTube player app.
Additional features include repeat mode, shuffle mode, sleep timer, battery saver mode, and screen lock.
Play YouTube videos and music while the screen is turned off.
Downloading and offline playback of music.
Stream YouTube audio-only.
Download AT Player for Android
Did you ever want to convert YouTube music into MP3 directly on your Android phone? We have reviewed several websites and Android apps to help you convert YouTube videos to MP3.
9. NewPipe
NewPipe is an open-source project that is built with an aim to provide you with enhanced privacy by fully eliminating the dependency on YouTube API and Google Play Services. This means none of your data is shared with YouTube and Google except the video URL. Moreover, the NewPipe app also does not store any of your usage data.
Apart from the extended privacy and lightweight YouTube player, NewPipe brings you the background playback functionality so that you can use other apps on your phone while continue listening to your favorite songs on YouTube. Furthermore, to help you save bandwidth, only audio is streamed from YouTube.
The best thing about this app is that the developers are actively working on fixing bugs and add new features every once in a while to make sure everything continues to work and the app remains bug-free.
Full support for background playback along with the ability to popup video and resizable window so you can watch videos while scrolling through the social media newsfeed.
Enable/disable dark mode to make it comfortable for you to enjoy YouTube videos during nighttime.
Force-enable the support for 4K and 60fps on YouTube even if the option is disabled on your Android phone.
Ad-free so there would be no annoying interruptions while you are streaming your favorite YouTube content.
Chromecast support not yet implemented. But the developer is working on it.
Download NewPipe APK for Android from F-Droid Repository here
Winning App: iYTBP – injected YouTube Background Playback
If you ask for our recommendation, out of all the nine methods, we will suggest you go for iYTBP app. And we have several reasons behind this recommendation:
The #1 reason is that the "vanced" version is always up-to-date. You can install it on both Android devices whether it has root access or not. And above all, it offers you all the amazing YouTube Premium features for free, including background play, ad-free, video downloading and offline videos.
Moreover, there is no learning curve. The user interface and appearance are the same as the original YouTube app. And you can log into your existing YouTube account and start streaming videos without any interruption.
Conclusion
These top 9 methods and apps that have worked well for us to play YouTube videos in the background without any interruption. Even on the lock screen and with the screen off. All for free and without paying the monthly subscription fee of YouTube Premium. 😉
Do you know about any other method or app that we should have included in our blog post to enjoy YouTube in the background?
Please share it with us in the comments below.