If you are looking for a guide to making any moving image or setting GIFs as wallpaper on your Android device then you have come to the right spot. As here, we have a step-by-step tutorial that can help you apply GIF as wallpaper as not everyone can apply a moving image as background or lock screen on Android due to certain limitations.
In this tutorial, we are going to help you find, configure, and set GIF wallpaper on your Android smartphone and tablet devices in just four simple steps:
#1. Download GIF Wallpaper on your Android Device
There are hundreds and thousands of readymade GIF wallpapers available on the internet that you can download right away on your Android device. There are various categories to choose from including reactions, entertainment, sports, artists, stickers, emoticons, cartoons, and a lot more. You can use the search option as well.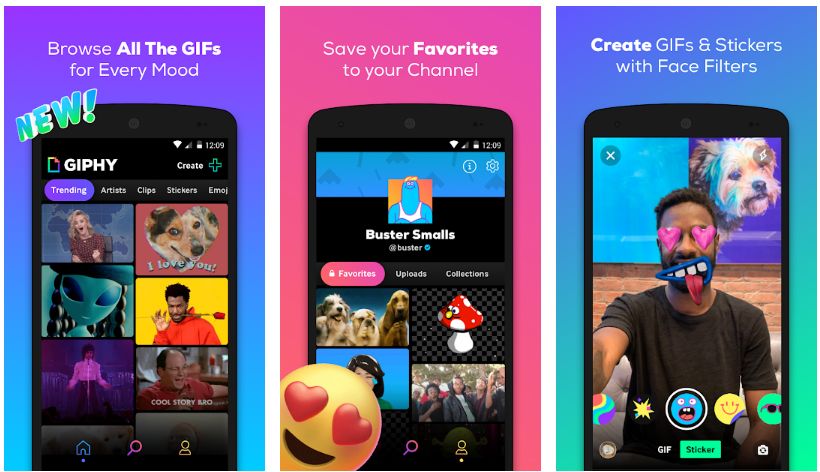 Once you have found the one you like as your phone's wallpaper, simply download it to your device using a tap and hold option. Alternatively, you can download the GIPHY app too.
However, to be able to apply any of that as wallpaper, considering how every device has a different screen resolution, we need to use a dedicated app specifically designed to take care of this task and help you apply GIF live wallpaper to your phone's background without many efforts.
For this, please jump to the next step.
#2. Install GIF Live Wallpaper app from Google Play Store
The second step is to download and install the GIF Live Wallpaper app on your Android device using Google Play Store.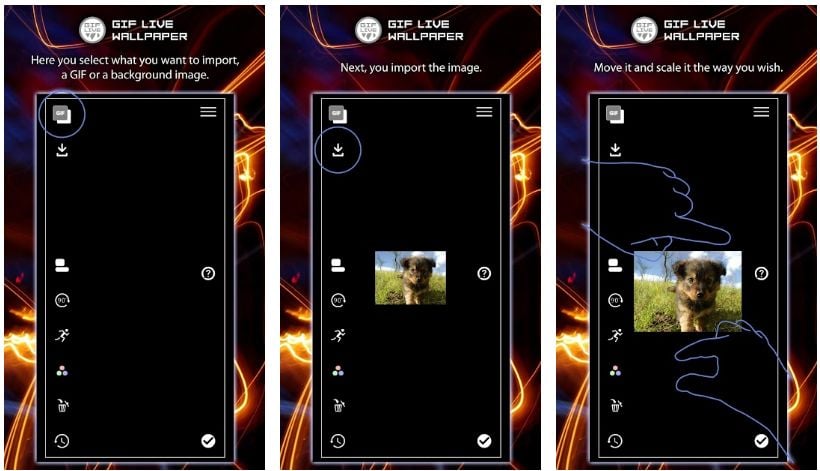 The app is developed by Awesome Robot and is designed to let you choose almost any GIF image file and set it as your phone's live wallpaper. You don't need root access or any special permission. Moreover, the app is powerful enough as it let you scale the image, use the built-in tools to optimize the GIF as per your device's screen.
Once the app has been installed, move on to the next step.
#3. Select GIF File from your Device Storage
Launch the GIF Live Wallpaper app and simply tap on the import option where the app allows you to select any custom GIF image file. You can simply browse to the folder where you downloaded the GIF file in the first step and select it. Most probably, the file will be in the downloads folder.
The image will appear within the app and you can now make customizations to the GIF, which we will do in the next step.
#4. Configure and Set GIF as Wallpaper
Once the GIF has been imported, you can now scale the image as per your phone's screen resolution to make sure it fits properly on the screen. You can use a simple pinch-to-zoom gesture to make size adjustments.
Apart from that, you can use tools like rotate image, color picker, background color changer, modify the speed of the GIF animation, and few other touchups.
When you are done with all the configurations, you can now set the GIF image as your Android device's wallpaper.
Were you able to set GIF as wallpaper?
We hope our tutorial has helped you with the proper configuration and setting GIF as wallpaper on your Android smartphone and tablet devices. If the guide helped you in any way then please share your opinion in the comments down below, we read each one of them! :)
If, in case, you know about any other method to apply GIF as a live wallpaper on Android then let us know about that in the comments. We will make sure to include it in our blog post for our readers during the next update.